Hyundai Discontinues Elantra Coupe for 2015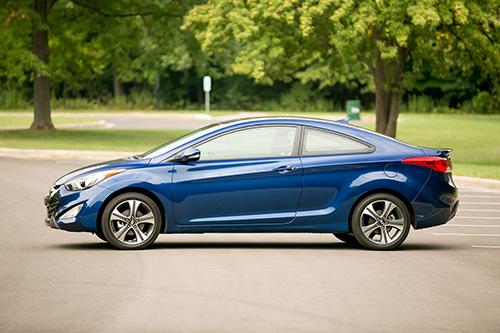 It may be difficult to find a 2014 Hyundai Elantra coupe on dealership lots right now, but it will be impossible to find a 2015. The Korean automaker is discontinuing the two-door Elantra after the 2014 model year. Hyundai spokesman Jim Trainor confirmed the coupe's departure from the Elantra lineup for 2015, saying in an email that the automaker always considered the coupe a niche vehicle and it was going to focus attention on the sedan and GT models.
Related: 2013 Hyundai Elantra Coupe Expert Review
Cars.com currently lists 21,533 2014 Elantras in its national new-car inventory, 20,193 of which are sedans and 1,340 are coupes. Despite the low volume, we still thought the coupe was a well-put-together package. Cars.com reviewer Mike Hanley wrote in his review when the car debuted: "The new 2013 Hyundai Elantra coupe provides the same fuel-efficient driving experience as its sedan counterpart, and it doesn't sacrifice much backseat comfort or cargo room."
Cars.com photo by Evan Sears