Kia Releases Photos of Redesigned Sorento
The Kia Sorento's looks didn't change much in the past few model years, Cars.com reviewer Joe Bruzek noted in his review, but he'll definitely notice the difference now. The Korean automaker today released the first official images of its third-generation Sorento SUV, which is longer and lower, and pulls a few styling cues from the space-agey Kia Cross GT concept we saw back at the 2013 Chicago Auto Show.
Related: Kia Cross GT Concept: Photo Gallery
The new photos reveal an elongated, more swept-back profile and lower stance, as well as a somewhat more aggressive visage courtesy of its grille's less-smiley maw, angrier stare and trapezoidal fog lights in place of upright, rectangular ones. The rear end doesn't appear drastically different, save for newly shaped, less-squinty wraparound taillights. The new Sorento owes its low, muscular stance in part to its updated dimensions; it's 3.7 inches longer and more than a half-inch shorter in height. Moreover, a 3-inch-longer wheelbase provides increased passenger space in all three rows, according to Kia.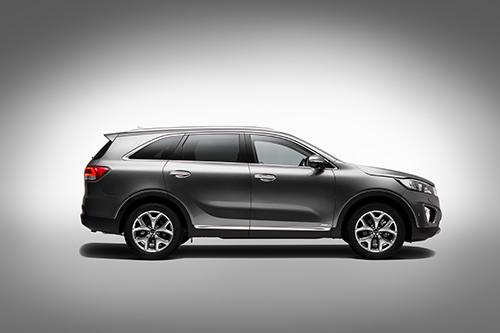 "While we have retained the name based on the tremendous success of the outgoing model, the all-new Sorento has been completely redesigned and re-engineered, and promises to surprise customers with its thoroughly updated styling, a host of new convenience and safety technologies, as well as enhanced space, driving comfort and handling response," said Soon-Nam Lee, vice president of Kia overseas marketing, in a statement.
We'll have to wait and see on those interior, technology and driving promises. Kia said it will showcase the new Sorento late this month in Korea, followed by its European debut Oct. 2 at the 2014 Paris Motor Show.
Manufacturer photos