Hey Metal Heads: Slayer-Inspired Scion to Stalk SEMA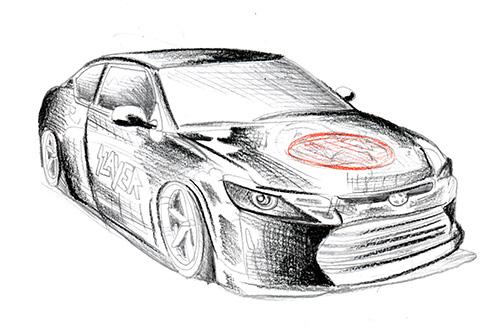 As long as there has been heavy metal, teenagers have sought out bands with which to frighten their parents. Now there's a car to really drive 'em nuts. In November, Toyota-owned Scion will unleash a special-edition car perfectly suited for that purpose, the Scion x Slayer Mobile Amp tC, inspired by the irreverently iconic headbangers, Slayer. On second thought, given the band's influential career spanning more than three decades, the youngsters' enthusiasm may actually take a backseat to that of Mom and Dad for a road trip "South of Heaven" to spend some "Seasons in the Abyss."
Related: Black Widow Corvette Stingray Is Auto Show Avenger
You can't make out a whole h-e-double-hockey-sticks of a lot from the rudimentary pencil-sketch-style image Toyota released this week of the modified version of Scion's sporty coupe — beyond it being obligatorily black in color with a large, red circle adorning the hood (the band's inverted-pentagram logo, perhaps?). No doubt something very similar has been sketched on more than a couple fifth-period Life Sciences textbooks by daydreaming junior-high misfits (we don't mean us). In any case, the automaker promises an exterior style commensurately aggressive to its subject with band-inspired details. And perhaps of equal importance, that influence carries over into the interior as the "multimedia machine" boasts amps, towers of speakers, a custom mixer and a 32-inch monitor for media playback, Toyota said.
"Slayer's fans are going to be excited when we reveal what a metal-inspired Scion tC looks like," Slayer guitarist Kerry King said in a statement. "Working with Scion has given us another way to reach new audiences and inspire them to keep going down their own paths."
The Slayer Scion will make its devilish debut Nov. 4-7 in Las Vegas during the industry-only Specialty Equipment Manufacturers Association Show — as will the skateboarding-inspired Scion x Riley Hawk Skate Tour xB hatchback named for pro-skater Riley Hawk, son of sport-legend Tony Hawk. But fear not, metal heads and thrashers, Toyota promises the general public will have opportunities to get close to both cars later in the year.
Manufacturer images