So Far, So Good for iPhone 6 in Cars We've Tested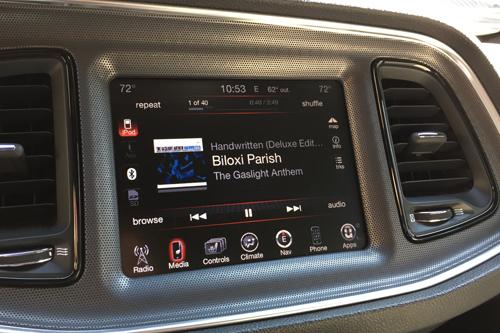 When the iPhone 5 rolled out in September 2012, we had some major trouble getting it to work in our fleet of test cars. Thankfully, it turned out to be a simple fix. With the iPhone 6, it seems there are little to no hiccups with car integration.
Related: Should You Use the Apple Watch in Your Car?
First, we tested the iPhone 6's basic iTunes functions, which was something that didn't work for the iPhone 5.
We had a 2015 Dodge Challenger R/T with the Uconnect multimedia system at our Chicago headquarters. The iPhone paired easily with Uconnect, quickly bringing up all track information and album artwork. Then we tried our long-term 2014 Chevy Impala equipped with the MyLink multimedia system. Again, track info and album artwork immediately displayed.
Next was the all-new 2015 Mercedes-Benz C-Class, which is in for two weeks of testing with us.
In the past, Mercedes — Audi and BMW too — uses a proprietary cable to get an iPhone to work with the multimedia system. The cable is the old 30-pin kind — even up until the most recent model year. The C-Class had a proprietary cable, but it was outfitted for the new Lightning adapter and ... everything worked just ducky.
What about the MyFord Touch system — much maligned by our editors — in the 2015 Ford C-Max Energi I tested over the weekend?
Sigh, it worked fine, too.
My hunt for a giant glitch came up empty except I found that one of my syncs of the phone and iTunes at home went awry and my music hadn't completely downloaded, leaving MyFord Touch to go haywire trying to find downloaded music. That looks to be Apple's fault. Ford and all the automakers seem well-prepared for the latest smartphone from Apple.
Cars.com photos by David Thomas