2015 Subaru Outback Real-World Cargo Space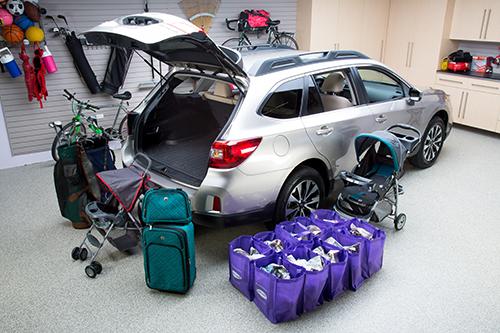 Subaru's redesigned 2015 Outback is less quirky than before thanks to its streamlined exterior and classed-up interior, though that doesn't make it any less versatile than the Outback we know and love. In fact, a slightly longer wheelbase and overall length mean there's more interior room for passengers and cargo.
Related: 2015 Subaru Outback Expert Review
"The Outback's cargo area has grown slightly, to 35.5 cubic feet of space behind the rear seats, up from 34.3 cubic feet. Fold the standard 60/40-split backseat down to create 73.3 cubic feet, up from 71.3. There are also new release levers, so one tug folds the spring-tensioned seat flat. It's well-done and, if I had my way, would be mandatory on all cars," Cars.com reviewer Bill Jackson said in his review of the 2015 Outback.
There's also a power liftgate that's newly standard on the highest, Limited, trim and available on the Premium trim.
Cars.com photos by Evan Sears