$27,000 Midsize Sedan Challenge: What the Judges Said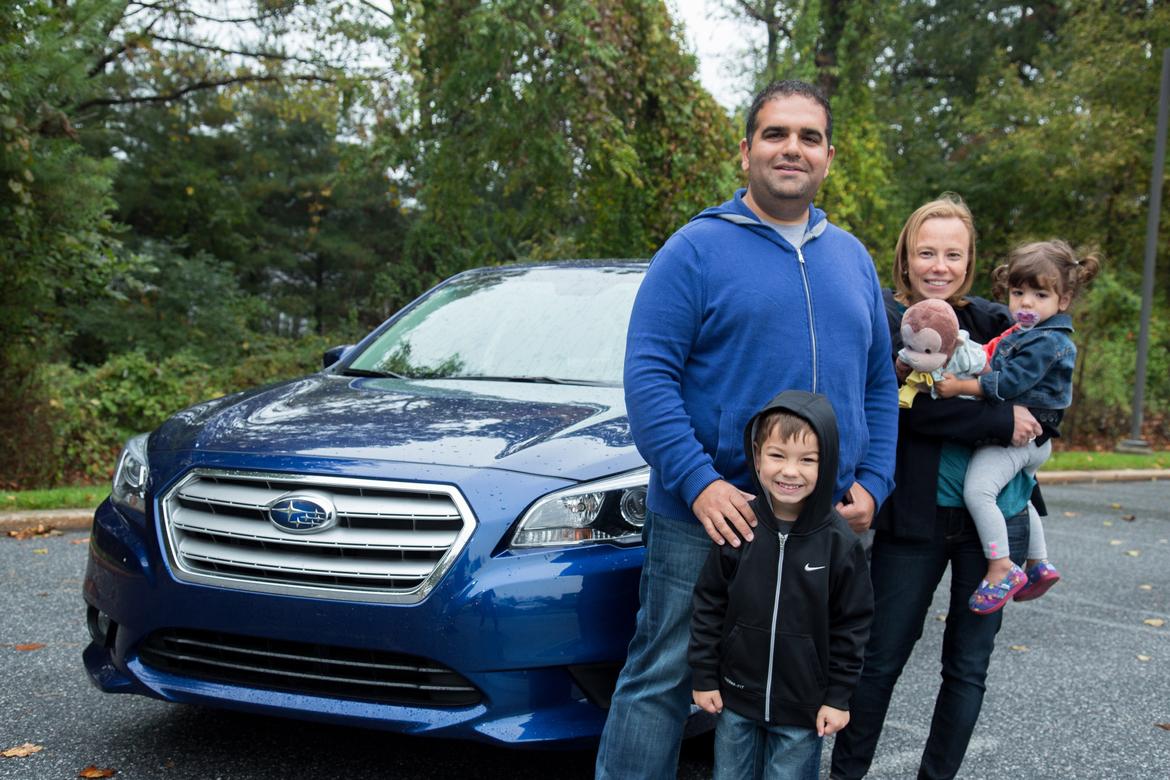 To evaluate our midsize sedans, we put them through a battery of tests in and around Baltimore:
We took all 10 cars on a mileage drive of about 180 miles to judge real-world fuel economy.
The experts drove all 10 over the same course, back-to-back, to judge ride and handling, acceleration and braking.
Then we brought in a real-life family, Amit and Michelle Kapoor, both 34, and their two young children (above), to help us evaluate these cars. Amit works as a defense contractor, and his wife works for the federal government. They live in suburban Washington, D.C.
$27,000 Midsize Sedan Challenge
Index | Results | Mileage Test
The Kapoors joined our judges:
Aaron Bragman, Cars.com Detroit bureau chief
Jennifer Newman, Cars.com assistant managing editor
Joe Wiesenfelder, Cars.com executive editor
Fred Meier, auto editor for USA Today
Brian Robinson, producer for PBS' "MotorWeek"
We set a maximum price of $27,000, including a destination charge, and each car had to get at least 28 mpg in combined EPA ratings. Ten cars fit that bill (in alphabetical order):
2015 Chevrolet Malibu 1LT
2015 Chrysler 200 Limited (all-new)
2015 Ford Fusion SE
2015 Honda Accord EX
2015 Hyundai Sonata Sport (all-new)
2015 Mazda6 iTouring
2015 Nissan Altima 2.5 SV
2015 Subaru Legacy 2.5i Premium (all-new)
2015 Toyota Camry SE (refreshed)
2015 Volkswagen Passat 1.8T SE
Here's how the scoring broke down: The experts' scores accounted for 75 percent of the total score; 15 percent came from the family's scores; and 10 percent was based on fuel economy.
Here is what the judges had to say about each car, in order of how the cars finished: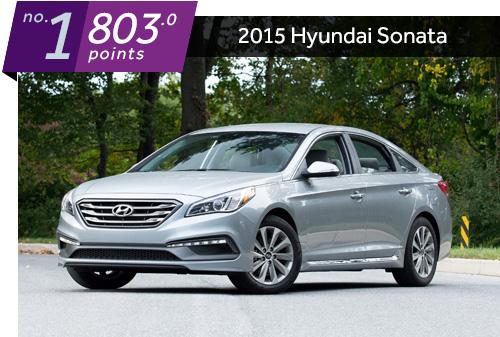 2015 Hyundai Sonata Sport
Research | Gallery | Car Seat Check | Inventory
The Verdict: "Rather than fixate on the redesigned 2015's looks, inside and outside, shoppers should explore a car that does many things well, has loads of space, more refinement than most of the sedans in the test and still offers plenty of value," Wiesenfelder said. "In the end, all it looks like is a winner."
What They Liked: And a winner it is. While that new exterior look is the easiest thing to notice, several judges expressed some level of surprise over how well the Sonata rode. "It has the ride and handling of a bigger, more expensive car," Bragman said. "It has a substantial ride quality to it," Robinson said, "it feels surprisingly solid," a thought that Meier seconded. He noted that "although it's not shiny or sexy, the Sonata's warranty is a real value feature." While some judges noted that the Sonata was the only car in the Challenge to have leather seats, families will be glad to hear that "the Sonata has the best Latch anchors of the bunch," Newman said, "because the anchors are easy to find and easy to use." Finally, Wiesenfelder has some praise for the Sonata's "no-nonsense powertrain. The thing goes when you want it to, has good power to start with and always seems to have some in reserve, with no bogging down or lagging. Is this combination so difficult?"
What They Didn't: "Where'd the style go?" Bragman asked, and he wasn't alone in asking. "Bland," Newman said. "It's clearly trying to compete with the Accord and Camry on which can induce the most yawns." "The new dash isn't as stylish nor as upscale as the previous design," Meier said. Still, the complaints weren't all about its looks. "The steering feel is much improved," Wiesenfelder said, "but it still needs work." Meier agreed: "The steering is light and numb." Although Hyundai has a well-earned reputation for a lot of features for the money, Robinson noted that "it's not as feature-packed as I expected, considering it's not the cheapest one here." And he found it "probably the least fun to drive here." Both Newman and Bragman found the brakes to be "grabby."
2015 Subaru Legacy 2.5i Premium
Research | Gallery | Car Seat Check | Inventory
The Verdict: "Of course you get standard all-wheel drive, which will be very appealing to people in many parts of the country," Robinson said. "But with the 2015 redesign, you also get a great new interior and a very sporty ride; it's now one of the best cars in the segment as far as I'm concerned."
What They Liked: "The Legacy is a space ship," Meier said, but he didn't mean that in an extraterrestrial sense. "Comfort in front, grown-up room in back, and it even has trunk-lid struts rather than goose necks that eat cargo space." Beyond the roominess, many judges were impressed by the safety tech that came for the Legacy's price tag. "Safety features aren't exactly sexy, but they're so important," Newman said. "It's impressive how many safety features the Legacy has for its sub-$26,000 sticker: blind spot warning, rear cross-traffic alert, adaptive cruise control, lane departure warning and precollision braking." Whew. This was Amit's personal pick for his family. Despite never having driven a Subaru before, he didn't hesitate when asked which car he wanted to take home. It's also worth noting that this is the second straight Challenge in which the family has chosen a Subaru as its favorite. Amit and several judges noted the expansive view from the driver's seat. Wiesenfelder liked its "high seating position, which contributes to otherwise good visibility," and he also noted that, even with all-wheel drive, the Legacy's "mileage would impress." Several judges noted that the all-wheel drive also made for a more planted driving experience.
What They Didn't: Despite that planted feeling, "I noticed bumps in the road while driving the Legacy that I hadn't experienced in some of the other cars," Newman said. Bragman said the "ride quality is stiff; it feels like a big compact car instead of a midsize one." Meier said that "highway road and tire noise are loud enough, particularly in the backseat, to make holding a conversation difficult." And there was near unanimity that the Legacy's redesign is "bland." The Legacy has touch-sensitive buttons that Bragman found "awful."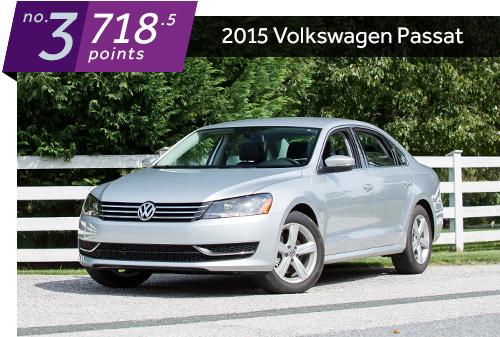 2015 Volkswagen Passat 1.8T SE
Research | Gallery | Car Seat Check | Inventory
The Verdict: "The oldest design in this group is still a leader in space and handling," Meier said. "The 1.8-liter gasoline turbo is a gem, but the amenities, infotainment and interior materials now lag its rivals."
What They Liked: Ride and handling were home runs for the Passat. "Plenty of power at all speeds," Wiesenfelder said, "responsive transmission and it even sounds good." "The turbo four-cylinder is downright zippy," Newman said. "Very solid feeling," Robinson added. Add to that its roominess: "Its efficient packaging creates a spacious cabin, cross-your-legs room in the back," Meier said, "and a huge, easy-to-load trunk." And it achieved "the second-highest observed mileage" on our mileage drive, Wiesenfelder noted.
What They Didn't: The driver needs a little more love, several judges said. "To be comfortable, I need the steering wheel to tilt down way farther than it does," Wiesenfelder said. "Way farther." "The lack of a tilt adjustment on the driver's power seat made it hard to find a just-right position," Meier said. "Worst fake leather I've ever seen in a modern car," Bragman added. The Passat's age showed in its technology, several judges remarked. "Feels and looks like a 10-year-old car," Robinson said. "In an austere but handsome interior, some bad elements stand out: no USB jack [iOS only], vinyl sun visors, blocky and monochrome display between the gauges," Wiesenfelder said. "Its looks embrace boring," Newman added.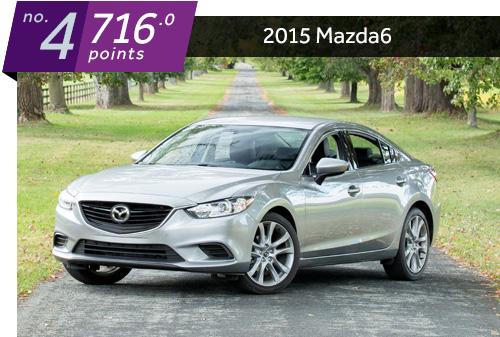 2015 Mazda6 iTouring
Research | Gallery | Car Seat Check | Inventory
The Verdict: "The Mazda6 continues to be the most fun-to-drive car in this segment," Robinson said. "It also looks great, but the interior is really not as nice as most in this segment, both in material quality and overall comfort."
What They Liked: The Mazda6 is a looker, no doubt. "Gorgeous," Bragman said. "This is not only the best-looking car in the bunch, it's one of the best-looking cars on the road today." "It looks just as sporty as it drives," Robinson said, "and it's still one of the better-handling cars in this segment." "The handling's awesome — tight!," Amit said. Wiesenfelder agreed. "Another straight-up engine and six-speed transmission that do what they're supposed to: give you plenty of power when you want it, and do so efficiently." Meier liked its "driver-centric interior with upscale style and surfaces, and leatherette sport seats." And Bragman lauded its "lots of value for the money: big wheels, passable fake leather, navigation system and more."
What They Didn't: But, Bragman noted, "it may have nav, but's it's terrible nav." "Half the streets weren't labeled." "It's noisy," Robinson said. "The car's lightness and high mileage must result in part from skimping on noise control," Wiesenfelder said, "because it has a wide variety of noises when in motion. Heck, even the power seats groan as if they're not up to the task." Newman said she had a hard time "getting comfortable in the driver's seat because it didn't have an adjustable bottom seat cushion to provide more thigh support." And, she noted, "cubbie space is at a premium in the Mazda 6; the center console is small, but deep." Others found the backseat room lacking as well. "The rear seat is the snuggest of the group and hardest to into and out of," Meier said.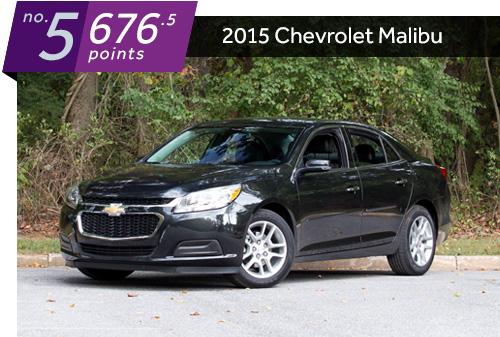 2015 Chevrolet Malibu 1LT
Research | Gallery | Car Seat Check | Inventory
The Verdict: "The styling won't suit everyone," Meier said, "but the Malibu offers a lot of value for the price."
What They Liked: Some pretty clear themes rang out for the Chevy: connectivity, technology and storage. "It's the connectivity champ," Meier said, citing the Malibu's MyLink and available 4G LTE Wi-Fi. "But do people want to pony up for more subscriptions?" "The storage bin behind the MyLink screen may be my favorite feature in the whole car," Robinson said. Remote start, available from either the fob or through OnStar, warmed Wiesenfelder's heart. "It may seem minor, but it's a big deal in winter." Several judges liked the interior materials on the Malibu. "The interior style is appealing," Bragman said, "it doesn't have the same generic look as the other sedans." Newman called out the "attractive faux wood trim, contrast stitching in the dash and seats, and chrome-looking and plastic trims that run across the dash." Amit called the interior "pretty classy."
What They Didn't: Others found the interior less appealing. "Interior quality is just not there," Wiesenfelder said. "And what's with the seat pattern and the slapdash button arrangement on the center control panel?" "The GM Ice Blue interior lighting belongs in the 1990s, not in my 2015 family sedan," Robinson said. While some judges found the Malibu's power passable, others found it lacking. "The engine definitely has the power, but the transmission doesn't want to give it to me," Wiesenfelder said. "The thing's clearly tuned for mileage." And while Meier liked the stop-start engine feature, he wondered why drivers couldn't elect to turn it off. Finally, perhaps the biggest complaint about the Malibu was noise. "There's a hell of a lot of noise," Amit said while driving. "The tires are exceptionally noisy," Wiesenfelder said. And given how quiet the engine gets when it shuts off because of the stop-start mode, the "contrast doesn't flatter the car," he said.
2015 Ford Fusion SE
Research | Gallery | Car Seat Check | Inventory
The Verdict: "This is the car for people who like to drive, and who like their choice to be to something stylish. The turbocharged 1.5-liter engine is also pretty impressive," Bragman said. "But the value proposition isn't there: I can get navigation, decent fake leather and 19-inch wheels in the Mazda6, but the Ford comes with a dinky display screen, small seats and second-rate upholstery."
What They Liked: The Fusion drew very split opinions from our group of judges, but one attribute they all agreed on was its handling. "Great handling was an unexpected surprise," Robinson said. "Excellent" and "athletic" were also tossed around. The most serious splits came over the Fusion's engine and seats. First the engine: There's "plenty of power from such a tiny engine," Bragman said. "The Fusion's turbocharged engine made driving a blast," Newman said. "Merging and passing on highways were effortless." She found the seats "extremely comfortable," saying "I never felt tired after driving the Fusion."
What They Didn't: But Bragman and others did not enjoy the driver's seat. "Why are the seats so short?" he asked. "I feel like I'm sitting on the edge." Wiesenfelder "couldn't get comfortable; I also think the upholstery looks and feels cheap." And Wiesenfelder found the engine "underpowered." "What good is all of the technology when you get neither power nor mileage?" he asked. For Robinson, it went beyond just the seats. "It's one of the cheapest feeling interiors here." And for Meier, while "it's one of the richest-looking sedans outside, it's just middle of the pack at this price for interior design and materials."
2015 Chrysler 200 Limited
Research | Gallery | Car Seat Check | Inventory
The Verdict: "The 200 has all the pieces in place to be a great midsize sedan," Newman said, "but until it gets the basics — transmission and brakes — right, it's not going to make a lot of headway in this segment."
What They Liked: Clearly the interior of the 200 was its high point. "Dynamite," Bragman said. "Gorgeous and well-executed," Robinson said. "Looks richer than the price," Meier added. "I love the look of it," Amit said. The 200's Uconnect system was a close second. It's "intuitive for users," Wiesenfelder said, while Bragman said "it remains the best in the business." With its large screen and easy smartphone connections, it won nearly all the judges over. In terms of family considerations, the 200's many storage options also won a lot of praise. "The well-designed cabin has lots of places to store both small and big items," Newman said. "I love the front row's cupholders that slide back to reveal a deep storage well."
What They Didn't: That transmission was a problem. How big an issue? "The nine-speed automatic transmission shuffles gears like a Vegas dealer hopped up on Red Bull," Robinson said, "yet it rarely seems to find the right one. And no manual control means you can do nothing about it." "Not ready for prime time" was a common, albeit less poetic, refrain about the 200's transmission. Wiesenfelder noted that "the point to more gears is higher mileage; the 200 was beaten by four conventional six-speeds and three CVTs [continuously variable automatic transmissions]. Where's the upside to this boat anchor?" A few judges found the brakes "grabby," and a couple also found the rear seat compromised in headroom by its sleek exterior design. "The roofline looks good but seriously crowds adult heads in back and adds a degree of difficulty getting in and out," Meier said. "It's not for the family with adult-size needs in back."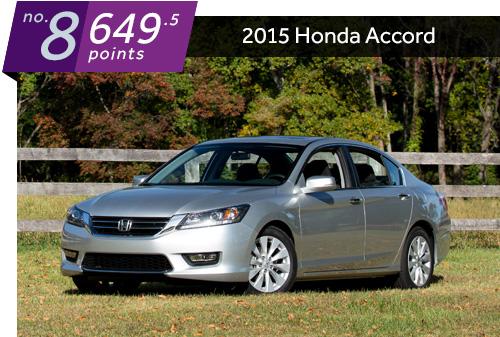 2015 Honda Accord EX
Research | Gallery | Car Seat Check | Inventory
The Verdict: "Our winner from last time still has a number of strengths, such as roominess, general comfort and drivability," Wiesenfelder said. "Like many top-selling sedans, it does little to offend — or impress."
What They Liked: The Accord is "smooth in everything it does," Bragman said, "from handling to ride to engine sounds." "This is the drivetrain that convinced me that a CVT and a four-cylinder engine can be inoffensive to drive," Wiesenfelder said. "It handles better than you are expecting," Meier said. The big winner? The LaneWatch camera system that allows the driver to see down the passenger side of the car using a camera mounted on the side mirror. "It sounds gimmicky on paper," Bragman said, "but it proves totally useful in real life." "This is a much more effective way to know your right-hand blind spot is clear than a radar-based blind spot warning system," Wiesenfelder said. Meier said that the Accord "has a feeling of precision," and Robinson noted that "Honda's reputation for quality and long-term reliability is still hard to ignore."
What They Didn't: It no longer leads the pack in driving acumen, features or noise. "I've driven an old Honda Civic," Amit said, "and it feels the same. I feel like I'm driving an old car." "The Accord's multimedia system works well, but it's really basic," Newman said. "The multimedia system features a plethora of confusing buttons, controls and screens," Bragman said. And the noise was awful, the judges said, nearly unanimously. "On the highway, the road, engine and wind noise combined to make for an exhausting ride," Newman said. "I don't remember the Accord being this noisy, particularly in the wind noise department," Robinson said. Bragman said the "front seats are completely shapeless planks with no support at all," while Meier dinged the Accord because its "high-dash screen sits a long way from the driver."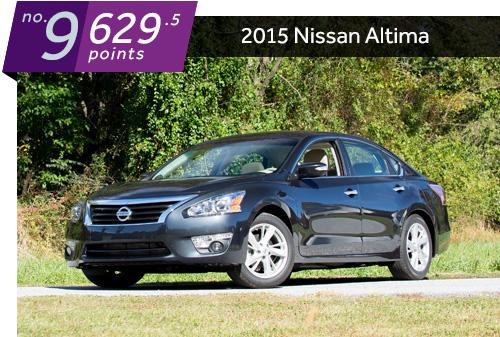 2015 Nissan Altima 2.5 SV
Research | Gallery | Car Seat Check | Inventory
The Verdict: "It's hard to get past the Altima's engine noise and sloppy handling," Newman said, "but even if you do, there's not much there to recommend it to families."
What They Liked: The feature in the Altima that got both the highest praise and lowest marks were its seats. "The front seat cushions are well-bolstered and offer support in all the right places," Bragman said. "The Zero-Gravity seats became more comfortable the more time I spent in them," Newman said. "I have all kinds of problems with how Nissan achieves it, but the mileage is tops," Wiesenfelder said. "Its interior quality has really improved," Robinson said. "It's still not the best here, but it's firmly midpack." He also noted that its "ride quality is very good; it floats when you want it to, but it doesn't roll through corners as much as you're expecting it to." Bragman said the "ride and handling feel more substantial and sophisticated than most of the rest of the field." And Newman liked that it "had a lot of little creature comforts, such as the moonroof, an eight-way power-adjustable driver's seat, keyless start and entry, and auto headlights."
What They Didn't: But Robinson noted that even with all those features, "The Altima certainly doesn't look or feel like the most expensive car here, which it is." As for the seats, Wiesenfelder said they were better than in our last test of midsize sedans, but "it still has too much lumbar support for me." Although Bragman and others liked its handling, that wasn't a universal feeling. "The Altima didn't handle well on the twisty roads of our mileage drive," Newman said. There was near-universal hatred for the Altima's "droning" CVT engine. Amit captured it best, while accelerating onto a freeway: "It feels like I'm hurting the car." For Wiesenfelder, "The disconnect between accelerator pedal movement and the motion of the car is far too great for this day and age. It also comes with appallingly loud and relentless noise." "The engine didn't purr," Newman said, "it gargled whenever I hit the gas pedal. On the plus side, you may not be able to hear the kids bickering in the backseat."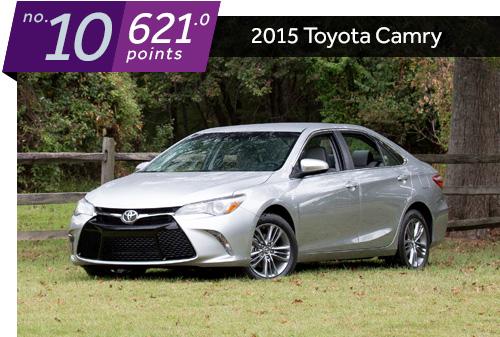 2015 Toyota Camry SE
Research | Gallery | Car Seat Check | Inventory
The Verdict: "It boggles me that this is the best-selling car in the country," Bragman said. "Maybe if Toyota had sent one closer to the price cap with more equipment, it might feel better, but its bouncy ride, road noise, drab interior and newly uglified front styling make me wonder how this is any way competitive with the Accord or Altima."
What They Liked: "It's a bargain," Meier said, and he was right; the Camry was the least-expensive entrant. Amit found the "handling nice; it has a tight feel." Wiesenfelder liked its "in-cabin storage. It had the best combination of roomy cubbies, door pockets and bottleholders, center storage console and glove compartment," all of which are important in a family sedan. "The Camry's giant grille takes some getting used to," Newman said, "but I appreciate that Toyota tried something bold with its design." More than a couple of judges applauded the roomy backseat, and Bragman lauded its "decent power from its four-cylinder engine."
What They Didn't: While Newman liked the new grille, Meier wondered "will it survive city street parking?" Others felt that the Camry has lost ground in the segment. "It's the very definition of generic transportation," Robinson said. "Its multimedia system is still at least one generation behind state of the art," Bragman said. Several judges complained about road and wind noise, and Wiesenfelder said "This is the only car in which I thought I might lose control in the curves, and it was strictly because of the tire performance — a problem in the 2014 model as well." Finally, the Camry's ride was described as "easily unsettled," "stiff," and Meier said "the brakes had a mushy feel."
Cars.com photos by Evan Sears, graphics by Paul Dolan