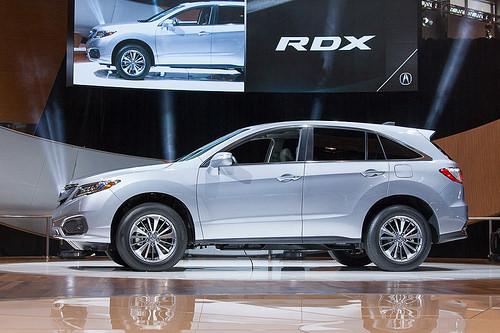 This year's Chicago Auto Show delivered some significant introductions for car shoppers as well as a few wild concepts for those who just like to ooh and ahh at sheet metal and glass.
More 2015 Chicago Auto Show Coverage
Cars.com editors Aaron Bragman, Joe Bruzek, Mike Hanley and David Thomas rank each of the debuts on its own merits, whether it's meant to wow shoppers or simply look good underneath the bright lights.
2016 Acura RDX
Aaron Bragman: Loser
When you have to look at pictures of the old RDX to spot the changes on the new one, you know that the updates don't go far enough. The interior is still boring; the multimedia system is still confusing to use, and it doesn't at all feel luxurious when stacked up to competitors like the Audi Q3 or even the Lincoln MKC.
Joe Bruzek: Winner
In a show of mostly minor redesigns and special editions, I think the RDX goes further than many of the others in offering a new, more contemporary look compared to its predecessor. The update adds flash to the bland RDX, but I'd like to see more effort put into the interior.
Mike Hanley: Loser
I like the subtle exterior styling changes, especially the new headlights, but the newly available multimedia system is a confounding arrangement of screens and dials that I wouldn't want to deal with when driving. It puts a big damper on this otherwise-nice update.
David Thomas: Winner
The RDX updates an already winning formula and design with some zing. Sure, it's not a lot of zing, but if there isn't much to fix I'm glad Acura didn't do anything to set back the popular crossover.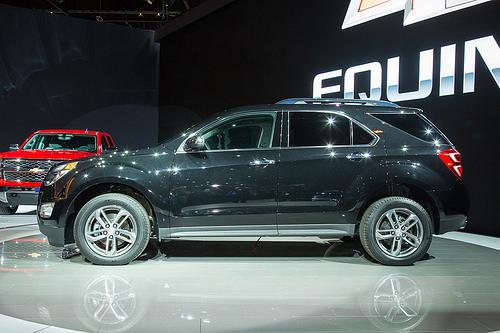 2016 Chevrolet Equinox
AB: Winner
Like so many "new" cars at the Chicago show, this is just a mild update, but with the Equinox setting new sales records year after year for the current one, not much was apparently required. Good enough to soldier on for a few more years until a thoroughly revised one appears, but I wouldn't be surprised if fleet sales soon become more important than sales to consumers.
JB: Loser
The Equinox's front restyling doesn't look as substantial in person as it does in photos. Something about the Equinox in black on the show floor hides much of what's changed in the design. Or maybe not much has changed at all.
MH: Loser
I was most disappointed to see so little had changed in the cabin; newer competitors have surpassed the Equinox's materials. This small SUV has been selling well despite its age, but it will be hard to keep that momentum going with an update like this.
DT: Loser
Add me to the group who thought too little was changed. I am happy, though, that Chevy wasn't lauding this as "all-new" and knew to say as much. There is nothing wrong with the "new look," but with so little updated inside, consumers have a lot of competitive crossovers to check out before they get to the Equinox.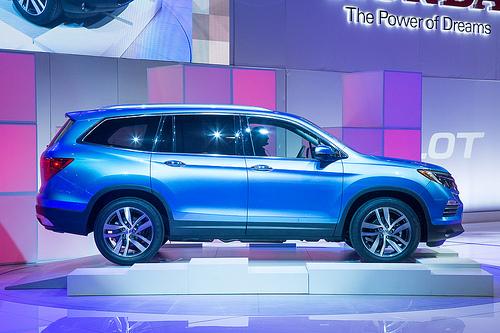 2016 Honda Pilot
AB: Winner
The Hyundai Santa Fe is a staff favorite around here (as evidenced by the awards we keep heaping on it), but seeing and sitting in this one makes me wonder if that's about to change. It's visually appealing (looks like a big CR-V), features a versatile interior and is quite comfortable. If it drives as well as it looks, Honda's going to sell a ton of these things.
JB: Winner
There's a whole lot going on visually with the new Pilot, which I think is a good thing even though I haven't decided if I like the new styling direction. The new Pilot maintains its huge windows and good visibility, which are staples of the old one, and the SUV has more interior room, is easier to get in and out of, and has more cargo room. Sounds like a win to me.
MH: Winner
The first photos I saw of the new Pilot gave it an awkward top-heavy appearance, but the design is more appealing in person. Large side windows provide good all-around visibility, and interior quality is solid. The lack of any knobs in the middle of the dash for stereo volume and tuning is a little concerning, but at least Honda's steering-wheel audio controls are sensible.
DT: Winner
The biggest success isn't the clear family-focus inside, but the way Honda was able to maintain terrific visibility while totally reimagining the new Pilot's exterior. Families will go nuts over the thoughtfulness of the interior and features like double cupholders in the rear doors and a flexible cargo area, if they're not too busy watching one of the many electronic devices this SUV can support.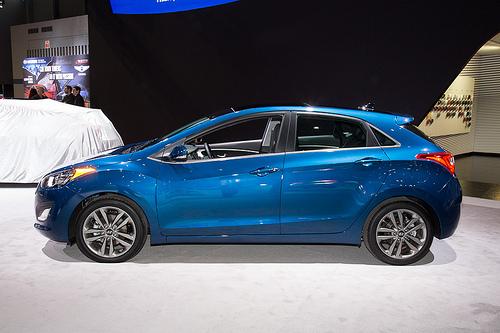 2016 Hyundai Elantra GT
AB: Loser
Here's another updated model that really doesn't change much. A new navigation system, grille, wheel pattern, ventilated seats and that's it. Ho-hum.
JB: Loser
The Elantra GT will be an improved car with the new multimedia system, but on the auto show floor, it barely moves the needle with a slightly different grille and new wheel design.
MH: Winner
The changes are mild, but they're nicely done. The new grille works with the hatchback's existing styling, and the cabin materials are among the nicer ones in this class. This car didn't need much to stay current.
DT: Winner
Have a problem with car shoppers knowing you even offer an Elantra hatchback? Reveal it at a car show where it'll get more attention from the press. The new grille looks good, and the electronic updates should impress shoppers in what is already a terrifically practical car.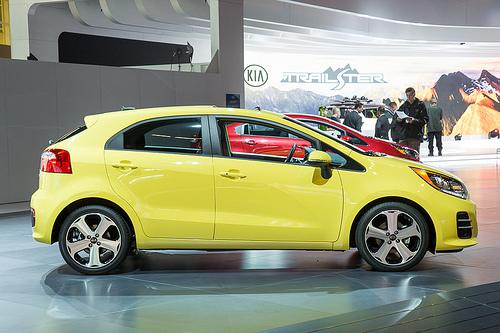 2016 Kia Rio
AB: Winner
I liked the last Rio just fine, and the new one looks just that much better. The freshened styling gives it an even more European air (tell me this doesn't look like a 2008 SEAT Leon) and the interior still looks more expensive than it is. I should note that my comments really only apply to the hatchback. The sedan still looks tall, awkward and ill-proportioned, but then so do all sedans in the subcompact segment.
JB: Winner
I second Aaron's comments about the hatchback absorbing the new updates much more fluidly than the sedan. The Rio five-door's new look is more substantial than the old one even though not a lot has changed. The design's trickery makes it look wider and beefier without altering a whole lot.
MH: Loser
I found the Rio at the back of the Kia stand — an odd spot for a car that had debuted just the day before. If you didn't know that, however, its position on the show floor would seem perfectly normal because it looks about the same as its predecessor, save for a deeper lower grille.
DT: Winner
The Rio wins for the same reason I gave the nod to the Elanta GT, people need to get reintroduced to what is a competitive car in the subcompact segment. A little nip and tuck outside leads to a more significant styling change than you'd think. Although the yellow color on the five-door is a turn-off, especially with the auto show lighting.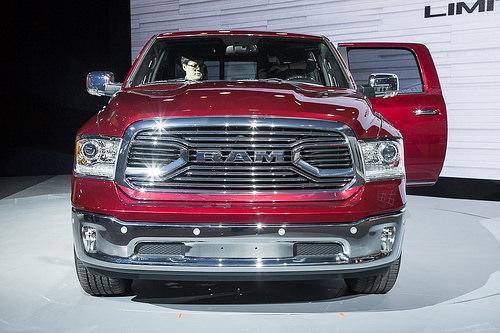 2015 Ram Laramie Limited
AB: Winner
When it comes to trucks it's nearly impossible to make them too expensive or too gaudy, but bless 'em, Ram is trying. There will be the inevitable "compensating for something" jokes about the massive chrome grille and huge Ram lettering on the tailgate, but who cares? Buyers of big trucks love such ostentation, and Ram's giving them what they want (and likely charging beaucoup bucks for it).
JB: Loser
The Ram is already a truck that wows with its impressive interior quality and a level of opulence on higher-end trims. I had a tough time differentiating the Laramie Limited's appointments from a Laramie Longhorn, though the new grille definitely looks good.
MH: Winner
I like how Ram is adding unique grilles to differentiate truck trim levels, and the new chrome one on the Laramie Limited is the latest example. Interior design details like stitched flourishes on the seats and saddle-bag-style map pockets are thoughtful details.
DT: Loser
The Ram Rebel looks great with its sporty version of this take on a truck "face," but the blinged-out look of the Laramie Limited doesn't do it for me. It looks better in person than in the pictures, but it doesn't seem to match the rest of the truck.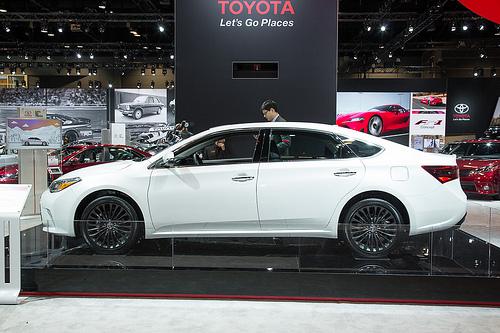 2016 Toyota Avalon
AB: Loser
Just like the Acura RDX, you have to have pictures of the old one on hand to spot any differences with the new one, and there's really only two: new headlights and a grille that's been inverted. The Avalon is already a great car, one of Toyota's truly appealing offerings, but as updates go, the changes are pretty lame.
JB: Loser
Toyota placing the new Avalon right next to the old Avalon on the show floor during media days provided the opportunity to check out both up close. That probably didn't work in the new Avalon's favor as it's virtually indistinguishable from the old one. What I'm most looking forward to is sampling the new Avalon's retuned base suspension that's supposed to be more comfortable.
MH: Loser
The Avalon already had a large grille, but Toyota went even bigger for 2016. The thing is, it doesn't really make the car look different, and if it weren't for the new Avalon's prominent spot on a platform, you wouldn't think there was anything new about it.
DT: Loser
I don't really have anything to add other than I'm more a fan of the current Avalon than most, so no changes to a relatively recent redesign is fine by me. It just doesn't deserve a pedestal at an auto show.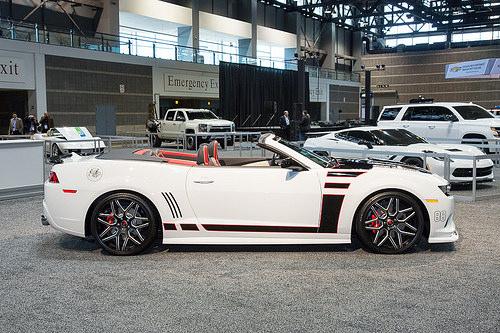 2015 Chicago Blackhawks Chevrolet Camaro
AB: Loser
As Cars.com's Detroit Bureau Chief, there is really only one possible thing I can say about this car: LET'S GO RED WINGS!!! (I'm not very popular around here.)
JB: Winner
The latest Blackhawk Camaro is hugely toned down compared with previous years, and this year doesn't look like a merchandise booth threw up on the car. The decals and wheel choice are cleaner, less gaudy and more cohesive. I'd actually put my name in to win this year's car.
MH: Loser
I like aspects of this Camaro, like the hockey stick graphics and the new grille, but the question that keeps coming back is: Where do you drive something like this? Blackhawks home games may be the only acceptable answer, but the Hawks play in the winter and this is ... a rear-wheel-drive convertible sports car. D'oh!
DT: Winner
Mike, you need to come out to the 'burbs near me because if you won one the mayor of said suburb would beg you to take part in every parade for every holiday for the foreseeable future. Otherwise, I'm with Joe on the appeal of the toned-down approach. Although we all wonder how you clean that grille.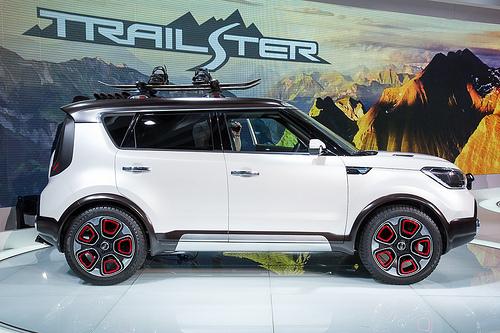 Kia Trail'ster Concept
AB: Winner
An all-wheel-drive hybrid-electric Kia Soul just sounds like a total recipe for success. Kia sells the heck out of the Soul — it's been something of a surprise hit — and it's a hoot. This would make it even more versatile, but I have to wonder how much this novel system eats into the already-scarce cargo room in the thing. It looks like it should stack up against the Jeep Renegade pretty well, but you know this thing won't be cheap, if it gets produced.
JB: Winner
Electric-based or not, an all-wheel-drive off-road-themed Kia Soul sounds like something I'd like to drive. The current Soul is already an impressive small car, and I think the Subaru XV Crosstrek needs some friendly competition.
MH: Winner
The Trail'ster looks like a creation from one of the numerous aftermarket tuners that descend on Las Vegas each year for the Special Equipment Market Association show, but I like its funky, fun style. Give the Soul all-wheel drive and some of the design cues you see here and I think it'd sell great.
DT: Winner
Other automakers are investing a ton into making small, all-wheel-drive crossovers such as the Jeep Renegade and Mazda CX-3. Kia could save some R&D and just slap all-wheel drive under the similarly sized Soul and have a sales success.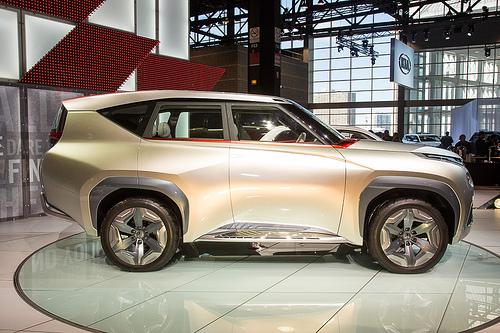 Mitsubishi GC-PHEV Concept
AB: Winner
I love it just because it's outrageously ugly, saddled with anime cartoon styling, has awkward proportions, bulbous fenders and impossible technology. It's truly what concept cars used to be — showcases for what might be possible. The actual Pajero/Montero won't look nearly this crazy, but wouldn't it be cool if it did?
JB: Loser
Standing in front of the car, I had no idea what the hell I was looking at. It's absolutely awkward with a body and massive rear overhang that doesn't look like it fits over the wheelbase at all. Plus the brakes are teeny tiny inside the massive wheels. It's odd on so many levels.
MH: Loser
It's a little strange to see a concept that looks like a traditional SUV anymore, but that's what Mitsubishi has in the GC-PHEV. There's a clear connection to Mitsubishi's former Montero in this concept's silhouette, but the design itself — inside and out — is just a little too weird for me.
DT: Loser
Or is it a winner? Maybe I need to look at it from this angle ... nope, it's a loser. When you walk around this concept your emotions change like day and night. There must be four different design styles happening all at once in this concept that make me waver. I'm such a fan of intentionally ugly designs, though, that if it didn't win me over immediately it probably fails.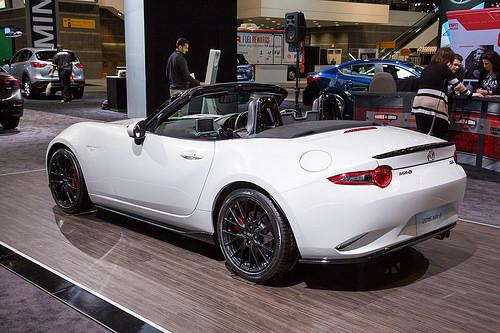 Mazda MX-5 Miata Concept
AB: Winner
The Miata didn't need any styling improvements (I think the new one is absolutely gorgeous), but if you're going to stick aero bits onto the thing, do it right — make them subtle and inoffensive. Mission accomplished! Especially cool is the optional new carbon-fiber luggage rack — just like the Miata itself, it takes a sweet '60s roadster concept and brings it solidly into the 21st century.
JB: Winner
Mazda claims the only thing better than the all-new MX-5 is a personalized one, and if all personalized ones look like the accessory concept shown in Chicago then I can't call them liars. I'll take mine just like this with the aero kit, Brembo-brand brakes and BBS wheels. Can the cargo rack hold four racing slicks?
MH: Winner
The accessories are tasteful and don't disrupt the Miata's unique styling. That's a win to me.
DT: Winner
This is the anti-SEMA Miata, where all the add-ons are actually aesthetically pleasing as well as improve the performance. You can't ask much more than that, plus we get another color of Miata to check out at an auto show.
Cars.com photos by Evan Sears