CARS.COM — Shoppers are hungry for SUVs and the auto industry is serving up a cafeteria of choices. Several new SUVs made a big splash at the 2016 Los Angeles Auto Show, from the mild Ford EcoSport subcompact to the wild Jaguar I-Pace Concept.
Related: 2016 Los Angeles Auto Show: Best in Show
There was plenty to see, and Cars.com editors Aaron Bragman, Joe Bruzek, Mike Hanley and Brian Wong spent a few days roaming the show floor taking it all in. They weigh in below with their thoughts on what flashed and what flopped under the bright auto show lights. Want to know which vehicle rose to the top? Click here for our Best in Show.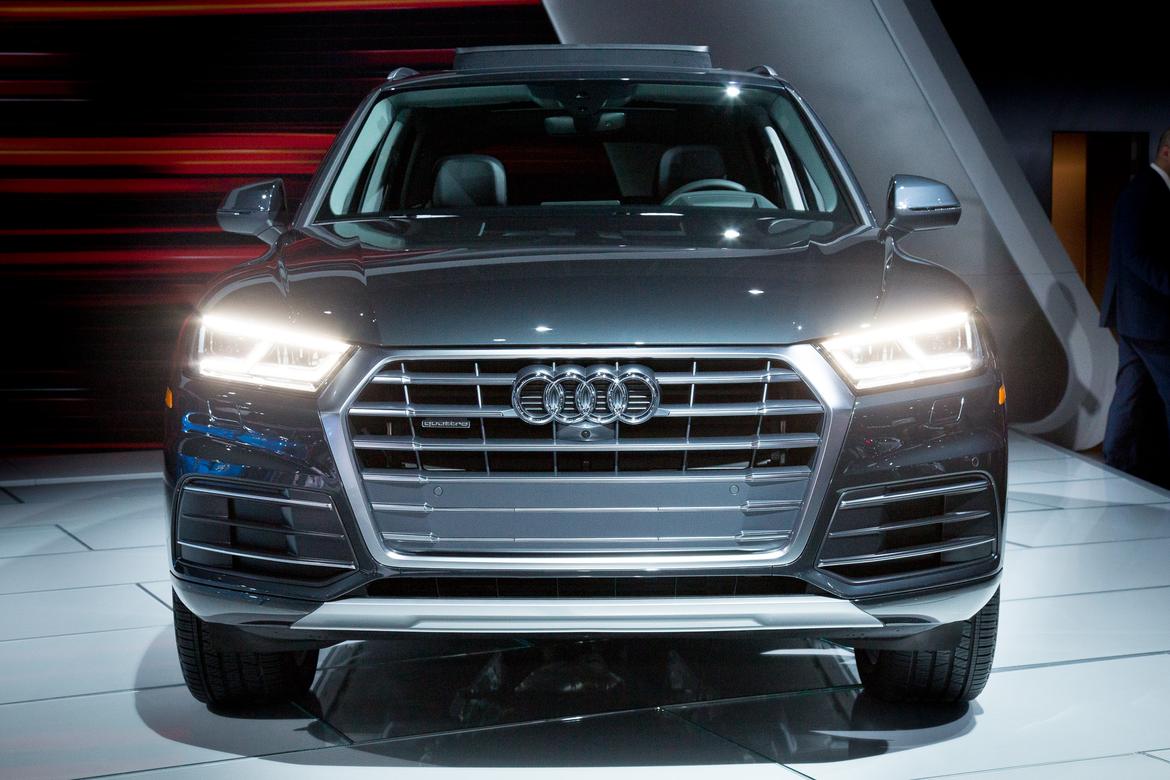 Joe Bruzek: Loser
The Q5 feels fairly unremarkable for a complete redesign. Audi now has the smaller Q3 below the Q5 and a recently redesigned and larger Q7 above it, so I find it odd that Audi didn't take the opportunity to open up the Q5's smallish backseat to make it roomier.

Mike Hanley: Loser
Audis are normally leaders in terms of interior quality, which is why it was surprising to see so much low-rent trim on the dash and doors of the redesigned Q5. Automakers are always looking for ways to cut costs and the high-rent surfaces of past Audis didn't come cheap, but they took it too far in this model.
Aaron Bragman: Loser
I agree with Hanley the interior feels like Audi did a little too much cost-cutting, which is not at all what I expect from Audi, an automaker that's been setting the industry benchmark for interior materials for almost 20 years. That the exterior styling isn't all that different isn't a shock to me; Audis rarely change much from one generation to the next (if it ain't broke and all that). But with the Alfa Romeo Stelvio sitting just a few feet away on the show floor, Audi may have to rethink its game.
Brian Wong: Loser
This just doesn't feel like a redesign. I also agree with Bruzek: The backseat just felt way too tight for what's supposed to be the middle child of Audi's SUV family. Even the Stelvio had a lot more room for passengers and it's barely an SUV.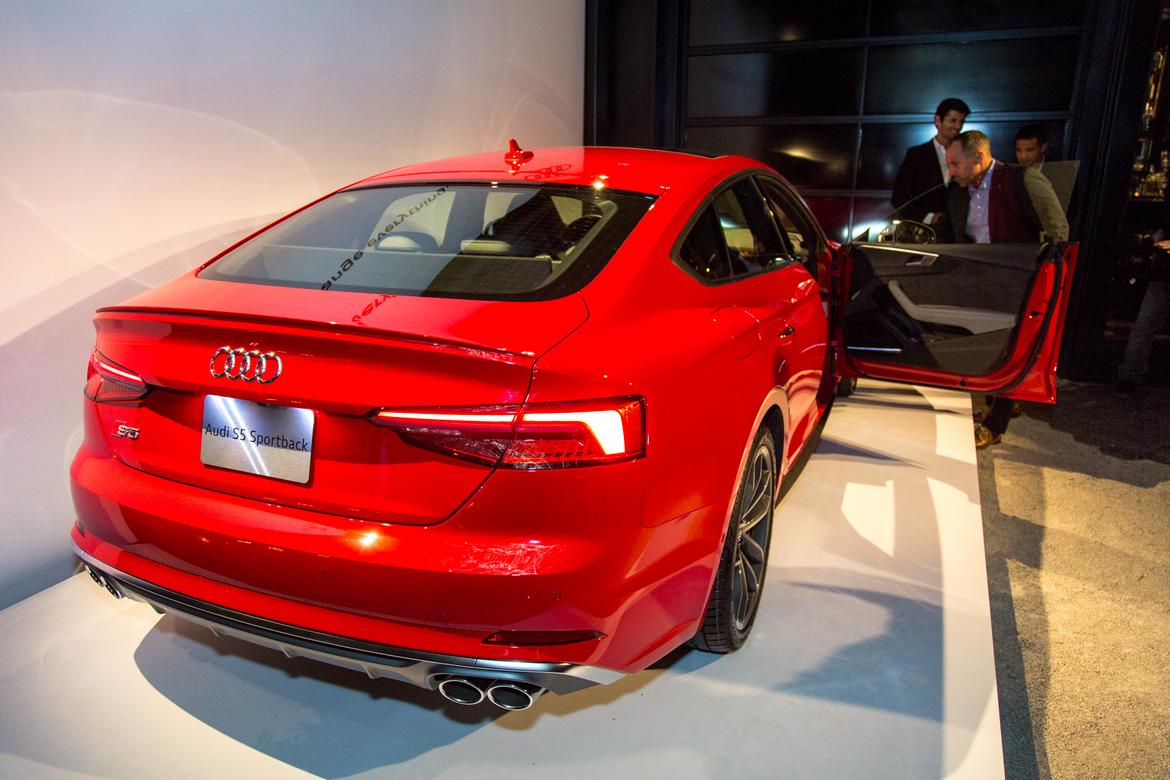 JB: Winner
I have a hard time acknowledging "four-door coupes" as a class of vehicles because real coupes have two doors, but I'm OK with whatever Audi wants to call the S5 Sportback because it's so gorgeous. Plus, there's no compromise in backseat headroom.
MH: Winner
The new Sportback follows in the vein of BMW's 4 Series Gran Coupe and has the same great style. The cabin is surprisingly roomy — especially the backseat, which has more headroom than you might expect. The U.S. market hasn't been a haven for hatchbacks, but with more cars like this, maybe that'll change.
AB: Winner
The styling isn't really a departure from the current A5/S5 and the car itself is not new on the global stage — but that doesn't take away from the fact that it is gorgeous, and it's finally coming here. I still don't call this a coupe (I'm also a purist who maintains that coupes have two doors), but even as a four-door hatchback, I'm on board.
BW: Winner
If we can't have wagons here in America, the S5 Sportback will have to do, and it fills the role pretty nicely. I think that the best-styled cars in Audi's lineup are the sleekly designed sedans and hatchbacks.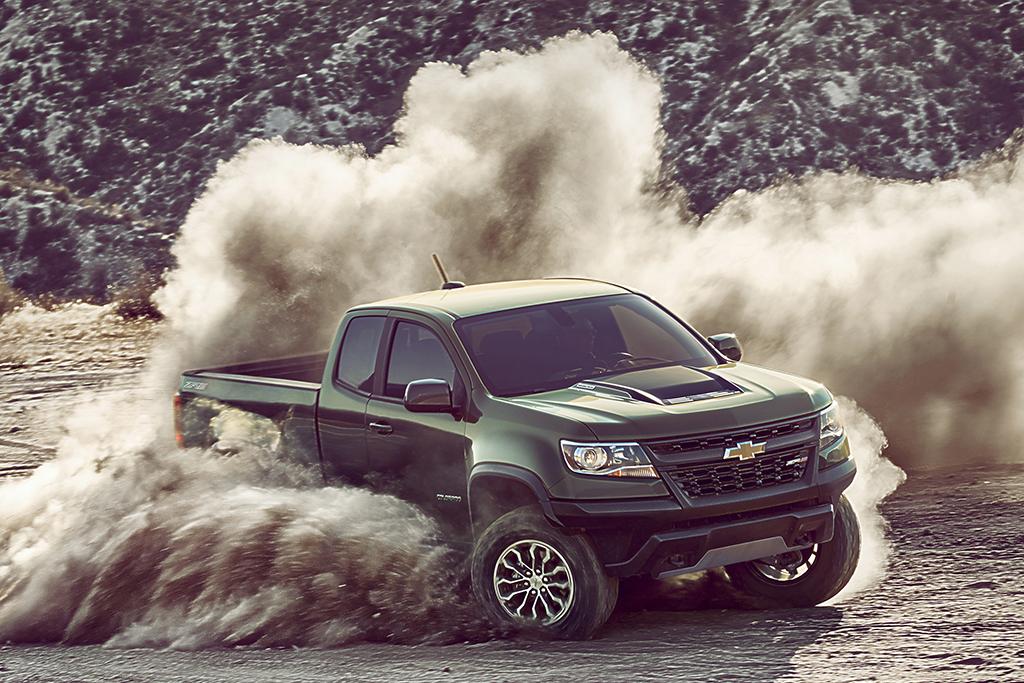 JB: Winner
The Colorado ZR2 is a whole lot more than a sticker package. There's serious off-road hardware underneath this Colorado, with trick shocks, widened track width and an optional bed-mounted full-size tire carrier.
MH: Winner
The Colorado is an impressive mid-size pickup truck in its own right, which makes it a great foundation for the ZR2's off-road goodies. The cutouts at the edges of the front bumper look a little odd, but I'll take the function over form in this case.
AB: Winner
Finally, an answer to Toyota's dominance of the off-road mid-size pickup segment. The Tacoma's Crawl Control system is fantastic, but Chevy one-ups it in nearly every category with selectable front and rear locking differentials, an available diesel engine and one of the slickest suspension setups ever offered on any truck, anywhere. I can't wait to run this thing through the dirt.
BW: Winner
In each of our previous off-road tests for mid-size pickups, Chevy has sent us its Z71, which is a mild off-road package without much capability. Now Chevy has a much more specialized Colorado with enough mechanical upgrades to truly compete. I'm chomping at the bit to see how this stacks up to the new Tacoma TRD Pro.
JB: Loser
I don't care if it's wrong, I'm pronouncing EcoSport "Eek-oh Sport" and not "Echo Sport" because, if it was the latter, it would be spelled as such. Regardless, the subcompact SUV is a weird little car with an uncomfortably upright backseat and undesirable rear swing gate.
MH: Loser
Subcompact SUVs can be a little odd-looking, but the EcoSport is worse than normal. I thought cabin space was decent for what it is, but there's a reason nearly every other SUV has a liftgate and not a swing gate. That's a big miss.
AB: Loser
I hate to pile on, but my colleagues are absolutely right that the swing gate kills this thing. For a vehicle intended for tight urban spaces, a liftgate is far more useful, as someone is certain to be parked inches from your rear bumper on a busy street, making opening that door difficult. Furthermore, it operates on a gas strut, so it opens on its own — you can't stop it halfway without holding it in place, meaning it's going to hit the car behind you every time.
BW: Loser
I don't hate to pile on when it's justified. Ford had a huge opportunity to bring over a vehicle to take a big chunk of this growing segment and much of the competition is not impressive. Instead, we get an Escape with the butt chopped off and a weird gate that you can't open if someone parks behind you.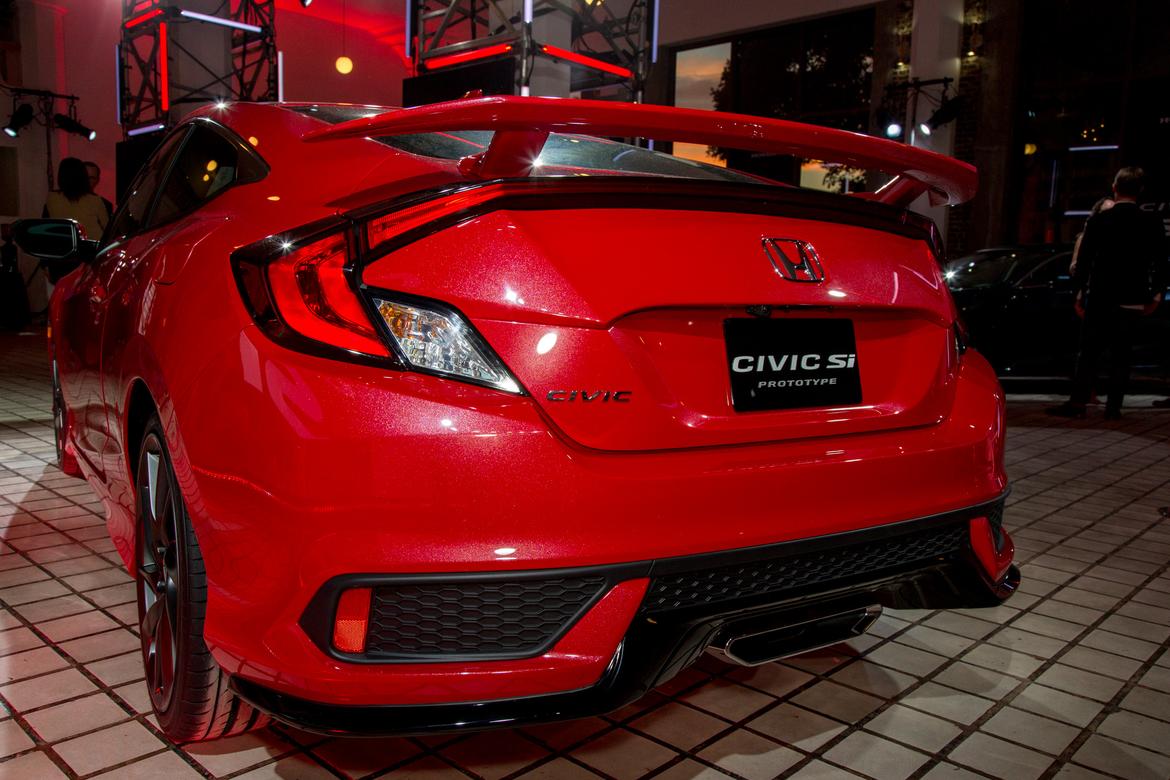 JB: Winner
It's not an impressive-looking car on the auto show floor, but the mechanics underneath the new Civic Si (limited-slip differential, turbocharged engine and active dampers) sound like it could take the Si name back to its former glory.
MH: Winner
The regular Civic is an entertaining car to drive, and that makes me especially excited to get behind the wheel of the upcoming Si. The previous Si didn't offer the most rewarding driving experience, but it looks like this one has a chance to make up for it.
AB: Winner
I'm all about getting more hot hatches to the market, and Honda's delivering a winner with the new Si. The styling, comfort and chassis dynamics of the current Civic are top-notch; amping them up with more power and some suspension goodies should make a good thing even better.
BW: Loser
If I could, I'd offer this an incomplete just because I don't think there are enough details to really get excited about. My colleagues are right: The Si will probably be great because the current generation of Civic is so much better than the last one. But without powertrain specs or knowing just how active that suspension will be, it's hard to call something a winner.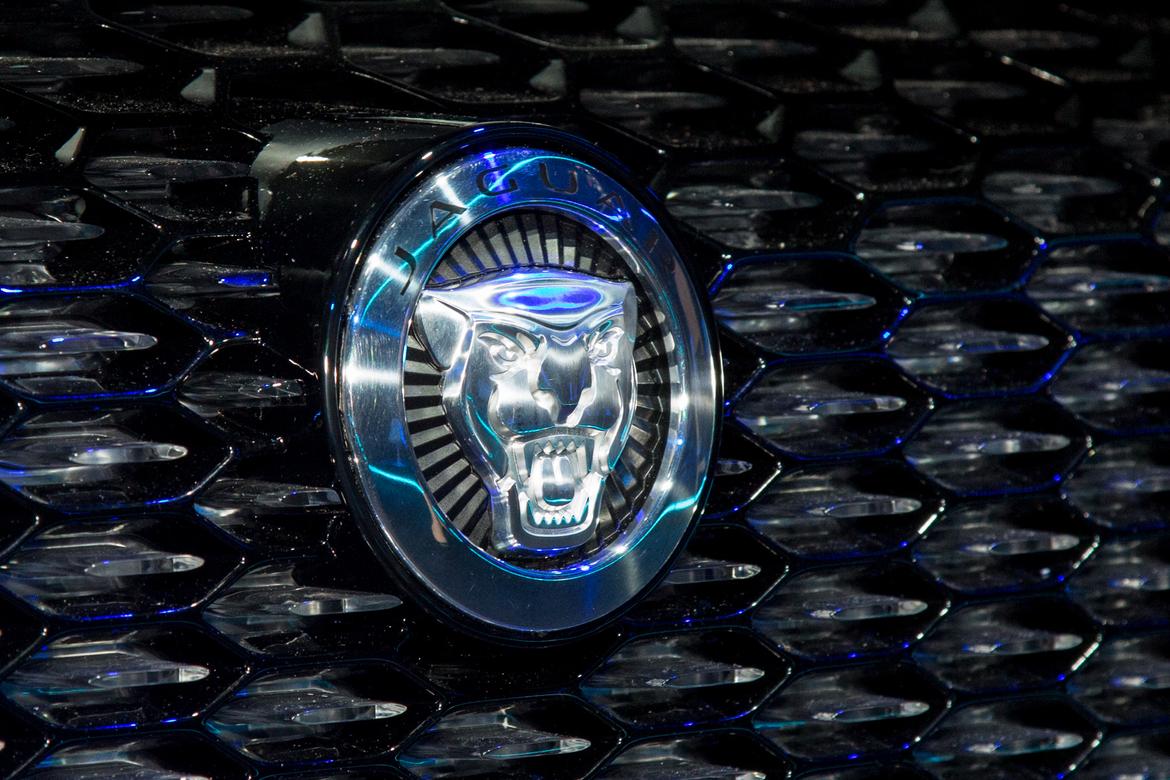 JB: Winner
Is Jaguar sure the I-Pace Concept is an SUV? Whatever Jaguar wants to label it, the sleekly styled electric concept is a stunner.
MH: Winner
Luxury automakers are rising to the Tesla challenge and the I-Pace Concept is just the latest example. If the promised production version delivers the performance and range affirmed by the concept, I think it'll create more than a few electric-car converts. But could you please change the name first, Jaguar? Thanks.
AB: Winner
This Jag concept's new "cab-forward" styling theme capitalizes on the fact that there's no engine in the car, allowing the cabin to be greatly expanded. It looks every inch a Jaguar, which is a great thing, but I worry that when it arrives in about a year or two, its total driving range will be only average (a 2017 Chevrolet Bolt EV can go further). And don't get me started about how much you tempt the stereotypical quality demons with an all-electric British car.
BW: Winner
I'm not as bullish on the I-Pace as the others, but I do like that electrification is moving to larger vehicles with more utility and passenger room. Styling from the B-pillars forward is seriously gorgeous, but the back is underwhelming. It's like a college paper from a procrastinating student: The beginning is well thought-out and cohesive; the back looks like it was rushed just to get it in on time.
JB: Winner
If you ignore the rest of the Jeep lineup, the redesigned Compass is a great small SUV that's a perfect entry in a crowded segment. What I'm struggling with is that Jeep's Renegade and Cherokee aren't sized very differently on the inside. Is there really room for three similarly sized SUVs in Jeep's lineup?
MH: Winner
If you build an SUV, they will come. That seems to be Jeep's guiding principle these days and it's working quite well in SUV-crazed America. The Compass is remarkably similar to the Cherokee on the inside, but it gives shoppers that baby Grand Cherokee look if they don't particularly care for the regular Cherokee's futuristic front end.
AB: Winner
I'm starting to get a little worried that Jeep is falling into the German luxury automaker playbook of "one sausage, several sizes" product proliferation (did we need another SUV that looks like the Grand Cherokee?), but there's no denying the appeal of the new Compass. It's surprisingly spacious inside, looks good outside and can actually go off-road in ways its competitors can't, maintaining some semblance of brand authenticity.
BW: Winner
Unlike Bruzek, I don't struggle with Jeep's lineup decisions — I'm just happy that there's now a small Jeep SUV that actually looks good. The Renegade and Cherokee really don't do it for me, so making the Compass look like a mini-Grand Cherokee vaults it to the head of the pack in my eyes.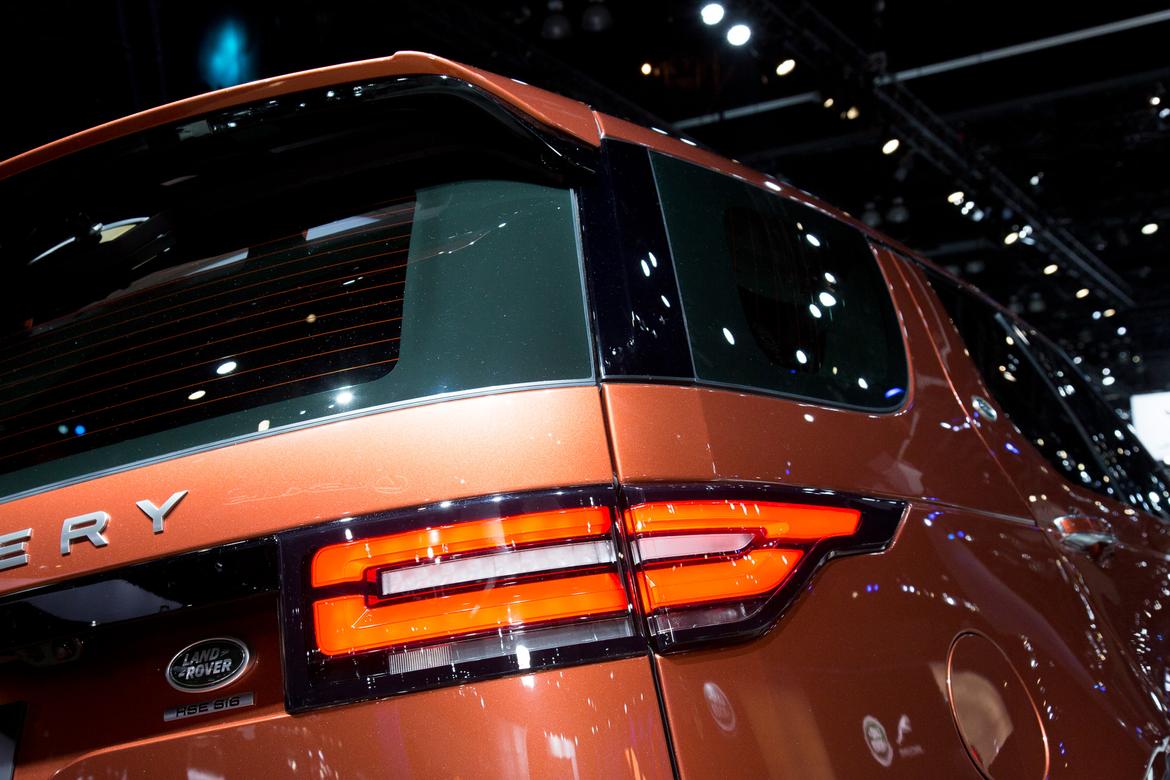 JB: Winner
Despite similar appearances, the Land Rover Discovery is a completely different SUV than the Land Rover Discovery Sport, which is good, because the Discovery Sport is just kind of "meh." The supersized Discovery has a legit usable third row for adults and a comfortable second row with no driveline or exhaust hump.
MH: Loser
The smoother, more rounded styling is a break from Land Rover tradition and works well on the Discovery, but the cabin disappointed me. Second-row comfort isn't great because the bottom cushion is low, and the power adjustments for the second and third rows felt like overkill.
AB: Winner
If you asked someone from 20 years ago to pen the look of the 21st century Land Rover SUV, this is what they would have come up with. You can see the design heritage of Land Rovers of yesteryear, but it's all done up in a smooth, streamlined style that takes the brand forward. Well done.
BW: Winner
Though it may not look like as rugged as the LR4 it replaces, the Discovery actually has more ground clearance and a deeper wading depth. Land Rover also claims that passengers up to 6 feet 2 inches can fit in the third row, which I fully believe — there's a lot of room back there. I didn't think the power adjustments were overkill; the fact that you can drop the seats from your phone feels like it will save time and avoid backaches from moving seats around.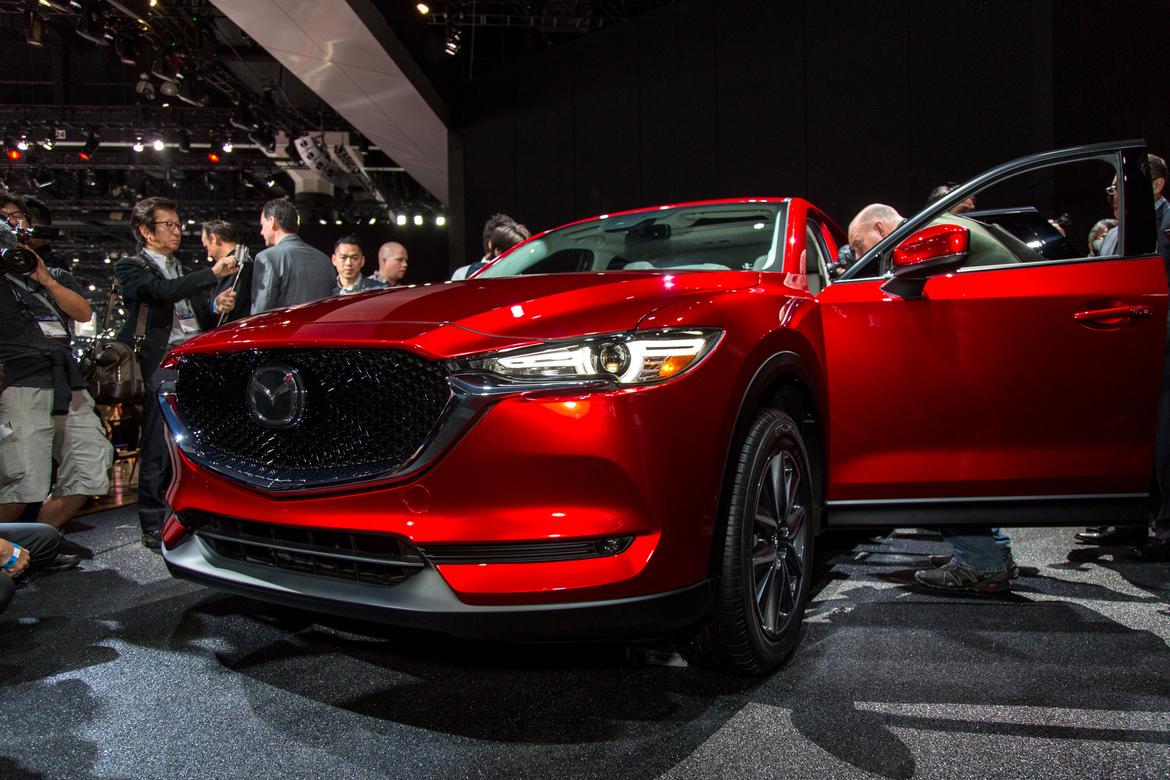 JB: Winner
The CX-5 is leapfrogging the compact SUV class with a new interior that could easily be mistaken for a premium or luxury car interior.
MH: Loser
I agree that the CX-5's cabin has a class-up feel to it, but it was hard to get excited about the evolutionary exterior styling. At a show filled with risk-taking designs, the CX-5 didn't stand out.
AB: Winner
The CX-5 is rock-solid proof that great styling requires nothing in terms of cost but reaps dividends aplenty when done right. It's got soul, it's got motion, it's attention-grabbing without being offensive — it won't outsell the Toyota RAV4 or Honda CR-V, but I sure wish it would.
BW: Loser
The CX-5 gets a long list of incremental changes and improvements in the redesign, but one thing that hasn't changed enough is the multimedia system. I'm not a fan of the knob/screen setup and was hoping to see an update on that front. It's an unfortunate boondoggle on what will still likely be the most fun-to-drive member of this class.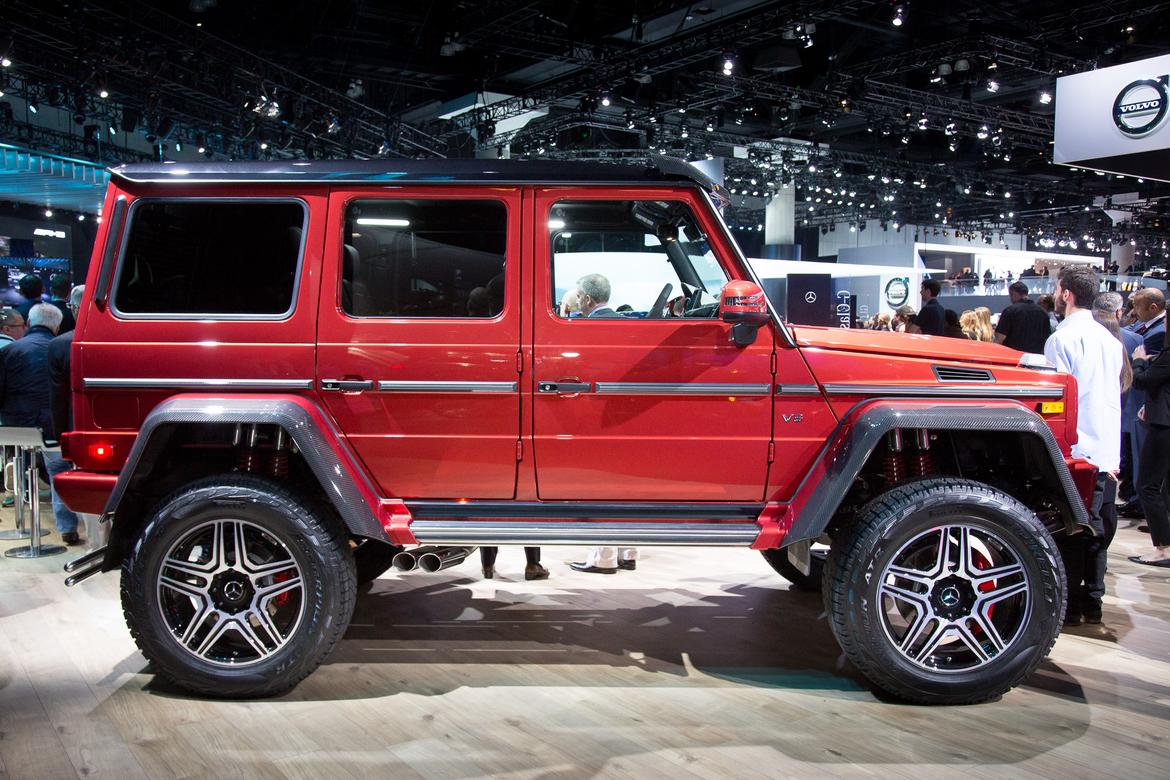 JB: Winner
The G550 sits so high off the ground with its 17 inches of ground clearance that you don't even have to get out the floor jack to clean the underside of Smart ForTwo debris when you accidentally run one over.
MH: Winner
If the G-Class didn't have a three-pointed star on its grille, people wouldn't believe it was a Mercedes — it's that different from the rest of the brand's lineup. The G550 4x4 Squared removes it even more, but it's easy to see why people on the show floor couldn't get enough of it. It's insane — and I mean that in the best possible way.
AB: Loser
I like insane (I'm a Hellcat fanboy), but this thing is absurd. Putting portal axles on it is absurd; lifting it nearly 2 feet off the ground is absurd. It's never going to go anywhere more challenging than a dirt road to a polo field, except perhaps in Dubai, where the locals actually do spend money on things like this and take them across the desert at top speed. But here in the U.S., it's going to be an expensive, gaudy Beverly Hills bauble that's impossible to actually climb into without a step stool.
BW: Winner
It's hard to stand out at an auto show, with all of the vehicles and the hubbub, but jacking up a G-wagen and painting it bright orange-red is one way to do it. This is a winner for me not because of the styling, but because it has the mechanical upgrades and off-road prowess to back it up.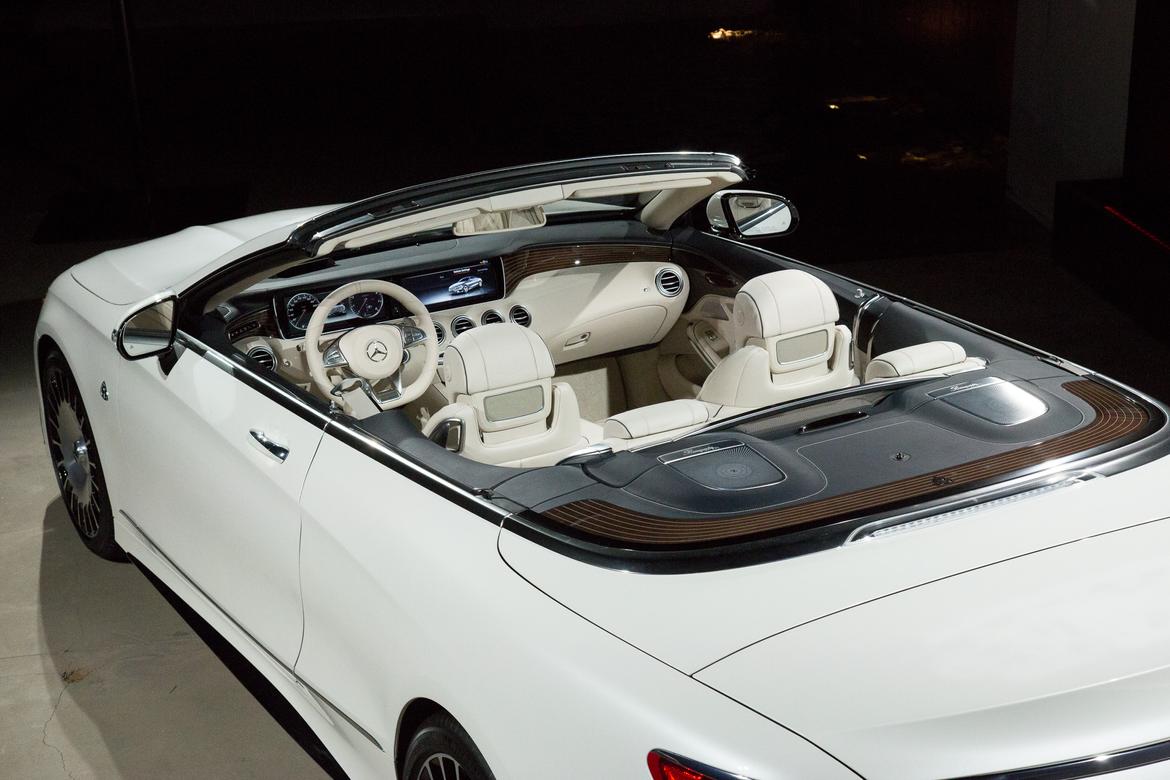 JB: Loser
How is this more opulent than the $248,825 S65 cabriolet? I'm not seeing a huge difference here.
MH: Loser
The S650 commands your attention, but I agree with Bruzek that it's not different enough from the regular S-Class. Sure, there are fancier floormats and Maybach badges, but the cabin is remarkably similar to the "base" model. To compete in the ultra-luxury segment, it needs more.
AB: Loser
As much as I love the S-Class cabrio, I have to agree that this doesn't go far enough to warrant a Maybach badge. The styling changes to the front end aren't doing it any favors, either, with that frowning chrome maw, but the interior doesn't feel appreciably different from an S550 cabrio. Those wheels are fantastic, however.
BW: Loser
Bragman, if you like those wheels, you can head over to the hardware store, buy some circular saw blades and save about 200 grand. I agree with my colleagues in that the Maybach is too similar to the S65, but I'll go a step further to say that I prefer the look and feel of the S65 as well.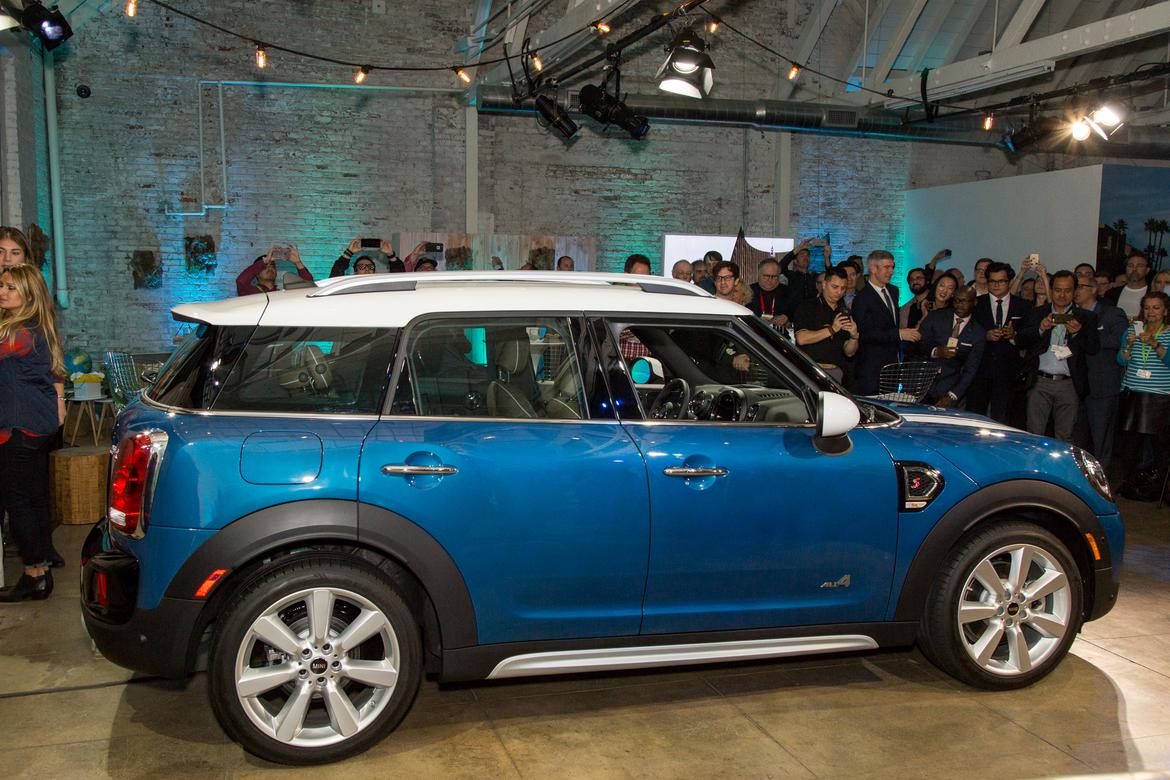 JB: Winner
The Mini Countryman is a lovable small SUV that's now more practical and more fun on the inside. Backseat roominess is up and the optional LED ambient lighting is like a laser-light show of color that pops all over the interior.
MH: Winner
We're long past the point where the size of a new Mini such as the Countryman is hinted at by the brand name, but the flipside of that is greater functionality and passenger comfort. In this case, it's a good trade-off.
AB: Winner
For when you absolutely have to have an SUV but you really like Mini's quirkiness and idiosyncrasies, here you go. No great departure from the last one, but with improved practicality and comfort, it should be popular.
BW: Winner
This thing really pushes the envelope of what can reasonably still be called a "Mini." The added length does add a lot in the way of practicality, with increased cargo room and — more importantly — added passenger space.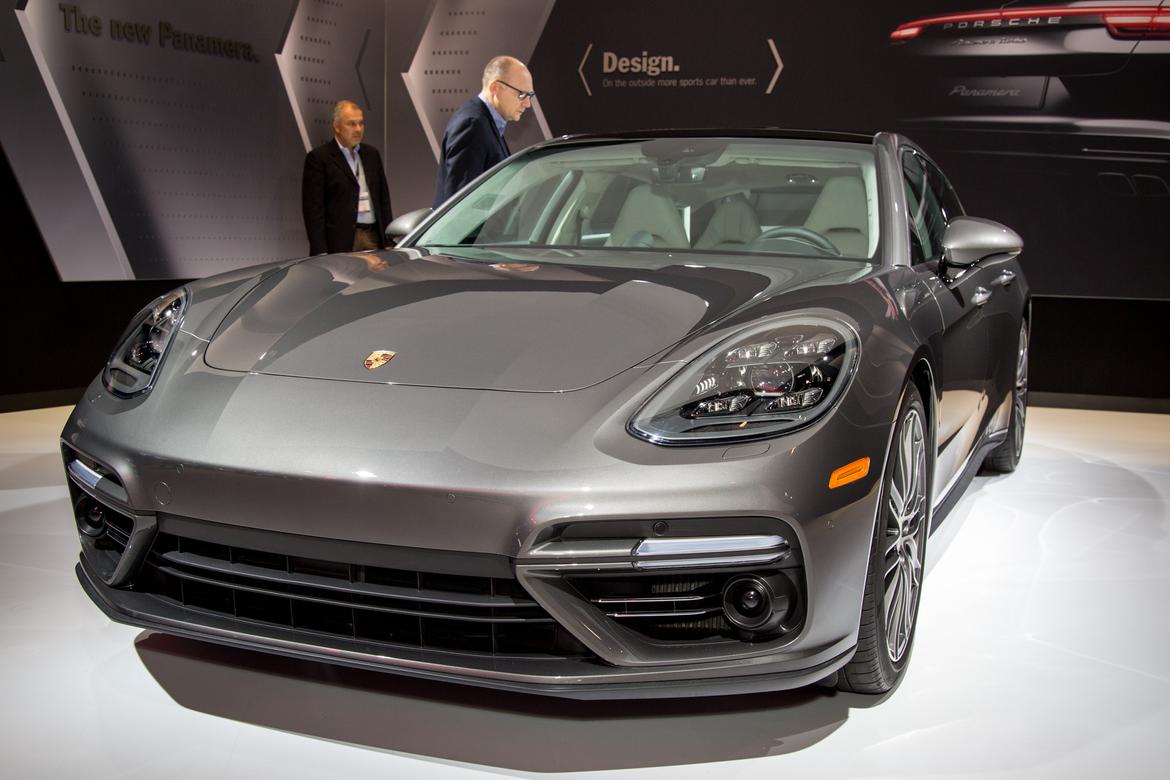 JB: Loser
Porsche went from one extreme to the other with the Panamera's center console, which previously had as many buttons as the space shuttle but now features a button-less capacitive touch panel. I'm obsessive when it comes to car cleanliness and the number of fingerprints this thing is going to collect already makes me anxious.
MH: Winner
I agree that the console's new touch-sensitive controls with haptic feedback could be bothersome, and the touchscreen-controlled ventilation louvers are a party trick that seems destined to drive owners batty, but Porsche did finally get the styling right on this car with a gracefully arcing rear roofline that honors the iconic 911. Well done.
AB: Loser
Walking up to the new Panamera, I was smitten — the subtle restyle has eliminated the awkwardness of the original design, with the new one looking elegant and superb. Then I sat in the luxuriously appointed cockpit and my heart sank: touch-sensitive panels everywhere. Touch panels do not convey luxury. They do not convey expensive machinery. They're dead, immovable plastic. The American experiment with them is winding down after initial quality ratings plummeted at Ford and Lincoln, but apparently the Germans haven't learned this lesson yet.
BW: Winner
The exterior styling changes are great and improve the Panamera's silhouette. I've also watched that video of the rear spoiler deploying at least 15 times. It's hard to say how the touch controls will work out until we try them with the car in motion, but I'm reserving judgment since the controls do give some feedback when pressed. Touchscreen-controlled vents weren't a feature I knew I wanted until I saw them.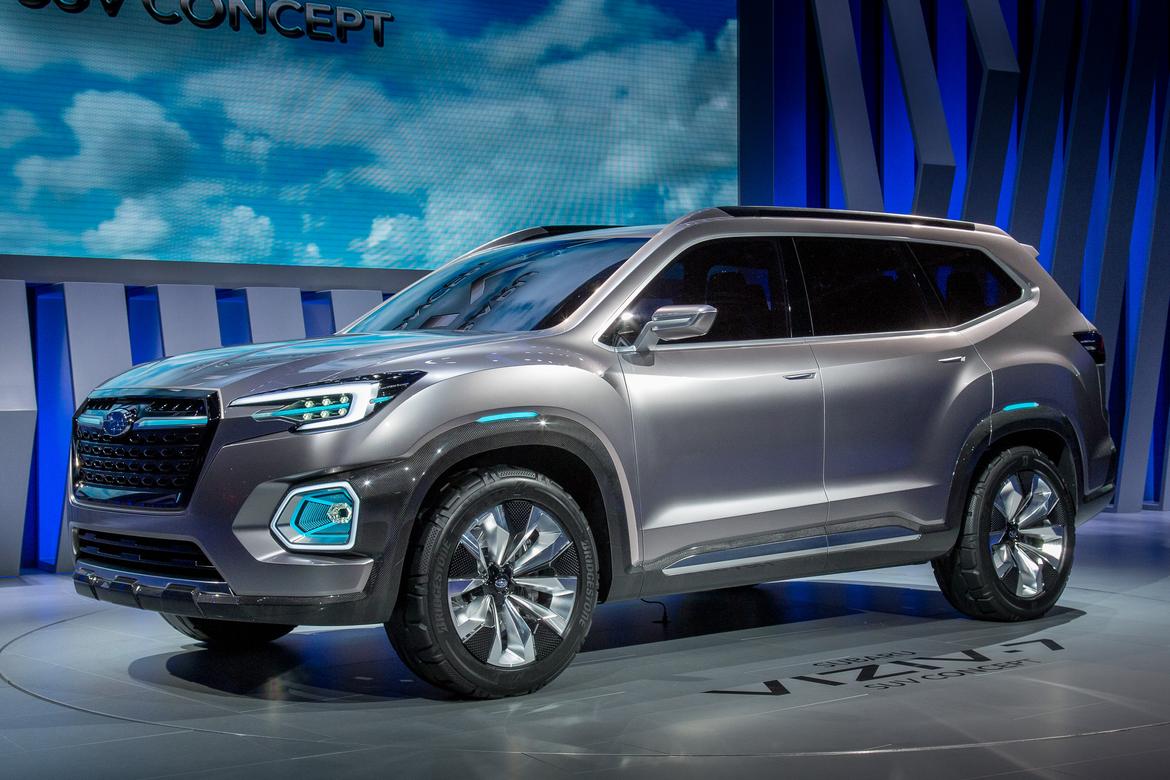 JB: Loser
The Viziv-7 looks like a more promising concept than some of Subaru's other lofty designs that disappointed in production trim. Its design feels very un-Subaru, however, and it doesn't share many design elements with the rest of the lineup, which has an attractive redesigned Impreza and sleek Legacy and Outback. This looks more like Subaru's old design with its bulky fenders and profile.
MH: Loser
Subaru did say the concept was more about revealing the size of its upcoming three-row mid-size SUV than what that model will look like, but it's a rare thing when a concept car's reason for being isn't design. The concept is in an important segment Subaru should do well in, but the whole thing was strange nonetheless.
AB: Loser
Is Subaru going for some kind of throwback look? Did it poach some stylists from the Mitsubishi studios? The styling of this concept SUV is an odd mix of older stuff from Subaru and design elements from other automakers (there's definitely Hyundai Santa Fe and Chevy Traverse in that beltline). We've lamented before that Subaru production cars never end up looking like their concepts, but in this case, I think I'm OK with that.
BW: Loser
I turned 30 this year, which means I am more aware than ever of my own mortality. So when a concept arrives that has no interior and doesn't indicate what the final design will look like, I want those precious minutes of my life back.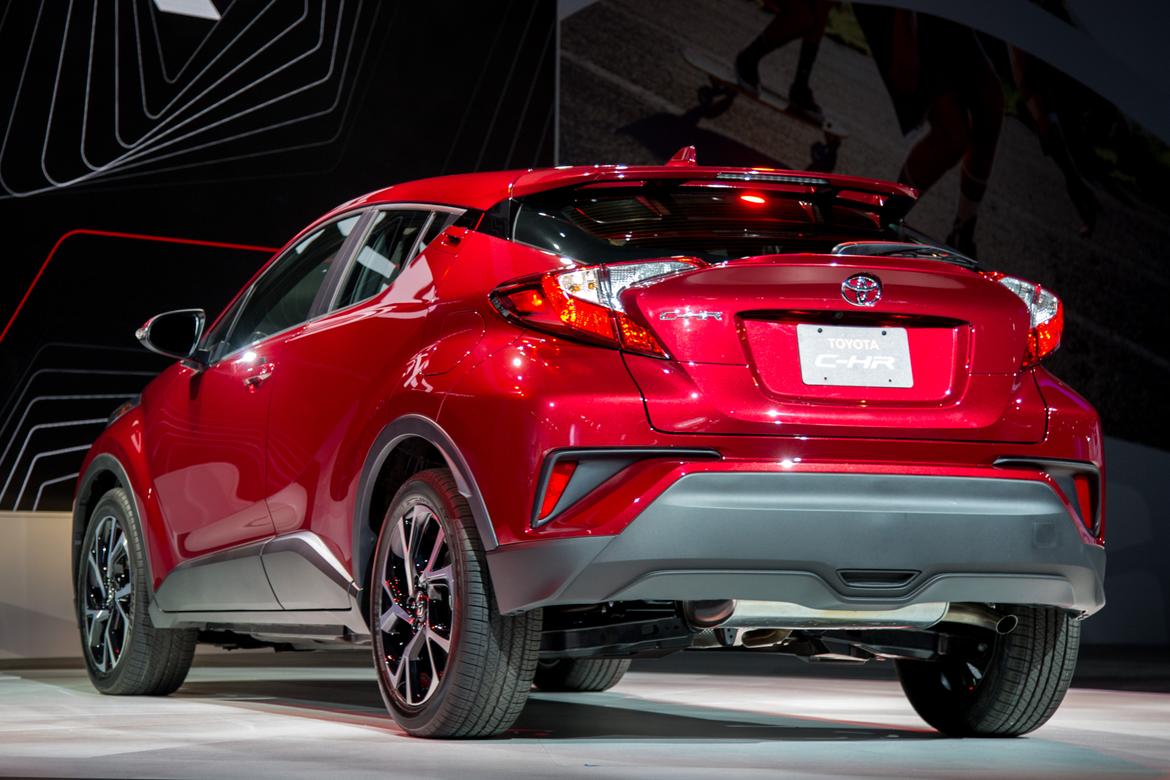 JB: Loser
The C-HR is competing in a class of subcompact SUVs whose major advantage over a regular small hatchback is all-wheel drive. And the C-HR will only be front-wheel drive when it launches. I like the adventurous styling, but visibility is not great.
MH: Winner
Toyota deserves a lot of credit for sticking with the funky, unconventional styling that defined the concept version of the C-HR; it works quite well in production form. The car has its quirks, like restricted visibility out the rear side windows, but it's shockingly roomy considering its small overall size.
AB: Loser
I don't actually hate the styling, but I hate that the car breaks the promise made by its styling — it looks like it's going to be a riot to drive until you learn that it's got a 144-horsepower engine and a continuously variable automatic transmission. Which is a perfect combination for a nice, comfortable nap, not a blast up a canyon road.
BW: Winner
I like the styling. I like that it looks like nothing else in Toyota's lineup. And I love that despite its appearance suggesting otherwise, it has a lot of backseat room for passengers, which is missing in much of this class. Thank goodness it has an available blind spot warning system though, because rearward visibility is not good. Not good at all.
JB: Loser
Volkswagen is known for including more premium interior materials than mainstream automakers, but I don't see it in the Atlas. In terms of functionally, however, third-row access is extremely impressive and roominess is good, too.
MH: Loser
The interior is cavernous — especially the second row — and it puts the Atlas near the top of the three-row SUV pack in that regard. However, like Bruzek, I expected better materials. I never warmed to the exterior styling, either.
AB: Loser
The problem with the VW Atlas can be summed up in two words: Volkswagen Touareg. We know that VW can make a big, classy SUV with a top-notch interior because it's been doing so for more than a decade. VW's attempt at making a bigger, less expensive model for the American market definitely hit the target — but it lost the specialness that makes so many VW products appealing. After waiting this long for the Atlas to arrive, this is a big letdown.
BW: Loser
This was a close one for me, because I don't really have a problem with the Atlas. Its interior packaging is really clever: There's about 9 inches of second-row travel, which offers easy access to the third-row, and legroom can be rearranged so everyone fits comfortably. But there's nothing about the big SUV that wows. Its styling is "meh" and it doesn't push the envelope enough to be noteworthy.