2017 Chevrolet Traverse Versus 2018 Chevrolet Traverse: Photo Gallery

CARS.COM — The Chevrolet Traverse makes a big transformation for 2018 with new styling and supersized dimensions changing its entire look front to back. To show you piece by piece what's changed, we're comparing photos of the old Chevrolet Traverse SUV with the new SUV in key areas.
While the Traverse has been periodically updated since its introduction nine years ago, this is its first complete redesign, and seeing the 2017 and 2018 Chevrolet Traverse compared side-by-side really shows it was time for a comprehensive update.
Related: 2018 Chevrolet Traverse Review: First Impressions and Photo Gallery
Front
The overall effect of the new styling pumps up the Traverse's bold factor. The front end has an upright and more prominent grille that's capped by a squared-off hood. New headlights have LED daytime running lights with high-intensity discharge headlights, and there are available LED headlights on higher-end Premier and High Country trim levels.

Profile
The Traverse's profile shows off its meatiest design change. The 2018 was intentionally styled to mimic Chevrolet's full-size Tahoe and Suburban, and you see that in the stark horizontal bodyline that flows uninterrupted from the headlights to the taillights and runs almost parallel to the roofline, which doesn't slope at the rear like the outgoing SUV.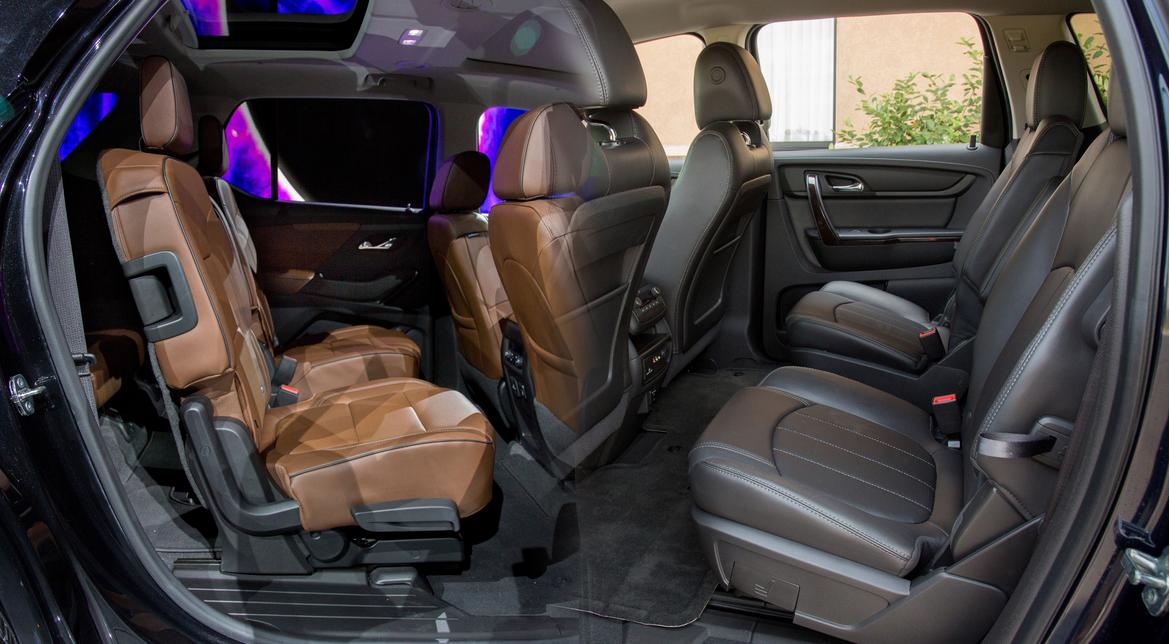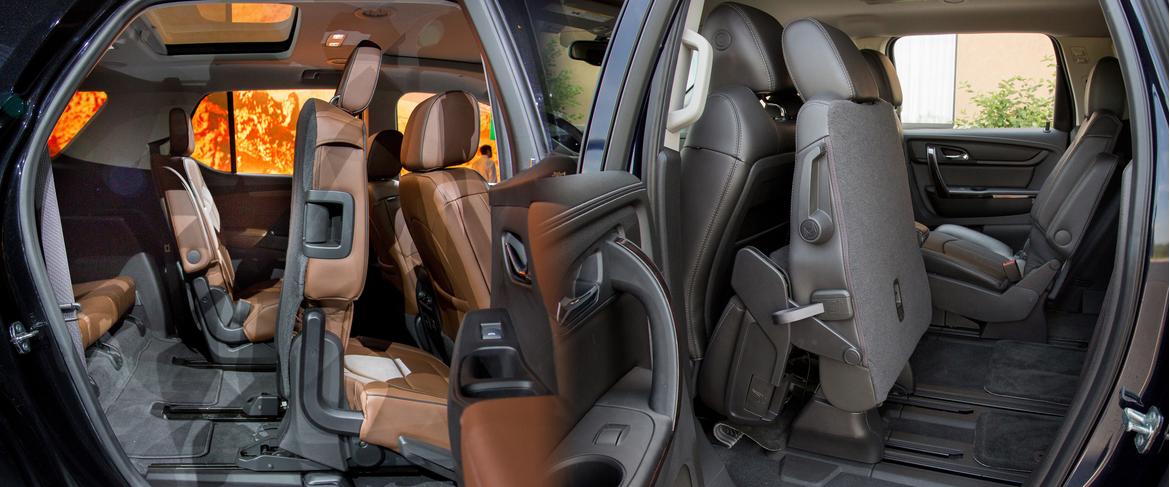 Second Row
Second-row passengers benefit the most from the update with significantly more legroom than before (2.2 inches). A new function of the sliding second row allows the seat to slide forward for third-row access with a forward-facing child seat installed, though only on the passenger side.

Third Row
A squared-off rear end and an extended wheelbase supplies third-row passengers with more headroom, legroom and hip room. The way back is now more comfortable than before, with a half-inch more legroom, and is one area we're glad to take on more minivan-like dimensions.

Interior
All-new interior styling is more carlike than the Tahoe or Suburban and, on the High Country trim, has many premium qualities. The outgoing Traverse's interior didn't feel nearly 10 years old thanks to updates along the way, but the new styling is a big step up and its higher-quality materials make it a nicer place to be.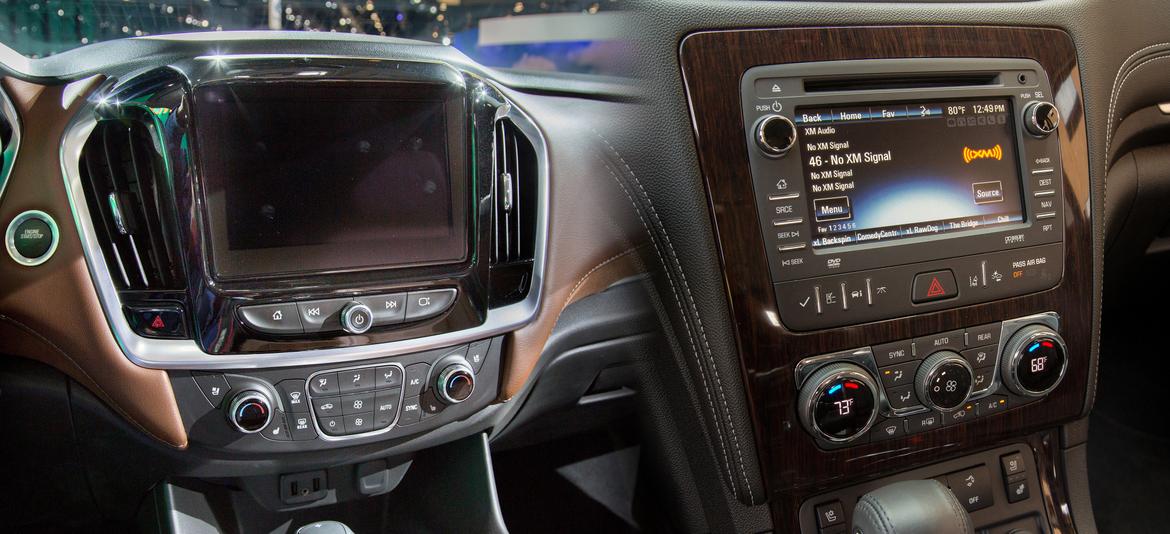 Multimedia
Gone is the outdated multimedia system, replaced with a 7- or 8-inch touchscreen infotainment system with Apple CarPlay and Android Auto for mirroring smartphone apps like navigation and streaming music to the Traverse's media screen. The media screen itself raises out of the console to reveal a hidden storage cubby.

Gauges
Like the multimedia system, the gauges in Chevy's 2017 Traverse screamed "I'm old" with their soft green glow and dot matrix readout. The 2018's gauges are modernized with a high-quality center digital display like most of Chevrolet's lineup, including its trucks and full-size SUVs.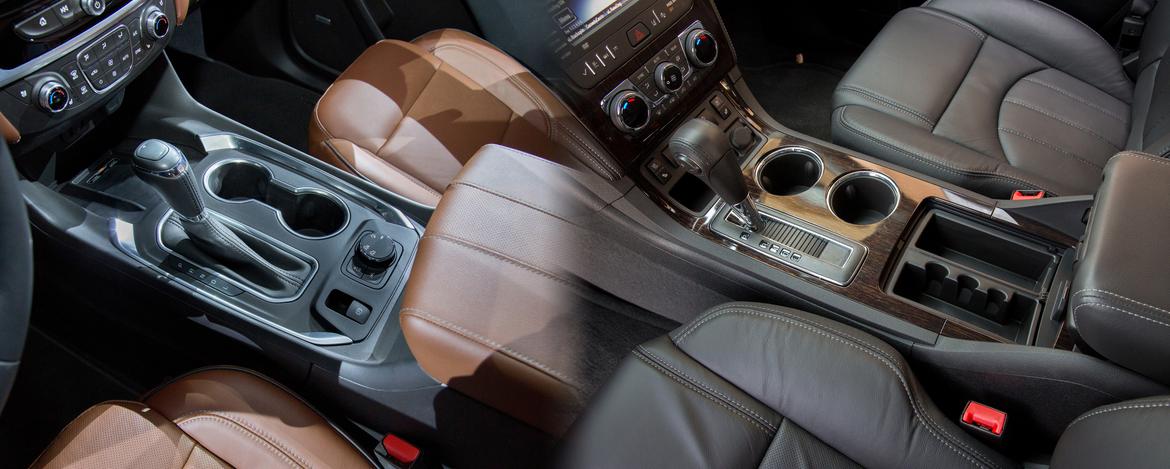 Center Console
Chevrolet opened up the center console with an additional storage cubby forward of the gear selector that also houses available wireless charging. The new dial is a traction management system that adjusts vehicle settings for varying road conditions.

Rear
Rear styling is squared like the front and profile, creating a boxlike shape, unlike the outgoing Traverse that had a rounded design more similar to a minivan. Functionally, we've always likened the Traverse to a minivan more so than competitors because of its huge size and cargo space compared with a Toyota Highlander, Ford Explorer or Honda Pilot, but its bolder styling makes that connection a little harder to make for 2018.