2017 Ford Fusion V-6 Sport Review: First Drive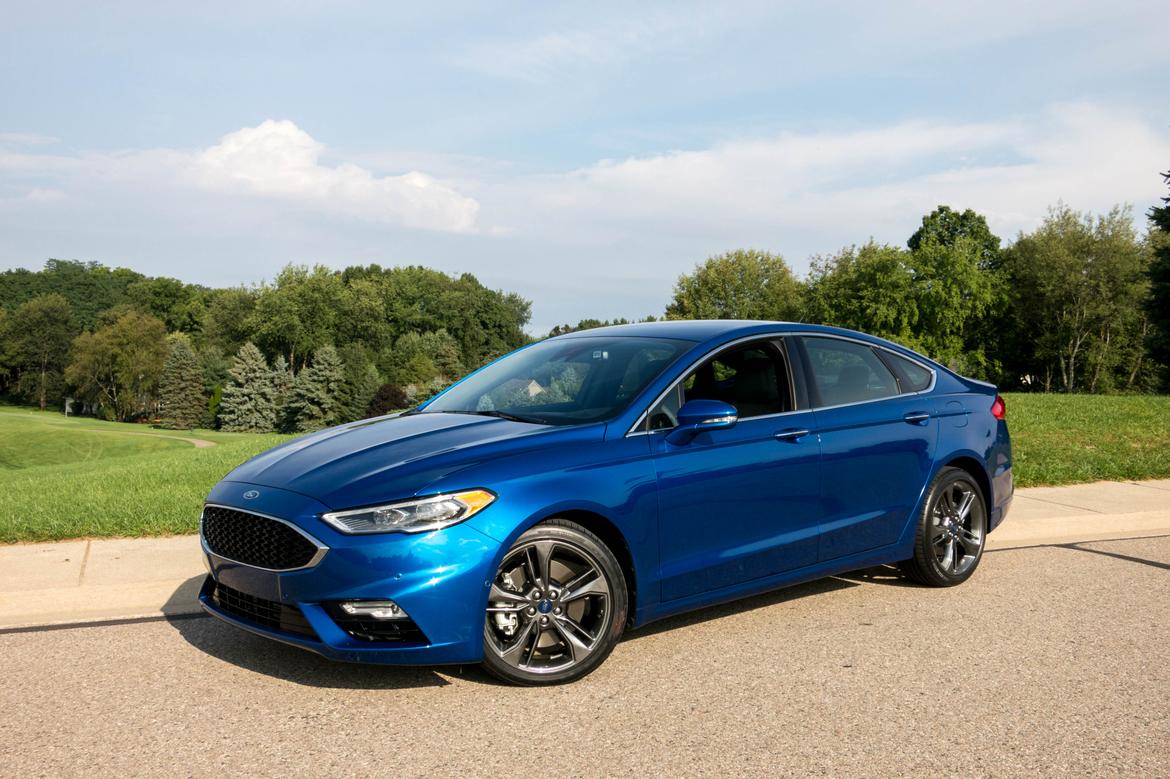 CARS.COM — Ford's newly redesigned Fusion sedan has received some updates for the 2017 model year, including slight exterior refinements, a new transmission and a new multimedia system. It also offers three gasoline powertrains and two hybrid models. We already reviewed two of the gas-powered trim levels here; Ford has since added a semi-high-performance model to appeal to folks who like a little stealth with their speed: the new 2017 Ford Fusion V-6 Sport, which features some noteworthy upgrades over other Fusion models.
Related: Ford Syncs Up Availability of Android Auto, Apple CarPlay Across 2017 Lineup
On the outside, the differences are subtle. A different lower bumper housing LED fog lamps is included, a dark high-gloss black grille is swapped in and 19-inch dark painted wheels are added. The look is subtle; frankly, there's little in the way of distinguishing differences from any other high-end Fusion model. You really have to look for it if you plan on spotting a Sport.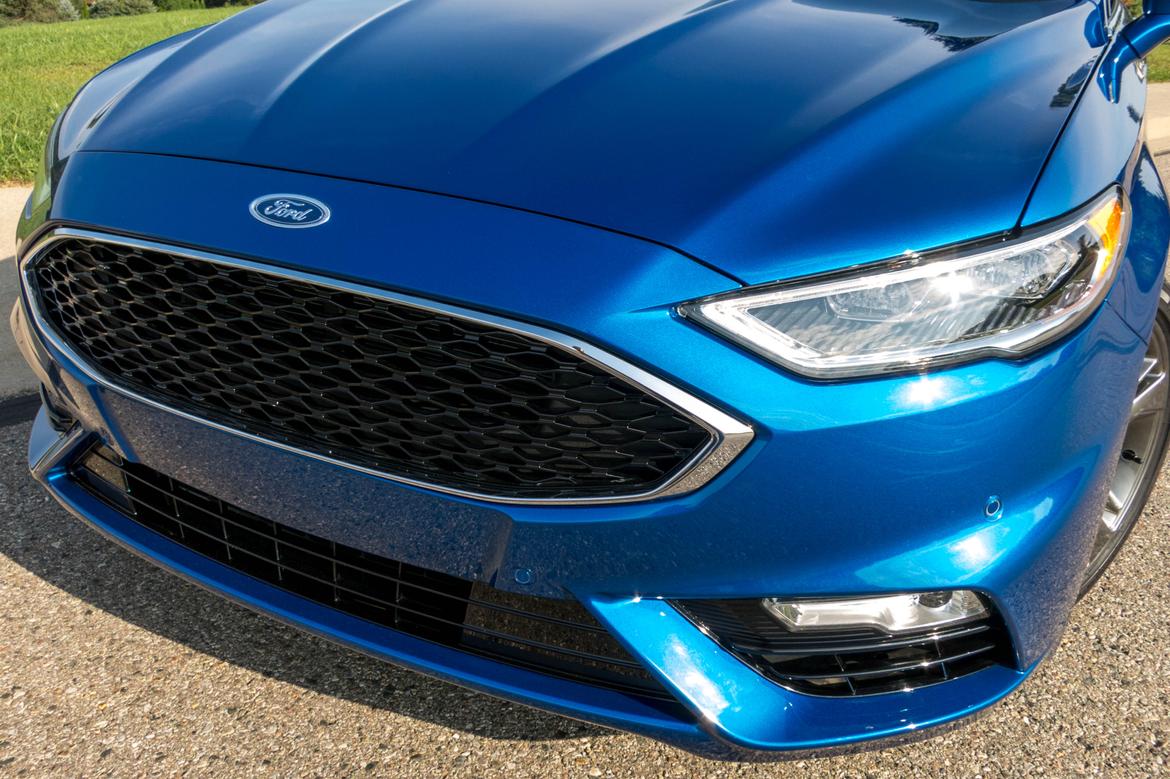 The differences from the driver's seat are more apparent. The Sport is powered by a fourth optional powertrain — a twin-turbocharged 2.7-liter V-6 EcoBoost engine, the same one that's in the Edge Sport SUV. In the Fusion Sport, it makes 325 horsepower and 380 pounds-feet of torque. That's a significant bump over the next-most powerful engine in the Fusion lineup, a turbocharged 2.0-liter four-cylinder that makes 245 hp and 275 pounds-feet of torque. Equipped with that four-cylinder, the Fusion is no slouch — but stuff the twin-turbo V-6 in it and we go from cold fusion to hot fusion. There are very few outward signs that this is a hotter Fusion, mind you, and Global Fusion & Mondeo Program Chief Engineer Todd Soderquist prefers it that way. He likens the Fusion Sport to one of the old muscle cars from the 1960s: Only you really know what's under the hood at first, but others will, too, as soon as you floor it.
To extract the most out of the Fusion Sport, you push the "S" button that sits in the middle of the new-for-2017 rotary shift knob on the center console. That activates Sport mode, illuminates a little orange "S" in the gauge cluster and changes a bunch of settings in the car. Transmission shift points and throttle response are adjusted for a sportier feel, while the Continuously Controlled Damping electronic suspension (previously found only on the related Lincoln MKZ) and electric power steering are firmed up. It turns the Fusion from a solid, quiet, already-enjoyable premium sedan into a truly athletic one.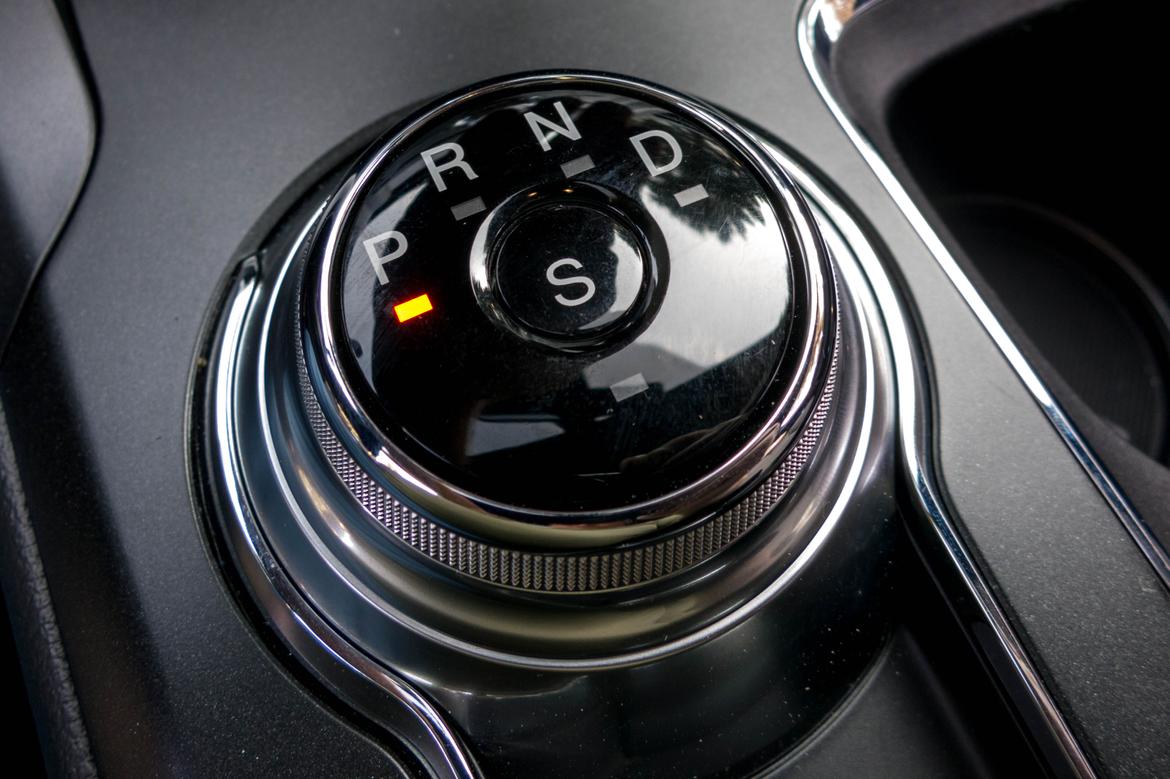 The steering and suspension are well dialed-in, providing a flat, stable platform with which to tackle twisty roads. Broken pavement doesn't upset the suspension, and the feedback that makes it to the driver through both the steering wheel and the seat cushion is useful, not intrusive. The V-6 Sport also includes all-wheel drive as standard, so torque steer is impressively mitigated under hard throttle. Engaging Sport mode also changes the V-6 engine's soundtrack — the interior is well insulated from exterior sound, so Ford pipes engine sounds through the audio system. Push the Sport button and the tune changes to a louder, more aggressive tone. The Sport mode also prevents timing-out on the flappy-paddle transmission shifters located behind the steering wheel. I'm not sure who actually uses paddle shifters on an automatic-transmission car, but they're there if you want them and they won't revert to automatic-transmission operation until you tell them to by applying the upshift paddle for three seconds.
My only real complaint with the Sport has to do with the accelerator sensitivity in Sport mode. When exiting a turn, for instance, and squeezing the throttle to increase your speed, the car is much more eager than you may be to accelerate. You're expecting a smooth, even rush of power, but what you get instead is a quick, hard downshift and a leap forward that feels like an overreaction to the input you've given. The Sport is almost better when you leave it in normal mode and forgo the Sport button altogether. It already has an impressive level of power, refinement, poise and polish. To put a finer point on it: I drove to this Ford test-drive event in a new 2016 BMW 340i — and found the Fusion Sport to be a more rewarding drive.
Inside, the Fusion Sport isn't all that different from any other Fusion SE. The Sport package builds on the SE Luxury trim, adding embroidered floor mats, aluminum pedals and leather-and-suede sport seats with unique stitching in Dark Earth Gray only. As we've seen in the previous test of the redesigned Fusion, the interior's simplicity and comfort are excellent, with high-quality materials and a new multimedia system, Sync 3, that's far better to use than the outgoing one. It's a pleasant place to be, with better multimedia tech than the Accord and far better materials quality than the Camry.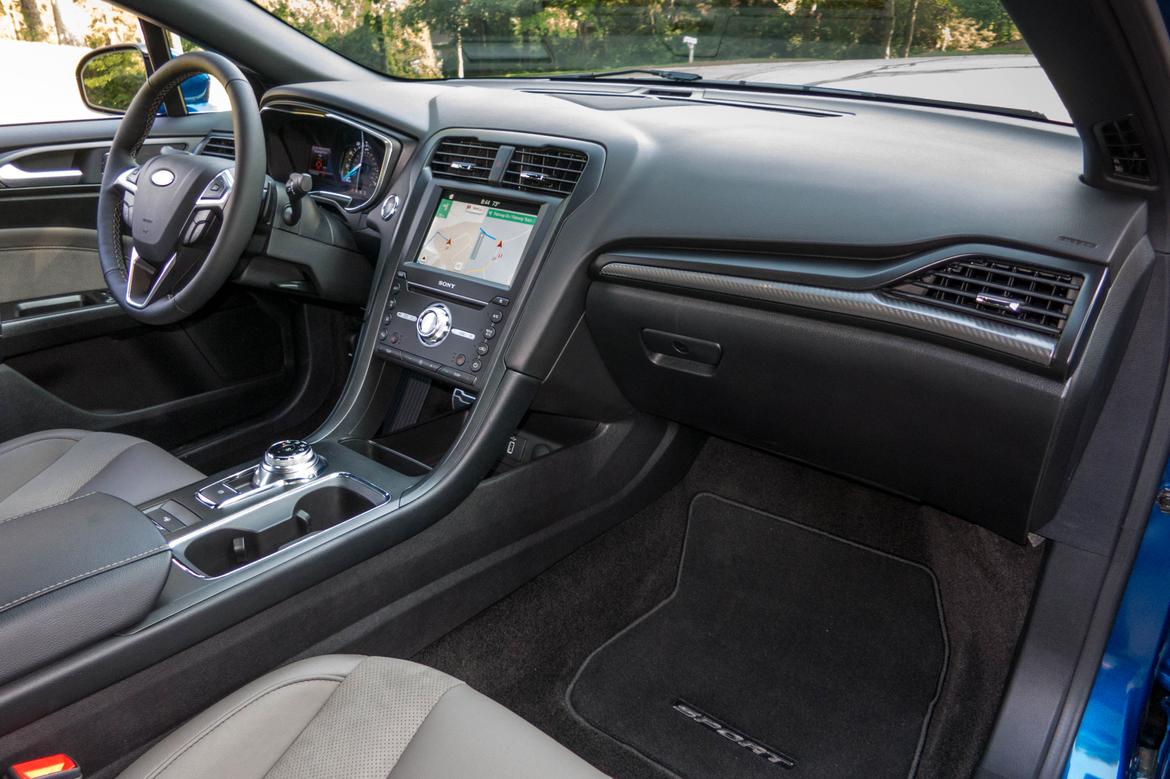 The base Fusion Sport starts at $34,350 and gets you all those go-fast goodies, the special electronic suspension and all-wheel drive as standard equipment. Start adding options, such as the 401A Equipment Group Package that includes dual-zone climate control, ambient lighting, a digital gauge cluster, reverse sensing system, Sync 3 and a Sony premium audio system, and you'll add another $2,000. Load one up like my test car with adaptive cruise control, navigation, electronic driver assist safety systems and metallic paint, and you'll easily reach the $41,350 of my test car.
Which leads us to wonder what midsize cars really compete with a Fusion Sport. No midsize non-luxury competitor offers anything with this much power and capability. The only option that comes to mind is the Nissan Maxima, which bills itself as a "four-door sports car." The Fusion Sport easily matches the Maxima in abilities, with more power than the Nissan's larger, non-turbocharged V-6 engine. The Maxima does match up on price and amenities, however, and is easily a match for the Fusion Sport in the handling department. It also looks more aggressive than the Fusion Sport; nobody would mistake it for a four-cylinder Altima, unlike the Fusion Sport, which doesn't look all that different from lesser trims. But if flying under the radar is more your speed, the Fusion Sport is definitely a performance vehicle worth a look.
2017 Ford Fusion Sport; Cars.com photos by Aaron Bragman