2017 Hyundai Ioniq Hybrid Vs. 2017 Toyota Prius: Who's the King of Fuel Economy?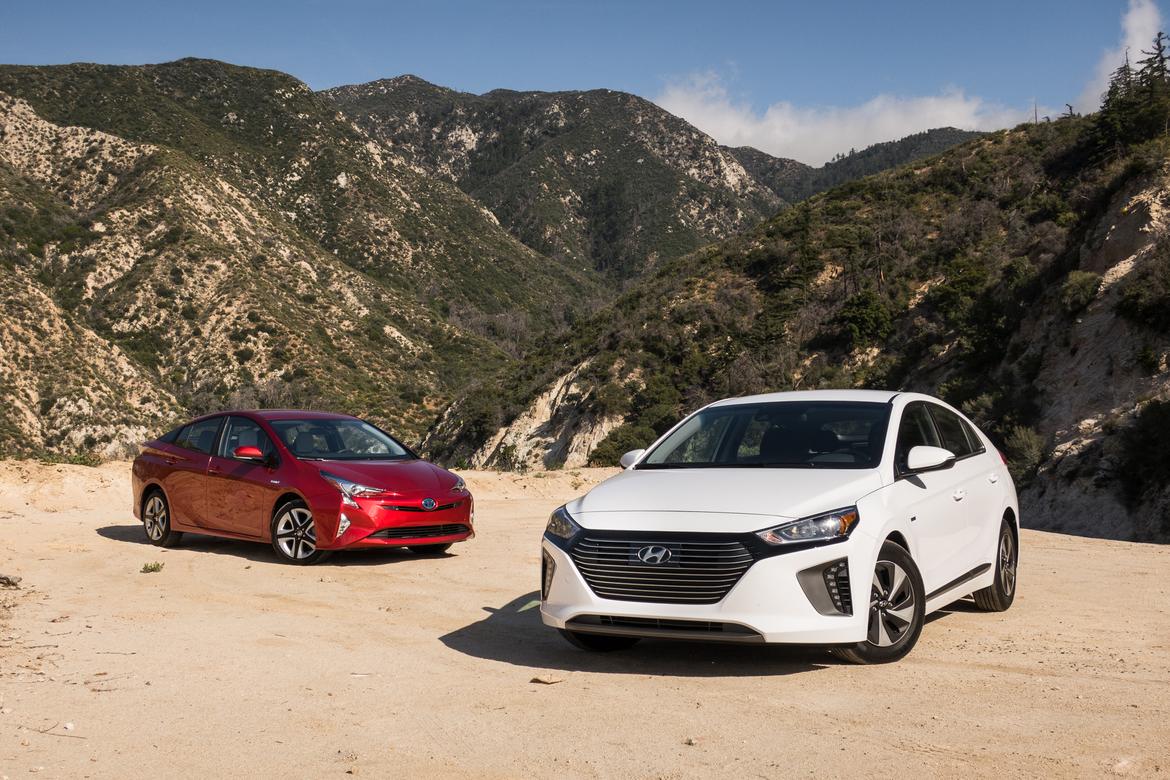 CARS.COM — Hyundai has not been shy with its introduction of the 2017 Ioniq Hybrid, boldly proclaiming that the "world didn't need another hybrid, it needed a better hybrid" in its commercial (cue the catchy jingle and off-key singing). Its main rival is obvious: The Toyota Prius is as closely associated with the words "hybrid" and "fuel efficiency" as drunk tattoo is to "bad decision." But can the Ioniq take down the fuel economy king?
Related: 2017 Hyundai Ioniq Hybrid Vs. 2017 Toyota Prius: What You Get
For starters, where the Prius zigs, the Ioniq zags. The Prius has zany styling and a crazy two-tone interior; the Ioniq Hybrid looks so understated that it glides by unnoticed. The only thing they really have in common is that fuel economy is their largest selling point.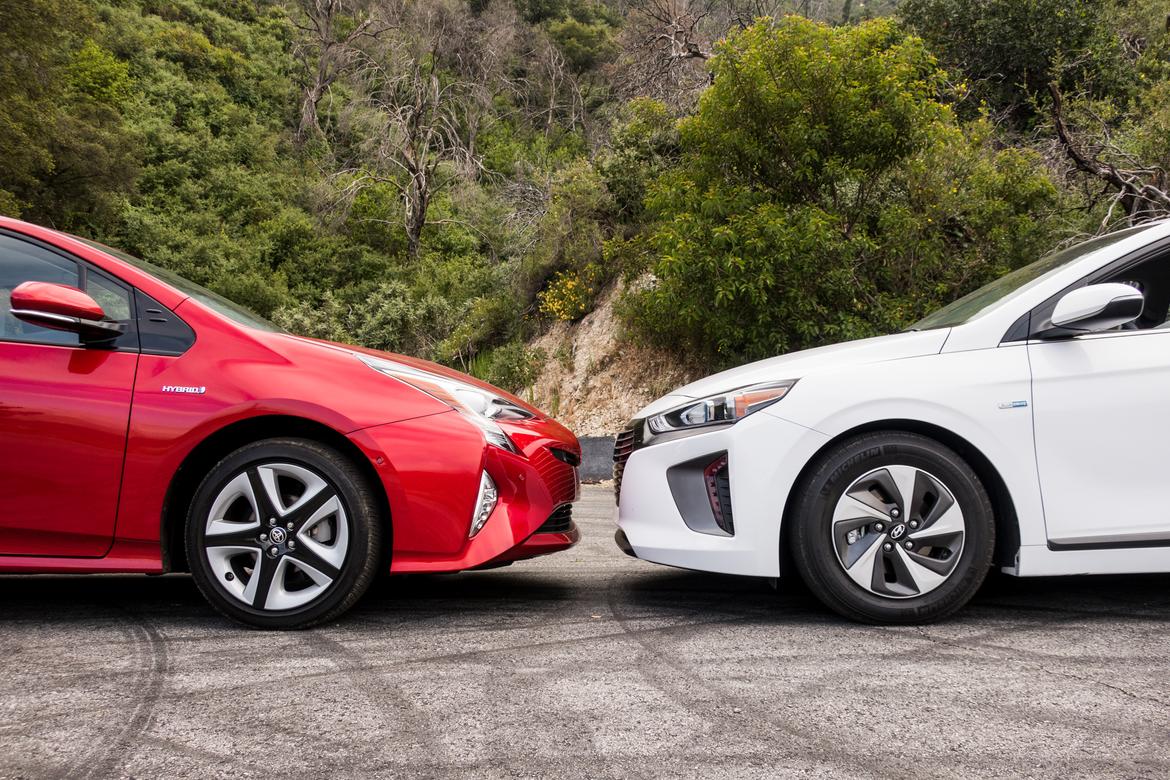 Assistant Managing Editor Mark Williams and I took an Ioniq Hybrid SEL and a Prius Four Touring on a fuel economy loop to settle this contest. On paper, the Ioniq's EPA ratings give it an edge. The Ioniq Hybrid is rated at 55/54/55 mpg city/highway/combined, beating the Prius' 54/50/52 mpg rating by 3 combined mpg. Both vehicles do offer an eco-focused trim level that offers even higher mpg, but we wanted to compare like for like and used the more comparable trims of both vehicles.
After completing our 250-mile route, the Ioniq Hybrid took the win; its 54.43 mpg beat the Prius and its 50.37 mpg. Our drive route skewed towards highway driving, comprising about 50 miles of city driving and 50 miles of mountainous roads with a lot of elevation changes tossed in. It was an impressive performance by the Ioniq Hybrid.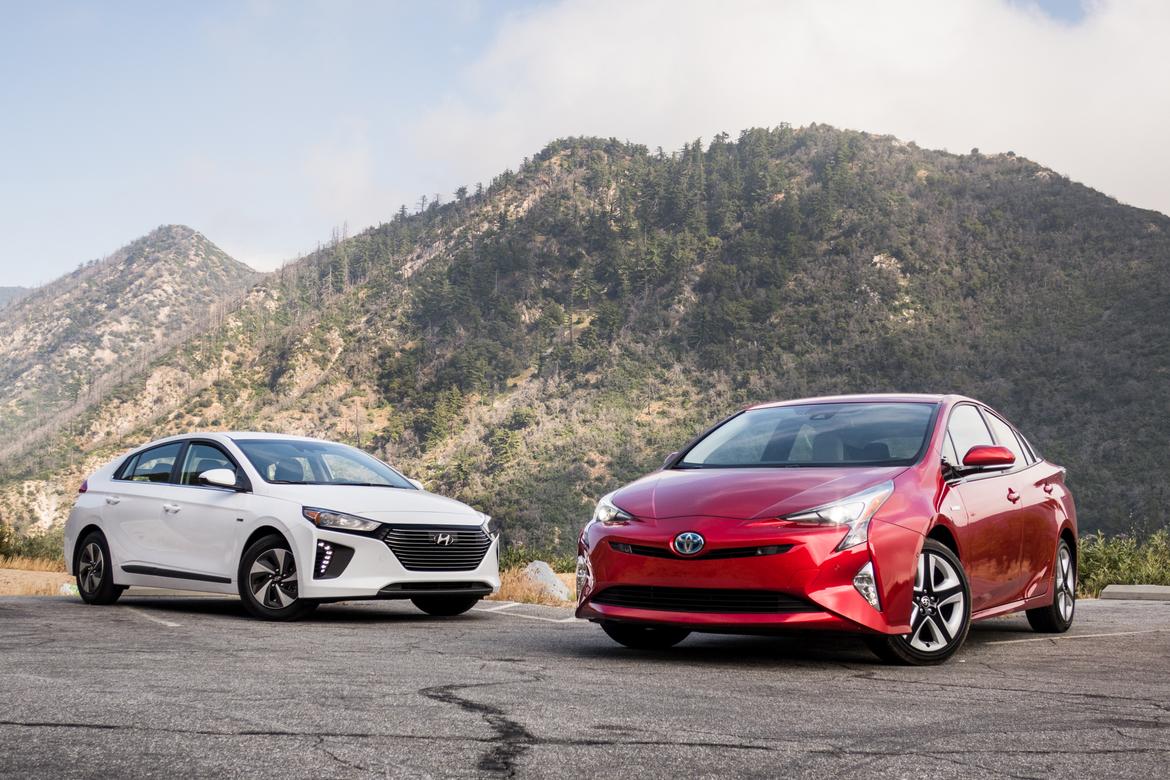 But in terms of road manners, things ended up a bit different. Both Mark and I preferred the driving experience in the Prius to the Ioniq Hybrid. Toyota has been making these hybrid electric powertrains for a long time now, and the automaker's experience shows. The Prius felt like it used a bit more electric power for smoother, more linear acceleration. It was also the better handling car of the two by a good margin — Toyota's upgrades to the Prius suspension for this generation are much appreciated. Mark and I both noticed that the Ioniq Hybrid suffers from a shudder when the gasoline kicks back on as the car is rolling.
The Prius also offers more safety features at lower trim levels, but the Ioniq Hybrid has a better multimedia experience with Android Auto and Apple CarPlay on tap. Click here to find out more about what each vehicle has to offer with its different trim levels.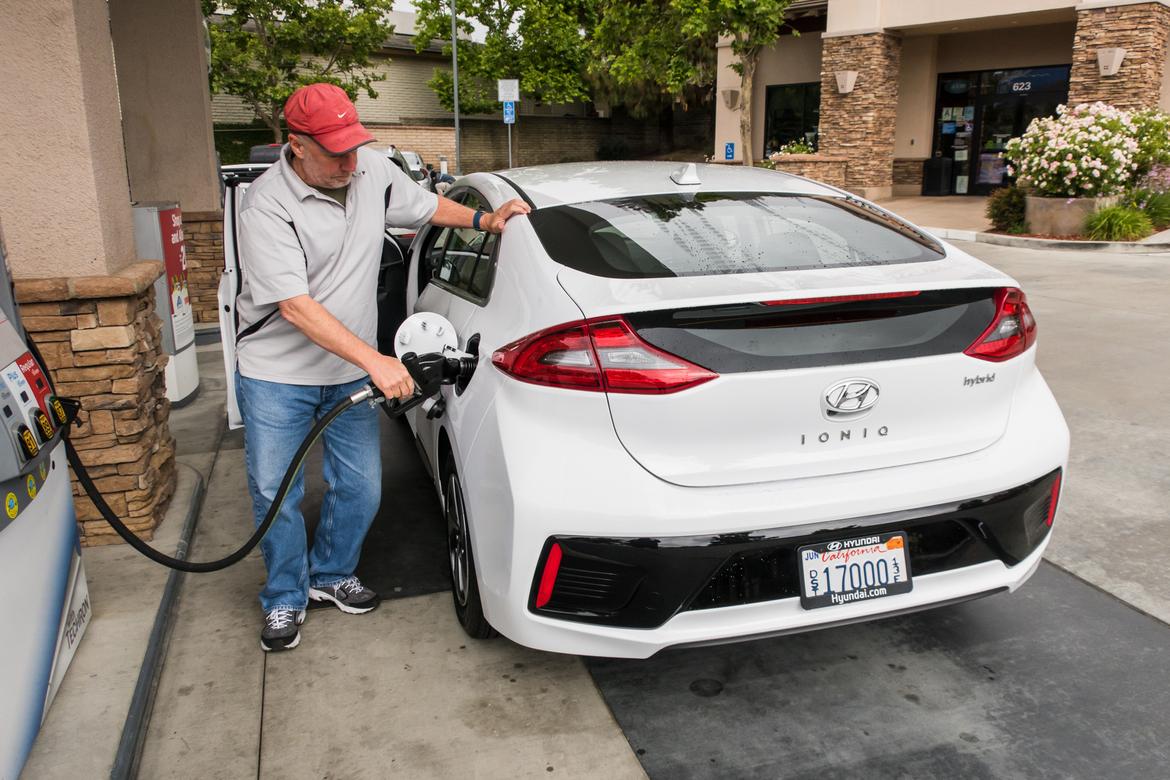 How We Conducted the Test
The final fuel economy numbers are an average of each car's onboard trip computer and calculated fill-up measurements dividing the number of miles driven by gallons used. Each car had only one occupant the whole journey, and each driver drove two legs in each vehicle to spread driving styles across both cars. Both vehicles drove with the air conditioning on and windows up for the whole journey. No cruise control or economy modes were used; the cars were simply started and driven as they are set up by default.