2018 Geneva Motor Show: All the Concept Cars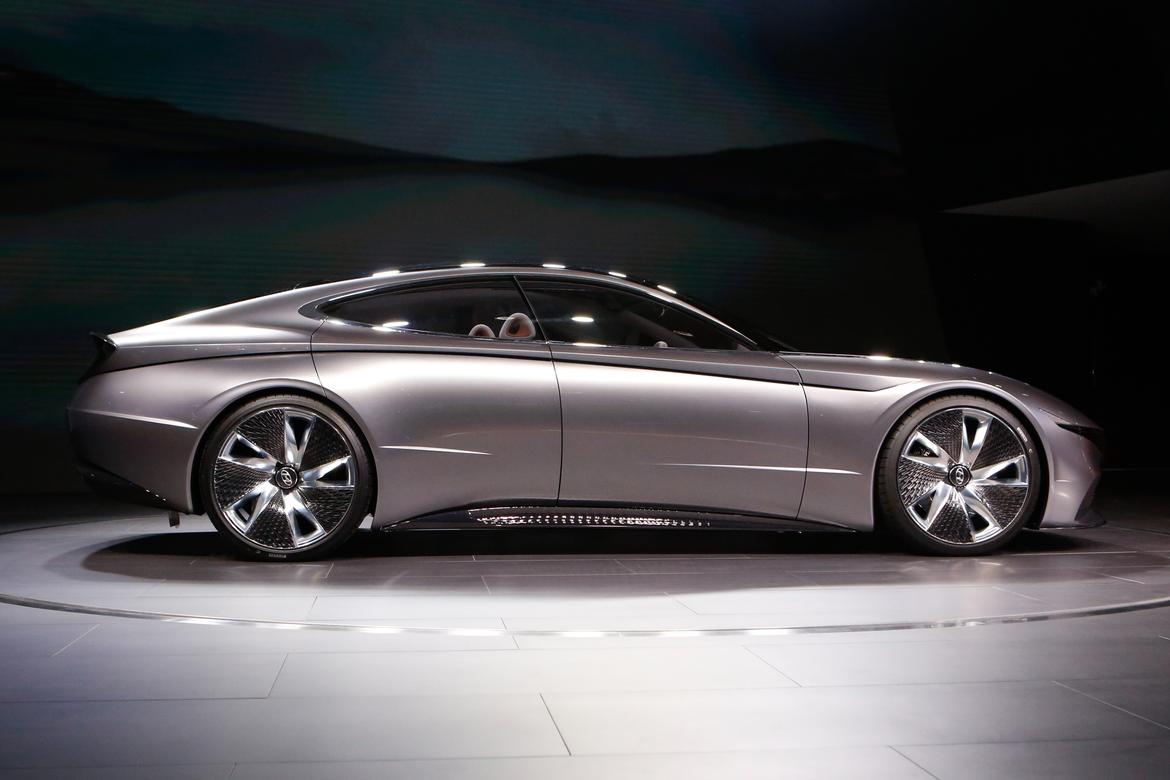 The 2018 Geneva International Motor Show proves the automotive world has room for everything from self-driving electric cars to opulent luxury sedans to pure racing machines with seven-figure prices. Concept cars are often the best indicator when it comes to judging the overall health of the car industry and, based on the bold creations being displayed in Geneva, it appears the future is bright.
Related: More 2018 Geneva Motor Show Coverage
It's also looking increasingly electric and autonomous, based on the zero-emission concepts from Volkswagen, Porsche and Aston Martin's Lagonda brand. Each automaker delivered its own take on what we'll be driving — or what'll be driving us — in the years ahead. The self-driving Volkswagen I.D. Vizzion doesn't even come with a steering wheel, while the wedgelike shape of the Lagonda Vision takes supercar styling in an entirely new direction.
Hyundai's elegant Le Fil Rouge concept shows the South Korean automaker isn't afraid to stand out among mainstream brands. Meanwhile, Toyota resurrected its racy streak with the GR Supra Racing Concept, and Subaru did what it does better than most by offering another quirky take on the classic family wagon with the Viziv Tourer Concept.
Here's a look at the concept cars making headlines at the 2018 Geneva motor show:
BMW Concept M8 Gran Coupe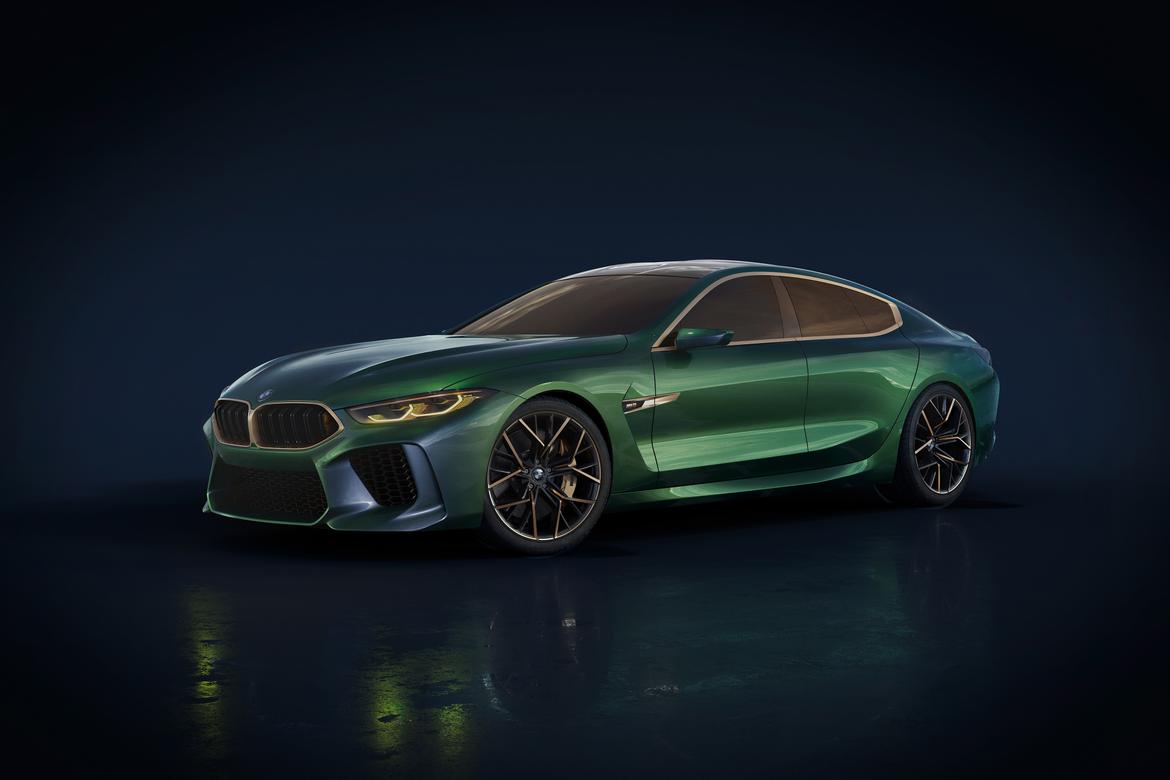 BMW is aiming upmarket with the Concept M8 Gran Coupe, a brutally handsome sedan that revives the automaker's 8 Series nameplate last used in the 1990s. That original 8 Series was a traditional two-door coupe, while this new version subtly adds a pair of extra doors — but keeps the coupe name. Confused yet? BMW has made it clear that a production model is coming soon, though technical details are still being kept secret. A road-going example of the Concept M8 Gran Coupe would likely borrow the twin-turbocharged 4.4-liter V-8 found in the current M5 sports sedan.
Hyundai Le Fil Rouge (HDC-1)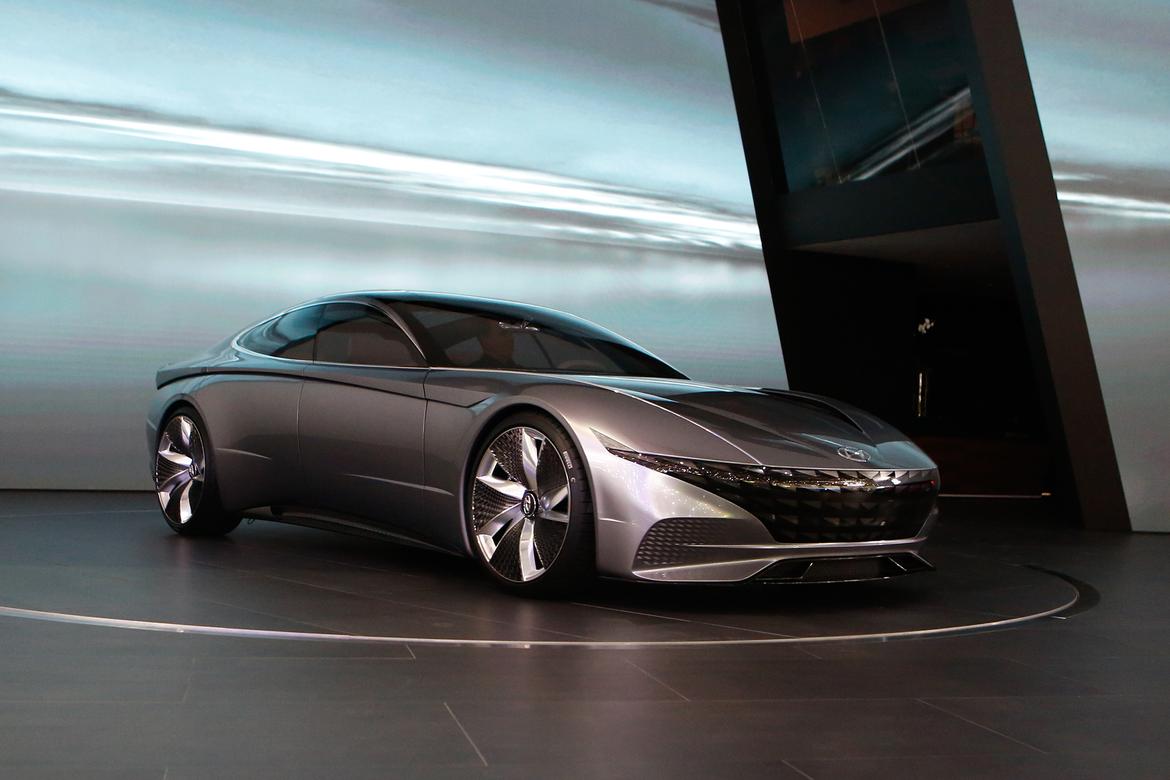 If you covered the badges of the Le Fil Rouge, you'd probably guess this sleek sedan was a product from a Germany luxury brand. Nope, this is a Hyundai, and it's a brash departure for a mainstream automaker that's synonymous with value and economy. The first thing you notice about the Le Fil Rouge — other than the name, French for "common thread" — is the long, low and wide front grille. It's polarizing, to say the least, but you'd never lose this Hyundai in a crowd.
Lagonda Vision Concept
If you like electric vehicles with sharp angles and edges, then you're going to love the Lagonda Vision Concept. Aston Martin is bringing back its Lagonda brand as a high-end purveyor of luxury EVs. The Vision Concept is fully electric, and the car's outrageous exterior reflects the fact that the design didn't need to work around a traditional powertrain. This is why the cabin is pushed as far forward as possible, while the rear is neatly tucked inward to create a sense of speed and motion. Eat your heart out, Tesla Model X!
McLaren Senna GTR Concept
When the best simply isn't good enough, build a racecar version. That's what McLaren did with this car, the Senna GTR Concept. Based on the British automaker's Senna road car - named after the legendary Brazilian Formula One driver, Ayrton Senna — the Senna GTR is a track-only supercar with nearly 800 horsepower and priced in excess of (cue Dr. Evil pinky) ... $1 million dollars. The lightweight carbon-fiber body includes large sections — such as the fenders and massive front splitter — that can be quickly removed and replaced during the heat of competition.
Porsche Mission E Cross Turismo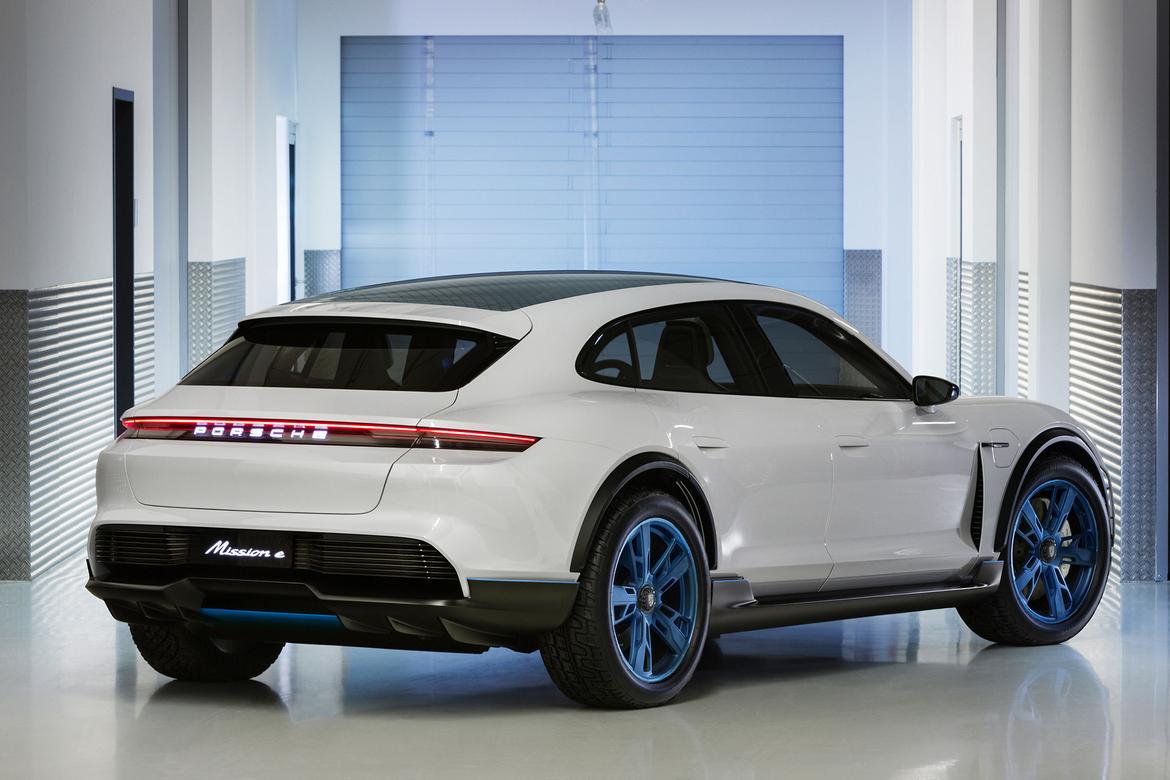 Porsche categorizes the Mission E Cross Turismo as a concept, but this electric-powered crossover sure looks close to production. Based on the German automaker's previous Mission E electric sedan concept, the Cross Turismo has a noticeably higher ride height, but doesn't look cumbersome. In fact, this Porsche is quite a looker. It's also no slouch thanks to a pair of electric motors that route 600 horsepower to all four wheels. Porsche estimates the Mission E Cross Turismo accelerates from zero-to-62 mph in less than 3.5 seconds.
Subaru Viziv Tourer Concept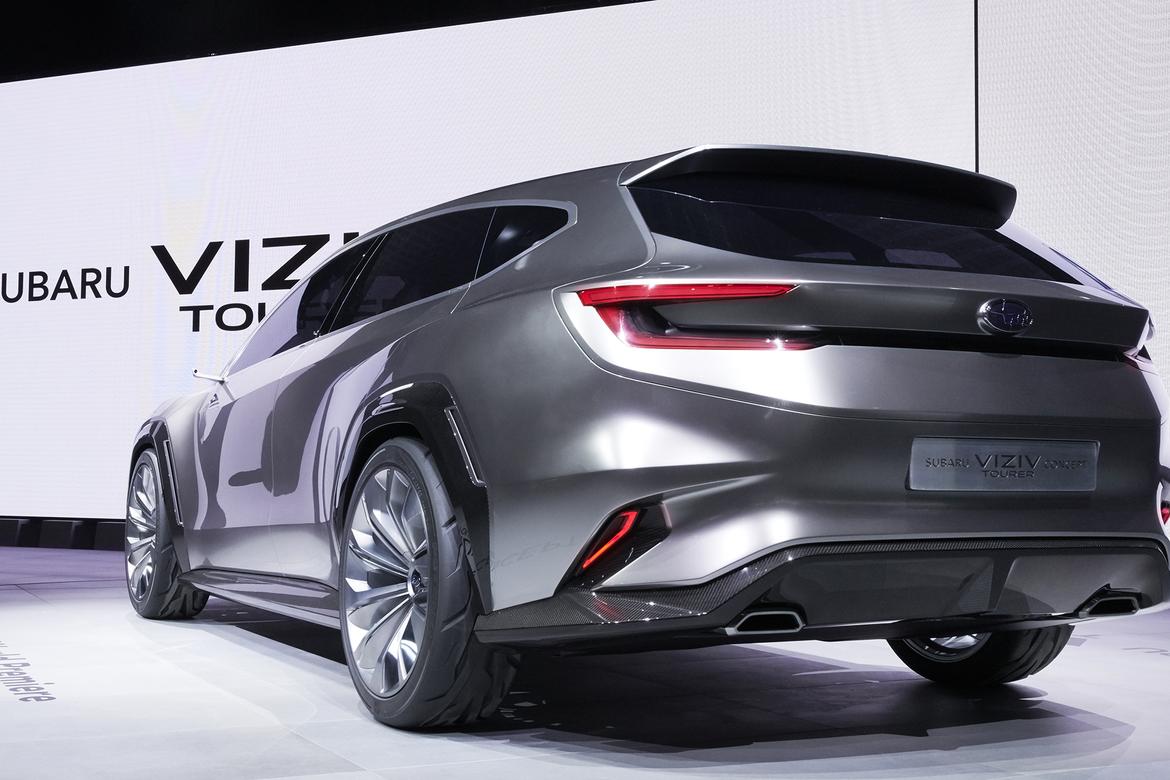 Subaru is one of the rare automakers that can make a family wagon look cool. That's the case here with the aggressive and angular Viziv Tourer Concept. The beefy fenders, wide hood scoop and large wheels give this concept a go-anywhere appeal that ties into Subaru's other specialty: rally-style racing. Could the Viziv Tourer Concept be a hint of the next WRX? The company would only say that this concept indicates the design direction of future models. We're cool with that — especially if it includes a wagon with a hood scoop.Toyota GR Supra Racing Concept
Toyota GR Supra Racing Concept
Toyota is finally getting back into the business of building sports cars. The GR Supra Racing Concept revives the Supra name and applies it to a brand-new, rear-wheel-drive two-seater that's set to arrive in 2019. Look past the racing gear fitted to this Geneva concept and it's easy to imagine what the production model will look like. Less obvious is what type of engine will be under the hood; Toyota isn't saying anything for now, though a twin-turbocharged V-6 seems the most likely choice. Like the Lexus LC F Coupe, Toyota might also choose to offer a hybrid-powered variant.
Volkswagen I.D. Vizzion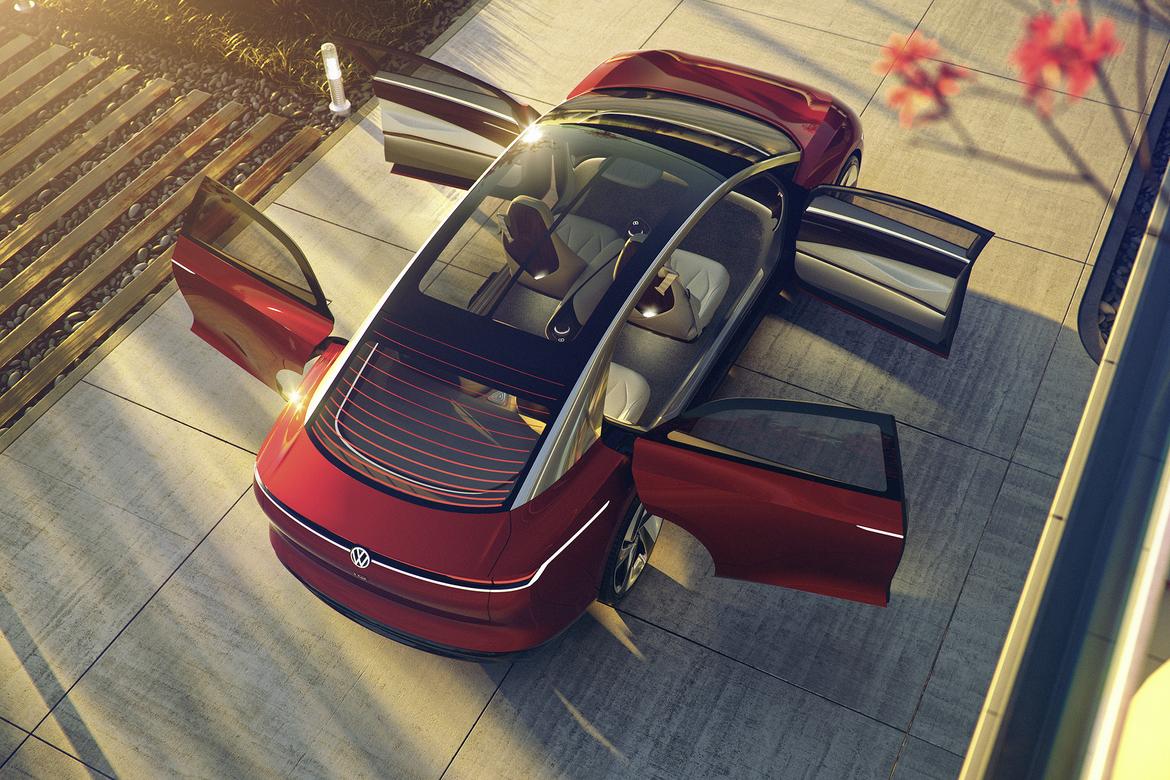 Volkswagen is presenting a tale of two concepts with the I.D. Vizzion. On the one hand, this electric-powered sedan points toward a production model capable of driving more than 200 miles on a charge and with a likely on-sale date of 2022. Peek inside this minimalistic concept and you'll see VW has some far more daring long-term plans, too: The I.D. Vizzion is capable of Level 5 autonomy, meaning it takes control of all driving. That's why a steering wheel and pedals are noticeably absent. VW says these high-tech driving aids will likely appear on production models no sooner than 2030.
Cars.com's Editorial department is your source for automotive news and reviews. In line with Cars.com's long-standing ethics policy, editors and reviewers don't accept gifts or free trips from automakers. The Editorial department is independent of Cars.com's advertising, sales and sponsored content departments.