2018 Jeep Wrangler First Drive: Better on the Road, Best on the Rocks
CARS.COM — It used to be that the idea of buying a Wrangler was always tempered by "yeah, buts." "Yeah, it looks like a lot of fun, but I have a family." So Jeep added a four-door model in 2007. "Yeah, I can take more people now, but the powertrain is terrible." So Jeep gave it a new engine for 2012. "Yeah, it's smoother and more powerful now, but it's awful on-road."
Related: Wrangler Wroundup: Everything We Know About the 2018 Jeep Wrangler
No more "yeah, buts" for the Wrangler with this all-new 2018 redesign, which is scheduled to hit dealerships in January. The new Wrangler "JL" has been thoroughly reworked from the ground up, and the guys in charge of doing it are themselves Jeep fans who interact frequently with die-hard, loyal Wrangler owners and enthusiasts. They had a list of more than 30 items that needed redoing, according to Wrangler's chief engineer. The team set about refining and redesigning the icon without reimagining it. The Wrangler's mission remains as it was: to be the most capable, go-anywhere off-road vehicle that is still affordable and everyday-usable. With the last of the "yeah, buts" removed, the Wrangler now comes with a hefty dose of refinement inside and out, making it a more civilized, more approachable vehicle than ever before.
Very Wrangler to Look At
You'd be forgiven for thinking not much has changed, stylistically. But you'd be wrong — park the new JL side by side with the old JK, and you'll realize that it's considerably revised. The front end is smoother and higher, with taller fenders and a more trapezoidal shape to the grille. The windshield is also more raked and flatter than before — meaning it sits more level with the hood if you fold it down, which is easier than ever to do: Removing just four bolts at the top of the windshield, plus yanking off the wiper arms, allows you to tilt the windshield frame forward against the hood and secure it with a provided strap. This gives new meaning to the idea of open-air motoring, but it also is something of a mixed blessing.
I drove the new Wrangler off-road, up some steep rocky inclines, with the windshield down and didn't care for the lack of glass in front of me. The problem: It adds a good 4 to 5 inches to the hood's height, making visibility off-road even more difficult. In areas where seeing over the hood is most important, you'll want to leave the windshield in place.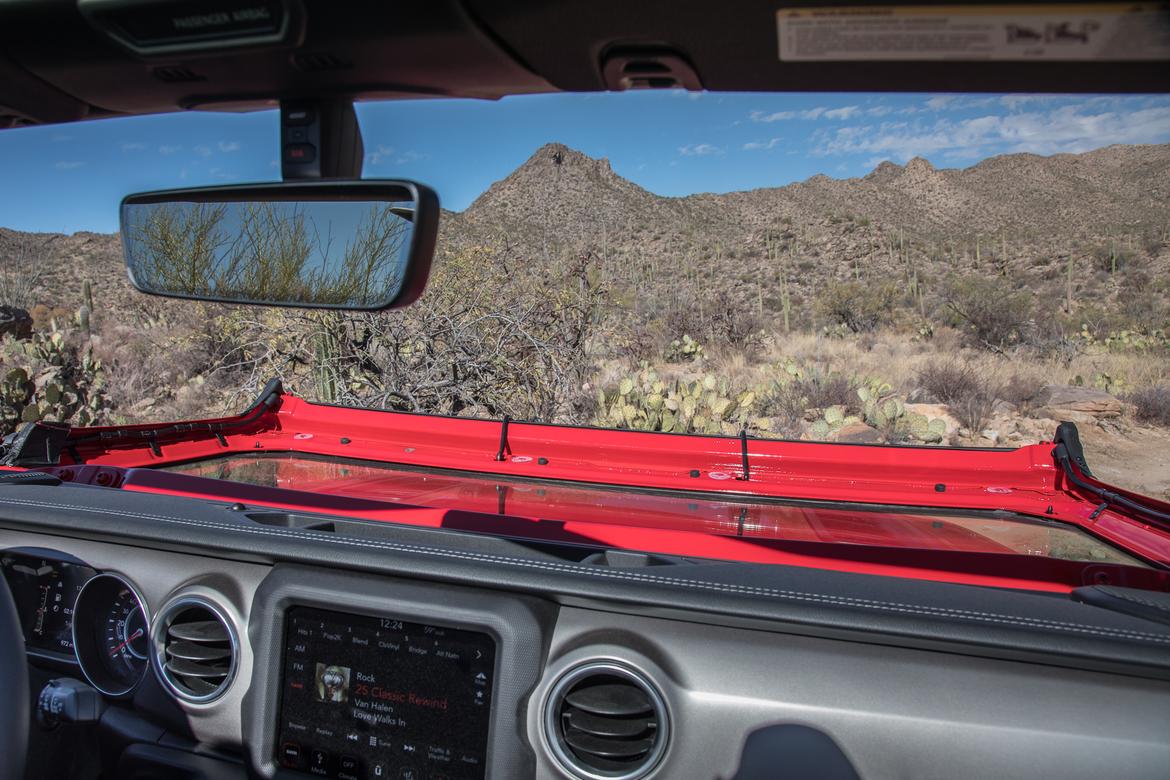 There are optional LED headlights for Sahara and Rubicon trim levels, optional LED taillights and standard LED turn signals in the fenders. Those fenders are now an inch higher to allow buyers to mount 33-inch tires without needing to install a lift kit — Rubicon fenders are higher still, allowing for 35-inch optional tires without a lift kit.
The new Wrangler comes in fewer trim levels: base Sport, nicer Sport S and rock-crawling Rubicon for the two-door. The four-door Wrangler, no longer called Unlimited, adds the more luxurious Sahara between the Sport S and Rubicon.
Very Un-Wrangler to Drive
Climb up into the taller driver's seat (an inch higher than the old one) and push the new standard starter button to fire up one of two engines available at launch: A carryover 3.6-liter Pentastar V-6, making 285 horsepower and 260 pounds-feet of torque, will be familiar to any Fiat Chrysler Automobiles fans, although it now features a standard stop-start fuel-saver system. It's mated to either a vastly improved six-speed manual transmission, which no longer rattles and vibrates the shifter as it trundles along, or a new optional eight-speed automatic that's also out of FCA's corporate parts bin. The optional engine on the two-door or four-door is a new turbocharged 2.0-liter four-cylinder light hybrid engine. It uses what is essentially a heavy-duty 48-volt alternator that's attached to the crankshaft via a belt, which aids in low-speed initial starts and other conditions to improve fuel economy. The turbo four is only available mated to the automatic transmission. A turbocharged 3.0-liter EcoDiesel V-6 is coming, but not until the 2019 model year.
I sampled both powertrains in my drive in, over, around and through the wilds of Tucson, Ariz., and found the V-6 to be adequately smooth and powerful. But the new turbocharged 2.0-liter four-cylinder is even better. Mated only to the automatic transmission, it makes 270 hp and 295 pounds-feet of torque but feels amazingly torquey, punchy and quick around town. I drove a four-door model loaded up with a hardtop, three full-size humans and a lot of camera gear, and the turbo engine felt responsive and zippy, with the eight-speed auto shifting seamlessly and smoothly through the gears. Only on some low-speed corners did I find it in a gear lower than I wanted, but the transmission's quick-shifting nature and utter lack of turbo lag poured on speed with remarkable ease. As much as the addition of the 3.6-liter Pentastar engine transformed the Wrangler into a usable daily-driver in 2012, that's how much better the new 2.0-liter is for 2018.
Ride and handling have also received a massive shot in the arm thanks to a revised suspension, wider axles, improved tires and a new electrohydraulic steering system (with an electric motor-driven pump). The Wrangler still drives like a light truck — you won't confuse this for a car-based Toyota RAV4 or Jeep's own Cherokee — but no longer does it feel ponderous or sloppy around turns. The Sport and Sahara models were well-controlled, provided acceptable steering feedback and even had a decently comfortable ride over rough pavement. It feels like a modern mid-size pickup truck, such as a Chevrolet Colorado or Toyota Tacoma, in that it's no longer a penalty box, but it's still not quite the smooth and well-damped environment of a Jeep Grand Cherokee. Only so much can be done to hide the fact that there are still two solid live axles front and rear, and in stiff crosswinds you'll still get blown all over the highway (you are driving something with the aerodynamic profile of a small single-family home, after all). But the Wrangler's on-road behavior is dramatically better than it used to be and is no longer a reason for shoppers to disqualify it from consideration.
Towing ability might be, however. The two-door Wrangler is rated to tow just 2,000 pounds, the four-door 3,500 pounds. That means a pair of personal watercraft for the two-door and maybe a small pop-up camper for the four-door. Anything more than that wouldn't be safe.
As for fuel economy, the jury is still out. Jeep didn't have official numbers or estimates at the time of the vehicle's launch, but we expect to see those numbers soon. Unofficially, I was returning an mpg number in the high 20s driving a 2.0-liter four-door around town, and if that proves to be accurate, it will be a massive improvement from the old Wrangler.
Still Climbs Like a Champ
Despite the on-road improvements, the Wrangler has lost none of its off-road prowess. While models like the Sahara are tuned more for on-road driving with their all-season tires, the Rubicons are still pure rock crawlers. Featuring new heavy-duty Dana axles, electronic locking front and rear differentials, improved crawl ratios for either manual or automatic transmissions, and new BFGoodrich All-Terrain tires, there's little that can stop the Rubicon: My test loop included an off-road portion in both two- and four-door versions over massive boulders, steep grades and slippery rock surfaces — all of which the Rubicons handled with nary a complaint. Underbody skid-plate protection is standard on the Rubicon, as are side rock rails, and both received some scraping thanks to the "most aggressive off-road course we've ever set up for a demo," according to Jeep Jamboree staff on-hand at the Wrangler's launch event.
What makes the Wrangler unique these days is that the SUV does what it does mechanically — there's no "rock/mud/sand" setting for the Wrangler, merely a part-time four-wheel-drive system that you shift into yourself, a low-range that you engage when you need to, locking differentials that lock when you tell them to. Unlike the Grand Cherokee Trailhawk, the technology controlling the vehicle's four-wheel-drive system is the gray meat between your ears — the Wrangler is a tool meant for drivers who know what they're doing off-road, and as such, isn't appropriate for the average amateur. That said, there is a new feature for the Wrangler in 2018 on the Sahara model: a new full-time four-wheel-drive mode that constantly sends power to both axles as needed, letting drivers select a "set it and forget it" mode. (The part-time 4WD must be turned off on dry pavement to prevent driveline binding.) This will be far more useful to people who want extra traction on-road, but it doesn't sacrifice the dual-range transfer case or 4WD Low setting.
Far Easier to Use
The interior might be the biggest change from the old Wrangler. The dash is more horizontally oriented, and much more expensive-feeling materials adorn the entire cabin. Controls are completely revised and now in line with the rest of the Jeep showroom, right down to the new availability of an 8.4-inch Uconnect touchscreen, one of three multimedia center options. The overhauled gauge cluster features easy-to-read gauges and a new digital display between them — but the display has an issue: If you're over 5-foot-10, the top half-inch of the display will be obscured by the gauge hood even with the seat at its lowest setting, meaning you're losing the compass, outside temperature display and menu headings. That's the only blemish on what has become an inviting, well-laid-out and attractive interior. It builds big-time on the Jeep heritage in there, with added premium details throughout (look at the industrial artistry of the manual transmission's shifter, for instance).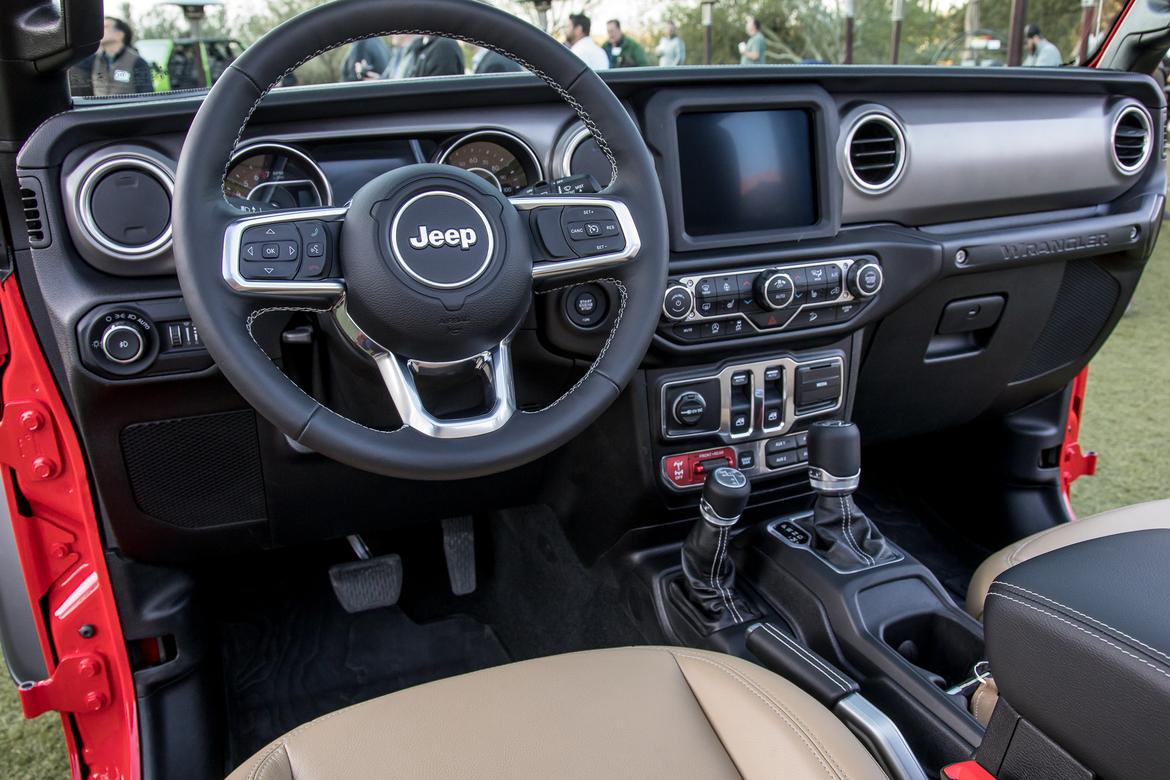 Backseat comfort has gotten a lot of attention, as well. There are now climate control vents for the backseat passengers in the four-door, as well as USB ports and cupholders in the backseat armrest. The rear seatback also reclines at a more natural angle, and there's about an inch more legroom. While it's still a small seat with a short cushion, it's now a much more tolerable place than it has been.
The Wrangler's biggest improvement may be the operation of the convertible tops, of which there are several: the Sunrider soft top, the three-piece hard Freedom Top and a new power-actuated Sky One-Touch top that's a combination of both.
The soft top is a completely new design that eliminates all the infuriating zippers. It's a four-piece affair, with the rear and sides removable via channel sliders and snap-fit attachments that include integrated pillars in the side panels. Take off the back and sides, and the top acts as a boating-style Bimini top. It folds down and to the rear with just a few clicks and a yank, and goes up just as easily. It should take all the apprehension out of lowering the Wrangler's top and is the result of Jeep listening to owners who said they never put the top down due to the complexity of the process.
The now-lighter hardtop is the least changed from the previous model — it operates mostly as before, but the front two panels are removable with just a few latches (the difficult hand-bolts are gone), and the back part is removable with several Torx-head bolts.
The most intriguing new top is the Sky One-Touch power top, available only on the four-door. It's essentially a full-length powered sliding canvas sunroof with a fixed rear window and removable rigid side quarter panels. At the touch of a button, it slides open or closed at speeds up to 60 mph. Open the back doors and flip two levers, and the side panels come out, ready to be carefully stored in the cargo area. It's simple to use, seems tight and quiet at highway speeds, and allows for super-quick transitions from enclosed SUV to open-air one. I expect it's going to be a very popular (and expensive) option.
All of the Modern Amenities
A new vehicle means a new electrical architecture, and Jeep made the most of it with the Wrangler. Finally, the Uconnect multimedia system arrives in the Wrangler — the latest generation of it, too, which is FCA's best. It's clear, it's reconfigurable and it's even easy to see in bright sunlight, which is important in a vehicle that has a removable top and doors. There are only four airbags available, but they're standard now — two in the dash and two "pelvic-thorax" airbags in the front seat sides (suggesting that they provide no side-impact head protection). Overhead bags are not available, because where would you put them? What is available is a new suite of safety systems, including blind spot detection, a standard backup camera, parking sensors and rear cross-traffic alert. Forward collision alert and autonomous braking are not yet available.
Surprise: It Didn't Get Any Cheaper
I'd like to personally thank the Jeep sales and marketing team for protecting the resale value of my own 2015 Wrangler by pricing the new 2018 in such a way that old ones are still going to retain ridiculous value. In other words, the new one gets a hefty price jump: The base two-door Sport starts at $28,190 including a sizeable $1,195 destination fee, representing a $3,100 jump over the outgoing base two-door. The Rubicon two-door starts at $38,190, a $3,450 jump over the outgoing model. The four-door Sport starts at $31,690, a $2,700 jump over the old base model Unlimited Sport. The new 2018 Sahara four-door checks in at $38,540 (a jump of $3,200), while the top-spec Rubicon four-door is now $41,690 to start, an increase of $3,150.
Despite the average $3,120 price increase depending on trim level, the new Wrangler's refinements and newfound user-friendliness are still set to make it as popular as ever. Add the new powertrains, expected improved fuel efficiency, more top options, refined interior appointments and more civilized daily-driver suitability, and the new Wrangler JL looks set to keep its iconic status — and huge customer demand.
2018 Jeep Wrangler; Cars.com photos by Christian Lantry
Cars.com's Editorial department is your source for automotive news and reviews. In line with Cars.com's long-standing ethics policy, editors and reviewers don't accept gifts or free trips from automakers. The Editorial department is independent of Cars.com's advertising, sales and sponsored content departments.