2018 Kia Stinger Review: First Impressions and Photo Gallery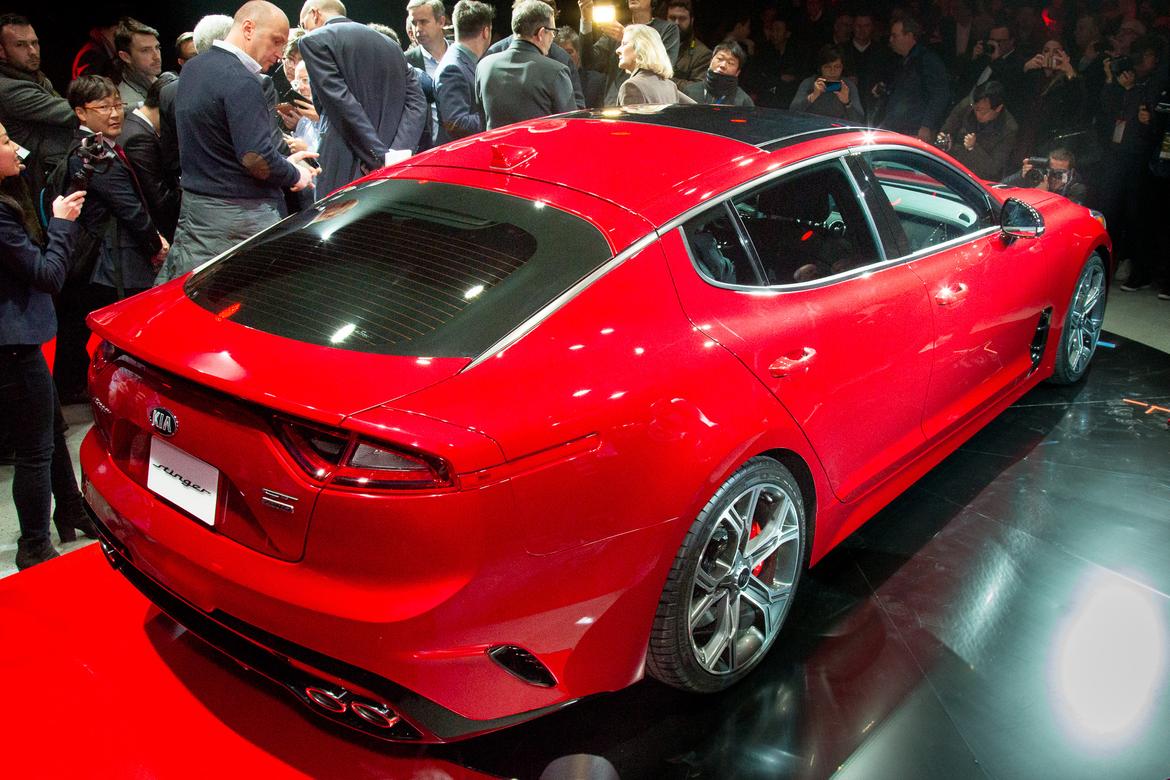 CARS.COM — In an automotive era increasingly defined by SUVs and self-driving-car developments, the 2018 Kia Stinger is a refreshing change of pace — and something of a throwback. It's a rear-drive-based performance sedan from an unlikely source, and its debut on the eve of the 2017 North American International Auto Show in Detroit set the bar high for the auto-show debuts still to come.
More 2017 Detroit Auto Show Coverage
First of all, the Stinger has the right look. There are influences from luxury brands like BMW, Jaguar and Maserati in its exterior styling, but they come together to create a stylish four-door with a low hood and swept-back passenger compartment. Kia showed the uplevel Stinger GT with the available twin-turbo V-6 engine, and it's fitted with a lot of aggressive bodywork like a gaping lower bumper intake that's bordered by vertical vents.
The Stinger looks a bit bulky aft of the rear wheels, but opening the liftgate reveals a large cargo area with a privacy cover. From most angles, though, the rear-drive-based Stinger has the kind of eye-pleasing proportions that front-drive cars struggle to achieve.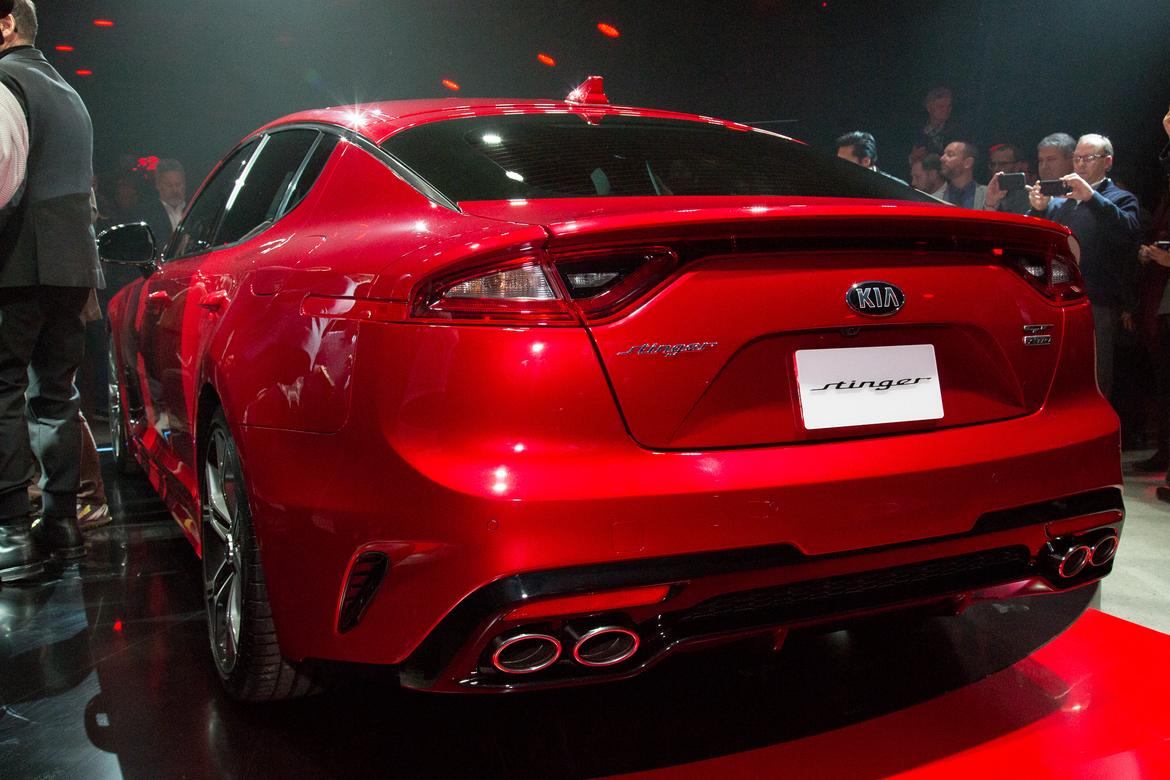 Cabin quality is a slight step up from what's in current Kias like the Sorento SUV and Sedona minivan, but it doesn't go far enough to rival the offerings from luxury brands. Upscale cues include styled metal speaker covers and an electronic gear selector for the eight-speed automatic transmission. The Stinger also introduces some new Kia interior design cues like circular center air vents and a tablet-style multimedia screen atop the dashboard.
There's decent backseat space for taller adults with adequate legroom and a comfortable seating position overall. The sloping roofline compromises some of your view out the side window, but my head wasn't bumping against the roof.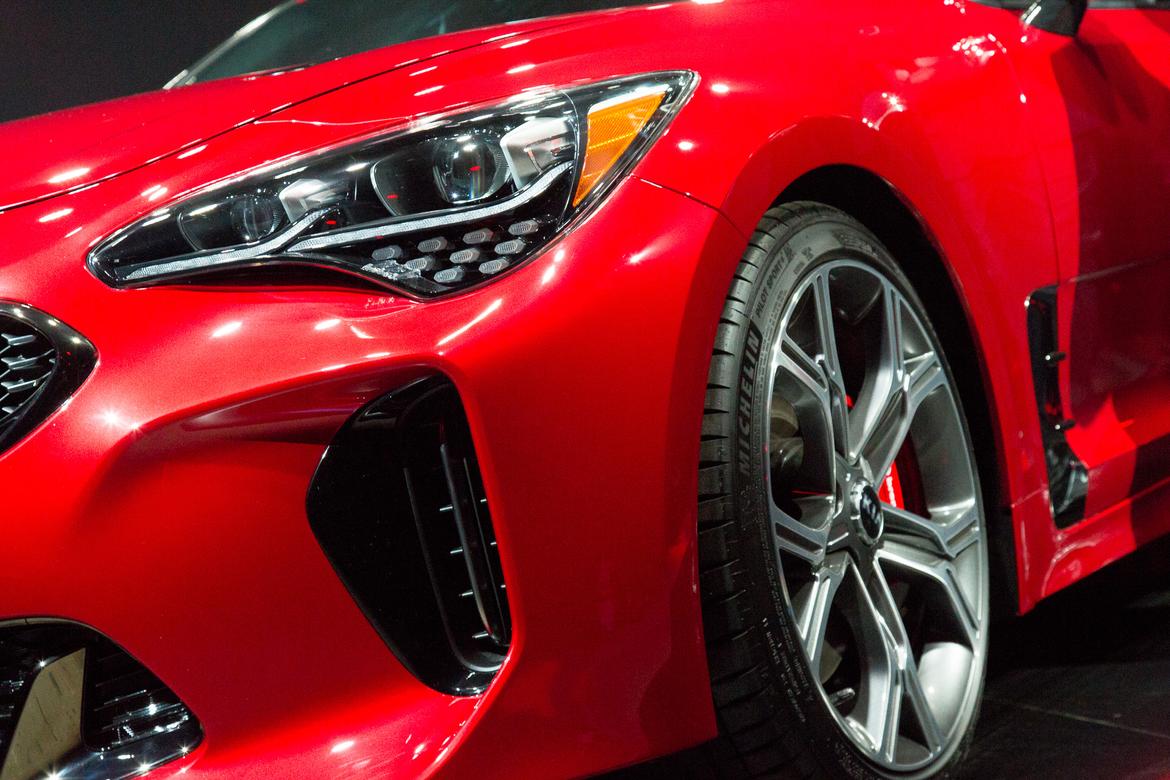 Most of the cars that follow the Stinger's formula of a rear-drive-based platform and coupe-like styling have luxury badges on their hood or grille. That puts this Kia in a strange spot in the market with no true competitor. Either that's a great opportunity for Kia or an ominous sign, depending on your perspective. Either way, I hope the Stinger does well. The U.S. needs more models like this for shoppers who prefer cars to SUVs — even though their ranks appear to be dwindling.
2018 Kia Stinger; Cars.com photos by Evan Sears