2018 New York Auto Show: What You Missed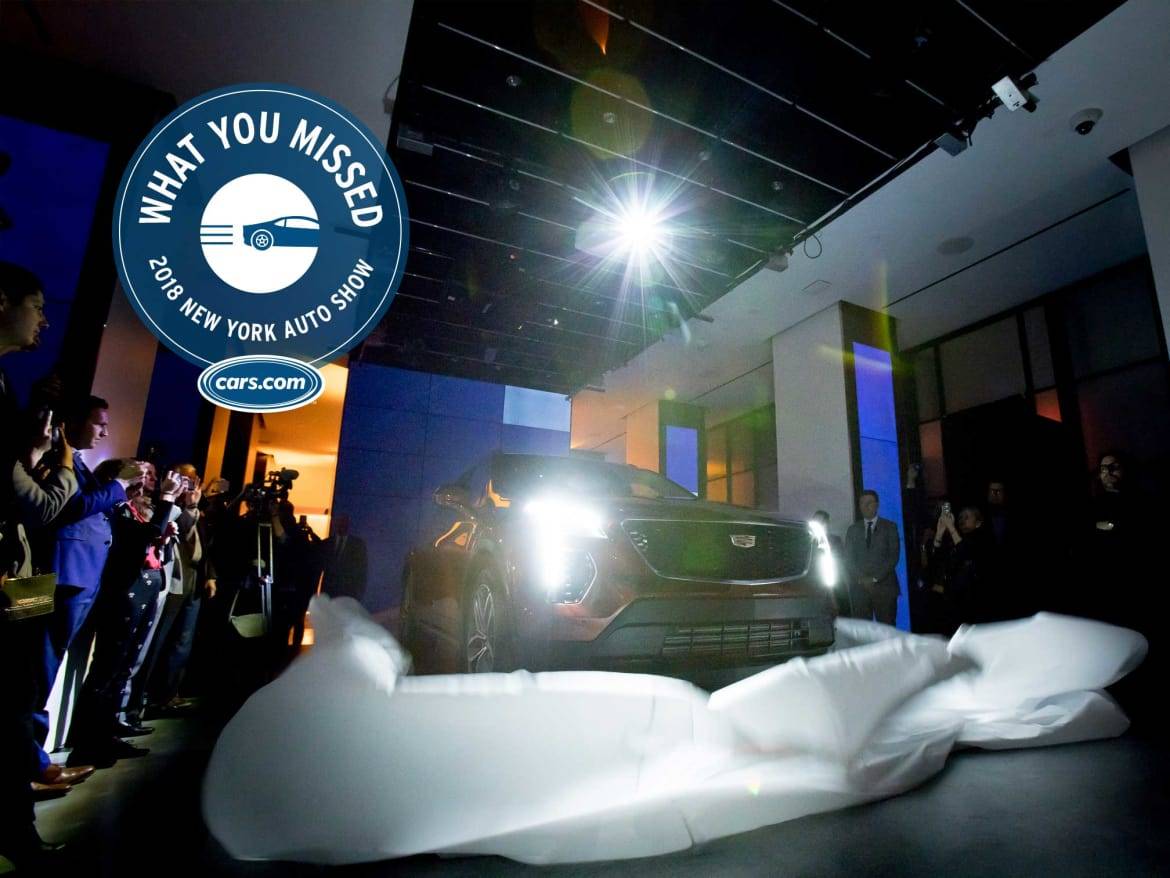 Quoth Huey Lewis (of the News fame): "New York, New York is everything they say and no place that I'd rather be." Truer words could scarcely have been spoken in reference to the last major auto exhibition of the 2018 season: Automakers, quite unexpectedly, held back some of their biggest new-model debuts, either in quality or in quantity, to go out on a high note at the 2018 New York International Auto Show — and Cars.com's team of automotive journalists was there to ford the flood.
Related: More 2018 New York Auto Show Coverage
Some of the most exciting unveilings weren't necessarily from the most exciting cars, but instead from 2019 incarnations of top-selling nameplates like the Toyota RAV4, Subaru Forester and Hyundai Santa Fe SUVs, Nissan Altima sedan and even a sporty-looking hatchback version of the Toyota Corolla.
All-new models were well-represented, too, with high-profile bows by the 2019 Cadillac XT4 and Lexus UX SUVs, Genesis G70 sedan — and the pretty fantastic Lincoln Aviator SUV, technically not a production vehicle but very close to being in its final form.
High-performance variants of luxury models were also plentiful in the 2019 Cadillac CT6 V-Sport, Bugatti Chiron Sport, Jaguar F-Pace SVR and Audi RS 5 Sportback — along with a massive Mercedes-Benz dump that included (but was not limited to), the 2019 Mercedes-AMG GT four-door coupe, and the AMG C63 and C63 S.
If the show was short on anything, it did feel like it was lacking a quantity of cool concept cars relative to the volume of debuts. But for auto-show visitors who prefer to look to the future of driving, Volkswagen brought along its Atlas Cross Sport concept (a sporty two-row version of the three-row Atlas) and Atlas Tanoak pickup truck; Mini, its Electric Concept and Classic Mini Electric concept; and the stunning, nigh show-stopping Genesis Essentia (seriously, you've just gotta see this thing).
With the full-on media onslaught winding down, the show opens to the public on Friday at Midtown Manhattan's Javits Center. If you're in the Big Apple for the next week or so, you should definitely check it out, but plan on spending some time — there's a lot to see.
Here's everything you might've missed from our coverage of the 2018 New York International Auto Show:
2019 Volvo V60 Wagon Jumps on XC60 Design Bandwagon
2019 Hyundai Santa Fe Sports Confusing Name Swap, Updated Engines
2019 Audi A6 Gets Fresh Face, Big Tech Upgrade
2019 Mercedes-AMG GT Brings Stunning Concept Design to the Street
2019 Range Rover SV Coupe: More Exclusivity, Fewer Doors
Hey There, 2019 Lexus UX Crossover, Haven't We Met?
The Car's the Noir: 2018 Lexus RC F Sport Black Line Bound for NYC
Sporty 2019 Volkswagen Arteon R-Line Makes Beeline for New York
2019 Mercedes-Benz C-Class: It's 2-Door, Top-Down Time
2019 Kia K900: Can New Luxury, Style Lure Buyers to Flagging Flagship?
2019 Ford Fusion: Refreshed and Ready for New York Debut
The 2019 Cadillac CT6 V-Sport Is Your New Sleeper Sedan
Toyota Hatches New Corolla Variant to Replace Ex-Scion iM
2019 GMC Acadia, Terrain Editions Reaffirm Black Is the New Black
Infiniti to Show Dressed-Up 2019 QX60, QX80 Limited Models in NYC
Discover the 2019 Toyota Yaris Sedan as 'iA' Goes MIA
Bugatti Chiron Sport: When 1,479 Horsepower Just Isn't Sporty Enough
GMC Reveals All-New AT4 Off-Road Package for All-New 2019 Sierra 1500
Eat Your Heart Out, Sammy Hagar: 2019 Honda Insight Can Drive 55 … MPG
2019 Lexus UX: Small in Size, Big in Design
2019 Mercedes-AMG C63, C63 S Bow Means C-Class Gang's All Here in NYC
Volkswagen Atlas Gets More Personal With Smaller, Sportier Concept
2019 Jaguar F-Pace SVR: One Ferocious Feline
Lincoln Effortless Services: 5 Perks That Could Be Worth an Owner's Effort
Toyota Trucks Up the 2019 RAV4
Lincoln Aviator Rises to the Occasion With Elevated Style, High Tech
Lincoln Aviator Production Preview Video Review
Nissan Altima Returns for 2019 With a New Engine, Safety-Tech Upgrades
How the 2019 Nissan Altima Measures Up to Camry, Accord
Pre-Production Lincoln Aviator Is What a Luxury SUV Should Be
The 2019 Toyota RAV4 Suddenly Becomes Appealing Again
2019 Nissan Altima Video Review
Refreshed 2019 Hyundai Tucson Adds Safety Tech, Drops Turbo Engine
2019 Kia Optima Delivers More Style, Substance
Kia Sedona Minivan Gets a Mile Redo for 2019
XT4 Is a Cadillac Brimming With Buttons, Finally
2019 Volvo V60: Big Wagon Style, Little Wagon Footprint
2019 Mercedes-AMG GT 4-Door: Not-Ridiculous 4-Door Coupe
2019 Audi RS 5 Sportback Injects Sport, Performance Into Lineup
2019 Toyota Corolla Hatchback Video Review
Photo Gallery: Genesis G70 Finally Makes It Official in New York
2019 Cadillac XT4 Video Review
Genesis Essentia Concept Is Essentially Awesome
2019 Subaru Forester Is Better Where It Counts
Volkswagen Atlas Tanoak Photo Gallery: A VW Pickup for the Rest of Us
Video: 2019 Audi A6 First Look
Want a 55-MPG Honda Civic? Check Out the 2019 Honda Insight
Photo Gallery: VW Atlas Cross Sport Concept Stresses Style Over Seating
2019 Subaru Forester Video Review
Mini Electrifies Past, Future With Electric Concept Duo: Photo Gallery
Photo Gallery: 2019 Toyota Corolla Hatchback Makes Sense, Like Its Name
2019 Acura RDX Production Models Finally Arrive, and Here They Are
2019 Hyundai Santa Fe Name May Have Changed, But Not Its Appeal
2019 Genesis G70: Less Space, More Pace?
Photo Gallery: 2019 Hyundai Tucson Is Nipped and Tucked
Cars.com's Editorial department is your source for automotive news and reviews. In line with Cars.com's long-standing ethics policy, editors and reviewers don't accept gifts or free trips from automakers. The Editorial department is independent of Cars.com's advertising, sales and sponsored content departments.