2018 Subaru BRZ tS Quick Spin: As Good As It Gets (for a BRZ)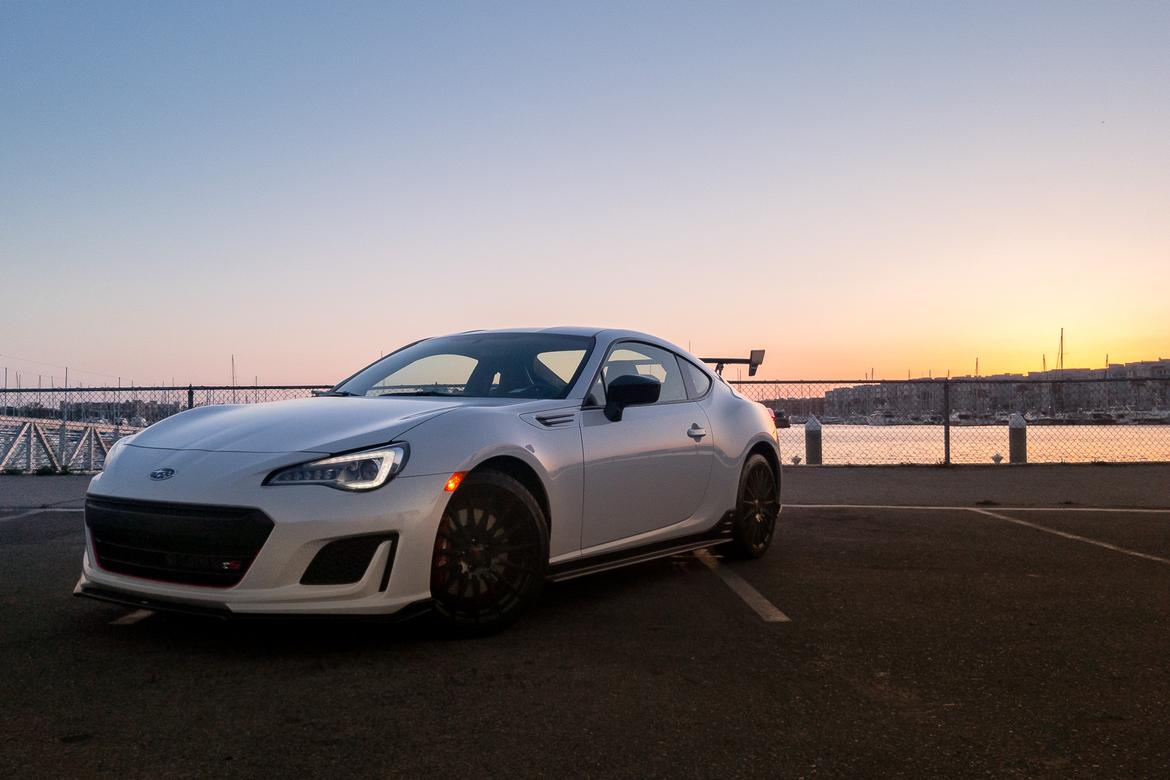 For the past two model years, Subaru has offered colorized limited editions of the BRZ — the Series.Hyperblue in 2016 and the Series.Yellow in 2017. Both of those, however, were more like glorified appearance packages, offering different colors and trim pieces but not really upping the BRZ's performance quotient.
Related: On the Edge of Glory: 6 Cars That Come This Close to Greatness
The only similarity between the 2018 BRZ tS and those cars is that they were all limited to 500 units. Otherwise, the BRZ tS comes with much more substantive changes (along with three color choices) that do indeed change the way that the car drives. In my mind, it's the best the Subaru BRZ can get without — what fans like me have been calling on for years — a big boost in power.
The BRZ tS will cost $34,355 (including destination charges), a $5,050 premium over the Limited Subaru BRZ trim.
2018 Subaru BRZ tS; Cars.com photos by Brian Wong
What We Tested
Powertrain: 205-horsepower, 2.0-liter horizontally opposed four-cylinder "boxer" engine, 156 pounds-feet of torque; six-speed manual transmission; rear-wheel drive
Fuel economy: 20/27/23 mpg city/highway/combined (premium fuel required)
Key features: Manually adjustable carbon-fiber rear wing, STI-tuned suspension with unique dampers, front and side spoilers, 18-inch lightweight wheels, Michelin Pilot Sport 4 tires, high-performance Brembo brakes (front and rear), Android Auto and Apple CarPlay, leather and Alcantara upholstery
Price: $34,355
The Subaru BRZ tS gets some added exterior flair with its manually adjustable carbon-fiber rear spoiler and underspoilers at the front, sides and rear. There's also extensive mechanical and tuning upgrades — tS stands for "tuned by STI," and the mad scientists of Subaru's performance division have gone to work on the suspension and traction control, swapping in STI-tuned dampers and coil springs and adding draw stiffeners. They also went to work on the traction control, adding a track mode and dialing in more allowable slippage at the rear.
Work has also been done at the wheels, too. The BRZ tS has the largest wheels offered on a BRZ (lightweight 18-inchers) wrapped in sticky Michelin Pilot Sport 4 tires. The BRZ and sibling Toyota 86 were both known for having skinnier tires without much grip, which made them feel a bit edgier and easier to make slip (especially when it's wet). Interestingly, when the BRZ was last redesigned last year, it kind of swapped places with the Toyota 86. The original BRZ was more tame, and the 86 (then the Scion FR-S) the stiffer car with more of a propensity to break loose — but these latest versions of the car turned that convention on its head, and the BRZ is now the tighter of the two.
The changes to the BRZ tS kind of tame some of that added twitchiness out. Driving it feels somehow both familiar and new at the same time. The car's great natural balance and handling are still present, but both feel as though they have been enhanced to another degree. Adding more tire to the car might be the most significant change; the added grip lets you corner even harder, and the rear stays more composed under acceleration, which helps the whole car feel more planted. It's a fantastic momentum driver.
2018 Subaru BRZ tS; Cars.com photos by Brian Wong
But therein lies the problem: It's a momentum driver that has trouble building momentum. The canyon roads near Malibu, Calif., are not just picturesque, they come with an aggressive elevation change. As long as the hills were pointed in the right direction — downward — the BRZ tS was impeccable. But uphill runs are the bane of this car; try as you might to mount a charge up them, the car runs out of breath. And this STI-inspired Subaru BRZ remains frustratingly laggy from a stop.
This makes Subaru's BRZ tS both the best example of what the BRZ can be, while also being the poster child for why the car needs to change. It builds on the its strengths without addressing its key weakness — maybe it's only weakness. Give this coupe more power Subaru, the people demand it!
Cars.com's Editorial department is your source for automotive news and reviews. In line with Cars.com's long-standing ethics policy, editors and reviewers don't accept gifts or free trips from automakers. The Editorial department is independent of Cars.com's advertising, sales and sponsored content departments.