2019 Honda Pilot First Drive: Tweaked, Not Transformed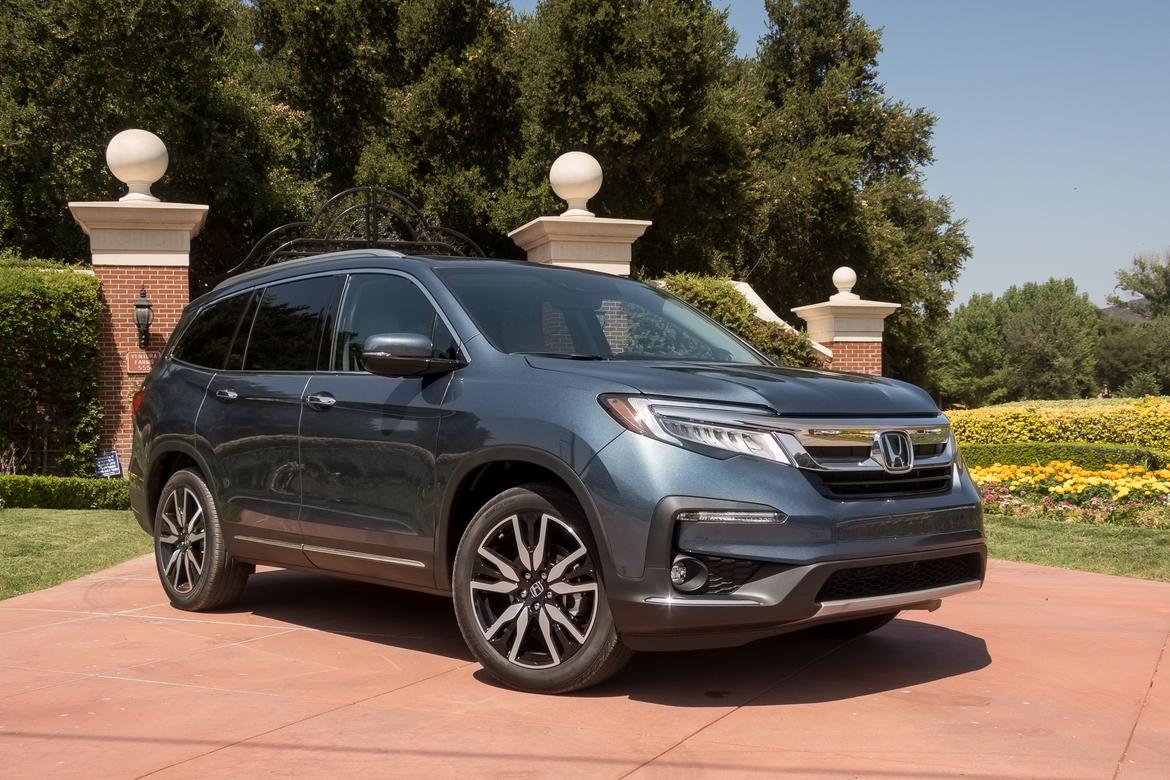 Three-row SUVs have become a battleground class for automakers as the family-friendly utility vehicles are more popular than ever before. The Honda Pilot, which participated in two of our recent Three-Row SUV Challenges, went from winner to third place in just one year. The Pilot was fully redesigned in 2016 and won our test, but its reign was short lived: Fast forward to 2017, and the Pilot dropped all the way to third, lapped by the all-new 2018 Volkswagen Atlas and redesigned 2018 Chevrolet Traverse.
Related: Updates for 2019 Put Honda Pilot Back on Flight Path
The Pilot had the same strengths and weaknesses in both tests: its interior quality, storage spaces and excellent visibility were big positives, but we didn't like its nine-speed automatic transmission, multimedia system and third-row spaciousness.
For the 2019 Pilot, Honda directly addressed two of those qualms: The transmission receives hardware and programming updates, and the multimedia system is swapped with a brand-new unit. Are those changes enough to satisfy us? I spent a day in the 2019 Pilot driving around Southern California to find out. (Per our ethics policy, Cars.com pays for its own lodging and transportation at such automaker-sponsored events.)
Troubled Transmission Gets Updated
2019 Honda Pilot; Cars.com photos by Brian Wong
The Pilot has a 280-horsepwer, 3.5-liter V-6, but the transmission it pairs to varies. Lower-priced LX, EX and EX-L trim levels get a six-speed automatic, while the more expensive Touring and Elite models upgrade to the nine-speed automatic.
I use the word "upgrade" loosely — the six-speed has fewer gears but was our preferred transmission for the Pilot. Previously, the nine-speed was an example of more gears, more problems. Our complaints for the Pilot's transmission centered on rough shifts and hesitant acceleration, from a stop and traveling at speed. The six-speed had fewer gears to choose from, but it was unburdened from these issues, which made it easier to live with.
Honda updated the transmission with new internal components including clutch material and actuators, which Honda says helps it shift smoother, and that the software for the transmission is also updated. For example, now, most of the time the transmission launches in 2nd gear because Honda says that's smoother from a stop. If you're in Sport mode or select off-road modes (Mud and Sand), the transmission will default to 1st gear, or it will kick down naturally if you mash the throttle.
Do the changes work? Yes and no. The Pilot is smoother from a launch, removing the quick 1st-to-2nd gear-change makes the Pilot respond more positively to throttle inputs; the result is more linear initial acceleration and better responsiveness. There's no more trying to time stoplights a beat early to get off the line quickly.
However, while passing, I found the transmission still falls flat. A quick punch of the accelerator pedal is met with delay, and the transmission never seems to grab the right gear the first time. It ends up feeling like a one-or two-second delay. It's an unfortunate bit of discordance with the rest of the Pilot's pretty good and very smooth driving experience.
One more powertrain-related change is also worth mentioning: The stop-start system is improved with a quicker startup, which makes it less intrusive. There's also a larger air-conditioning capacity. One of our qualms with these systems is that they either shut off and the car gets warm because the A/C is off, or to keep the car cool, they run all the time anyway. Honda increased the A/C system's capacity so it will have more cool air to draw while stopped at a light, lessening restarts and keeping the cabin cooler.
Return of the Volume Knob
2019 Honda Pilot; Cars.com photos by Brian Wong
The multimedia system changes are much more positive. It's the same system in the 2018 Honda Odyssey minivan, but bear in mind that it's different than the one we liked in the 2018 Honda Accord. However, it does mean you finally get a volume knob in the Pilot.
The 8-inch touchscreen is standard on all trims above the LX. The new system changes some of the menu structure and adds a small row of shortcuts to the top of the screen to make frequently used functions easier to access.
And if you find yourself unimpressed by all that, Android Auto and Apple CarPlay are also along for the ride. This was a simple fix for the Pilot — Honda had a better multimedia system to use from different Honda vehicles, and we're glad to see it here. If I had one nit to pick with it, I think it's angled too far back. I couldn't reach the top part of the screen from the driver's seat, and it caught a distracting bit of glare through the sunroof.
Hidden Talents
2019 Honda Pilot; Cars.com photos by Brian Wong
The Pilot has a sneaky-good all-wheel-drive system, which I experienced while driving off-road and while towing. Instead of a brake-based traction system to transfer torque from wheel to wheel for maximum traction, it has an electronically controlled rear differential that can move 100 percent of the torque between the left and right rear wheels; about 70 percent of overall torque can be shifted back to the rear wheels. This is the same system you'll find underneath the Honda Ridgeline, which is more proficient off-road than we imagined. There are four different terrain modes on all models except the LX, though the LX does get the same all-wheel drive mechanicals, just without the drive modes.
The Pilot doesn't have the ground clearance to take on harder trails, but for a family that frequently finds itself on unpaved roads or in inclement weather, the all-wheel drive will be up to the task. Even from simple things like a hard launch on pavement, the system shifts power to the rear wheels quickly, and a diagram in the new 7-inch screen in the instrument panel shows it happening in real time.
I also towed a 4,000-pound trailer and was surprised at its capabilities. The Pilot Elite I was testing was outfitted with the Honda accessory towing kit, which adds a trailer harness and a hitch ball, and had a 5,000-pound towing capacity with all-wheel drive (maximum towing for front-wheel-drive models is 3,500 pounds).
The V-6 can handle the load without too much drama. I think that added weight helped the transmission performance, keeping it in gear longer, which prevented some of the hunting that previously annoyed me. The suspension was pretty neutral even with a trailer attached, and it still rode confidently, without any weird flex or squatting in the rear that could make the Pilot feel unsettled. Braking was similarly drama-free.
I should mention that most of our towing drive came on flat roads and at low elevation. Additional testing will be required to see if these impressions hold up on hills or in the mountains.
Is It Better?
2019 Honda Pilot; Cars.com photos by Brian Wong
The 2019 Honda Pilot is a marked improvement over the previous model. The multimedia change alone would have qualified it as such, but the smoother starts from a stop are nice icing on the cake. This is still a solid entrant in this class, and families will appreciate its seating flexibility, plentiful cabin storage and that microphone system that lets you yell at people in the back without having to spin around in the seat.
But, I also think that this refresh illustrated that some of the Pilot's problems are endemic and won't be fixed until it gets a full redesign. The third row's high floor means adults will still be sitting back there with knees tucked up to their chest, and though the transmission has been adjusted, what it really needs is to be completely replaced. Luckily for Honda, it may have a ready replacement in the wings with a 10-speed automatic transmission we quite enjoyed in the 2019 Acura RDX. I'm hoping that transmission with similar qualities makes its way into the next Honda Pilot.
Cars.com's Editorial department is your source for automotive news and reviews. In line with Cars.com's long-standing ethics policy, editors and reviewers don't accept gifts or free trips from automakers. The Editorial department is independent of Cars.com's advertising, sales and sponsored content departments.