2019 Mazda MX-5 Miata First Drive: More Power Paves the Road to More Fun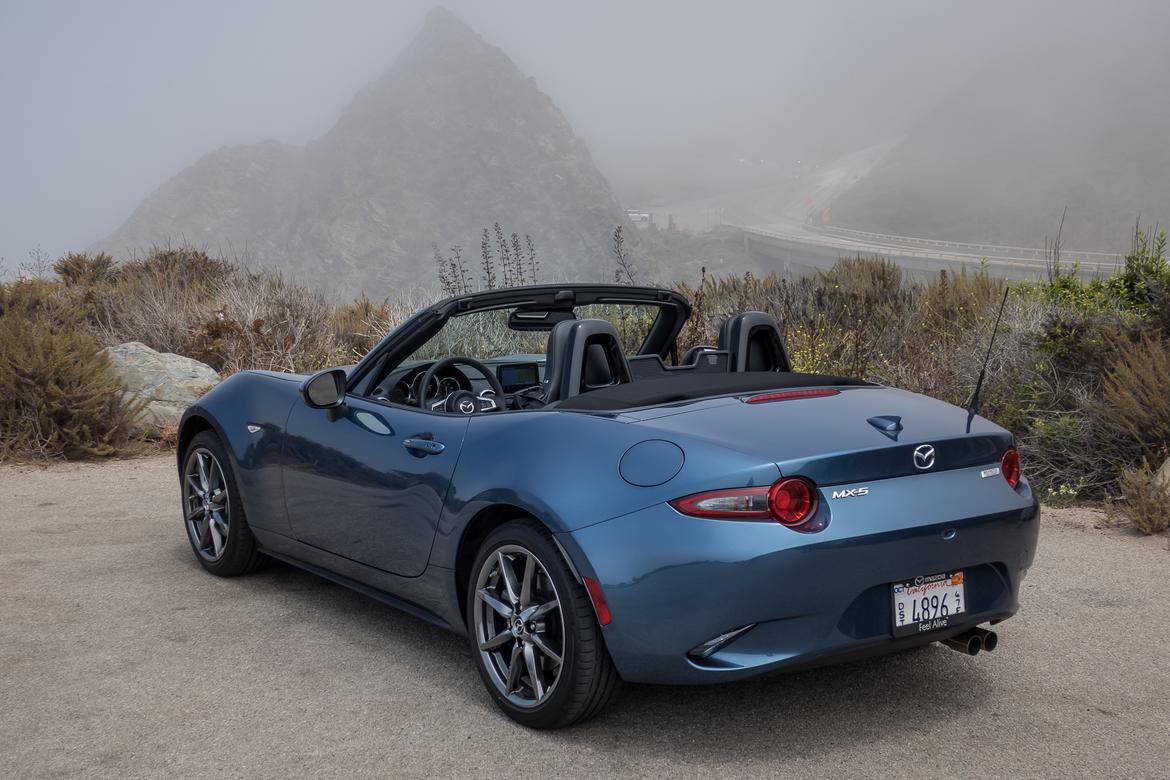 Here at Cars.com, we do our utmost to give every car a fair shake. But that doesn't mean that we don't have favorites or that we don't get excited about certain vehicles or events. This was one of those times that I found myself positively giddy — a chance to drive the latest version of a car that I adore (and one my family owns) on a road that I try to drive at least once a year as an act of Zen.
Related: 2019 Mazda MX-5 Miata: 3 Things You Need to Know
The car in question was the 2019 Mazda MX-5 Miata, which receives its first set of large changes (apart from the introduction of the RF hardtop model) since the fourth, ND generation launched in 2015. There are new standard and available safety features, a new trim level and, most exciting, a bump in power for the four-cylinder engine.
The road? A segment of U.S. Highway 101 in California that stretched from Pismo Beach up to San Francisco, where I concluded my journey in the shadow of the Golden Gate Bridge. We took our time on the trip to explore not only the highway and its dramatic cliffs, but also a few of the mountain and canyon roads that shoot up from the ocean. This setting (and some agreeable California weather) gave the Miata plenty of room to shine — and that's exactly what it did. (Per our ethics policy, Cars.com pays for its own lodging and transportation at such automaker-sponsored events.)
What's New
2019 Mazda MX-5 Miata; Cars.com photos by Brian Wong
This MX-5 will continue to be offered in three trim levels for soft-top versions: Sport, Club and Grand Touring. (The RF is still Club- and GT-only.) A quick way to tell the 2019 Miata apart from other model years is a small dimple on the rear bumper for the model's first-ever backup camera, a standard feature.
We've already published a summary of the pricing and updates for the 2019 Miata's RF models, which Mazda said will debut first and head to dealerships this month. The changes will later be echoed on the soft-top, the GT trim of which will offer an optional brown roof.
There is one change I want to single out as a personal highlight: the addition of a telescoping steering wheel. As someone who's spent a lot of time in older Miatas, this is a real game changer. Believe it or not, this is the first time one has been offered, and it's overdue — the Miata has always had a good seating position, but finding a way to fit in it comfortably while driving can be challenging, especially for larger folks such as myself.
Mazda engineers told us they have resisted adding one because it would require additional bracing to keep the steering column as stiff as they want it to be, which would add weight, a factor they take very seriously on this car. However, after eight "countermeasures" (as they described them) were added to maintain stiffness, we finally get a telescoping wheel at the cost of ... not quite half a pound of added weight. It's a worthy tradeoff to find a more comfortable seating position.
Now, the most exciting set of changes to the Miata for 2019 are found under the hood, and they give the roadster new life.
More Power, More Fun
2019 Mazda MX-5 Miata; Cars.com photos by Brian Wong
Under the MX-5 Miata's hood is a 2.0-liter four-cylinder SkyActiv engine that is, in essence, the same engine as last year. What has changed are small tweaks here and there. For example, the pistons are lighter (by 27 grams each) and the shape of their domes has changed to make combustion a bit more efficient. It also has larger valves and ports, a larger throttle body and a high-flow exhaust manifold that allow the engine to take in and spit out more air.
These modifications help the engine to produce more power, with figures bumped up to 181 horsepower and 151 pounds-feet of torque. That represents gains of 26 horsepower (a 17 percent bump) and 3 pounds-feet of torque compared with 2018's 155-hp. And the power boost, through some dark magic, also comes with a marginal improvement in fuel economy of 1 mpg combined with the automatic transmission and 1 mpg highway with the manual. While the engine's output gains may not seem like a big jump, it certainly feels that way given how light the Miata is — just 2,339 pounds for manual versions of the soft top and 2,453 pounds for the manual RF (an 8-pound gain over 2018 models).
This jump in power is transformative for the Miata in the ideal way — the things that drivers (including myself) love about the car remain intact. It has sublime handling, purposeful dynamics that help you feel everything the car is doing, and it's still incredibly light on its feet.
But the added power makes the car punchier. Besides the added horses, Mazda has also retuned the throttle to make it more responsive, and though the engine changes don't add much more torque, they have shifted that torque downward in the curve. You get more torque from 1,500-2,500 rpm than you did before, and these changes fix a problem: It used to be that in the Miata, any time you ran into an incline, it meant a quick downshift to maintain momentum. But I found that the 2019 version could power through moderate hills in the same gear, no shift needed. It also makes the car feel sharper off the line, especially in city driving. And if you can find an open road, Mazda has bumped the engine's redline up to 7,500 rpm from 6,800. That lets you wind it up a bit more on straights and enjoy the improved engine note from the modified exhaust.
I drove both a soft-top GT-S convertible and an RF Club during the two-day trip. Both benefit equally from the added power, but my preferred version of the car remains the RF. It looks better, the top keeps the cabin a bit more calm, and the hardtop has the added benefit of stiffening up the rear of the Miata. It feels like it's more planted and rolls a bit less in corners, making it the more surefooted car even with the added weight. Plus, dropping that roof remains a very neat party trick.
Mission Accomplished?
2019 Mazda MX-5 Miata RF; Cars.com photos by Brian Wong
The 2019 Miata is the best version of the car yet. After I finished up the drive, I ventured home to visit my parents and take our 2001 Miata for a spin. It's still a wonderful car to drive, but I found myself sorely missing the added performance and convenience features of the new car (especially the steering wheel).
Mazda is fond of saying that the Miata's hallmarks haven't changed since 1989 when the car debuted: a lightweight, affordable, fun-to-drive roadster. The new car knocks three of those out of the park. It's still incredibly light, fun to drive and most definitely a roadster. It's the fourth pillar that I'm starting to have some trouble with.
Take my preferred version of the car, which happened to be the one I tested on the second day of the trip. It was a manual-equipped 2019 Miata RF Club ($33,240 including destination charges) with the new Brembo/BBS/Recaro Package ($4,670) tacked on as well as that very cool Machine Gray Metallic paint job ($300). Those options pushed the as-tested price to $38,210, which would be a stretch to qualify as "affordable." Lest you think it's just options bloat, if these price increases stay consistent for the soft-top when its pricing is officially announced, there will be just one way to get a 2019 Miata for under $30,000: a Sport version of the soft-top.
Is the new Miata worth that price tag? Based solely on how it drives, I could argue that it is. The engine changes raise the car another big step on the fun ladder and it was nearly ideal for a trip like this. However, I have to say "nearly" because my drive partner and I couldn't fit our pair of carry-on sized bags with us for the trip; they had to follow behind us in a Mazda CX-9. Prospective owners must weigh those types of practical considerations.
But if your goal is to maximize your fun-per-dollar quotient, the 2019 Miata is on the short list. It's one of the rare cars that can make the simple act of driving transcendent.
Cars.com's Editorial department is your source for automotive news and reviews. In line with Cars.com's long-standing ethics policy, editors and reviewers don't accept gifts or free trips from automakers. The Editorial department is independent of Cars.com's advertising, sales and sponsored content departments.