2019 Toyota Corolla Hatchback Is Easy on the Eyes and on the Gas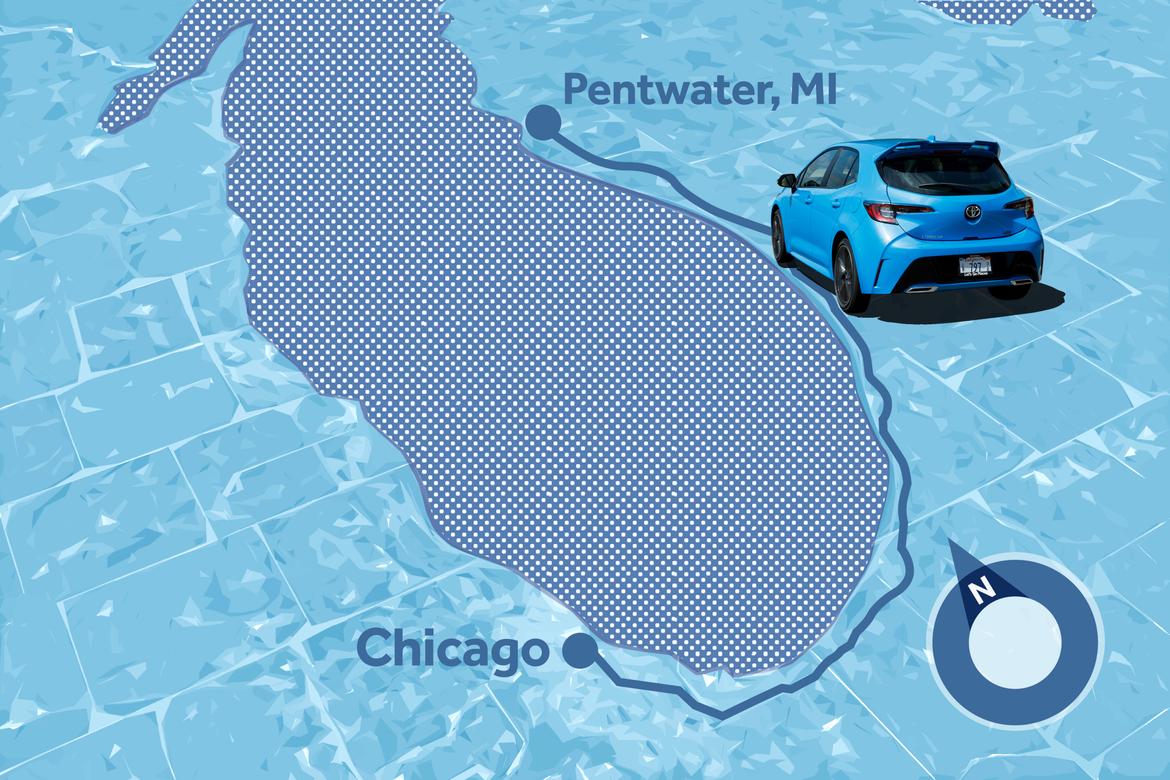 "Is that the '19 Corolla?"
Seldom have stranger words been uttered. Yet there I was, stepping out of a 2019 Toyota Corolla hatchback at Costco on the Friday evening before Labor Day. And an animated stranger did, in fact, utter this curious phrase. I said it was, but, sorry, I was on the phone; my wife had called moments before to tell me which 48-packs of groceries we needed for the long weekend. He backed off, then posed for photos in front of the hood as I walked away.
Related: 2019 Toyota Corolla Hatchback Pricing, Fuel Economy Revealed
Is the new Corolla Hatchback that snazzy? Our test car's conspicuous Blue Flame paint job demanded attention, as does its glaring expression. But it's a Corolla in name only; like the Scion-turned-Corolla iM that preceded it, the Corolla Hatchback rides a separate platform from its sedan namesake. It's a rebadged Toyota Auris, an international nameplate whose redesign debuted in Switzerland last March. It took all of a few weeks for Toyota to turn it into the 2019 Corolla Hatchback for U.S. shoppers, a car that's been on sale since July.
Perhaps the enthusiasm from the unlikely admirer was warranted. The separation might be short-lived, as Toyota will drop the Auris designation for a global Corolla in early 2019, including a new sedan based off the same underpinnings. When, or whether, we get the latter remains to be seen.
Maybe he just knew something I wouldn't find out for three more days. Over Labor Day weekend, I put nearly 500 miles on the car, a preproduction Corolla Hatchback XSE. My take? Toyota's latest redesign is light on cargo and passenger space, but it continues in the vein of the new Camry — which is to say it's a fine machine.
40 MPG, Almost
Over a rain-soaked three days, I took my family from the Chicago suburbs to Pentwater, Mich. — 485.1 total miles, including the Costco run before we left. With plenty of highway miles, tires properly filled and steady air-conditioning usage, the Corolla Hatchback's trip computer read 39.8 mpg when we returned home. That beat EPA-estimated figures for the Corolla XSE (30/38/33 mpg city/highway/combined) and came close to the highway rating for the more efficient Corolla Hatchback SE, which the EPA pegs at 32/42/36 mpg. It's not the first time I've observed this from a Toyota product, and I wonder if EPA ratings on the automaker's less efficient trims are a wee bit conservative.
My overall impressions largely mirror our take after driving the Corolla Hatchback in April. Consumer indifference for hatchbacks aside, Toyota has a high-quality compact car on its hands, with solid ride comfort, an intuitive multimedia system and a trick continuously variable automatic transmission with a fixed-ratio 1st gear to mitigate the usual CVT drone from a stop.
It is not, however, roomy. With my daughter's rear-facing infant seat in the passenger-side backseat, my 5-foot-8-inch-tall wife had to sit uncomfortably far forward up front. She eventually moved to sit behind me, and I took on chauffeur duty minus the cap and bowl cut. Cargo space is no better: The high load floor lends only 14 inches or so of usable cargo height below the seatbacks by my measuring tape — well short of the 17 and 21 inches of height, respectively, that we measured in the rival Volkswagen Golf and Honda Civic hatchbacks. After a cooler and two overnight bags, the Corolla Hatchback had nothing left.
Self-Driving on the Cheap
Standard on every Corolla Hatchback is the latest generation of Toyota Safety Sense, a suite of safety and self-driving technologies that includes adaptive cruise control, lane departure steering assist and forward collision warning with automatic braking. Cars with automatic transmissions add lane-centering steering plus stop-and-go adaptive cruise control. Both systems work down to a stop, using camera and radar sensors to intuit lane markings and the position of the car ahead. The lane centering alternates between lane markings and the position of the vehicle ahead to intuit the center of your lane, with a graphic on the instrument panel that continuously reports which one it's using.
My trip from Chicago incurred plenty of stop-and-go interstate driving, but even at low speeds, the Corolla Hatchback seemed to rely mostly on lane markings — a better method in my experience, as it doesn't try to follow a car ahead that wanders or changes lanes. Like virtually all other lane-centering steering systems, Toyota's still requires hands on the wheel — and substantial force at that, lest the hands-on-the-wheel reminder chirp at you. Despite my usage on well-marked interstates, the system frequently deemed conditions insufficient for operation. But it also worked for long stretches, keeping the car centered even when one side of lane markings dropped off to accommodate merging lanes.
That all of this worked in a relatively cheap car — an automatic Corolla Hatchback SE with all that gear starts around $22,000 — is mighty impressive. Such provisions are still missing on Toyota models as recently redesigned as the Camry, whose lane departure steering assist still only pinballs you back and forth between lane markings. The automaker has been late to the lane-centering game for its non-luxury cars, but if this system proliferates, that should go a long way toward fixing it.
Stay tuned for our full review of the 2019 Toyota Corolla Hatchback when we get extended seat time in a production model.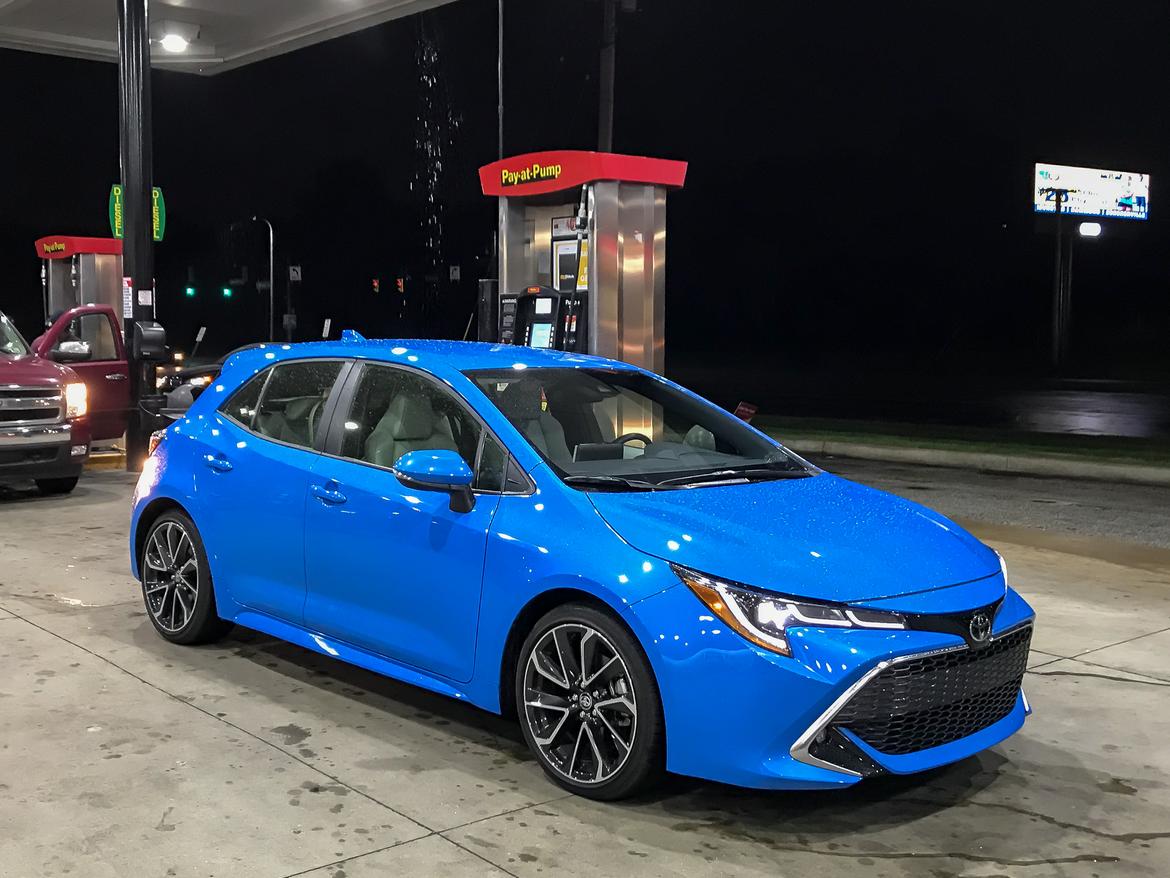 Cars.com's Editorial department is your source for automotive news and reviews. In line with Cars.com's long-standing ethics policy, editors and reviewers don't accept gifts or free trips from automakers. The Editorial department is independent of Cars.com's advertising, sales and sponsored content departments.