2019 Volkswagen Jetta First Drive: Reconfigured to Take on Civic, Corolla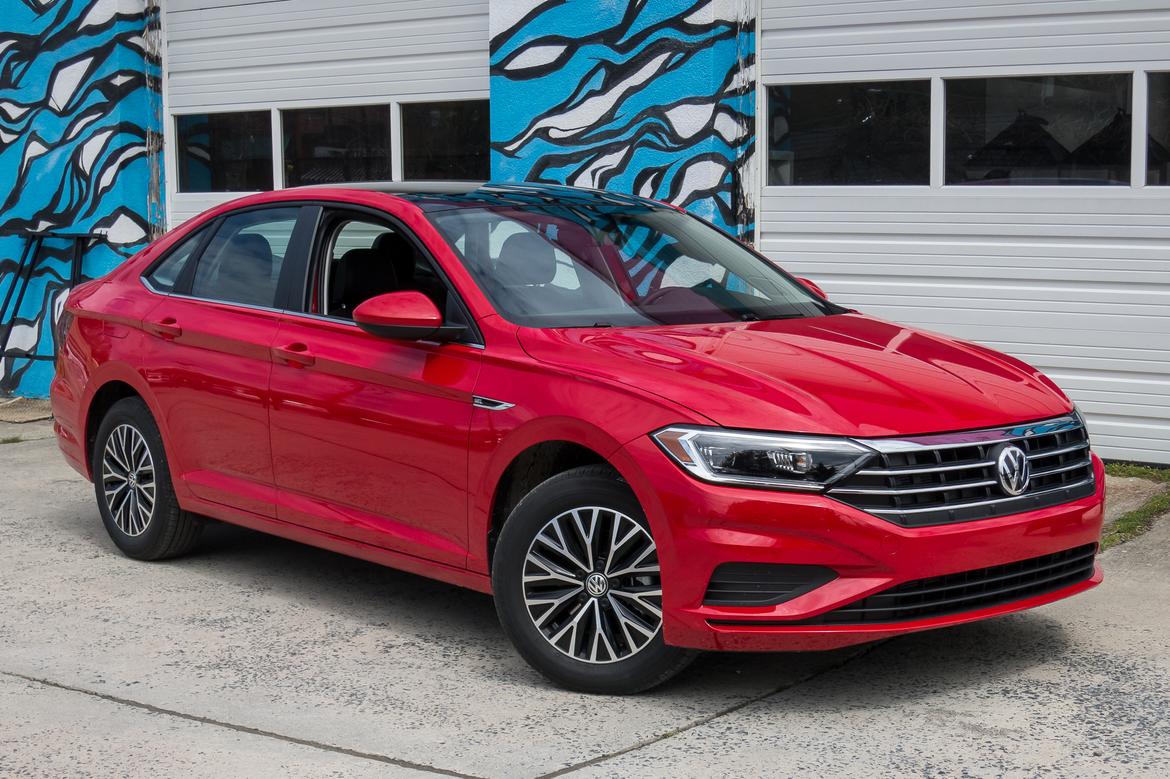 It's an SUV world now, even for traditionally car-centric Volkswagen. Its best-sellers so far this year are the new Tiguan (Car.com's 2017 Compact SUV Challenge winner) and Atlas mid-size SUV (Cars.com's Best of 2018). But compact cars still are a big part of the U.S. vehicle market and the much-improved 2019 Volkswagen Jetta sedan shows VW is serious about a bagging a bigger share.
Related: 2019 VW Jetta Offers More Features for Less Money
At a Volkswagen media preview, I drove the 2019 Jetta in town, on freeways and on rural highways around Durham, N.C., and found it now stacks up much better against rival compact leaders such as the Honda Civic and Toyota Corolla. (Per company policy, Cars.com pays for its airfare and lodging at such automaker-hosted events.) The previous generation held its own for driving manners, but the 2019 now also gets up to speed with features, tech and comfort, as well as — key for this group — value.
We're talking about the Volkswagen Jetta in the context of mainstream compact cars designed and priced for broad appeal (from singles to family buyers to Uber drivers). Volkswagen is hoping for sales in six figures per year, and that means compromises. If you want more grins, Volkswagen will happily sell you a sportier Golf GTI hatchback, a darling of torque-loving enthusiasts, just as Honda will sell you a sweet manual-shift-only Civic Si, but these are niche products in the U.S.
The 2019 Volkswagen Jetta goes on sale later this spring and will offer the sedan in S, SE, SEL and SEL Premium trim levels, as a well as a sportier-looking and mid-priced R-Line version that replaces 2018's SE Sport.
2019 Volkswagen Jetta; Cars.com photos by Fred Meier
New Look, Still a Grownup
The 2019 is more stylish, but remains more grownup looking than, for example, the sportier, more exuberant and younger vibe of the latest Civic. The look is sharply creased and more muscular, particularly in front, with an imposing Volkswagen grille and sculpted hood and bumper. The side view is dominated by a sharp character line from the front fender to the taillight (which unfortunately starts with a fake little fender vent, an unnecessary and overused flourish).
The roofline, while quite not as "coupelike" as VW describes it, is sleeker and slopes nicely into the trunk lid without (as some have done) making the lid inconveniently small for loading the nearly mid-size sedan trunk. LED headlights, daytime running lights and taillights are standard on all, including the cheapest base model, and the S comes with standard 16-inch alloy wheels. The 2019 is slightly bigger in all dimensions, but where it's most noticeable is in the 1.3-inch stretched wheelbase that pushes the wheels more to the corners.
Volkswagen Jetta's look is spiced up just a bit for the R-Line model that has its own 17-inch alloy wheels, a gloss-black grille and side-mirror caps, foglights and a slightly more aggressive rear bumper with dual chrome exhaust tips. Inside, it has a sport steering wheel and R-Line black-and-gray seats, both with gray contrast stitching.
Interior Designed for Drivers (Less So for Backseat Passengers)
The best part of the new interior is the dashboard design (with a bit of Golf DNA) that wraps around the driver's field of vision. The center touchscreen is moved higher and angled toward the driver (no more fumbling down by the gearshift). All the controls are logically at hand, and the buttons and dials have a high-quality feel and action.
The seats, leatherette for most models, are a new design that is firmly supportive and comfortable for a long day of driving. The interior materials and trim of the current generation that have been criticized as downscale from the time it rolled out still are not posh, but do have more soft-touch surfaces and upscale-looking trim. Even the base S is much improved. And the comfort over a long drive is enhanced by a cabin quiet enough for easy conversation at highway speeds.
The new interior also adds needed practicality, including deep door pockets, a larger center storage bin and a big soft-surface phone bin at the front of the console. A little, but thoughtful detail that others should copy, is a light-gray interior for the console bin that makes it much easier to find things in the bottom. Storage space is helped by having an electronic parking brake, but thankfully there is no complicated electronic shifter.
The sleeker roofline still leaves adequate headroom for a 6-foot-plus adult. Cost-cutting shows in cheaper materials back there, however. That's not uncommon in compact sedans that must pinch pennies to hit price targets, but some, notably the Honda Civic, do a better job of disguising the rear cost-cutting. Overall, the backseat is an adequate place to be, but it won't get a lot of five-star feedback.
The list of upscale extras available that can make the Jetta more fun has expanded to include 10-color ambient lighting that wraps around the front, ventilated as well as heated front seats, heated rear seats and steering wheel, and a panoramic moonroof.
Bigger Screen, Better Tech, Beats Sound
The 2018 Jetta's now-outdated technology has gotten a major overhaul for 2019, with a base 6.5-inch touchscreen that is larger than the 2018's biggest screen (6.3 inches) and an 8-inch upgrade for higher trims. Jetta also offers VW's latest-generation media system, which is fast, sharp and has graphics that are as good or better than any mainstream system out there. The screen technology also allows gesture control to pinch and zoom and bring up menus. Apple CarPlay and Android Auto smartphone integration is standard on all models.
Also standard on all 2019 Volkswagen Jettas is useful (but also just fun) personalization technology that can store up to four drivers' settings that you can select when you get in, two of which can be attached to the key fobs. Depending on the trim level and optional equipment, those setting bundles (to which you can attach you own pet names) can include driver's seat memory, driver assistance tech preferences, climate, Digital Cockpit configuration, ambient lighting color, radio presets and navigation view.
On the higher trims VW has Jetta's first BeatsAudio premium sound, a 400-watt system tuned to the car with nine speakers, including a subwoofer in the trunk. It sounded very good, though to my taste it seemed a bit bass-heavy compared to the Fender-branded premium audio in other Volkswagens such as the 2018 Tiguan.
Oddly stingy in the otherwise more tech-savvy new Jetta is limited availability of USB ports and other power. There is just a single USB port plus a 12-volt outlet until you get to the SEL trim level, which adds just one more USB in the console bin, and that also is the only port available for the rear seat.
How It Drives
The seventh-generation 2019 Volkswagen Jetta improves on a predecessor that already ranked with more fun-to-drive compact sedans. Much of that improvement is due to better bones, with the Jetta now on VW's excellent MQB platform that underpins newer models from the agile Golf hatchback to the big Atlas SUV. Jetta's no GTI, thanks in part to a less expensive torsion-beam rear suspension, but it's a rival in handling for the respectable chassis of the Civic (and both can dance around a 2018 Toyota Corolla). Cornering was flat and confident, while the ride was just firm enough, but not harsh. And the steering was satisfyingly positive and not overboosted.
All 2019 Jetta models use a revised 147-horsepower, turbocharged 1.4-liter four-cylinder with a punchiness that belies its size; the 2018's turbocharged 1.8-liter and 2.0-liter options have been dropped. A six-speed manual is standard on the base S, but the carryover 1.4-liter now benefits in most models from the well-spaced ratios of a new eight-speed automatic that replaced the 2018's six-speed. The new transmission shifts positively with no missteps and willingly downshifts without excessive nudging from the accelerator pedal. And it offers a satisfyingly crisp manual mode as well.
Overall, the Jetta was peppy in town, fun on the backroads and more confident than I expected in highway situations. All those were particularly true using the Sport setting in the driving modes that come with the higher trim levels. They alter throttle and transmission settings, and adaptive cruise control response, as well as (in Eco mode) climate system operation.
While the 2019 Jetta gets new low rolling-resistance tires to improve mileage, they did not seem to exact a big price in cornering and grip until taken to limits where few compact sedan buyers are likely to venture.
The new Jetta's EPA fuel economy ratings are 30/40/34 mpg city/highway/combined, 2 mpg better across the board from the 28/38/32 mpg ratings for the best-rated version of the 2018 Volkswagen Jetta with an automatic transmission. The increased mpgs are more competitive with rivals such as the 2018 Honda Civic at 32/42/36 mpg (with the available turbo 1.5-liter and continuously variable automatic transmission) and the 2018 Chevrolet Cruze (29/40/33 mpg), and beat the 2018 Toyota Corolla (28/36/32 mpg). Modifications Volkswagen used to squeeze out the extra mileage, beyond the new automatic and tires, are a more efficient generator, a standard stop-start system (thankfully with an on-off switch that lets you decide), active grille shutters, "air curtain" inlets in the front bumper and more underbody coverings.
Safety Tech Now Available on All, Standard on Most
Improvements on the tech front go beyond infotainment to include new and more widely available driver assistance and safety technology. Volkswagen has made key elements — a front collision system with automatic braking, along with blind sport warning and rear cross-traffic alert — standard from the volume SE level up. And it's available as a $450 option on the base S model. A longer list of features for the SEL and SEL Premium trim levels includes adaptive cruise control with stop-and-go traffic capability, high-beam assist, lane departure warning and lane keeping assist. The Volkswagen Jetta also has a standard post-collision braking system designed to help prevent a second collision after an initial crash.
A Better Value Proposition
The way the Jetta's pricing better matches rivals is a measure of VW's renewed effort to be a volume mainstream brand in the U.S. It's also not something VW has always done well in the past. But from base model to the top of the line, the 2019 Jetta has been configured for competitive features for the dollar against comparable trim levels in rivals, particularly the Civic and Corolla.
The 2019 Jetta S base price of $19,395 with destination (down $100 from 2018) now slightly undercuts entry models of both the Civic (the LX is $19,730) and the Corolla (the L is $19,495). And Jetta's all-in SEL Premium tops out at $27,795, just $200 above the deluxe Civic Touring. The Corolla XSE stops sooner than either, at just more than $24,000 to start, but also stops well short of the VW and Honda in premium goodies, such as leather seats and smartphone integration.
Meanwhile, the Volkswagen Jetta SEL model, in which I spent the most time, has an impressive list of features included for a more modest starting price of $25,265, $1,830 less than the previous-generation SEL. For that price, it comes with LED projector headlights, rain-sensing wipers, an auto-dimming rearview mirror, the interior ambient lighting, the digital instrument display, the BeatsAudio upgrade, an 8-inch multimedia screen and the full suite of safety and driver assistance features. If that package and price sound a lot like the well-equipped Honda Civic EX-L with Honda Sensing driver tech, that's surely no coincidence.
And like all 2018 and newer Volkswagens models (except the e-Golf), the 2019 Jetta adds reliability peace of mind with VW's six-year, 72,000-miles, bumper-to-bumper warranty that can be transferred to a subsequent buyer.
Cars.com's Editorial department is your source for automotive news and reviews. In line with Cars.com's long-standing ethics policy, editors and reviewers don't accept gifts or free trips from automakers. The Editorial department is independent of Cars.com's advertising, sales and sponsored content departments.