2020 BMW 228 Gran Coupe Review: Little, and of Little Point
The verdict: The 2020 2 Series Gran Coupe is an adequate subcompact sedan so unlike traditional BMWs you'll wonder if the Bavarians have created a new sub-brand.
Versus the competition: More expensive than the Audi A3 and Mercedes-Benz A-Class but cheaper than Mercedes' CLA, the 228 Gran Coupe offers first-rate interior technologies but a lackluster powertrain.
The 228i xDrive Gran Coupe is new for 2020, ostensibly a sibling of the 2 Series coupe despite sharing a platform with the X1 and X2 SUVs. It's also the base trim level of the 2 Series Gran Coupe; a more-powerful M235i xDrive version is also available. Despite their front-wheel-drive platform, both are offered only with BMW's xDrive all-wheel-drive system. The 228i xDrive starts at $38,495 with destination charge; with options, our test car totaled $48,495.
Related: 2020 BMW 2 Series Gran Coupe: Small But Spendy
"How's the Kia?" was a question I heard multiple times from my colleagues while driving the 2020 BMW 228 Gran Coupe, which made me think from time to time that maybe I was driving a Kia. The 228 Gran Coupe would be a solid Kia — albeit a very expensive one — but it's a lousy BMW.
Driving it for multiple days led to feelings of embarrassment — not for myself, but for BMW, which seems intent on squandering its "ultimate driving machine" cachet when it comes to road cars. (That said, even some apparently boring BMWs still shine when pushed, as we discovered last summer in the 2019 330i sedan, but exigent circumstances prevented any similar closed-course testing of the 228).
First-Rate Tech, With a Learning Curve
Where the 228 Gran Coupe shines is in its use of technologies pioneered in more expensive BMWs. The 8.8-inch screen for BMW's iDrive has some of the highest-quality graphics of any automaker, and that's also true of the optional 10.25-inch digital instrument cluster with which our test car was equipped. The display quality also shines when using the backup camera, offering a clear picture of the area behind the car even in low-light situations. When I put on sunglasses inside a parking structure I was still able to see the camera display clearly.
Apple CarPlay smartphone connectivity is included as standard equipment, but there's a catch: It only functions wirelessly. Some staff members here at Cars are staunchly pro-wireless CarPlay, while others, myself included, find it lacking. This may be because I have an older iPhone (7 Plus), leading to connectivity issues, but those issues were especially prevalent in the 228. My music would occasionally "skip," like I'd been listening to a CD and gone over a harsh bump, and occasionally others complained about my half of the audio in phone conversations. My older phone also meant I couldn't take advantage of the car's wireless charging, so I still had to plug it in using a USB cord. If BMW could figure out how to offer wired and wireless CarPlay, I'd be far less annoyed. Android users need not worry about the wireless connection; Android Auto isn't offered at all.
While screen quality is top-notch, iDrive does leave something to be desired when it comes to user interface. It isn't the most complex infotainment system currently in a car — I find Mercedes-Benz's MBUX even more Byzantine, and the current systems in Jaguar and Land Rover products are a mess — but iDrive's latest evolution has brought back complexity where it needn't have, choosing deep menus instead of straightforward information delivery.
Sounds Good, Feels Meh
Driving the 228 Gran Coupe with the windows down, you'll hear some great turbocharger "whoosh!" noises coming from the engine compartment, but you won't feel like those noises mean much. Powered by a turbocharged 2.0-liter four-cylinder engine taken from the X1 and X2, the 228 Gran Coupe has 228 horsepower and 258 pounds-feet of torque at its disposal, directed to all four wheels via an eight-speed automatic transmission.
In theory, that's good enough to hit 60 mph in 6.0 seconds, BMW says. In practice, though, the Gran Coupe is a bit sluggish off the line and slower to respond to a stab of the gas pedal than I would prefer, particularly in a car covered with BMW M symbols. I found myself leaving the 228 Gran Coupe in Sport mode for much of my time with it to try to wring any enjoyment out of the car. Sport mode didn't seem to change throttle response much, but the usually higher rpm did reduce the time needed for the turbo to spool up. Interestingly, where some cars have a Sport mode hold a lower gear even during highway driving, which can cause an annoying amount of engine drone, the 228 Gran Coupe's programming would eventually shift up to its 8th and highest gear. 
Constant use of Sport mode will reduce the 228i xDrive Gran Coupe's fuel efficiency, which the EPA estimates at 23/33/27 mpg city/highway/combined. That's identical to the 2020 Mercedes-Benz CLA250 4Matic and higher than the 2020 Audi A3 quattro's 22/30/25 rating. The 2020 Mercedes-Benz A220 4Matic has slightly better ratings, at 24/34/28 mpg. Most damning, however, is that even the 2020 BMW 330i xDrive is rated higher than the 228i xDrive Gran Coupe, at 25/34/28 mpg. All these cars recommend premium gasoline with the exception of the Audi, which takes regular.
Ride quality was surprisingly adequate for a small car, even with optional 18-inch wheels and an optional M Sport suspension. It was significantly better, in fact, than the similarly optioned but larger 2019 330i xDrive we had in our office late last summer. The Gran Coupe was still thwacked by bumps on the road, but it remained composed. However, it seemed to have greater difficulty staying on track at highway speeds, exhibiting some surprising tramlining behaviors for a car without wide, high-performance tires.
The 228 Gran Coupe's greatest shortcoming, though, is its numb steering. We've been complaining about this phenomenon in contemporary BMWs for some time, but this is one of the worst cases. The steering isn't communicative at all, making it hard to feel like you can point the Gran Coupe exactly where you want it to go. Throw in some understeer and you're left with what should be a small, nimble car that instead feels much more "Gran" than it actually is.
Not Gran on the Inside
Interior space is at a premium in the 228 Gran Coupe — even for the driver. The footwell is narrow, and there's not much legroom or space to spread your legs. Forward visibility is somewhat diminished by the raked windshield, but thinner A-pillars help counteract this. To the rear, visibility is affected more by the rear head restraints  than anything else, and the 228 Gran Coupe's design doesn't create any significant blind spots.
Sitting in the backseat behind my preferred driving position proved nearly impossible. Legroom is tight to begin with, but my driving position pushed the seat so far backward that rear legroom was reduced to almost nothing. Add to that a sloping roofline that leaves backseat passengers with less headroom than they'd have in a 2 Series coupe, and it's a very uncomfortable place to be. 
Space was better behind the front passenger seat, but sitting ahead of myself left my knees resting on the dashboard. The interior of the 228 Gran Coupe is a place of compromises that won't satisfy anyone, which makes me think it was designed by Henry Kissinger (or that a BMW sedan with a front-wheel-drive platform might be a war crime).
Interior materials quality is hit or miss. The optional leather upholstery — in place of SensaTec imitation leather — felt luxurious enough to justify its $1,450 cost, but there's a lot of hard plastic around the cabin that frustrated me, particularly on the lower halves of the doors and the lower sides of the center console. BMW did find an upscale way to make use of some hard plastic, however, with trim pieces featuring a digital matrix pattern that also house the ambient light elements. It might not be as nice as wood or metal accents, but the younger buyer BMW seems to be targeting with this car might find it more interesting.
Stated cargo specs for the 228 Gran Coupe are 12.0 cubic feet, which isn't much. Both the 2 Series coupe and 3 Series offer more trunk space, according to BMW's own measurements. The trunk is enough to hold a decent week's worth of groceries for one or two people and maybe a bag of dog food, but luggage for a longer trip for two might end up in the backseat.
Safety Tech Sort of Standard
BMW's Active Driving Assistant suite of safety technologies comes standard, including forward collision warning, automatic emergency braking, lane departure warning and blind spot detection. BMW used to make buyers pay extra for those features, so this is a nice change. Lest you think BMW has completely turned over a new leaf, however, adaptive cruise control is still a separate, $1,200 option — and one that was not part of our test car.
As of this writing, the 228i xDrive Gran Coupe has not yet been evaluated by either the National Highway Traffic Safety Administration or the Insurance Institute for Highway Safety.
What Price a Badge?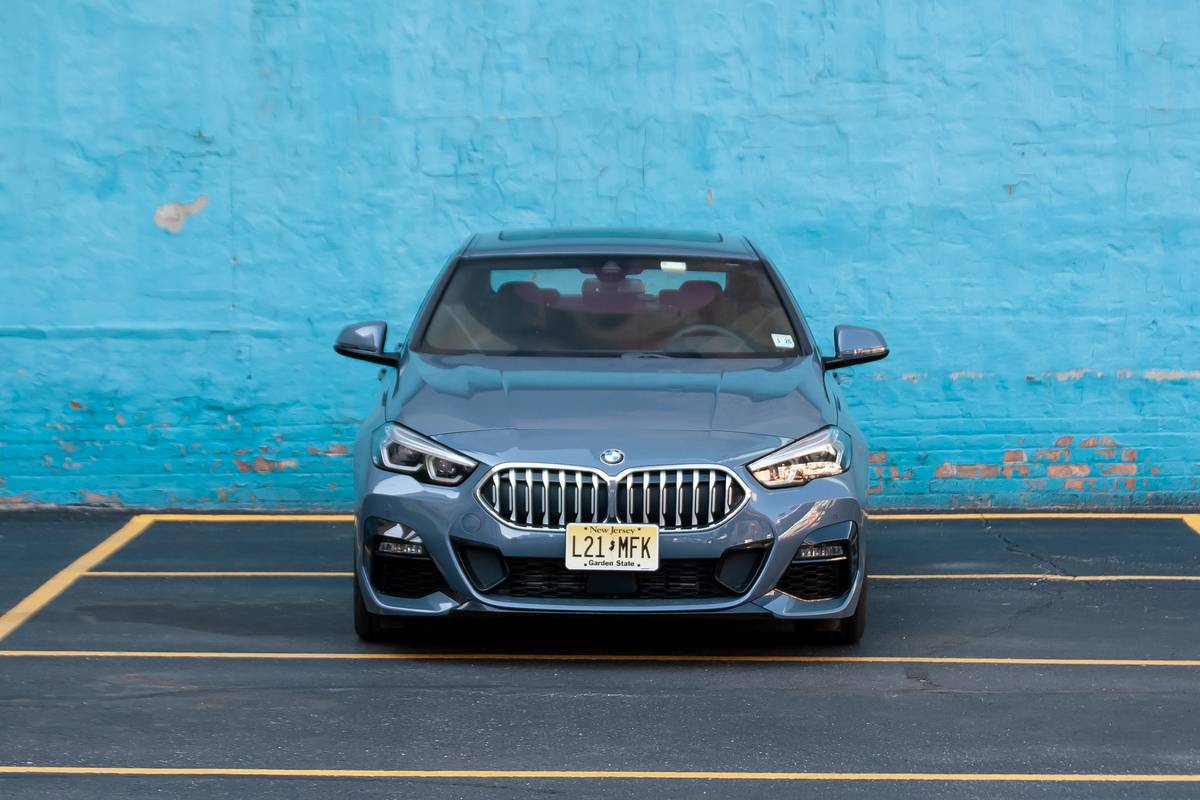 At an as-tested price of $48,495 (including a $995 destination fee), it's exceedingly difficult to make the case for a BMW that isn't all that enjoyable to drive and doesn't offer a backseat adults can use. Even the car's $38,495 starting price seems steep. 
Our as-tested price of nearly $50K could also get you a new 330i xDrive with some options (or a rear-wheel-drive 330i with even more options). The 3 Series is bigger, faster and somehow more fuel-efficient, according to the EPA, and while it may not offer the visceral driving experience of its predecessors, it's certainly more enjoyable to drive than the 2 Series Gran Coupe. And no one will mistake it for a Kia.
Cars.com's Editorial department is your source for automotive news and reviews. In line with Cars.com's long-standing ethics policy, editors and reviewers don't accept gifts or free trips from automakers. The Editorial department is independent of Cars.com's advertising, sales and sponsored content departments.