EXPERT REVIEW
2020 Cadillac CT5-V Test Drive: Great Car, Awful Timing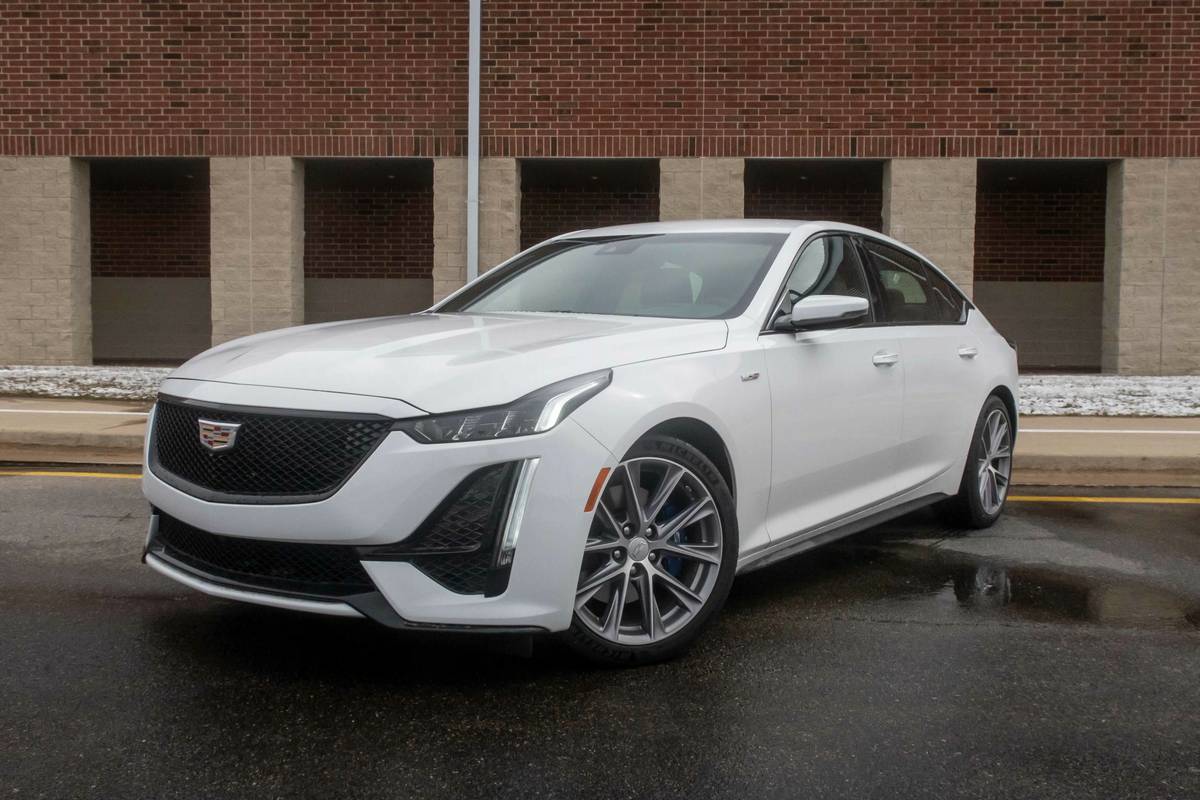 So what's this?
This is the new Cadillac CT5-V, a compact rear-wheel-drive sports sedan from Cadillac. 
Wait, don't you mean CTS-V? Is that a typo? It can be easy to confuse '5' and 'S.'
No, it really is CT5. It's part of Cadillac's strategy to completely redo its sedan lineup. The CT5 is not a direct replacement for the CTS; it's actually a couple of inches shorter than that outgoing sedan. But it's also bigger than the ATS sedan, which also goes away for 2020, and along with the smaller CT4 sedan that's coming, it fills out the three-sedan lineup that has the CT6 sitting on top of them all … but then, the CT6 has also just been canceled after a few 2020 models were made. Got all that? The sizes and pricing line up a lot better with competitors from Audi, BMW, Jaguar and Mercedes-Benz, which is probably what they should've done all along. The CT5 is meant to be a direct competitor for vehicles like the Audi A4, BMW 3 Series, Jaguar XE, Lexus IS, Mercedes-Benz C-Class, things like that.
Huh. OK, I think I have it straight. And this is the V model, so it's the ultimate high-performance version, right?
Well, no. The V-series tag doesn't quite mean what it used to under the new naming convention. It's now a mid-level performance model; think Audi S4 or BMW M340i instead of Audi RS 4 or BMW M3. (For that matter, think V-Sport, the name Cadillac has used for in-between performance models recently yet seems to have abandoned here.) The standard engine in the CT5 is a turbocharged 2.0-liter four-cylinder making 237 horsepower and 258 pounds-feet of torque. That's the engine you get in most trim levels, but you can upgrade to the twin-turbocharged 3.0-liter V-6 in the Premium Luxury trim, making 335 hp and 405 pounds-feet of torque. Both are mated to a 10-speed automatic transmission as your only choice, and while rear-wheel drive is standard, all-wheel drive is optional with any engine. 
But the new V comes with a little bit more — a 360-hp version of the twin-turbo V-6, a performance suspension with GM's phenomenal Magnetic Ride Control adaptive shock absorbers, Brembo front brakes, Performance Traction Management with launch control, an electronic limited-slip differential and more. It's not a crazy performance machine like the final CTS-V or ATS-V were, but it's not meant to be — it's a more accessible, more livable, more affordable performance option for people who were turned off by the idea of the slightly mental old V-series cars. (Why they didn't just call it something different, I'm not sure, as it's sure to cause confusion.)
It looks pretty good. But some of that styling is … different….
Yeah, the styling is pretty much a direct copy of the larger 2016 Cadillac Escala concept car that the brand seems intent on using as the inspiration for all of its new models, for better or worse. The concept is more attractive than the CT5, however, as the C-pillar treatment in particular just doesn't seem to have translated over very well. The rest of the car is distinctive and attractive, however, with a beefy presence thanks to its wide wheels and tires and thick fenders. Those wheels are big 19-inch alloys shod in special Michelin Pilot Sport 4S summer tires for the rear-drive V models or all-seasons if you opt for the all-wheel-drive car. Nestled in those wheels are blue brake calipers, an option on the CT5-V and a subtle styling cue that popped in contrast to the white paint on my test car. 
Big brakes? How well do they work? Is this V a worthy successor to the old ones? 
This isn't a successor to the old V models, so evaluating it versus those older ones doesn't make much sense (just like actually calling it a V instead of a V-Sport or some other new moniker doesn't make much sense, but you can take that up with Cadillac). The car itself is frankly outstanding, due largely to the ride and handling balance brought by the fourth generation of GM's Magnetic Ride Control. We've seen MRC used on everything from the Chevy Camaro to the Cadillac Escalade, and it could be more appropriately called Magic Ride Control for the amazing combination of supple ride and outstanding body control that it helps create. Despite the CT5-V's 19-inch wheels and low-profile summer tires, it tracks over rough pavement with very little intrusion into the cabin and not much effect on the steering stability. Find some smooth, twisty roads and the CT5-V provides a rewarding yet refined experience.
This most definitely isn't the same thinking as previous V-series vehicles, which smacked you in the face with their machismo, noise and brute-force powertrains. They were fun, to be sure, but this is a much more refined, elegant take on a performance sports sedan, and it's enjoyable in a different way. 
So it's cushier and more refined, but should it have had a V-8?
Honestly, the twin-turbo V-6 feels perfect for this chassis, and the 10-speed automatic transmission works beautifully. It may be the same transmission that Ford uses (the unit is a joint venture between Ford and GM, but each automaker uses its own gearing and software tuning), but it works far better in this passenger car than in any Ford I've tried it in.
Power is always on tap, and slipping the car into Sport mode only makes shifts crisper and more immediate. As Sport modes go, this one doesn't seem to change the feel of the CT5-V all that much — it's already pretty sporty, so ramping up the steering effort and firming up the suspension just a bit isn't all that detectable, but the powertrain response does get noticeably quicker. Something worth noting is the noise that accompanies the CT5-V wherever you go in it.
Is it loud like the old V? 
Yes, and no. The V-6 is definitely sonorous, but even Cadillac admits that a lot of the CT5-V's noises are "enhanced." The exhaust noise you hear in the cabin is part real, part generated, but I'm not even mad about it because it sounds awesome. It gets louder and quieter depending on the mode you've selected, but even if it's not entirely real, it's a mood enhancer to be sure. Without it, the CT5-V would be remarkably quiet, a combination of noise mitigation efforts through material selection and electronic active noise cancellation. Cadillac has spent some time focusing on the refinement of the CT5, and the aural component of that is one of the most obvious areas that contribute to that sense of improvement. 
Sounds like they've made it a lot nicer than before. 
Well, the driving experience is certainly different, but the interior isn't all that much better. Gone are any of the touch-sensitive controls, banished to the Cadillacs of the past (thank God), and the new controls for things like climate-control and steering-wheel functions are decidedly better. The big beefy wheel feels great in your hands, and the V-Mode button on the right-side spoke lets you put the car into a mode that turns it into an instant track car. But materials quality hasn't taken much of a jump, and while it's fair to call the newest Cadillacs the nicest of GM's current vehicles, it still feels a tick behind segment leaders like Mercedes-Benz and even Lincoln. The CT5-V gets some tan stitching and carbon-fiber trim, but in black, the interior is a bit dour.
It's comfortable up front, with plenty of headroom (my test model didn't have the optional moonroof), but it's a bit tight in hip room due to what feels like a wide center console. The backseat actually has decent legroom, something you might not expect in a compact 3 Series-sized luxury sedan, but the extra length of the CT5 versus its competitors shows up in the backseat. Headroom is tight, however, with backseat passengers' noggins up against the headliner. Outward visibility is good in every direction, although the beltline does feel a little high (not an uncommon design element of today's luxury vehicles). The interior isn't anything special, however, and doesn't have any "wow" factor that's going to get it noticed like the new 2021 Cadillac Escalade does or, again, like anything from Mercedes-Benz.
What about CUE? Has that improved at all?
I've never actually had a problem with the Cadillac User Experience, the brand's multimedia system. The latest version is big, bright, quick and just as easy to use as before. The native system works fine, or you can pop your personal phone into the charging tray or the slot that has an opening to the center console storage area (keeping the cupholders free for … well, cups) and the full 10-inch touchscreen becomes your display area for things like Apple CarPlay or Android Auto. If you need to switch out of CarPlay and back to CUE, the big home button right below the screen lets you do that with a quick single press. The Bose premium audio system sounds clear — which it needs to, given how quiet Cadillac had made the car to begin with.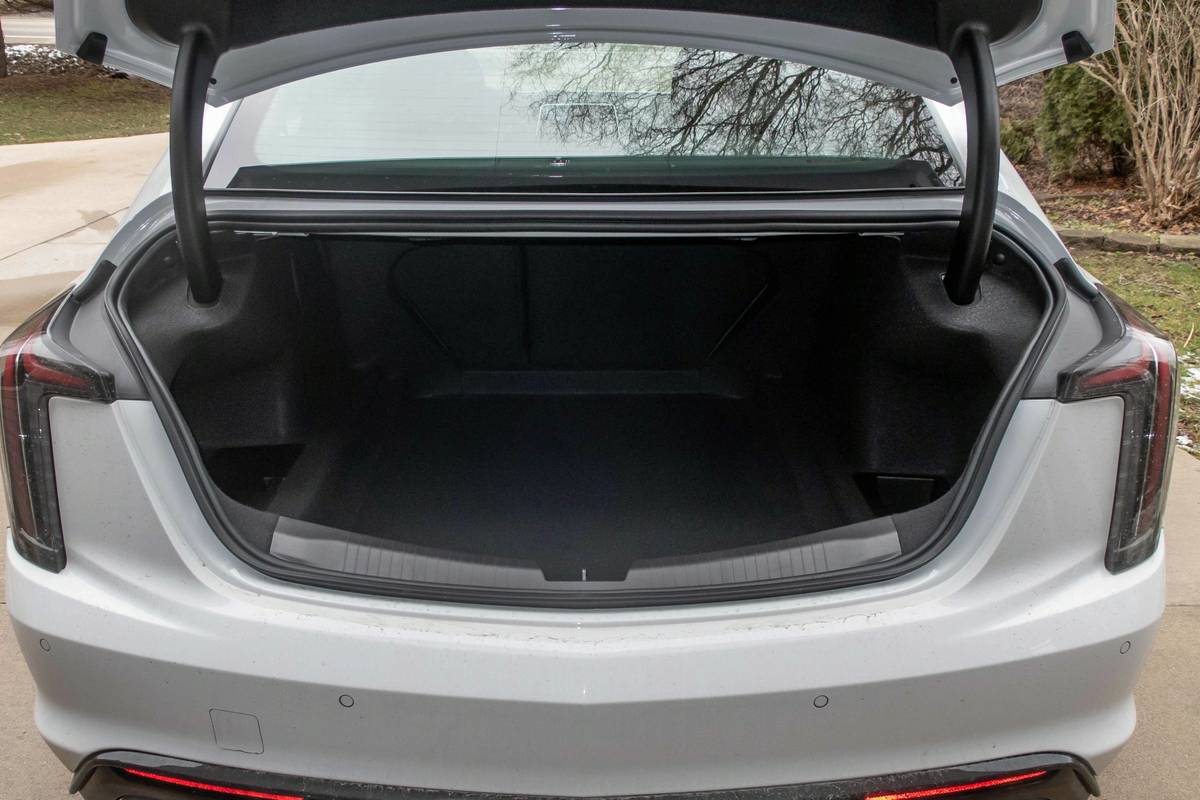 So it seems to be at least a solid effort on Cadillac's part, if not quite a game changer. Will anyone care?
That's the big question. The sales and marketing wisdom right now seems to be that nobody wants sedans and everyone wants crossovers and SUVs. And at this time in the market, introducing not one but two new compact luxury sedans seems counterintuitive, so Cadillac definitely has its work cut out for it to get peoples' attention. 
The CT5-V certainly has the goods to interest buyers who are still insisting on a sedan over an SUV. Solidly built, beautifully refined in its dynamics, with a dynamite chassis tune and superb powertrain, it will be a rewarding choice for drivers looking for a valid, sporty, refined alternative to the German brands. It's not even outrageously priced — the CTS-V starts at just a bit less than $49,000 (all prices include destination), and my modestly equipped test vehicle (no AWD, no fancy electronics, no moonroof or wild interior packages) rang in at a tick under $57,000. That puts it very much on par with the Audi S4 ($50,895) and significantly undercuts the BMW M340i ($54,995). Whether Cadillac can get people interested again will require some clever marketing, but the car itself won't be a problem.
Cars.com's Editorial department is your source for automotive news and reviews. In line with Cars.com's long-standing ethics policy, editors and reviewers don't accept gifts or free trips from automakers. The Editorial department is independent of Cars.com's advertising, sales and sponsored content departments.