EXPERT REVIEW
2020 Ford Super Duty F-250/F-350 Review: Finding New Power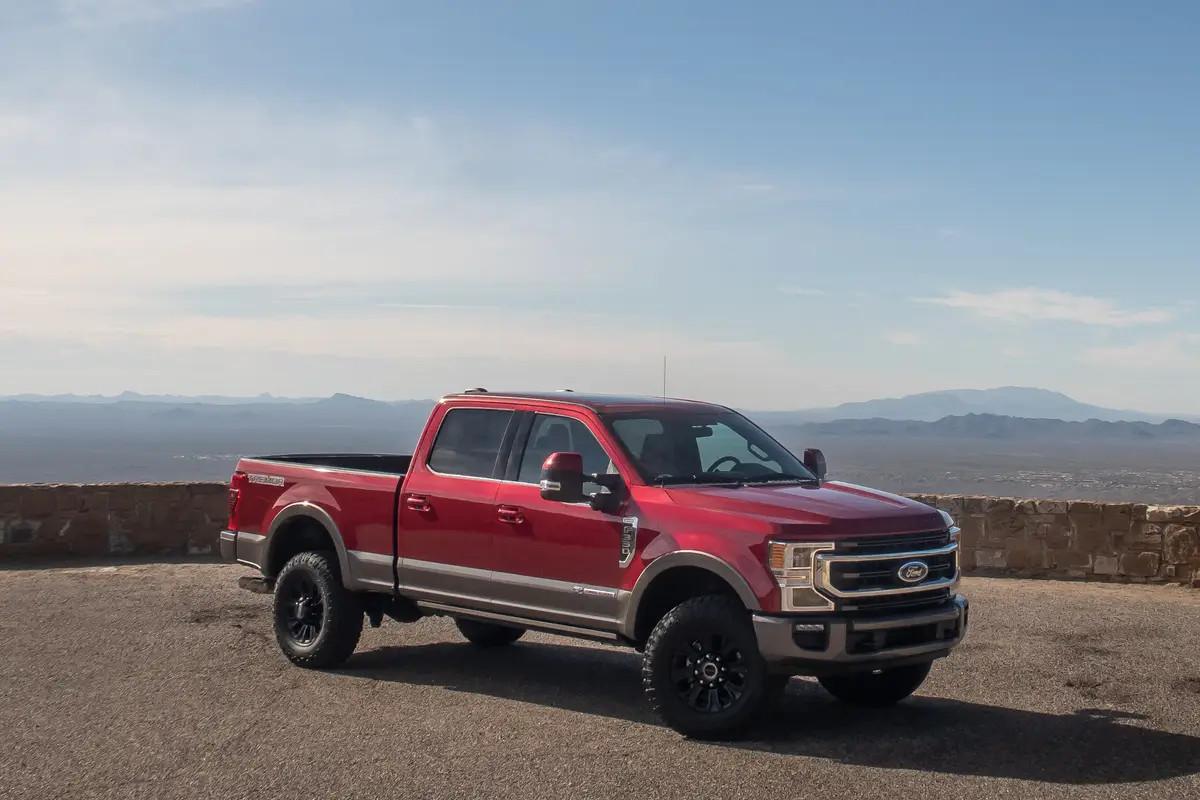 Notable highlights
${price_badge()}
${hot_car_badge()}
${award_badge()}
${home_delivery_badge()}
${virtual_appointments_badge()}
${cpo_badge()}
${href_to_vdp()}
${price_badge_description}
Certified cars are manufacturer warrantied and typically go through a rigorous multi-point inspection.
This car is likely to sell soon based on the price, features, and condition.
Looking to have this car delivered to your home? This dealership offers home delivery on some or all of its cars. Contact the dealership with our tools to get details such as qualifying cars, test drive options, and any applicable fees.
You can get more information about this car from your couch through a virtual appointment! Use our tools to contact the dealership to schedule a video consultation. A video walkaround of this car may be available upon request.
See more details about this car
Shop the 2020 Ford F-250 near you


This is a mid-cycle refresh, as Ford calls it, not a full-on redesign like we saw with the GM trucks. So don't expect any big styling changes or interior differences, because there aren't any. What we have instead is a lot of powertrain, suspension and technology work that's been performed under the hood, combined with a compelling new off-road package that is sure to grab some attention. So if it doesn't look different outside and it doesn't look different inside, where the heck did Ford's product developers spend all the redesign money? They spent it on the underside.
They spent it on an all-new 7.3-liter gasoline V-8 engine that makes a best-in-class 430 horsepower and 475 pounds-feet of torque. And they spent it on a revised third-generation Power Stroke turbo-diesel 6.7-liter V-8 making a best-in-class 475 hp and a whopping 1,050 pounds-feet of torque. And they spent it on a brand-new 10-speed automatic transmission with three overdrive gears, up to six drive modes and an available power takeoff with a best-in-class maximum of 300 pounds-feet of torque when paired with the diesel engine.
Both of the engines are fantastic. The new 7.3-liter tows like a champ, and mated to the 10-speed automatic, it feels powerful and responsive in all conditions. I didn't tow anywhere near the Super Duty's maximum ratings, but the trailers provided by Ford were representative of what people normally tow with these trucks. From 9,000-pound horse trailers to 11,000-pound campers, neither powertrain had so much as a hiccup in its performance. The best powertrain for towing is, of course, the 6.7-liter diesel engine, mostly due to its superior engine braking abilities when negotiating a downhill stretch. But the new 7.3-liter gas engine is no slouch either and would serve those who occasionally tow but don't want to splurge on the pricey diesel option. When the trucks are empty, both engines are fantastic performers. The diesel is more responsive than before, now offering some forward thrust with no turbo lag and lightning-fast, smooth downshifts. Both engines are also surprisingly quiet, even under load going up a hill. It's clear that powertrain refinement was a goal for the Super Duty engineers, and they've succeeded admirably.
So what does all that do for the new Super Duty? It lets Ford claim a whole bunch of best-in-class ratings: payload capacity of 7,850 pounds with the standard 6.2-liter gas V-8 while the diesel gets a maximum gooseneck towing of 37,000 pounds, fifth-wheel towing of 32,500 pounds and bumper towing of 24,200 pounds. But two of these claims are predicated on you buying an Super Duty F-450, which was not a common model in 2019; the F-250 and F-350 are much more popular. The F-250 and F-350 can also claim some best-in-class ratings, from best gooseneck maximum towing to best dually payload ratings. But honestly, best-in-class numbers don't impress me much. I'm much more interested in how the vehicles drive and operate, and given the big powertrain and suspension changes Ford has made, that's where I focused my attention.
The New Tremor Package
The bigger difference in towing performance came when I switched from a conventional Super Duty to one equipped with the new Tremor Off-Road Package. What's a Tremor? Unlike before, when the Tremor name was used on an F-150 to denote a special performance version of the half ton, now it's an equipment package that you can add to a new Super Duty. Ford has cooked this up for the off-road truck enthusiast buyer — the recreationist, one who takes a Super Duty, adds a bunch of parts and turns it into a bro dozer. You know, one of those big off-road trucks with enormous wheels and tires and a lifted suspension, often seen blowing big black clouds of soot out its diesel exhaust pipe? Well, Ford isn't going to help you screw up your emissions, but now it is offering something that gets you one step closer to a factory bro dozer: the new 2020 F-250 or F-350 Tremor.
This thing is aimed squarely at the Ram 2500 Power Wagon and the GMC Sierra HD AT4. Ford bills it as both a workhorse and an adventure rig, something able to tow like an HD truck should, but also play like a lot of people increasingly want an HD truck to play. You can add the package to the XLT, Lariat, King Ranch or Platinum trim levels of the F-250 and F-350 as long as it's the 4×4, single-rear-wheel SuperCrew model with a 6 3/4-foot bed. Like the Ram Power Wagon, it features big tires, 35-inch Goodyear Wrangler DuraTracs mounted on 18-inch matte-black wheels. It gets a front-end lift, progressive rate springs and custom 1.7-inch-piston twin-tube shocks. You get a locking rear differential with electronic shift-on-the-fly engagement and a Dana limited-slip front diff. A 12,000-pound Warn winch can be fitted to the front bumper from the factory. And unlike the Ram Power Wagon, you can get the Super Duty Tremor package with a diesel engine — Ram won't let you do that, since its winch placement screws up the plumbing for the Cummins diesel engine.
So how do the modifications to the Super Duty work as a Tremor? Well, you can tow with it, given that it has all the excellent powertrain upgrades that other Super Duty trucks have, but it's not as happy as the other models in doing so. The front end is lighter, the suspension is softer and it's not really at home as a towing rig. Instead, it's really meant to boost the Super Duty's off-road ability, and this it does quite well.
I drove an example through some impressively challenging rock quarry terrain that one wouldn't assume a huge, portly, heavy-duty truck could negotiate. But thanks to a combination of parts like the big dampers, tires and a screen displaying novel forward-facing and 360-degree camera views, you can take a Tremorized Super Duty through some very tight obstacles and over some completely blind hills with confidence. The Tremor also comes with Trail Control, which acts as a kind of off-road cruise control: It helps you maintain speed going both down a hill and back up it again. That can be useful when you want to focus on maintaining a line over a challenging obstacle and not have to worry about throttle inputs. It also features a Rock Crawl mode meant for making easy work of boulder fields, but I found that it didn't damp the throttle inputs quite enough to smooth out the jerks and starts. Still, the changes Ford has made for the Tremor package are impressive, and it will give the Power Wagon and Sierra AT4 a good run for the money — at least until they encounter an obstacle that sees the Power Wagon lock its front axle as well.
Looks the Same, Inside and Out
The new Super Duty isn't exactly the same in appearance as the outgoing model; there are a few updates to keep it fresh, but you'll have to look hard to spot them. It has a new grille and headlights, some slightly different bumpers, new wheels and a couple of new colors, but no, it really doesn't look any different from the outside than the outgoing model. Hey, you want crazy, wacky styling changes? I know there's a Chevrolet dealer near you with some pretty hefty discounts on a new 2020 Silverado HD right now, but Ford's not having it. People apparently like the way the Super Duty looks, given the continued sales supremacy that the trucks enjoy. At least, Ford had better hope they do, because what you see is what dealers will be stuck with for the next several years at least.
On the inside, it's the same situation. The new HD looks the same as the old one: no big improvements to the materials, no fancy new 12-inch vertical displays, no crazy lighting schemes, not even any unusual colors. The Platinum gets some nicer materials, and the King Ranch interior still looks sumptuous in brown leather. There is some new technology, however, with the arrival of Ford's still amazing Pro Trailer Backup Assist — it debuted on the F-150 for the 2016 model year — to help you not only connect a trailer but also to help you drive with it behind you. You can't make the trailer disappear in the rearview display like you can with the Chevrolet trailer system, but you can't steer the entire truck and trailer combination when backing up with a simple knob on the dash in a Silverado like you now can in a Ford Super Duty. And you can do it with a gooseneck trailer as well, something you couldn't do before. There's even something called Trailer Reverse Guidance that helps suggest your next moves when backing up your rig. Pro Trailer Backup Assist takes some preparation of the trailer before you can use it, and it does require you to purchase some extra equipment, but this system turns any novice into a professional truck driver with very little drama. It's worth whatever Ford is charging for it in peace of mind alone.
Still Not Cheap
For 2020, a new Super Duty truck can be had at a variety of price levels, depending on how nice and well equipped you want your truck. They start at a low of $35,300 (all prices include destination) for a base F-250 XL model, and can stretch all the way up to $92,125 for a well-equipped F-450 Limited. It won't be uncommon to see trucks like this selling in the $60,000-$80,000 range, which is sadly common for today's heavy-duty trucks.
So if you're looking for the latest flashy styling or ultra-luxe interior or gee-whiz connectivity technology, you're going to have to look elsewhere, as the latest 2020 Ford Super Duty doesn't have any of that. What it does have is massive capability, unshakable competency and a reputation for delivering on its promises that this new version with its new powertrains is only going to make greater than ever. For the brand that's still the sales champ, that should be enough to continue its popularity.
Cars.com's Editorial department is your source for automotive news and reviews. In line with Cars.com's long-standing ethics policy, editors and reviewers don't accept gifts or free trips from automakers. The Editorial department is independent of Cars.com's advertising, sales and sponsored content departments.