2020 Hyundai Palisade Review: A Winning Formula
The verdict: The 2020 Hyundai Palisade is a truly special vehicle that brings a formidable mix of value, interior quality and technology — all of which propelled it to a win in our latest three-row SUV Challenge.
Against the competition: The Palisade's competitors have a new benchmark to chase; the Hyundai's refinement and ride quality stand out from the pack.
With new SUVs flying at us from all directions these days, it's easy to become numb to the next one. But every so often, something comes around that feels fresh and brings a jolt of life to the monotony. The latest lightning bolt is the all-new 2020 Hyundai Palisade.
Related: We Have a Winner: Why the 2020 Hyundai Palisade Is the Best 3-Row SUV
Hyundai already makes a three-row SUV, the Santa Fe XL, but that one has snugger dimensions and feels more like a converted two-row SUV than a true three-row (though we are big fans of the two-row Santa Fe). The Palisade slides in above the Santa Fe in Hyundai's lineup and is better equipped to take on larger competition, which it met in our 3-Row SUV Challenge.
Against both new and established vehicles, including the Honda Pilot, Volkswagen Atlas and its close analog the Kia Telluride, the Palisade took home a win. Its only close competition came from the Telluride, which makes sense given the two vehicles share the same powertrain and platform, though each has a unique look and feel. The Palisade also has a few unique features that gave it a small edge over its rival.
For the SUV comparison, we tested a Palisade in its top Limited trim level that came with all the bells and whistles. The Palisade is offered in three trim levels: SE, SEL and Limited. Our Limited was a prime example of just how far Hyundai has come, with a first-rate interior and technology and ride quality to match.
How It Drives
There's only one engine: a 291-horsepower, 3.8-liter V-6 that's mated to a standard eight-speed automatic transmission. Front-wheel drive is standard on all Palisade trim levels, and all-wheel drive is available as a $1,700 option. (It was equipped on the Limited model I tested.)
The powertrain is not the most engaging, but it's responsive enough to stay out of the way. The transmission is a bit eager on upshifts to preserve fuel economy, but it steps down into the proper gear to accelerate with a bit of gentle prodding. However, where the Palisade's driving experience excels is ride quality, which (again) approaches — if not matches — luxury levels of refinement. Broken pavement, road seams and rough roads pass below you imperceptibly, and the cabin is almost eerily quiet. Its isolation is just about good enough that the Palisade could pass for the SUV that Genesis, Hyundai's fledgling luxury brand, is missing.
Fuel-economy estimates are 19/26/22 mpg city/highway/combined for FWD models and 19/24/21 mpg for models with AWD. In our fuel-economy testing of seven three-row SUVs, the AWD Palisade returned 23.9 mpg in a mix of city and highway driving — close to its highway rating and second only to the Kia Telluride.
Luxury Grade
The Palisade's interior is shocking — in a good way. The Limited trim doesn't only do a good luxury impersonation, there are parts that are straight-up luxury grade, like diamond-quilted stitching on the seats and doors that feel ripped straight off a Mercedes-Benz.
This extends to the seats themselves, which at least in the first two rows are very comfortable. Limited models are only offered with captain's chairs, which are also standard on the SEL, though that version can have a bench seat that bumps seating capacity from seven to eight. The front seats are comfortable, perfect for a full day behind the wheel, while the captain's chairs feature the same diamond stitch pattern and great visibility out the large side windows.
If the Palisade interior has a weakness, it's the third row. Materials quality drops off a bit, but the bigger issue is a lack of room; the Palisade is mid-pack in the class. Adult passengers can fit, but it won't be the most comfortable ride, especially for those on the taller side, because of a lack of expansive headroom. Other, larger competitors, such as the Atlas and Chevrolet Traverse, have friendlier third-row dimensions. The upside of the Palisade's third row is that it's power-folding in the Limited and has two USB ports for charging, so it isn't without its charms.
Cargo room is measured at 18.0 cubic feet behind the third row, 45.8 cubic feet behind the second row and 86.4 cubic feet with both rows folded. That's supplemented by an underfloor storage space behind the third row that's a good place to store valuables and other items you don't want to leave in the cargo area. The Palisade ranked second out of seven in our three-row-SUV comparison's cargo test, which considered space and cargo features in assigning an overall score.
Tech You Can Use
The Palisade comes with a lot of technology baked in. Limited models have a large 10.25-inch touchscreen in the center dashboard and a 12.3-inch digital display in the instrument panel. It comes with all the requisite connectivity features, such as standard Apple CarPlay, Android Auto and Bluetooth. But what I appreciate most about the Hyundai's multimedia system is its ease of use: It has the right blend of physical controls below the screen as well as volume and tuning knobs. As for what's on the screen itself, the system has shallow construction, meaning what I was looking for was never more than a button press or two away.
That philosophy extends to the Palisade's safety technology. Limited models come standard with a camera-based blind spot monitor. The system uses a pair of cameras, one on each side mirror, to provide a live view of the blind spot on either side of the Palisade when a turn signal is activated. It's similar to Honda's LaneWatch system, but with one key difference: The Palisade uses the digital instrument panel instead of the center screen, and it displays a live view on the side of the screen where your eye would naturally fall. It's the most intuitive application of this technology I've seen.
The Palisade is also equipped with a system called Highway Drive Assist (standard on the Limited, optional on the SEL), a fancy name for a system that combines adaptive cruise control and lane keep assist with lane-centering technology, all of which work all the way down to a stop. It isn't a hands-free system — you'll still need to keep a hand on the wheel to keep it on — but it does work remarkably well whether you're stuck in traffic or cruising down the highway. Stops and starts are smooth, and the Palisade stays in the middle of its lane without the ping-ponging effect we've noticed in other systems. Like the rest of the Palisade's technology, it simply works, with little to no fuss involved.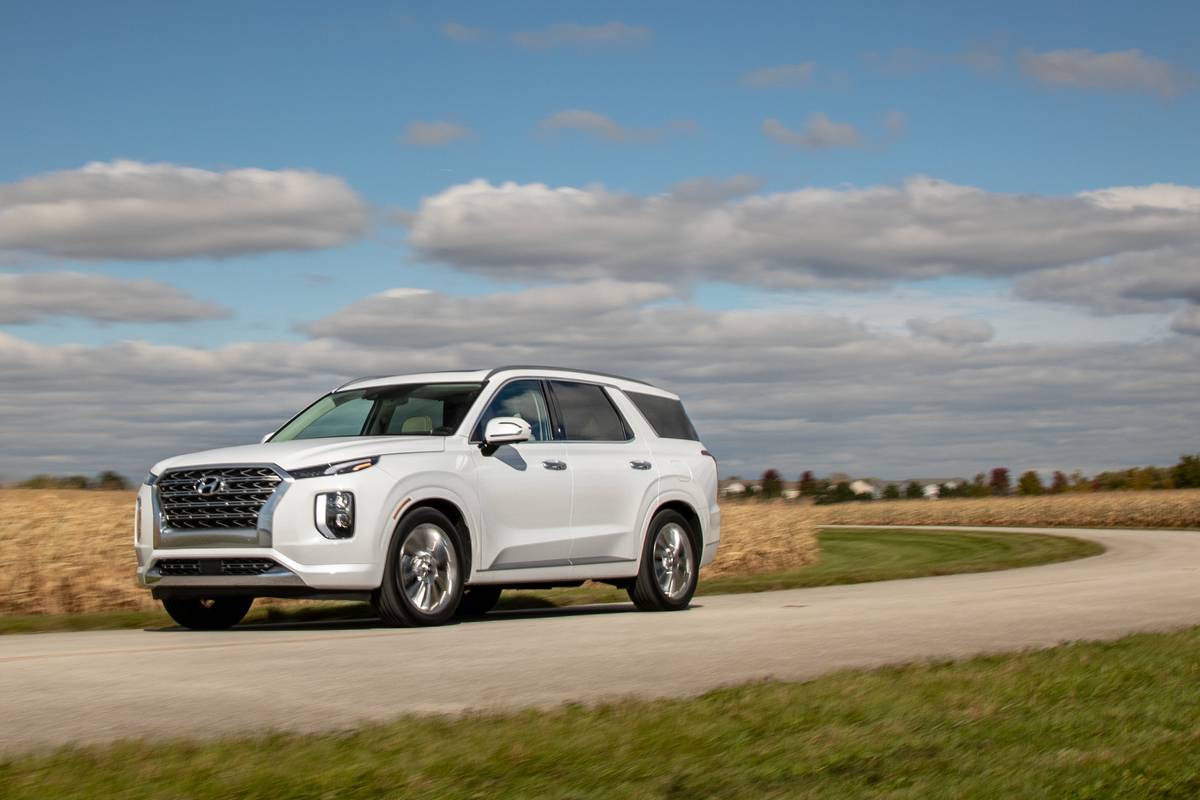 Value Leader
We don't often get to say this about top trim levels, but even the Palisade Limited feels like a bargain. It starts at $45,795 (all prices include destination charges) and there isn't much you can add to it apart from all-wheel drive. For that price, you get a really long list of features in addition to luxurious trappings, impressive technology and overall attention to detail that combine to make the Palisade feel more expensive than it actually is.
"Expensive" is where several of the Palisade's competitors sit. In our comparison, both the Ford Explorer and Chevrolet Traverse stickered nearly $7,000 more than the Palisade's as-tested $47,605, and those vehicles don't come close to the Palisade's refinement. In fact, if you sat in all three, you'd guess the Palisade was by far the most expensive. As the results of our Challenge stated, "If our Palisade had cost $10,000 more, it might still have come out on top." The fact that it costs less is a giant feather in the SUV's cap.
The 2020 Palisade isn't perfect, but it's pretty darn close. It's a worthy Challenge winner and a game changer among three-row SUVs.
Cars.com's Editorial department is your source for automotive news and reviews. In line with Cars.com's long-standing ethics policy, editors and reviewers don't accept gifts or free trips from automakers. The Editorial department is independent of Cars.com's advertising, sales and sponsored content departments.