EXPERT REVIEW
2020 Land Rover Range Rover Sport PHEV Review: Driving Issues Impossible to Overlook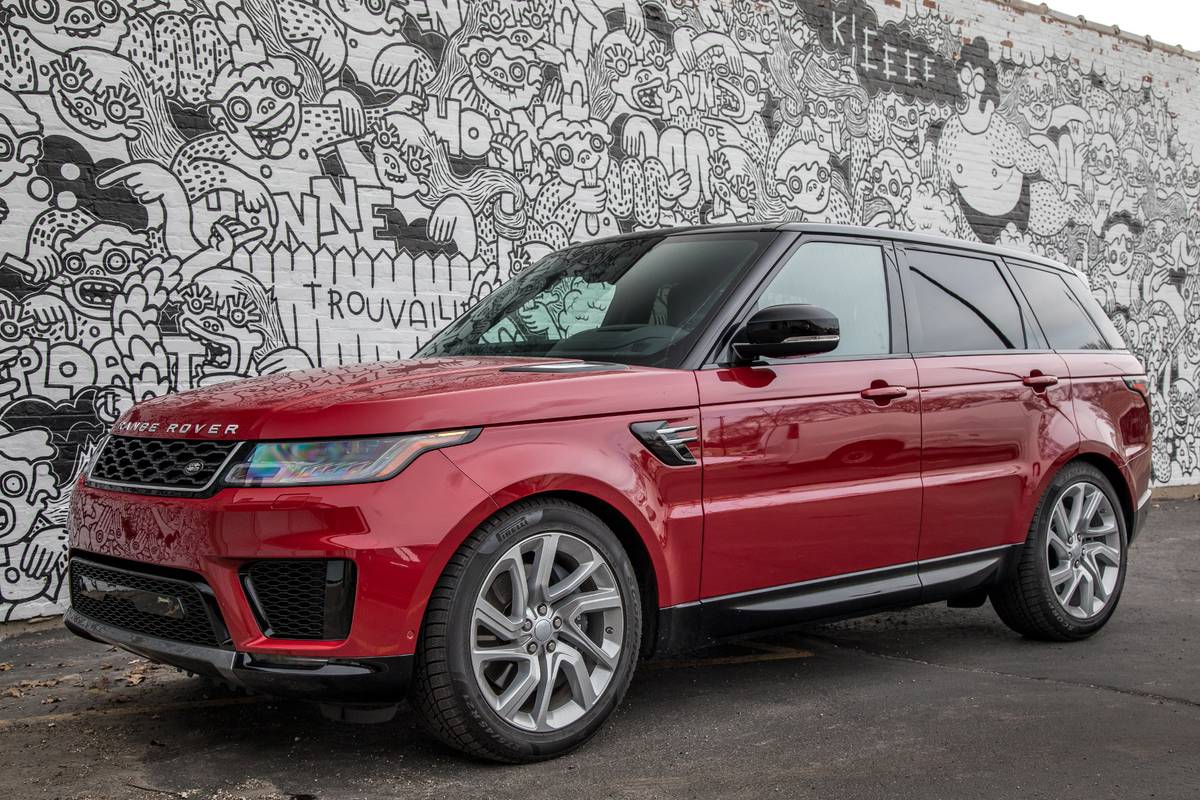 The verdict: A sumptuous cabin can't make up for finicky touchscreen controls and an awful hybrid driving experience.
Versus the competition: The only other plug-in hybrid luxury SUV in the Range Rover's class is the Volvo XC90, which features a Scandinavian take on a big SUV with a much better-sorted-out hybrid powertrain.
Land Rover's Range Rover line has long been considered the ultimate in luxurious SUV offerings. They're plush, they're sophisticated, and they coddle and swaddle while retaining their off-road chops — chops that give the Range Rover a reputation among half the world that Jeep holds for the other half. They've never been terribly fuel-efficient, and that hasn't gotten much better in the recent past; big, powerful engines are typically what customers have demanded from a Land Rover. But the world is changing, and Land Rover wants Range Rovers to change with it.
Enter the semi-electric Range Rover Sport plug-in hybrid. It stuffs an electrified gasoline powertrain and battery pack into the Range Rover Sport in an effort to boost fuel efficiency and allow the vehicle into city centers that charge congestion fees for vehicles with tailpipe emissions.
Electric vehicles can be a lot of fun, with tons of torque and silent operation. But is this electrified Rangie any good to drive? (Spoiler: No, it is not.)
An Electrified Range Rover
The idea is sound: Combine a 296-horsepower, turbocharged 2.0-liter four-cylinder engine with a 141-hp electric motor housed in the eight-speed automatic transmission, all powered by a 13.1-kilowatt-hour lithium-ion battery pack.
The system produces a combined 472 pounds-feet of torque routed to the wheels through a permanent four-wheel-drive system. The combination is good for a 6.3-second sprint from zero-to-60 mph, Land Rover says. The SUV runs on a combination of gasoline and electric power; the driver can select whether the electric motor works in place of the gasoline engine or in conjunction with it, depending on conditions and the driver's desire. The gas engine is there to provide oomph when your acceleration needs are greater than what the electric motor can handle on its own, as well as to maintain the battery's charge when the SUV is operating mostly in electric mode. There's also an electric-only mode designed to keep you driving on electricity instead of gasoline.
It all sounds great on paper. The problem is, none of it works very well.
The big problem is the smoothness of operation of these systems. The gas engine kicks on sometimes but not others, and it's far from seamless when it does. The four-cylinder Ingenium engine shakes and vibrates like a diesel instead of a turbocharged gasoline engine. Running idle at a stoplight, it shakes the whole SUV. Acceleration feels variable, meaning the powertrain behaves differently depending on what mode the Range Rover decides it needs to be in. Pushing the accelerator the same way twice does not guarantee the same acceleration: Sometimes it provides a serious boost, sometimes it just crawls away from stoplights. And sometimes the gas engine kicks in despite EV-only mode being selected, even if you attempt to accelerate gently to try and keep it in electric.
Land Rover says the SUV has about 31 miles of electric-only range (based on the European cycle of measurement; EPA ratings are not yet available at the time of publish). I was unable to test this, as the gasoline engine always fired up whenever it wanted to, even when I'd selected electric-only mode and the battery was fully charged.
The braking system doesn't behave any better. The brakes have an artificial, unpredictable feel, with regenerative action meant to put energy back into the batteries. Again, though, braking feel and performance varies depending on whether the engine is running or not, which doesn't make much sense to me. Coming to a slow-speed halt always ended with an abrupt lurch as the brakes suddenly grabbed.
The Range Rover Sport PHEV doesn't ride well, either, even when the adjustable air suspension is set to Comfort mode. Its big, 21-inch wheels are shod with stiff performance tires that transmit all kinds of road imperfections to the cabin.
Despite being made almost entirely of aluminum, the SUV weighs 5,430 pounds — significantly more than the next lightest version of the Range Rover Sport, the 5,100-pound V-8 model. Batteries and electric drive systems add a lot of weight to a vehicle, and the biggest problem hybrids face is that they basically have two full powertrains to lug around. You really feel it in the Range Rover Sport, from its stiff ride to its top-heavy demeanor around corners and on freeway on-ramps.
In short, the hybrid powertrain in the Range Rover Sport PHEV feels half-baked and in need of significant additional development work. It's nearly impossible to drive the SUV smoothly, setting passengers' heads bobbing on starts and stops regardless of driving behavior. It's an infuriating experience, especially given how every other Land Rover vehicle I've driven behaves so much more predictably, smoothly and luxuriously.
To cap it off, my observed fuel economy — even with frequent plug-ins to keep the SUV's battery topped off — wasn't anything special: 22.9 mpg combined over 750 miles. That's certainly better than a normal gas-powered Range Rover Sport (both the supercharged 3.0-liter inline-six and the 5.0-liter V-8 engines are rated 19 mpg combined), but it isn't as good as the SUV's diesel option (24 mpg combined). The closest competitor might be Volvo's XC90 PHEV, which is rated to go just 17 miles on electric-only power but returns an overall 25 mpg combined.
Luxurious But Flawed Interior
Inside, the latest Range Rover Sport features Jaguar Land Rover's new touchscreen controls for everything, including climate control, navigation, audio, parking sensors, seat adjustments and more. The Touch Pro Duo system's controls are distinctive, with 10-inch panels, but the execution is less than stellar. First, there's no feedback when you touch the screen — not a happy beep, not a haptic bump, nothing. That means you have to take your eyes off the road (and leave them off) every time you want to do something, whether it's activating the seat heaters or changing tracks on the audio. Worse yet, if you have the big moonroof open or the sun hits those panels just right, they disappear entirely or reflect glare into your eyes. Matte plastic buttons would not do this.
On more than one occasion, the system decided to simply not boot up — no audio or climate, just dark screens that required restarting the car and several minutes of key-off reset time to fix. On one occasion, the backup camera didn't turn on when I shifted into Reverse. Apple CarPlay and Android Auto are supposedly available, but despite Land Rover's insistence that my test vehicle had them, I'll be damned if I could find or activate either one. Having experienced similar usability and "black screen of death" episodes in other Jaguar Land Rover vehicles with Touch Pro Duo, I'm ready to declare it about as ready for production as the hybrid powertrain.
That's a shame, as the rest of the interior is lovely. Rich Windsor leather, real Grand Black wood veneers and genuine metal trim combine to coddle passengers in an environment as opulent as one expects from the brand. The steering wheel is thick and features reconfigurable controls that work about as well as the ones on the center console (which is to say, not well). The digital gauges are clear and attractive, and visibility from the driver's seat is fantastic.
You sit high in a Range Rover and the beltline is low, so seeing what's around you (for purposes of off-road adventuring, presumably) is a snap. The front seats are big, comfortable, 16-way-adjustable thrones, and the rear seats are excellent, as well, with plenty of legroom for passengers. The seats are heated and cooled front and rear, the ambient lighting can be adjusted to a variety of colors, there's a head-up display (though it disappears if you're wearing polarized sunglasses) and so much more.
The Hybrid-Cargo Compromise
Cargo space is another area of concern, albeit one that's endemic to just about all plug-in hybrid vehicles: The batteries have to go somewhere, and the rear cargo area is usually where they're put. That's the case in the Land Rover, and as such, the cargo floor is higher than in a normal Range Rover Sport, eating into cargo space and raising the liftover height. The adjustable air suspension can compensate for the latter aspect, at least, with a button in the cargo area that lowers the back end of the SUV considerably to aid in loading cargo.
The cargo area features 24.8 cubic feet behind the second row, expandable to 56.8 cubic feet with that row folded. That's just 2.7 cubic feet less than a standard Range Rover Sport, a noticeable difference in overall volume.
Safety Costs Extra
Like most European luxury vehicles, several electronic safety systems that come standard on the lowliest Toyotas and Fords cost extra on the Range Rover Sport PHEV. To be fair, it does include many of these features standard, including low-speed autonomous emergency braking, lane departure warning, a blind spot monitor, a driver attention monitor and a backup camera. But a 360-degree camera system, adaptive cruise control with steering assist, high-speed autonomous emergency braking, lane keep assist and parking assist all cost extra (they're included as part of a pricey Driver Assist Package).
The 2019 Land Rover Range Rover Sport has not yet been crash-tested by either the National Highway Traffic Safety Administration or the Insurance Institute for Highway Safety. That's not unusual for a low-volume luxury vehicle, however.
Expensive But Competitive
The base price for the trim I tested — a 2019 Range Rover Sport HSE P400e plug-in hybrid — is $80,295 including destination fee. Don't go looking for one at your local Land Rover dealer, though, because this vehicle doesn't actually exist. See, the hybrid was released globally a year ago, and Land Rover planned to introduce it to the U.S. market in 2019, but the company said international demand was so high it delayed introduction here until the 2020 model year. What I drove was a U.S.-spec test vehicle made for the media to evaluate, so here it is. Land Rover says the coming 2020 model is identical to the mythical 2019 model here, so — barring any (hopeful) updates to powertrain calibration or multimedia software — our conclusions on the 2020 model shouldn't differ. With all its options, my test vehicle came to a lofty $93,200.
Facing down the Range Rover Sport PHEV is the 2019 Volvo XC90 T8 Twin Engine Plug-In Hybrid, which you actually can buy at a Volvo dealership in the U.S. It, too, features a combination of a turbocharged 2.0-liter four-cylinder engine and an electric motor, making a combined 400 hp and 472 pounds-feet of torque. You can also specify the plug-in powertrain on the lower trim levels — for instance, an XC90 T8 Momentum PHEV can be had for $68,640, including destination fee, considerably less than a the Range Rover Sport. Of course, at that level, you're also giving up some luxury amenities, but the plug-in hybrid powertrain is available on several more luxurious levels of the XC90, as well.
Hopefully Land Rover addresses the drivability issues with the Range Rover Sport PHEV, because as it sits, it is not a vehicle I can recommend. Even die-hard fans of hybrid and electric vehicles will have a hard time warming up to the poor operation of this hybrid powertrain, and combined with its problematic interior electronics, this feels like one luxury option you can pass up.
Cars.com's Editorial department is your source for automotive news and reviews. In line with Cars.com's long-standing ethics policy, editors and reviewers don't accept gifts or free trips from automakers. The Editorial department is independent of Cars.com's advertising, sales and sponsored content departments.