2020 Toyota Highlander Review: More in Some Ways, Not in Others
Nearly every mass-market brand has at least one three-row SUV. Cars.com recently compared seven of them in our 2020 3-Row SUV Challenge, for which I served as one of three judges. The all-new Hyundai Palisade came out on top, but Toyota couldn't furnish a redesigned 2020 Highlander in time to compete.
How does it compare? I took to Toyota's media preview in San Antonio to find out. (Cars.com pays its own airfare and lodging at such automaker-sponsored events.)
Related: 2020 Toyota Highlander: Well-Equipped But Whoa-Nelly Priced
The Highlander comes in a new base L trim level as well as LE, XLE, Limited and Platinum.
I evaluated L, XLE and Platinum trim levels for the Highlander, as well as two well-equipped examples of the related Highlander Hybrid, which comes in all but the L trim and newly offers front- as well as all-wheel drive.
My verdict: The redesigned Toyota Highlander boasts high-end technologies even among base models and, on higher trim levels, lavish cabin materials that go toe-to-toe with the poshest rivals. But space for people or luggage is not its forte — a historical weakness for the model that has improved only modestly in this fourth-generation overhaul.
By contrast, the Highlander Hybrid has impressive efficiency potential and no clear rival. The closest was to be Ford's new Explorer Hybrid, but the latter is so much costlier that it's hard to fathom anyone cross-shopping the two. If you're interested in the Highlander Hybrid, scroll to the bottom of this review for my take. I'll focus first on the non-hybrid variant, which goes on sale this month. The hybrid follows in February 2020.
Drives Well Enough
The redesigned Highlander sheds the prior generation's base four-cylinder engine, so now Toyota's stout dual-injection V-6 (295 horsepower, 263 pounds-feet of torque) from 2019 carries over in all non-hybrid trims. Saddled now with 100 to 200 pounds' less curb weight, the 3.5-liter engine moves the SUV with sufficient, smooth-revving power.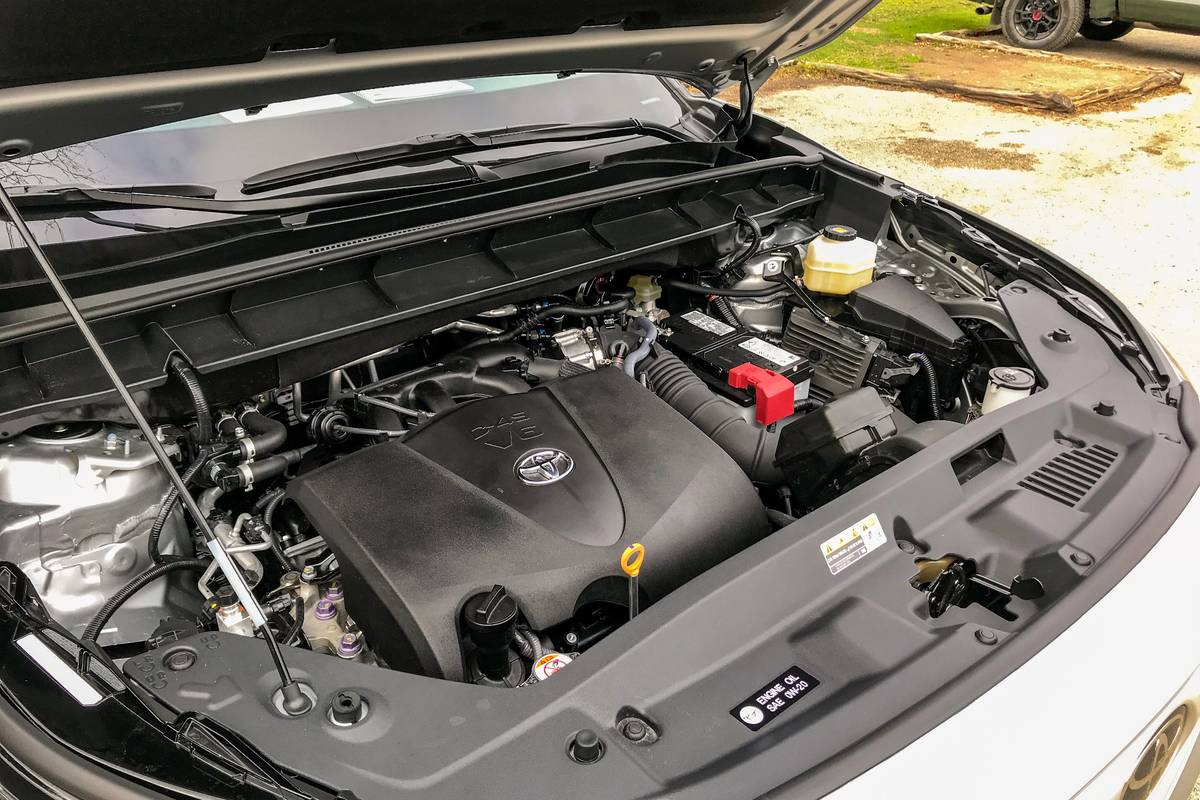 Try to accelerate once you're in motion, however, and the Highlander's eight-speed automatic transmission kicks down with all the smoothness of Brexit. It stumbles through multigear downshifts, pausing momentarily in an intermediary gear before settling into a final choice. I've experienced plenty worse indecision — or outright lag — from other transmissions, but this is a recurring problem for Toyota's eight-speed. Choose the Highlander's driver-selectable Sport mode, and the transmission gains some much-needed decisiveness, but that comes at the expense of fuel efficiency.
Shock absorption is generous regardless of wheel size — the Highlander comes with 18- or 20-inchers, both of which have relatively tall-sidewall tires — and wind and traffic noise at highway speeds are impressively low. Still, the SUV rides a touch busy. Body motion stays in check during rapid elevation changes and undulating surfaces, but the suspension doesn't filter out a lot of small imperfections. Toyota officials say all trim and drivetrain variants have the same ride tuning; I'd prefer better isolation across the board.
The Highlander steers with a light touch and vague feedback. Hard corners induce plenty of body roll and tire squeal, and the torque-vectoring all-wheel drive on higher trim levels improves little of that. None of this should come as a deal-breaker for SUV shoppers — our Challenge winner, the Palisade, exhibited largely the same characteristics — but those who want more driving fun might consider the Ford Explorer, Mazda CX-9 or Volkswagen Atlas, in that order.
Lush, Tech-Laden Interior
Cabin materials for the redesigned SUV improve on the third-gen Highlander, already among the higher-quality interiors in its class. Areas your arms and knees touch are padded, and the split-level dashboard features low-gloss finishes and upscale, stitched coverings. Lower trim levels trade some soft-touch surfaces and contrast trim for flatter plastics, but their controls are sturdy and the cloth upholstery feels substantial.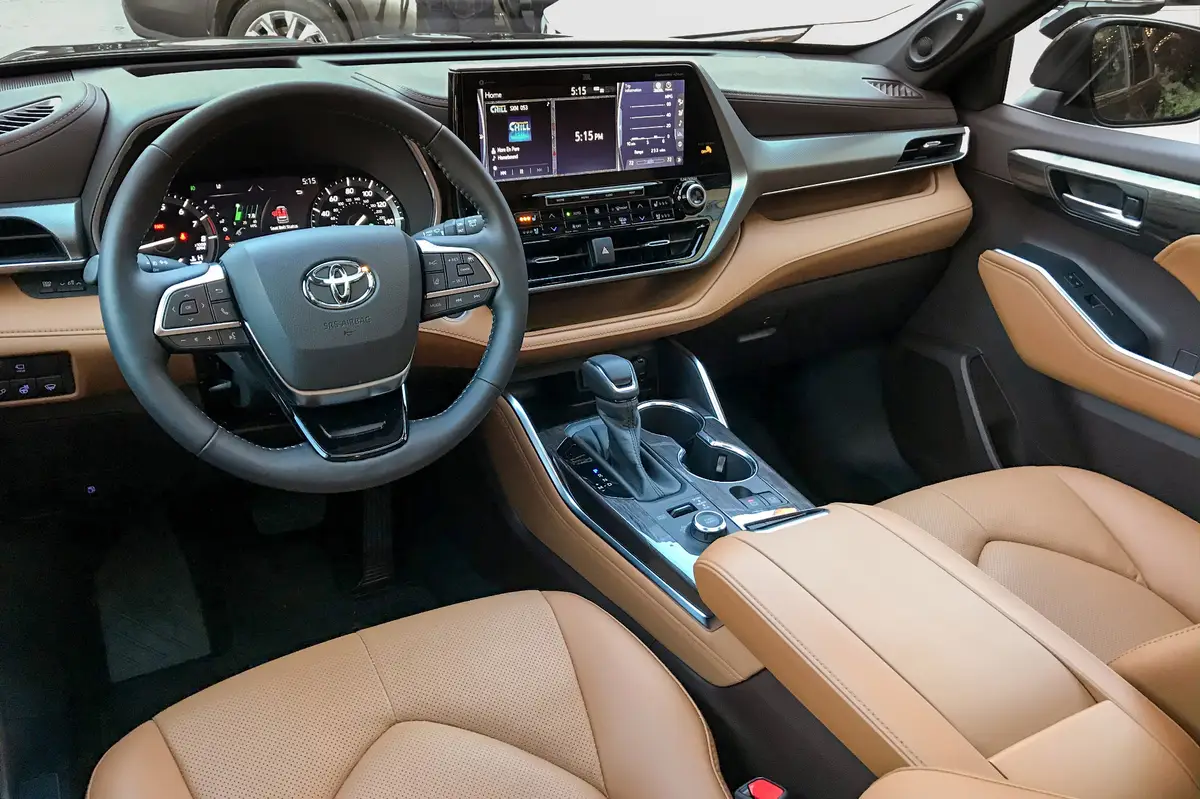 The layout is practical, too. With mirrors moved to the doors instead of the A-pillars, visibility out front is good, and an available camera-based rearview mirror offers unrestricted rearward views even when driving forward. Controls are intuitive, with plenty of physical climate and multimedia controls and a traditional gearshift. And storage areas abound, with multiple dashboard trays and a deep compartment under the center armrest.
The standard 8-inch touchscreen has Apple CarPlay, Android Auto and Amazon Alexa integration, but the backup camera's resolution is low and it has old-school fixed lines; higher trim levels add guidelines that move when you turn the steering wheel. The top trim level has 360-degree cameras with a 12.3-inch touchscreen in place of the 8-inch unit. Still, like many supersized dashboard touchscreens, the Highlander's falls short of full potential. Toyota confines displays like CarPlay or the onboard navigation map to just two-thirds of the screen, with the remainder showing one of several status menus. Why the thing you want to focus on can't take the whole screen baffles me.
Space Remains Modest
The Highlander's redesign added 2.4 inches of length, almost all of which went to increasing cargo space. It's up some 16 percent versus the outgoing Highlander, but I question whether that was enough. Inconsistent methodology makes comparisons between manufacturer-stated cargo specs unreliable, so I put the Highlander through the same cargo evaluation we used in Cars.com's just-published Challenge, measuring major dimensions with the seats slid all the way back and seatbacks at a 110-degree angle relative to the ground.
I observed just 9.9 cubic feet behind the Highlander's third row and 18.7 cubic feet behind the second row with the third row folded, both figures at or near the bottom of the group. In particular, the high cargo floor leading up to the second-row seatbacks limits usable height in the Highlander — also a problem in the Honda Pilot, which has equally tight confines. As such, you may need to fold the second-row seats more often to expand cargo space. Toyota does owners no favors in this regard, requiring as many as three steps to fold the seats if the armrests are out. The cargo area has no controls to release them remotely, an aid the Palisade and Telluride both offer.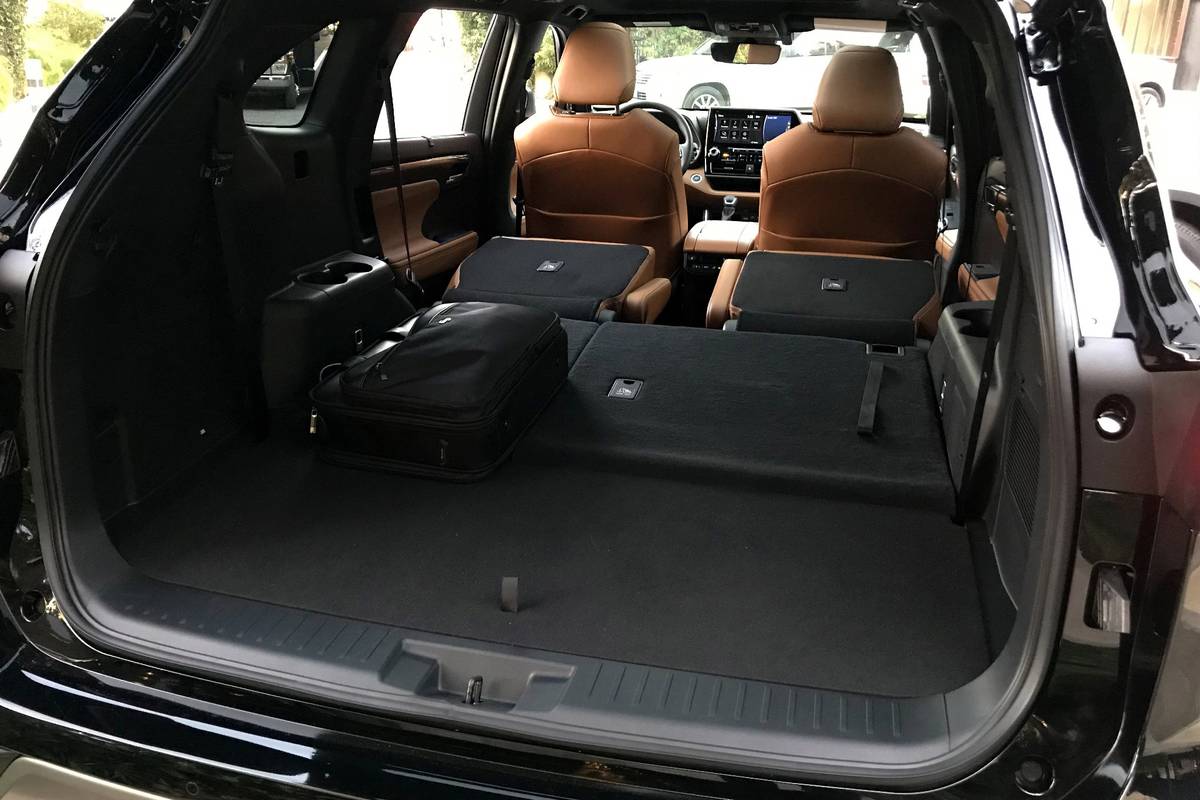 Accommodations for people are equally lackluster. The front seats have good adjustment range but the space between the doors and center console is narrow, and the passenger seat lacks a height adjustment on any trim level. Second-row space is fine thanks to a slightly higher seating position than before, but the third row has scant headroom and a slammed-to-the-floor bench that sentences passengers to a triplong squat. Knee clearance requires those in the second row to slide considerably forward, and a compromise to grant room for adults in both rows will leave neither group happy.
Rivals like the Palisade, Pilot and Telluride offer one-touch buttons for third-row access — a big help when uninitiated passengers have to climb back there — but Toyota sticks with an old-school shoulder lever. The resulting pathway is modest, but it's really the only form of access, as the aisle between the captain's chairs is only about 6 inches wide.
It doesn't have to be this way. Rivals like the Atlas and Explorer have usable center aisles, and many — among them the Atlas, Telluride, Palisade and Chevrolet Traverse — have adult-friendly third rows. Toyota missed an opportunity to catch up in a big way.
Features and Value
Pricing on the 2020 Highlander starts at $35,720 (all prices include the destination charge). That's up a steep $2,770 from 2019 and gives the Highlander one of the highest starting prices in its class. But it's also one of the most well-equipped, with standard features like tri-zone automatic climate control, a power driver's seat, push-button start with keyless access and the 8-inch touchscreen with smartphone integration. Automatic emergency braking, lane-centering steering and adaptive cruise control down to a stop are also standard — an impressive standard array, given that others still charge extra for some of those features or don't offer them at all. Like every Toyota, the Highlander also has two years or 25,000 miles of free maintenance.
Move up the trim levels, and you can get vinyl or leather upholstery, a panoramic moonroof, heated and ventilated seats, a power liftgate, JBL premium audio and the 12.3-inch touchscreen. Loaded with factory options, the non-hybrid Highlander tops out around $50,000, a ceiling commensurate with most rivals.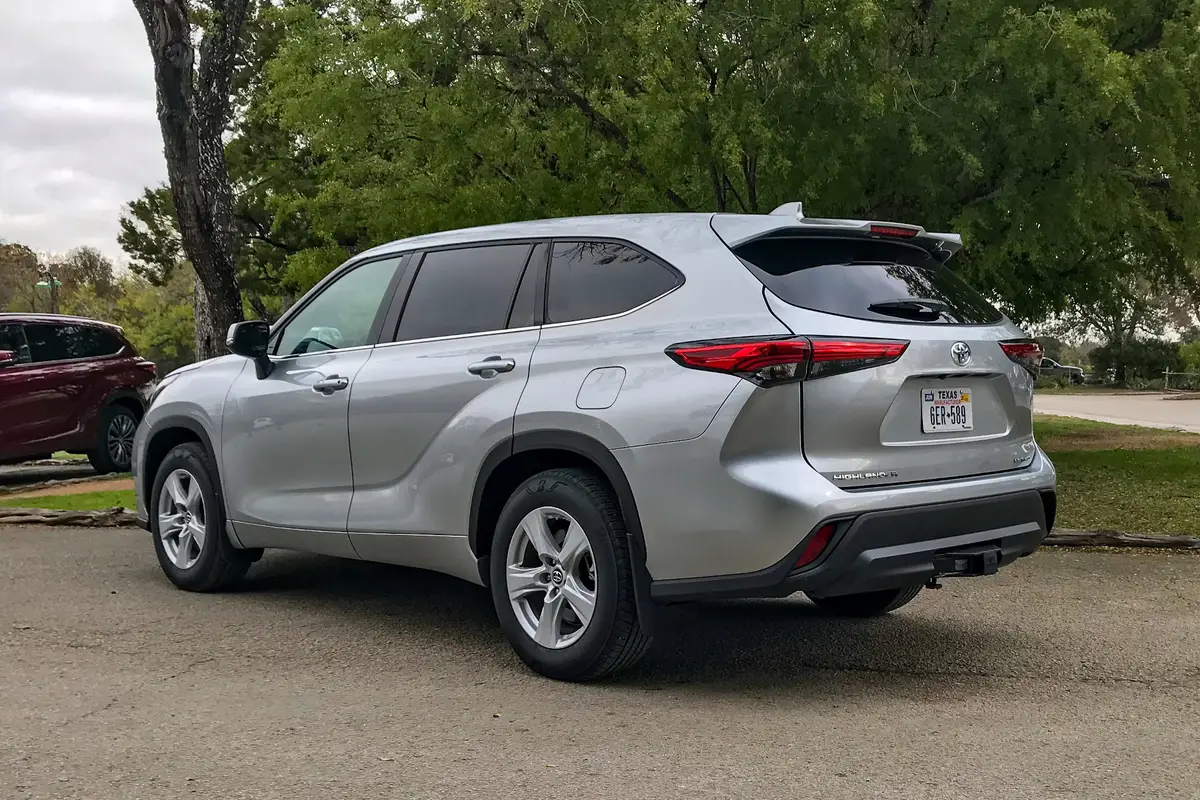 We're looking forward to comparing the Highlander with various Challenge vehicles, but my daylong drive reinforces some of our initial thoughts after Toyota introduced the SUV at the 2019 New York International Auto Show. The fourth-generation Highlander boasts high quality and a bevy of new technologies, even in base trim levels. And some shoppers will find its smaller size, still a few inches short of most competitors, a positive. (Toyota signaled as much, touting in press materials that the Highlander remains only about 3 inches longer than a Camry "for easy maneuvering.") But the automaker missed an opportunity to keep up with an increasingly spacious class. That, more than anything, could limit how many new shoppers it draws.
How About the Hybrid?
Sans the base L trim and priced $1,400 more than equivalent non-hybrid versions, the Highlander Hybrid runs $39,320 through about $52,000. It has a nearly identical interior, complete with the same cargo dimensions. But with the Explorer Hybrid starting some $14,000 higher, Toyota's three-row hybrid SUV lacks any direct competitor.
As such, the SUV serves the role of an ultra-efficient Highlander variant, at least by its potential. Published EPA estimates remain pending as of publication, but Toyota expects 35-36 mpg combined depending on driveline. Such figures substantially beat official EPA estimates for the non-hybrid 2020 Highlander (23-24 mpg) as well as the outgoing Highlander Hybrid and Explorer Hybrid (both in mid-to-high 20s).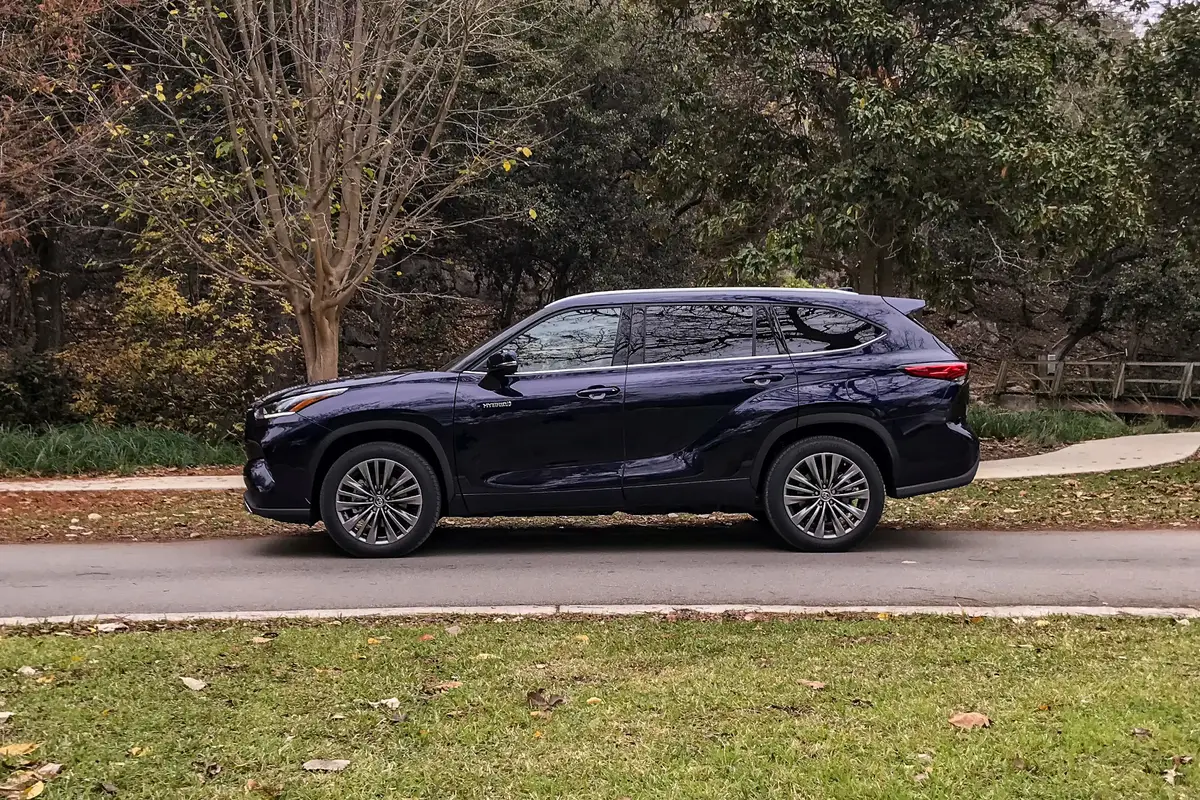 With a 2.5-liter four-cylinder instead of last year's V-6-based hybrid system, the 2020 Highlander Hybrid loses a step in onramp acceleration, but its gas-electric drivetrain (243 hp) and continuously variable-style transmission kick up revs readily while in motion if the engine is running — better response, frankly, than you get from the regular Highlander's indecisive eight-speed. Transitions from all-electric mode to engine power are smooth, if seldom quick. AWD models drive the rear axle with an additional electric motor, a setup employed by the outgoing Highlander Hybrid, which came only with AWD.
Regenerative braking in electrified vehicles can result in nonlinear pedal feel or even difficulty coming to a smooth stop. We've observed some of that in the Explorer Hybrid, and the Highlander Hybrid has its own doldrums. The pedal feels soft when you first press down, and deceleration can sometimes persist a moment after you let off.
But if final EPA numbers match or even approach Toyota's estimates, that's a serious feat — certainly enough to forgive the SUV's unremarkable drivability.
Cars.com's Editorial department is your source for automotive news and reviews. In line with Cars.com's long-standing ethics policy, editors and reviewers don't accept gifts or free trips from automakers. The Editorial department is independent of Cars.com's advertising, sales and sponsored content departments.