Auto Safety Group: Airbag Failures in Two GM Ignition-Switch Recall Vehicles Have Killed 303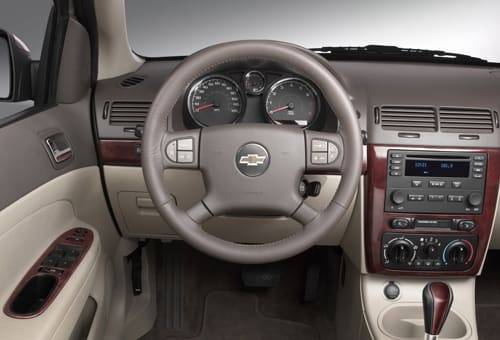 Thursday evening, The New York Times broke the latest news on GM's ignition-switch recall. After reviewing federal crash data, the Center for Auto Safety, a private watchdog group based in Washington, D.C., claims 303 people have died when airbags failed to deploy in the 2005-2007 Chevrolet Cobalt and 2003-2007 Saturn Ion. Those are two of the six vehicles GM recalled recently due to faulty ignition switches.
More on GM's Ignition-Switch Recall
However, it's unclear whether the airbags in those incidents did not deploy specifically because the ignition switch was jarred out of its "on" position. That's the reason GM recalled 1.62 million cars worldwide and 1.37 million in the U.S., including the 2003-2007 Saturn Ion and 2007 Sky, the 2006-2007 Pontiac Solstice and 2005-2007 G5, and the 2005-2007 Chevrolet Cobalt and 2006-2007 HHR.
Still, it's a staggering number — more than 25 times the 12 deaths that GM linked to the faulty ignition switch earlier this week. The Center for Auto Safety commissioned Texas-based Friedman Research to review federal data of airbag failures, but The New York Times notes that researchers only looked at fatalities from failed airbag deployment, not the reason why those airbags failed.
In a letter to the National Highway Traffic Safety Administration, the Center for Auto Safety lambasted the administration for not opening up an investigation sooner. "NHTSA claimed it did not do an investigation because it did not see a defect trend," Clarence Ditlow, executive director at the Center for Auto Safety, wrote in the letter. Based on crash data from various sources, including the government's Fatality Analysis Reporting System, "the only way NHTSA could not see a defect trend is if it closed its eyes."
Still, GM debated the claim. Spokesman Greg Martin told the New York Times that FARS "tracks raw data," and "it is pure speculation" to correlate these airbag failures with the faulty ignition switch. A switch that according to an NBC News report, GM decided not to fix nine years ago. A high-level GM executive told NBC the automaker is "deeply troubled with some decisions that were made in the past and is hoping to move forward." Still, lawsuit plaintiffs for one Georgia woman killed when the airbags in her Cobalt failed to deploy say the fix would have cost the company as little as $1 per car.
We'll keep you posted on this.
Manufacturer photo