Auto Show Faceoff: 2021 Genesis GV80 Vs. 2020 Lincoln Aviator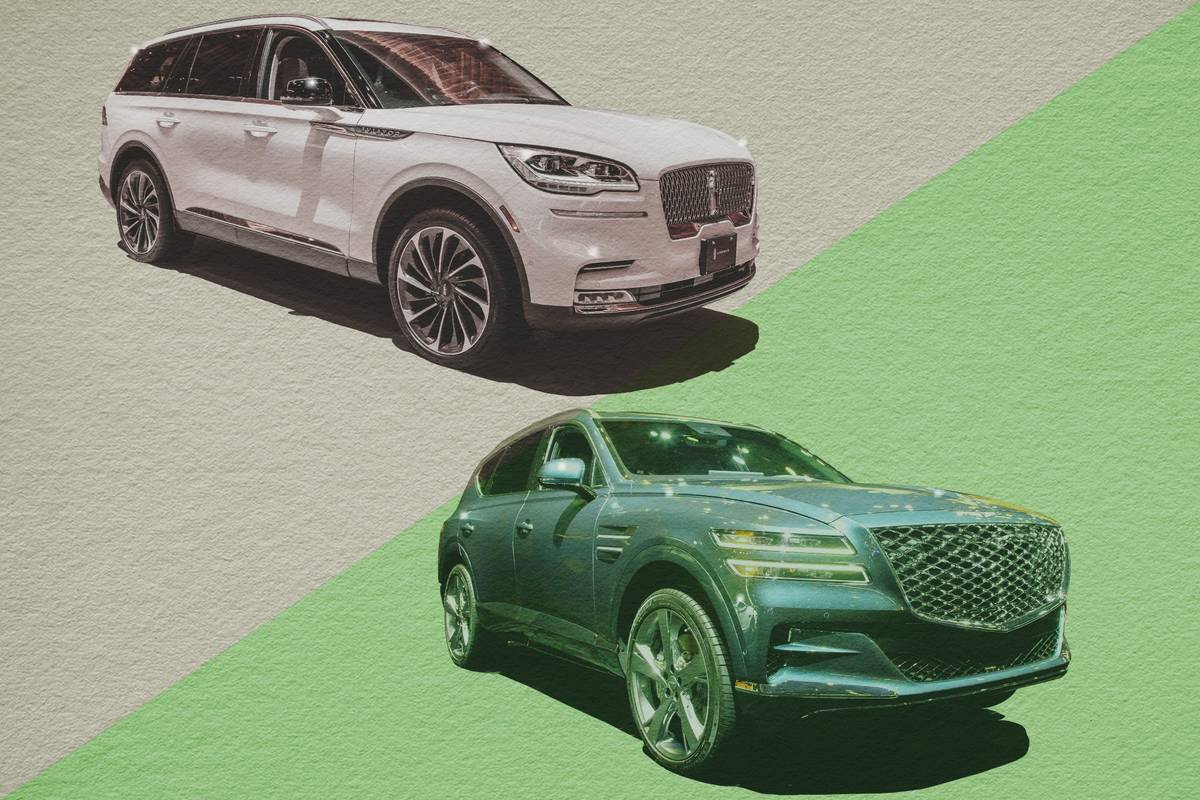 This is a battle of usurpers: Lincoln, the old hand trying to regain its cachet among luxury buyers, and Genesis, the newcomer with almost no history to speak of, both trying to steal buyers from the German Big Three of Audi, BMW and Mercedes-Benz. The 2020 Lincoln Aviator SUV was released to much fanfare in 2019, while Genesis waited until 2020 to bring its first SUV, the GV80, to market after splitting from Hyundai in late 2015.
Because the 2020 Chicago Auto Show was our first chance to see the GV80 in person and with examples of both SUVs on the show floor, we thought it was a good chance to see which might do a better job of convincing buyers that a luxury SUV need not be auf Deutsch, at least from a static perspective.
Related: More Chicago Auto Show Coverage
The Aviator is a three-row SUV available in rear- or all-wheel drive, powered by a turbocharged 3.0-liter V-6 good for 400 horsepower or a plug-in hybrid powertrain that adds a 75-kilowatt electric motor to the turbo V-6 and makes 494 horsepower. The plug-in hybrid also produces a whopping 630 pounds-feet of torque compared to the gas-only version's "measly" 415 pounds-feet. Both powertrains get a standard 10-speed automatic transmission. The Aviator feels big and drives that way, though it's also surprisingly sporty thanks to its powerful engine options. We prefer the gas-only Aviator from a driving perspective, as it plays nicer with the transmission and the brakes behave better.
The Genesis GV80, on the other hand, is a bit unknown. We know it will have two turbocharged engine choices, one a four-cylinder and one a V-6, but we don't have power figures yet. It's also a bit smaller (4.3 inches shorter in length, 4.5 inches narrower, 2.1 inches shorter in height and a 2.8-inch shorter wheelbase) than the Aviator in every exterior dimension, and its third row of seats is optional. We don't know pricing yet — though we expect it to undercut its German rivals — and we don't have fuel economy information, either. We haven't even driven it.
But based on what we do know, however, how does the Genesis GV80 compare to the Lincoln Aviator?
Interior Quality: Aviator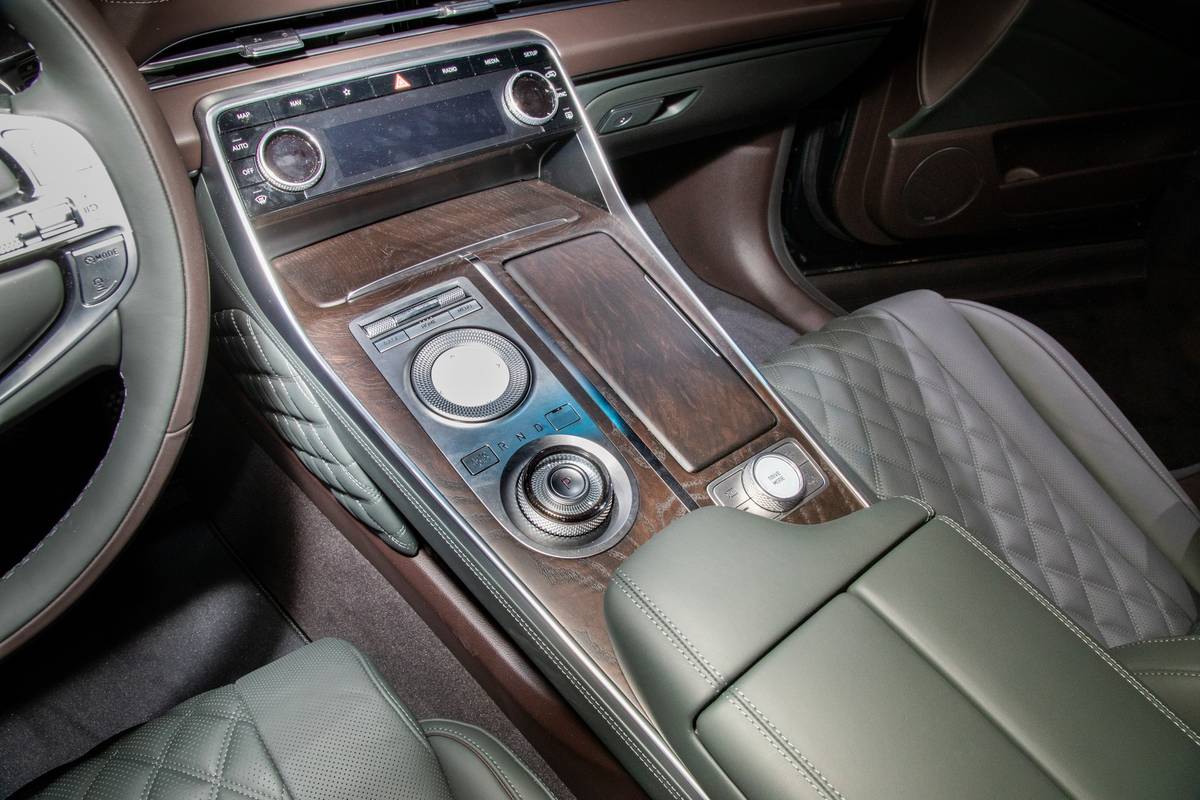 This first category is nearly a wash when it comes to a head-to-head comparison. Both SUVs have an interior that's just as good as anything they'll compete against. Touch points in each are covered in soft materials. Lincoln may have a slight advantage in materials with its upscale Black Label trim, but it comes at such a price premium — the starting price for a Black Label model is almost $80,000, while the base price is just over $52,000 — that it's difficult to consider it much of a trump card. Ultimately, it comes down to parts-bin sharing: The GV80 has some switchgear, such as the collection of buttons above the climate controls, that isn't up to luxury snuff because it's been used in lesser models. Lincoln does a much better job of hiding whatever bits the Aviator shares with any Fords, be it the platform-sharing Explorer or otherwise.
Multimedia: GV80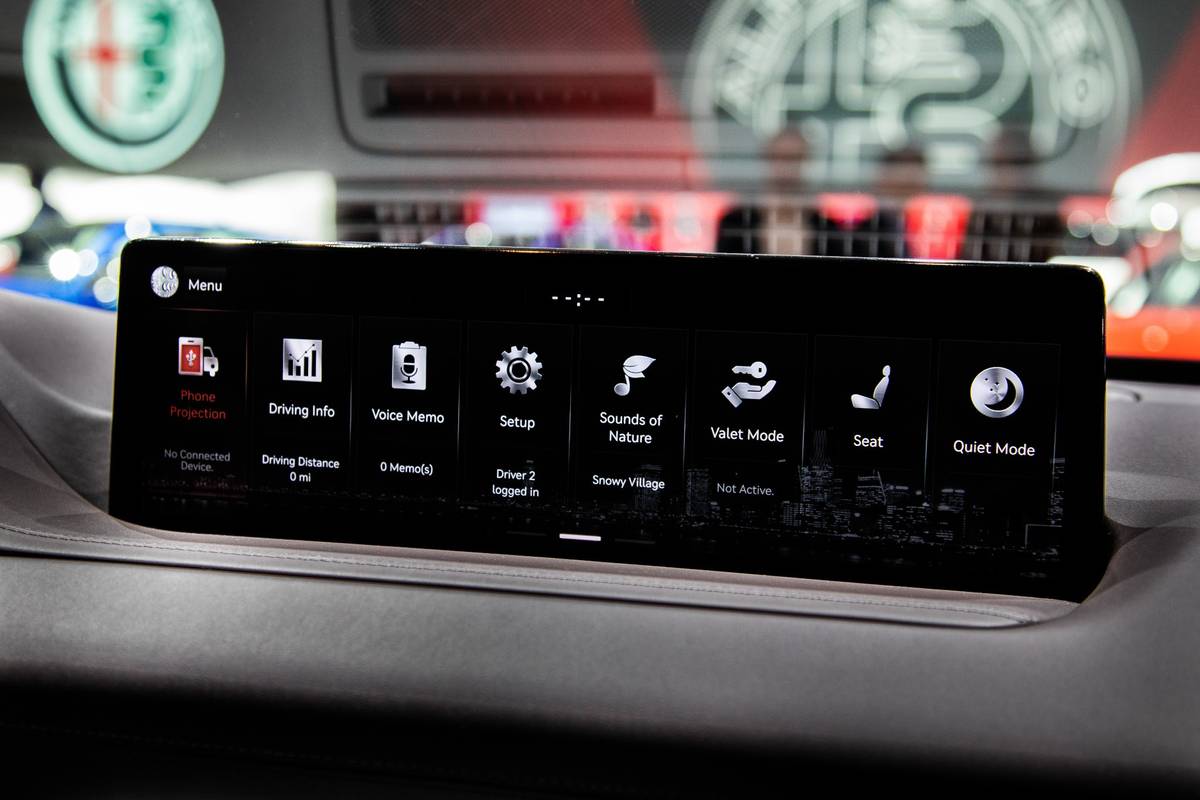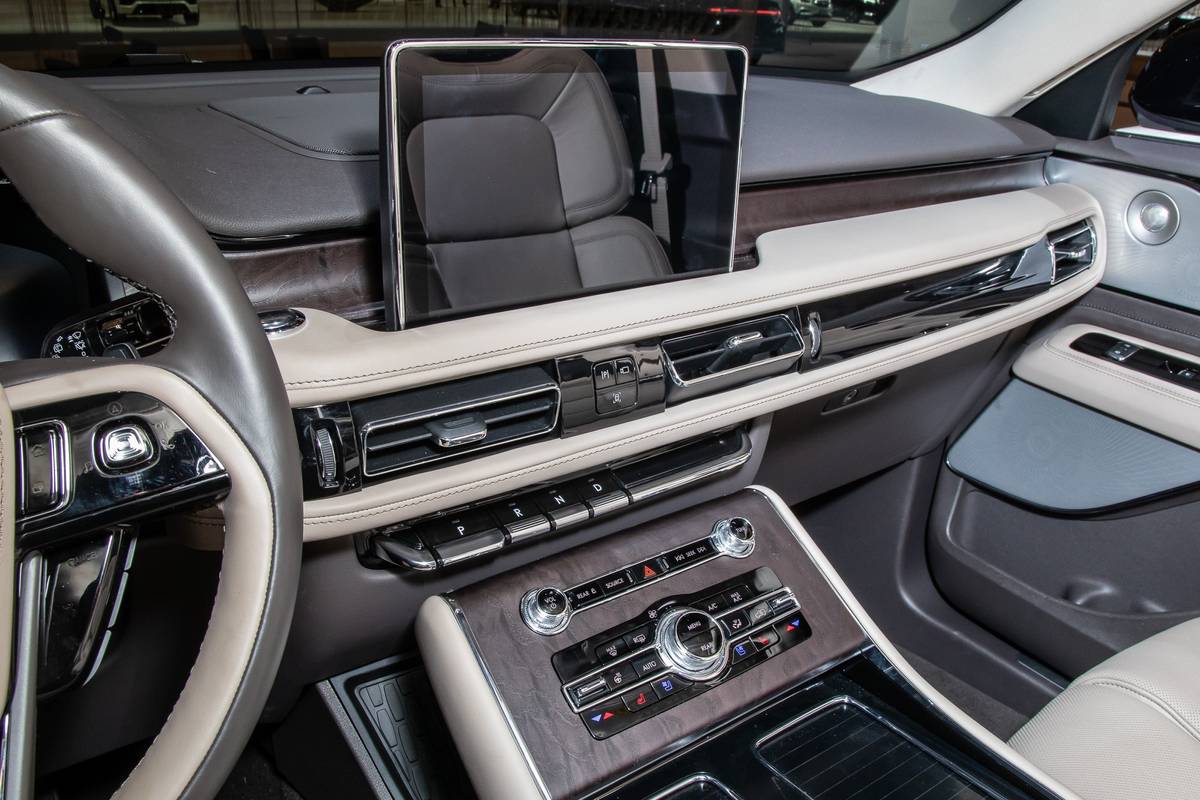 This category is also close, but I'm giving Genesis the slight nod here. Its larger multimedia screen has a more user-friendly and modern operating system than the Lincoln's. The Aviator's screen is still quite large — 10.1 inches compared to the GV80's 14.5 — and Sync 3 remains intuitive, but the menus and tiled apps are more easily accessible in the Genesis, even if you have to stretch a bit to reach the far right side of the screen. It comes down to a choice between Good and Really Good, and the Genesis takes it.
Front-Seat Comfort: GV80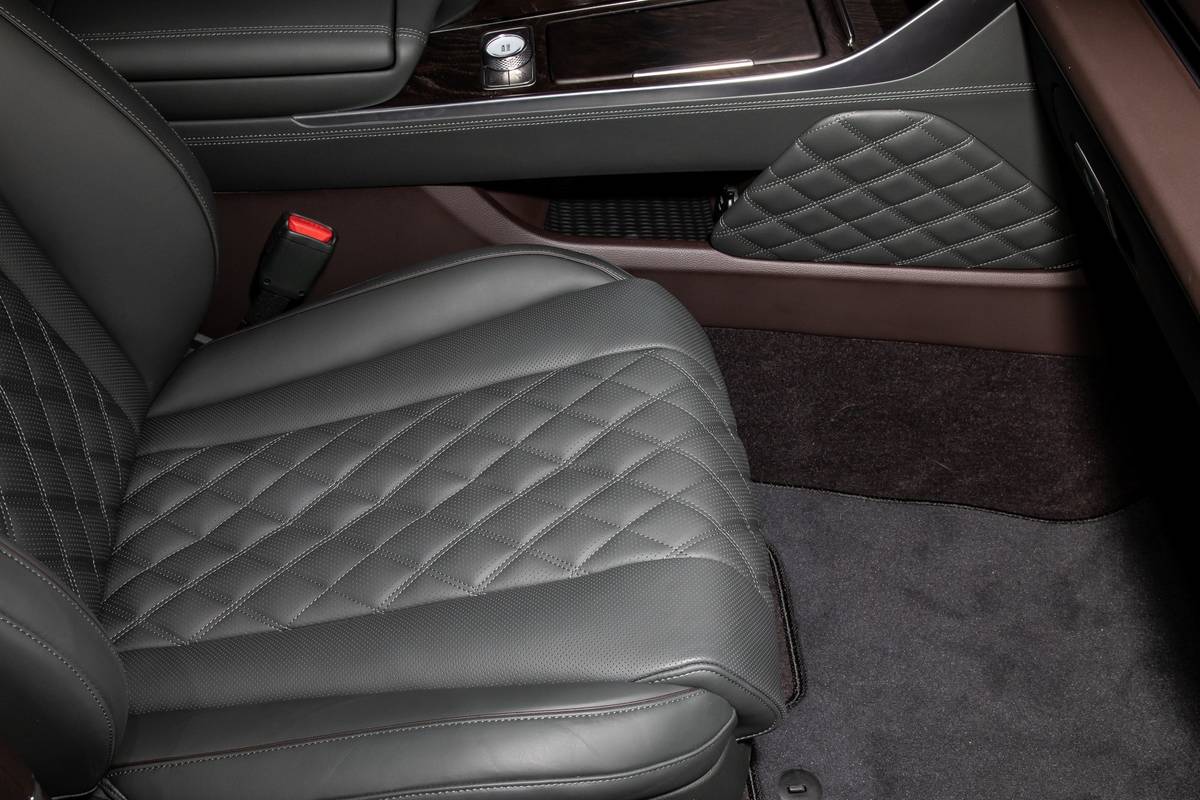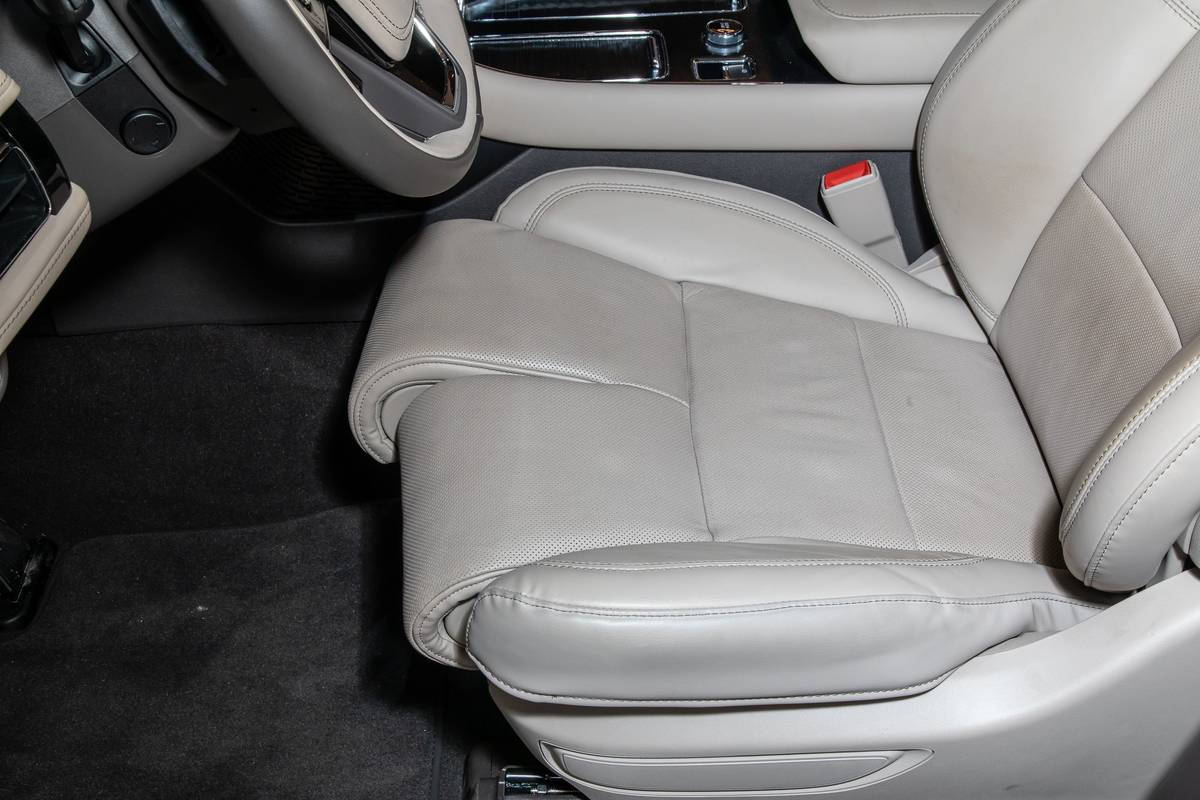 It would've been difficult for the Genesis to lose out in this category — the Aviator's front seats have been almost universally panned by our staff. It's nice that Lincoln offers occupants 30 different ways to adjust the seats, but it takes forever to find even a moderately comfortable position, and the seats themselves are overly narrow and underpadded. The GV80, meanwhile, has wider seats with more cushioning that should make a longer drive much more comfortable. To that end, Genesis also promises that the GV80's driver's seat has seven "air cells" that adjust to help reduce driver fatigue; we haven't tested that feature yet (remember: we haven't driven it), so that didn't count here. Still, an easy win for the Genesis.
More From Cars.com:
Second- and Third-Row Comfort: Tie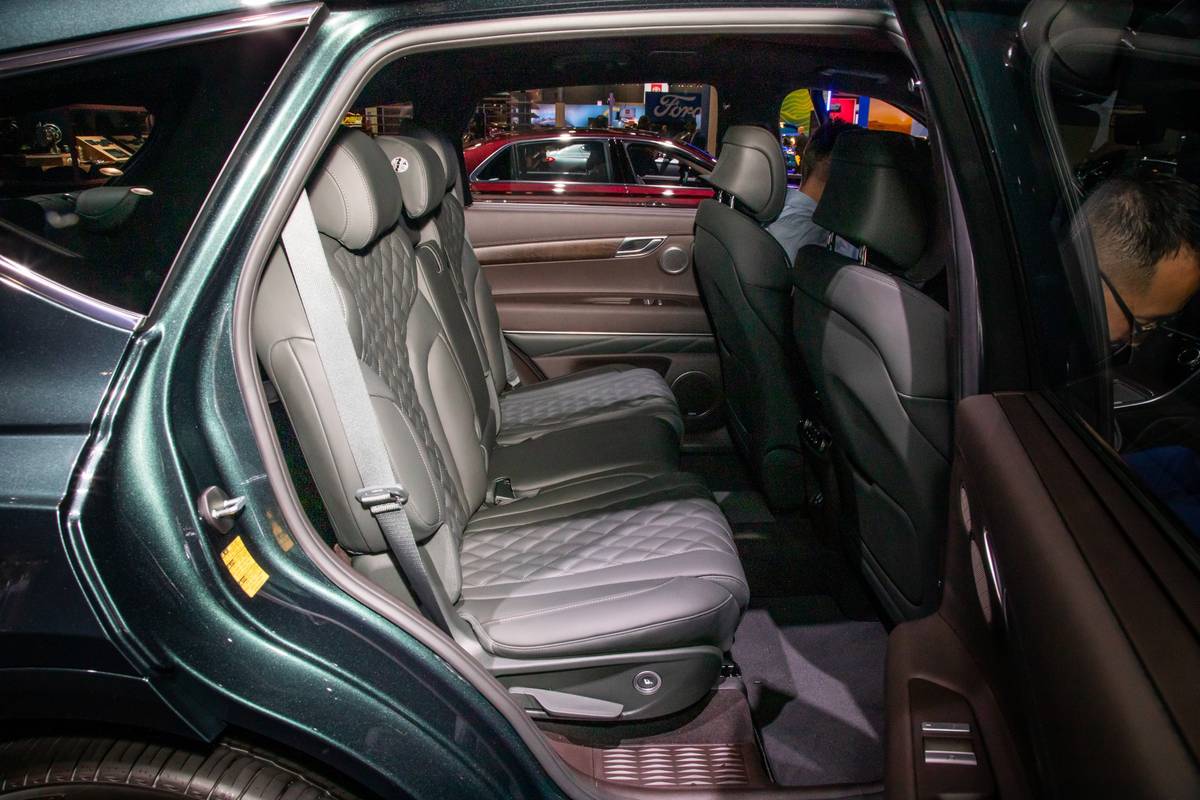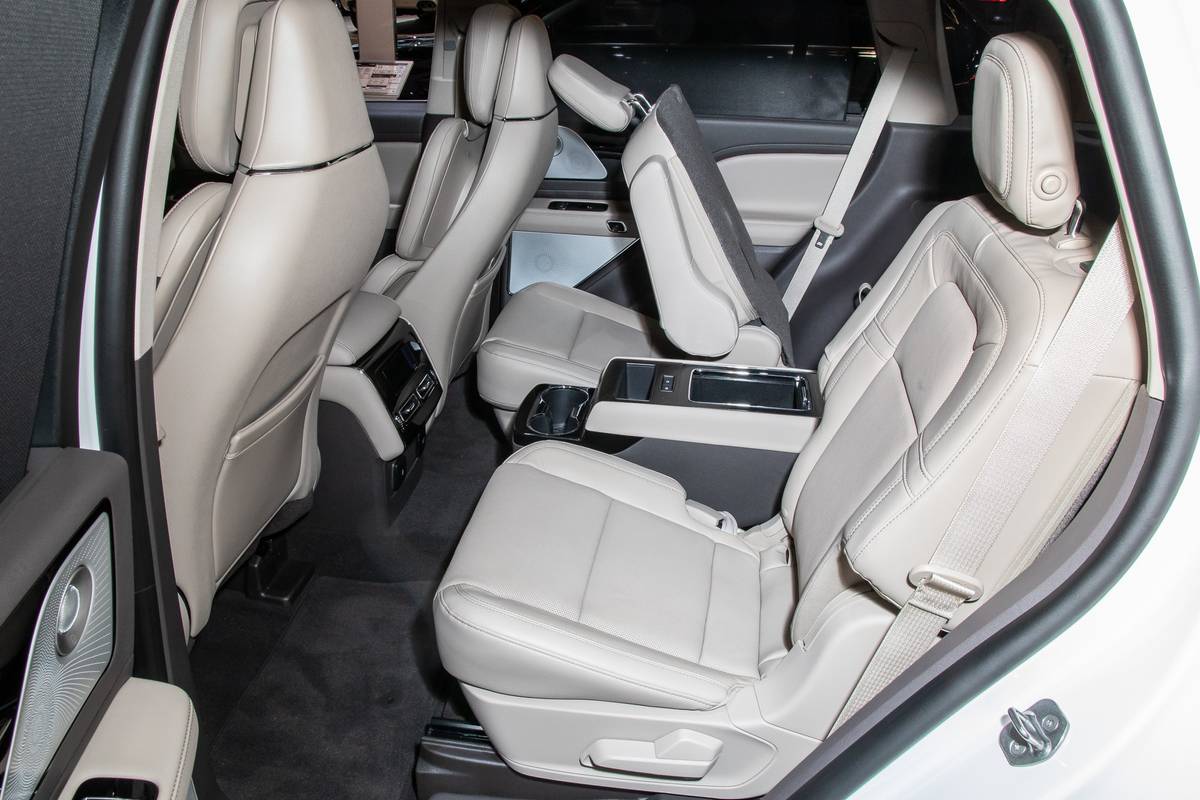 Things get a bit more muddled behind the first row. The GV80's second-row seats are wider and better cushioned than the Aviator's, though it's worth noting that the GV80 has a bench seat in the second row while the Aviator can have captain's chairs. Still, we found the Aviator's captain's chairs less supportive than we would've liked.
In the third row, the Aviator takes the win because it has one adults can (barely) fit into. It won't be comfortable for prolonged periods, but that beats the tiny pair of seats that can be optioned into the back of the GV80. It was also very difficult to access those seats at the show, as it didn't seem that the GV80 on the show floor was a fully functioning production model and the second row wouldn't flip forward to provide access. If production versions really require passengers to scramble over the top of the folded-down second row, the GV80 deserves to lose this category.
Without being able to compare driving dynamics, fuel economy or pricing, we've got a static comparison on our hands and a moderate victory for the GV80, the newer newcomer. Will it be able to poach buyers considering a German luxury SUV? We'll have to wait and see once it goes on sale sometime in the summer.
Cars.com's Editorial department is your source for automotive news and reviews. In line with Cars.com's long-standing ethics policy, editors and reviewers don't accept gifts or free trips from automakers. The Editorial department is independent of Cars.com's advertising, sales and sponsored content departments.