Can You Disinfect a Car Against the Coronavirus?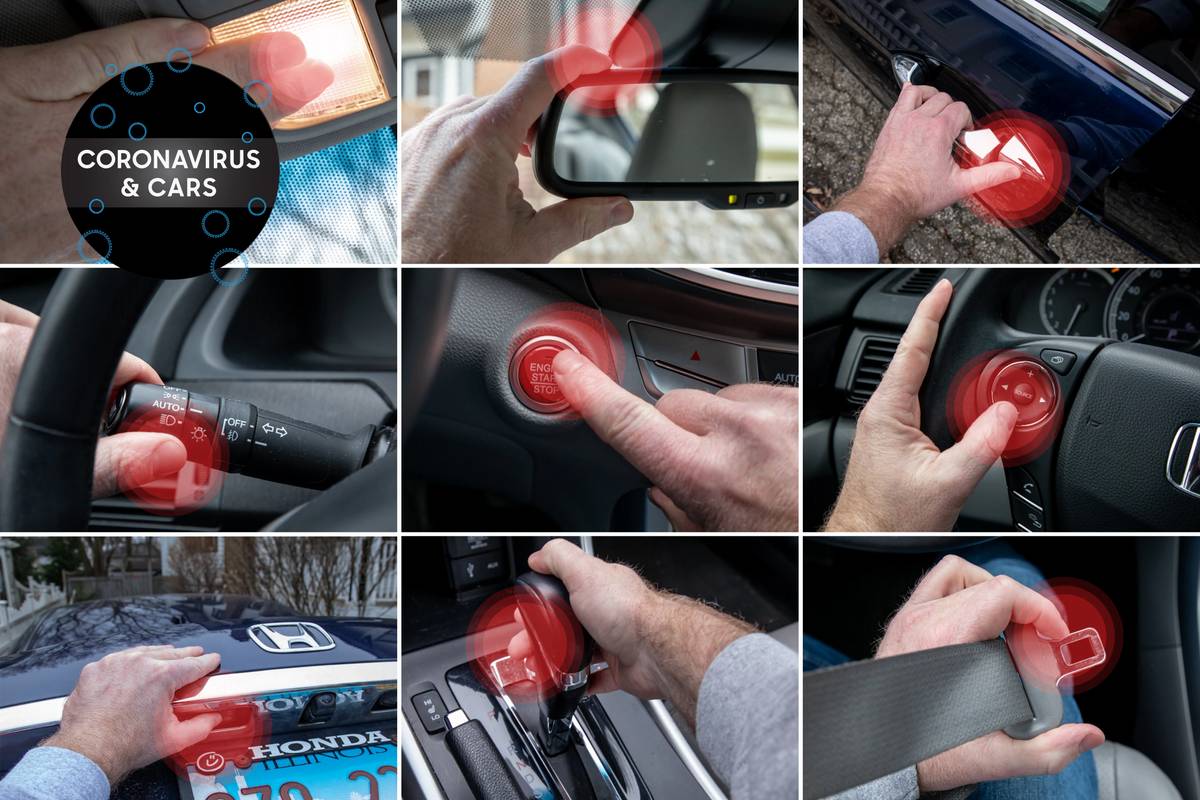 The problem with attempting to protect yourself from the coronavirus is there are no guarantees, but the same can be said about the risks involved with driving or riding in a car. The best thing you can do is stay home and not share vehicles. But if you must share a car, share rides, drive a rental or loaner car, or have your car serviced, you can improve your chances by using the right cleaning products in the right places while minimizing the chance of damage to the vehicle's materials. Unfortunately, what method and materials you use might depend primarily on what you can get your hands on.
Related: Coronavirus and Car Buying: What You Should Know 
According to the Centers for Disease Control and Prevention, the primary means of transmission is between people in close contact (within 6 feet) and through respiratory droplets from an infected person coughing or sneezing. "It is possible that a person could get COVID-19 by touching a surface or object that has the virus on it and then touching their own mouth, nose or eyes," the CDC site says, but "touching surfaces is not thought to be a common way that COVID-19 spreads."
This alone tells us that the odds are in our favor if we take appropriate steps.
The Most Effective Treatment
Fortunately, an effective weapon to disinfect against the coronavirus, according to the CDC, is alcohol. I say fortunately because most other chemicals, including some that are cited on the CDC's ominous List N page as being effective against the novel coronavirus (SARS-CoV-2), are either too harsh for a car's interior surfaces, too toxic to use inside a car's cabin or both. Agents like bleach, hydrogen peroxide and ammonia aren't suitable for interior use — unless you don't care about potential damage and are willing to let the car air out for hours or even days. Technically, alcohol vapors shouldn't be inhaled either, but they tend to dissipate quickly, and if you keep the windows open while applying it, the risk should be minimal and short-lived.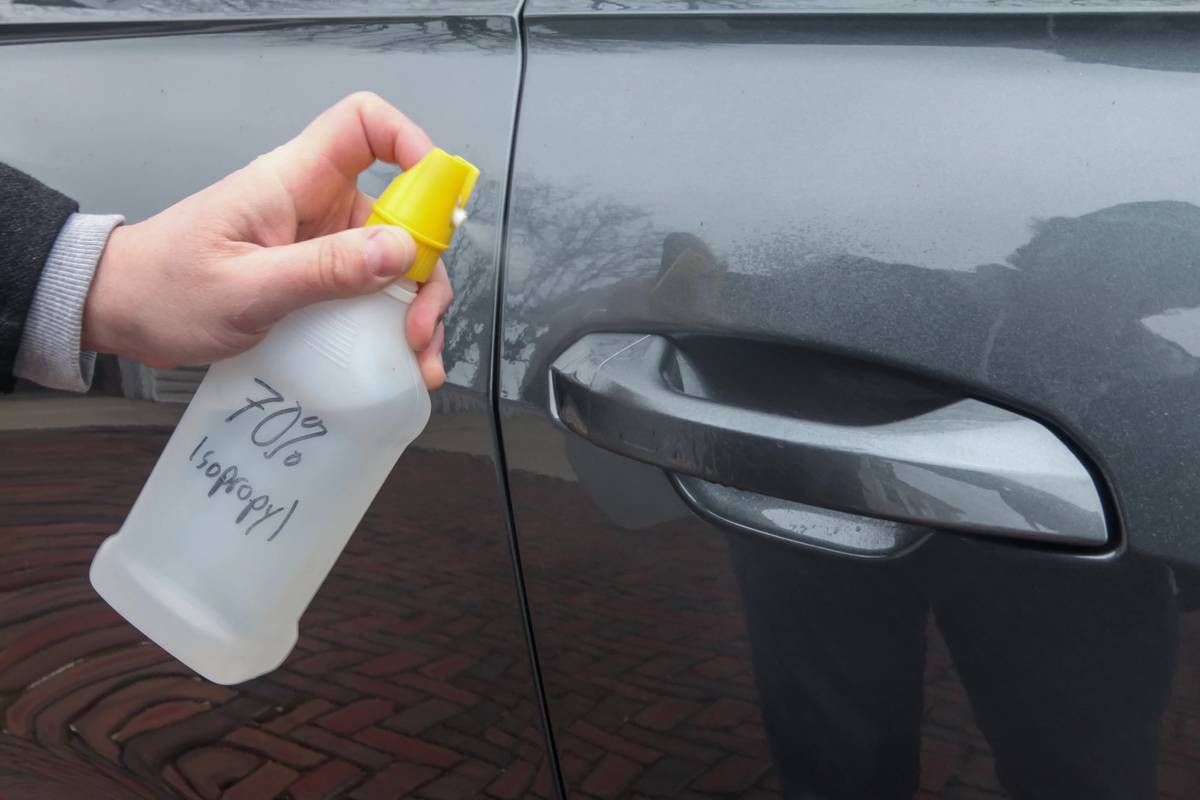 Coincidentally, my spot cleaner of choice for touchscreens, bezels and other such hard surfaces has long been 50% isopropyl rubbing alcohol. But the CDC specifies that isopropyl alcohol should be in concentrations of 70% or higher and ethanol should be 60% or higher. (Though hand sanitizers typically contain these concentrations, they aren't the best option for car surfaces because they contain glycerin as well as ingredients meant to moisturize skin, which wouldn't do a touchscreen any favors.) Not surprisingly, small medical-grade alcohol prep pad wipes that look like Wet-Naps but are designed to sterilize skin before injections contain 70% isopropanol.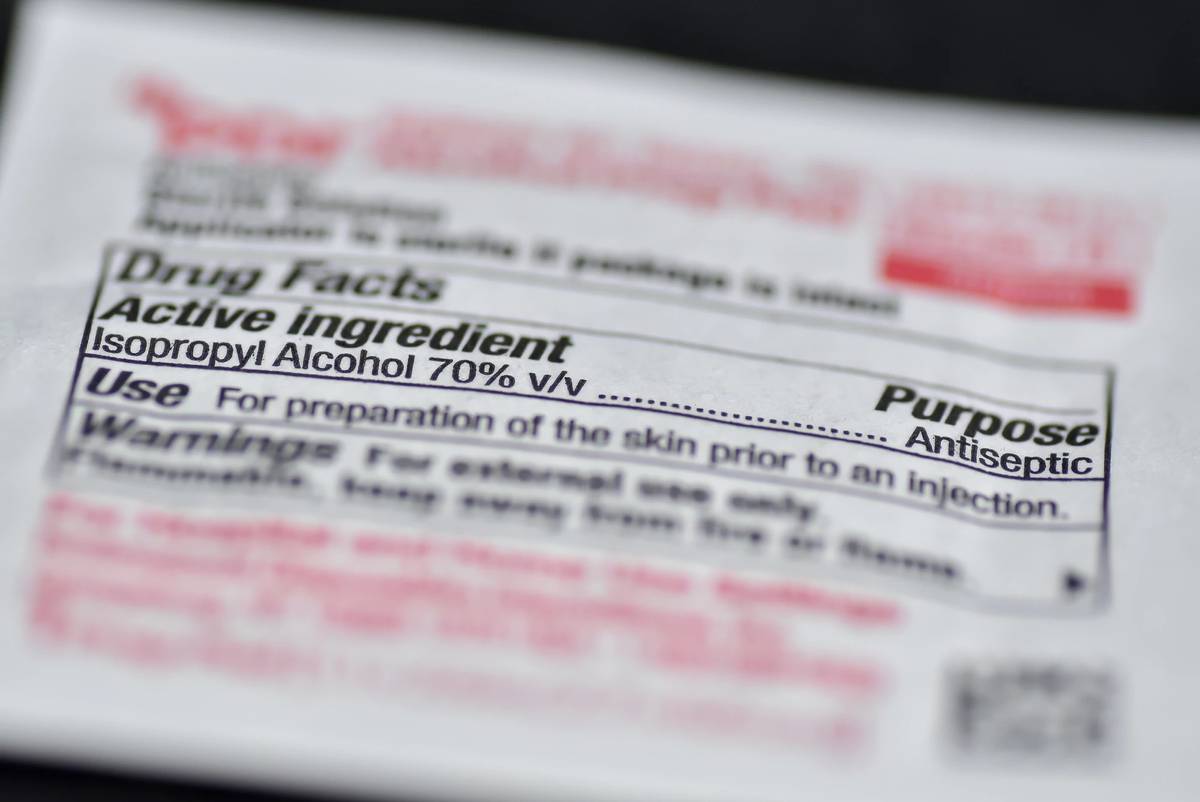 A Less Effective Treatment
Look closely at any packaged wipes you might have on hand, though. Benzalkonium chloride is the active ingredient in many antibacterial wipes and some hand sanitizers that claim to kill 99.99% of germs. The problem is that the coronavirus isn't a germ, and currently, the CDC does not recommend use of sanitizers containing benzalkonium chloride.
The Risks of Antiseptics — to Your Car
Even though alcohol should be less harsh on interior surfaces than some cleaners, it can't be viewed as gentle. I've never known my 50% rubbing alcohol to damage anything, even if oversprayed lightly on leather, but the concentrations here are higher, and the materials you're targeting can easily include leather or porous vinyl on things like steering wheels and shift knobs. And the goal is to apply the liquid for 30 seconds to disinfect. I turned to car-detailing experts from Mothers and Meguiar's for some guidance. 
"Keep in mind that extended saturation of alcohol on leather and vinyl may eventually damage it," said Jim Dvorak, public relations manager for Mothers Polishes, Waxes and Cleaners, in an email. Mike Pennington, director of training, events and consumer relations for Meguiar's, said, also via email, "With any interior cleaning method, we would still recommend testing first in an inconspicuous location to ensure no damage to any surface. Things like the clear plastics, small painted icons on controls, etc., are delicate and one must be sure no damage is caused. In addition, do not oversaturate or use too aggressive of a brush, applicator or even hand scrubbing as that could also damage delicate finishes."
No Paper Towels
Pennington confirms our bias against paper towels, facial tissue or other paper products for cleaning screens, plastics and other interior surfaces, because they can leave scratches. We've always been happy with 100% cotton like an old T-shirt (without decals). Microfiber towels are a favorite of car-care enthusiasts.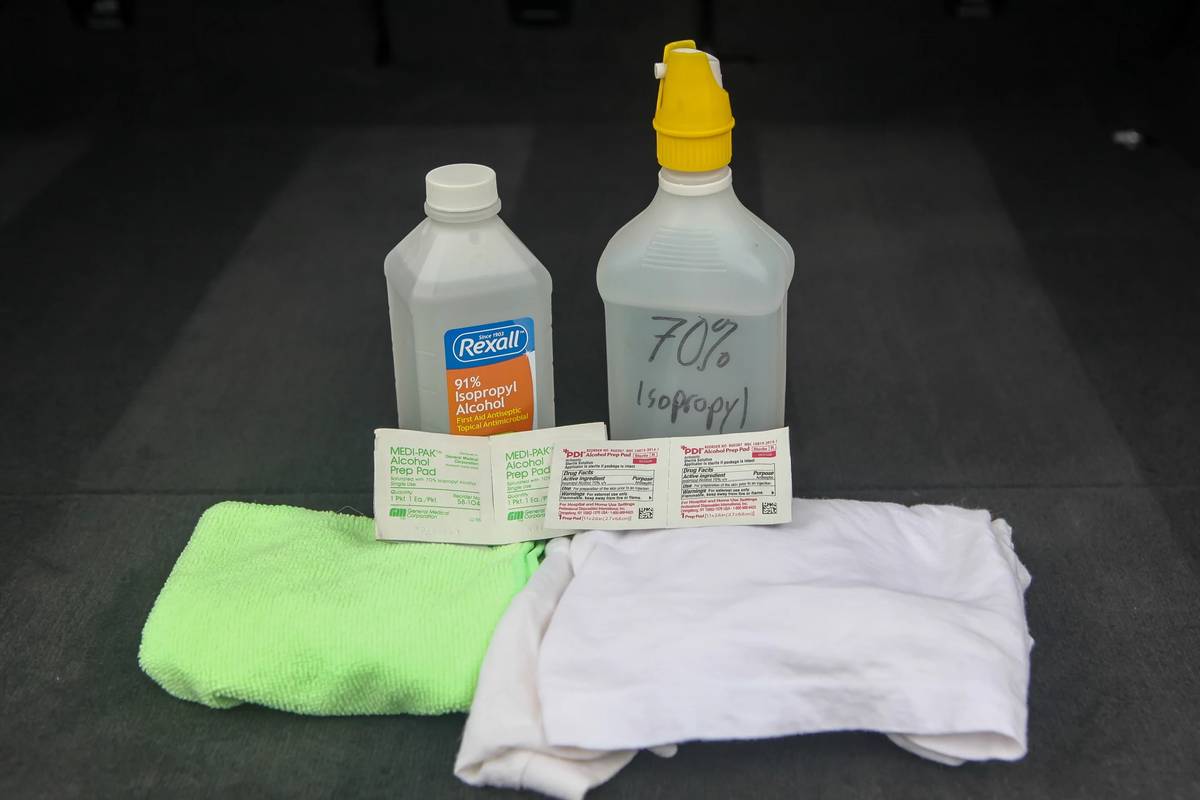 The No-Alcohol Approach
Dvorak clearly didn't like the idea of applying alcohol to leather, but allowed that, "The disinfecting procedure can be somewhat counteracted by using a leather conditioner to nourish." 
If that sounds self-serving from someone who represents a company selling such a product, he shared advice in a different direction that might suit consumers who can't find rubbing alcohol or who similarly don't want to risk damaging the vehicle but still want to cut their risk of coronavirus exposure: "Even though using household products goes against normal care and feeding of automobiles (and pre-empts sales of our products), a common household hand-soap solution can be used on contact surfaces, and likely [will] kill the virus," Dvorak said. 
"I say 'likely' as you might understand I can't make any promises," he said in an email. "As you may know, reports are that a good 20-second hand washing will kill it — some of that is the soap, and some of that is just working the soap into the cracks and crevices of your hands and washing away the virus —- and likewise the automobile surfaces you're going to touch can be washed the same way with a mild soap solution of a few drops (not too much as you don't want bubbles or foam) of hand soap in about 8 ounces of water. Using that solution, you can give your vehicle's surface a 'bath' of sorts with some good microfiber towels that have a nap — just don't get water where you don't want it.
"Granted, this is theoretical, and not tested (nor do I claim it is tested), but this is what our discussions and research tells us," he said.
Indeed, the CDC explains that disinfecting, or killing germs and viruses, and cleaning, or removing pathogens, are both effective ways of minimizing one's exposure.
What Should You Sanitize?
The simple answer is anything that gets touched, but you'll soon realize how many surfaces that amounts to. If you're sharing your car with a family member or friend, you might make your job easier by asking if he or she opened the glove compartment or used the backseat and pass on cleaning any unused area. To be safest, just do everything. I'll limit considerations to the car's exterior and the driver's seat, emphasizing the surfaces most likely to be touched by a driver's hands, and you can fill in the blanks for the simpler seats. Also check out our guide to cleaning child-safety seats.
Common Car Touchpoints (This Is Not an Exhaustive List)
Key/remote
Engine stop-start button
Door handle(s)
Liftgate or trunk release handle
Seat adjustment controls (and seat memory buttons)
Rearview mirror
Side mirror controls
Whole steering wheel, buttons and tilt/telescope adjustment
Turn signal and wiper stalks
Seat belt buckle (receptacle and tongue)
Shifter
Touchscreen
All dashboard controls
Any center console controls
Overhead controls
Grab handles
Armrests, center console latch
Glove box, vents, etc.
Consider Wearing Gloves
Regardless of the method you choose to sanitize a shared vehicle, you might consider wearing gloves when driving it. Be they nitrile, latex, vinyl or even winter gloves, they provide an added layer of protection, though the CDC cautions they can still lead to the spread of germs. Still, gloves are a good reminder not to touch your face when you've been in contact with shared surfaces.
More From Cars.com:
Editor's note: This story was updated on Dec. 2, 2020, with more recent guidance on disinfectants.
Cars.com's Editorial department is your source for automotive news and reviews. In line with Cars.com's long-standing ethics policy, editors and reviewers don't accept gifts or free trips from automakers. The Editorial department is independent of Cars.com's advertising, sales and sponsored content departments.