Cars.com's 2019 Genesis G70 So Fresh and So Clean After First Service Visit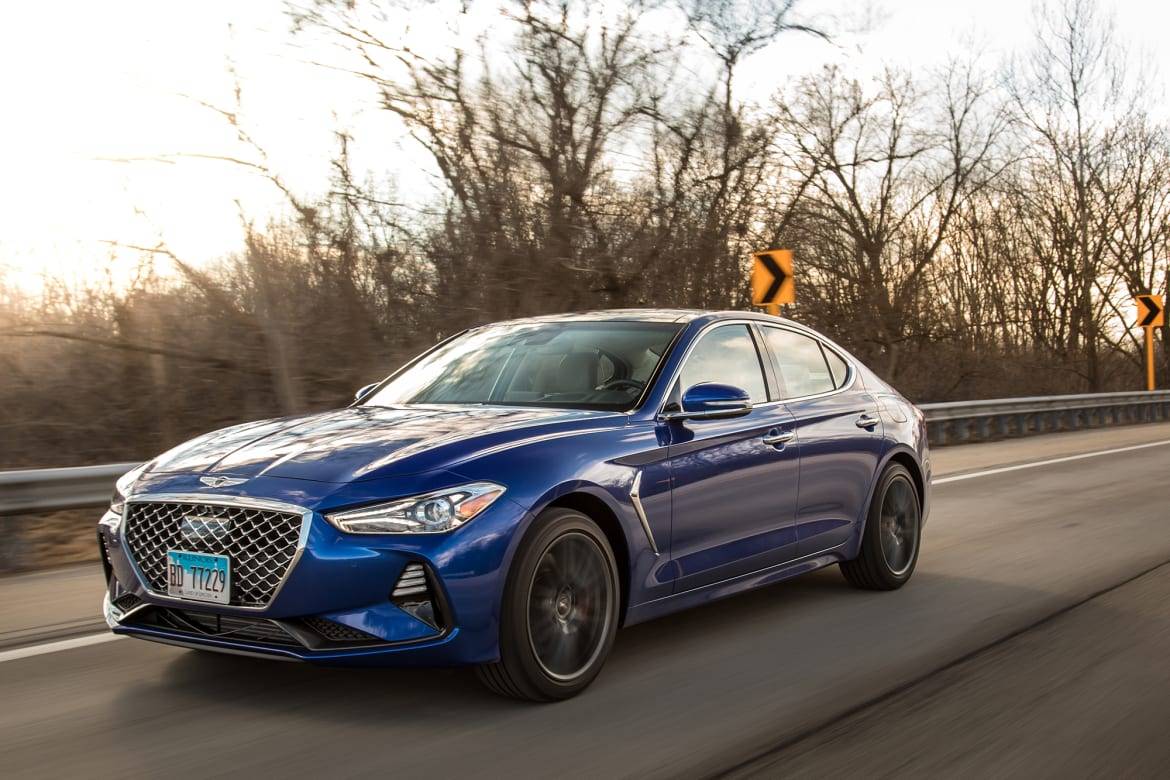 Cars.com's long-term Genesis G70 — our favorite car among all new or redesigned 2019 models — has already hit 7,500 miles. That means we're adding miles at a decent clip considering we drove the sedan off the lot five days before Christmas 2018 with just 43 miles on the odometer. It's high time for a maintenance visit — and then some, given our owner's manual recommends the first service at 6,000 miles under normal driving. The Genesis owner's portal calls for the same interval.
Related: Shaky Head-Up Display Prompts First Service for Our Genesis G70
Genesis Connected Services sent us an email on June 10 that the G70's 7,500 miles meant maintenance was due. The first visit should involve an oil and filter change, tire rotation and multipoint inspection, according to the manual. On June 12, we called our dealer to set up an appointment through Genesis' service valet, a standard perk we've used before. Asked about the recommended-mileage discrepancy, a service representative downplayed the recommendation in the owner's manual, claiming 7,500 miles was a more realistic interval.
He scheduled a swap the following Monday, June 17. Monday came, and a valet swapped our G70 at Cars.com's downtown offices for a Genesis loaner. It was the same silver G80 we received during prior service on the G70, that time for a shaky head-up display, albeit with some 2,900 additional miles. We kept the G80 overnight; the valet returned our G70 the following day. It had another 40 miles on the odometer, plus rotated tires, appropriate fluid levels and a squeaky-clean exterior. (The front tires were overinflated by 5 pounds per square inch or so, but we bled them down to their recommended pressure.)
A day after the service, our G70 owner's portal still shows maintenance due with no service records yet posted, but a dealer service representative we called said the records need a couple of days to post. We're still impressed with the minimal inconvenience of Genesis' service program, which covers regular service at no charge for the first three years or 36,000 miles of ownership, whichever comes first.
The story doesn't end there. Two days later, we learned the dealer was incorrect about service intervals. The actual interval for our G70 was indeed 6,000 miles, Genesis said, but spokesman Kevin Smith acknowledged that the interval for our particular vehicle identification number "had been set inappropriately" at 7,500-mile increments for the brand's non-turbo engines. Genesis reset the interval for our VIN remotely, and Smith said future reminders should pop up at 6,000-mile intervals.
Still, that means we overshot Genesis' maintenance interval by 25 percent, which runs afoul of the brand's online admonition that "adhering to Genesis' recommended maintenance schedule will help ensure eligible repairs remain covered" under warranty. Did our overage threaten such coverage? We called our dealer, and a service representative insisted our G70's warranty remained intact.
"Generally, things are OK as long as an owner changes the oil in a reasonable amount of time," Smith later wrote in an email. "Only in situations of severe neglect would warranty be denied."
At the time we updated this story — four days after the service — our owner's portal has yet to post any service record; it still says the vehicle needs service.
More From Cars.com:
Editor's note: This post was updated June 21, 2019, with additional information about service intervals on the G70 and an update on the owner's portal.
Cars.com's Editorial department is your source for automotive news and reviews. In line with Cars.com's long-standing ethics policy, editors and reviewers don't accept gifts or free trips from automakers. The Editorial department is independent of Cars.com's advertising, sales and sponsored content departments.