Daily-Driver Challenge: Hybrids, Diesels...and a Smart ForTwo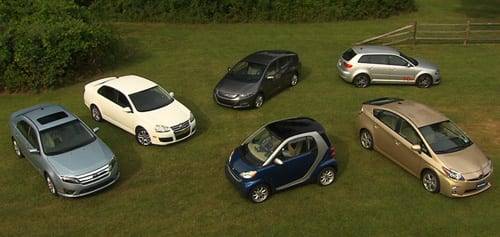 Pump prices have settled under $3 a gallon, but consumer surveys report that gas mileage has something of a permanent roost among car shoppers' priorities. Want truly sky-high gas mileage — something like 40 mpg or 50 mpg? Better sidle up to a hybrid or a diesel, which is a cleaner choice these days than you might think. If you still want a conventional gasoline car, the market has a few pint-sized offerings, too. Decisions, decisions.
We joined our friends at MotorWeek for a three-day drive through Maryland in all three varieties. We drove three hybrids, the Ford Fusion Hybrid, Honda Insight and Toyota Prius; two diesels, the Volkswagen Jetta TDI and the Audi A3 TDI for the European market — an American version will go on sale later this year; and today's most fuel-efficient non-hybrid car by EPA standards, the Smart ForTwo. Our goal: Decide which fuel-sipper suits everyday drivers the best. Check out our video for results, and read our impressions below. You can also see what the MotorWeek crew thinks of these same cars this weekend on your local PBS station.
We ranked the cars across seven categories: price, fuel costs, interior quality, cargo space, driving comfort, ride quality and driving fun. Given our goal — to see which car was the best daily driver — we awarded double points in the last three categories. The best possible score is 100 points.
Sixth place, 25 points: 2009 Smart ForTwo. The ForTwo was the least-expensive car in the test, but the car's penchant for premium fuel dragged its 33/41 mpg city/highway EPA rating to the bottom in overall fuel costs. A brittle ride, rock-hard brake pedal and hesitant (OK, pretty wretched) transmission didn't help. The ForTwo ranks last in a Detroit Lions sort of way. This season could be different — for Detroit, probably not Smart.
Fifth place, 56 points: 2010 Honda Insight. With good marks for its low price and fuel costs, the Insight scored more than double the ForTwo's points. Unfortunately, that couldn't get it past fifth place. Why? Blame the car's low-rent feel, something that crept up in cabin materials, road noise and an easily perturbed ride. The Insight is reasonably fun to drive, but at the end of the day, it's an economically priced hybrid. In too many instances it feels that way.
Fourth place, 60 points: 2010 Toyota Prius. We found the Prius less engaging to drive than the Insight, but it felt like a more substantial car, with the sort of ride quality and interior detailing Honda couldn't muster. Best-in-class gas mileage helped, but our goal was to find the car that best suited everyday driving, and Prius never made any of us want to go for a spin. By the second day, Toyota's mission became all too clear: Whenever the two must collide, fuel efficiency trumps fun.
Third place, 65 points: 2010 Ford Fusion Hybrid. That the Fusion Hybrid was the highest-ranking hybrid may land us a few pitchforks from hybrid fans. But Ford has a good thing going here: The Fusion Hybrid very nearly aped the driving experience of a regular family sedan. We found the seats quite comfortable, and power and handling were impressive. Unfortunately, interior quality couldn't match the Europeans, and the firm ride had us wondering exactly what sort of family Ford was targeting.
Second place, 68 points: 2010 Audi A3 TDI. Neither of our diesels — the A3 TDI and Jetta TDI — could match the hybrids' low-fuel costs, though our calculated fuel-cost difference between the third-best Fusion Hybrid and either diesel was less than $200 annually. The A3 impressed us with plenty of low-end diesel acceleration, a well-appointed cabin and the group's most refined ride quality; were it a little less expensive, it might have knocked the Jetta off.
First place, 84 points: 2009 Volkswagen Jetta TDI. Actually, the A3 never stood a chance — the Jetta TDI ran away with this. An affordable price and sound cabin quality helped, but the Jetta nailed the categories we deemed most important. The seats were supportive, and the trunk swallowed our stuff. VW managed to marry driving fun and burly diesel grunt with decent ride quality in a way that made us wonder why other automakers still can't. The Jetta TDI is rated at 30/41 mpg — low for this group — but it's silly-fun to drive and eminently livable in the daily commute. Add everything up, and the little Vee-Dub emerged a big winner.