Do You Really Need the Lincoln Navigator's Black Label Trim?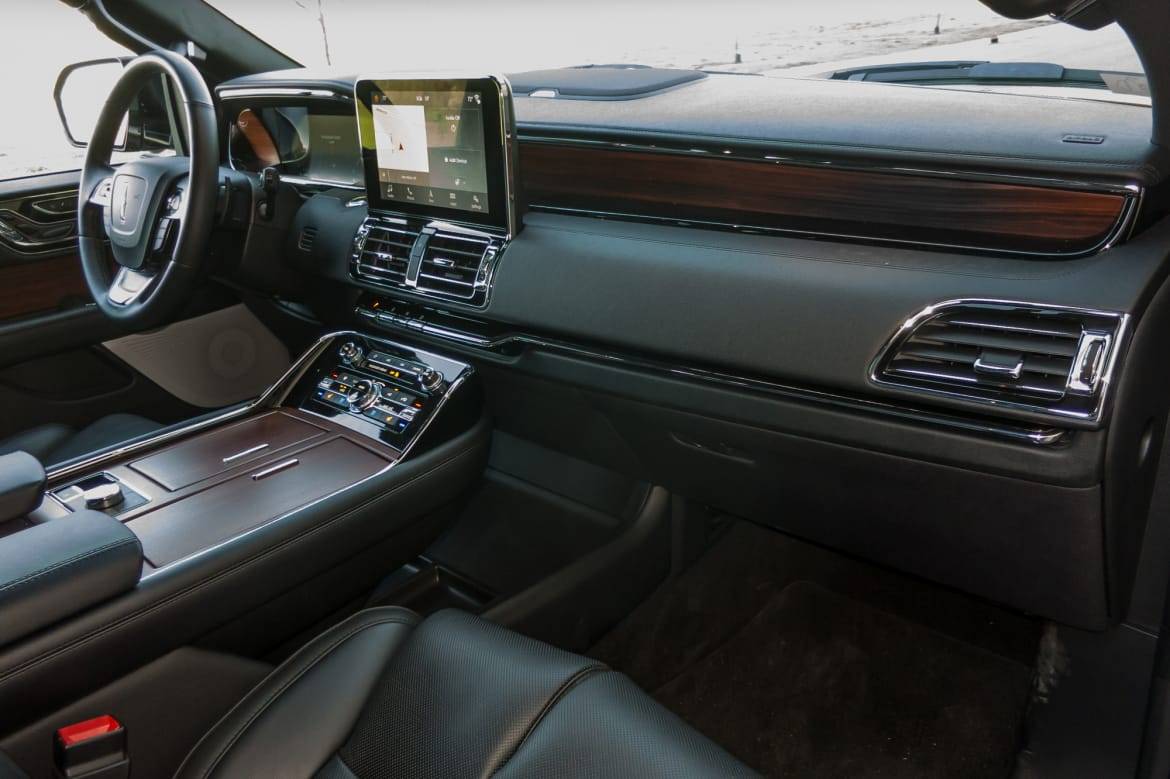 By now, everyone's seen the impressive new 2018 Lincoln Navigator, with its opulent interior that in top trims pushes the price over $100,000 — squarely in luxury territory where the Land Rover Range Rover and Mercedes-Benz GLS reside. But what if you really don't want to spend that kind of scratch? I've been in the Navigator's high-end Black Label trim, but until recently, never the lower trim levels like the Reserve, which is the most popular in Cars.com's national inventory. The top trim is fantastic, but is a lesser Navigator any good?
The opportunity to find out came earlier this summer, when I had a road trip planned from Detroit out to the beaches on the west side of the state with several friends visiting from the U.K.
Related: 5 Highlights of the 2018 Lincoln Navigator
Choose a Trim
Four guys plus gear should be no problem for a full-size American luxury SUV, and it wasn't — it was even less of a space issue thanks to my test vehicle being a Navigator L, the long-wheelbase, extended-length model that also has extra space behind the rear wheels. There are several trims to the Navigator, consisting of Premiere, Select, Reserve and the range-topping Black Label. If you want a long wheelbase L model, you have to start at the Select trim; it's not available as a base model Premier.
This enables the SUV to have both a more spacious backseat and a wider third row than the shorter version, as the upright shock towers are not intruding into the third-row passenger area.
The model that arrived in my driveway was one step up from that, a Reserve L, with a base price of $86,200 including destination — still a hefty fee for an American full-size SUV. As tested, this "lesser" Navigator rang in at $88,765 when a few options were included, such as Burgundy Velvet paint, a fantastic 20-speaker audio system and multi-adjustable Perfect Position seats.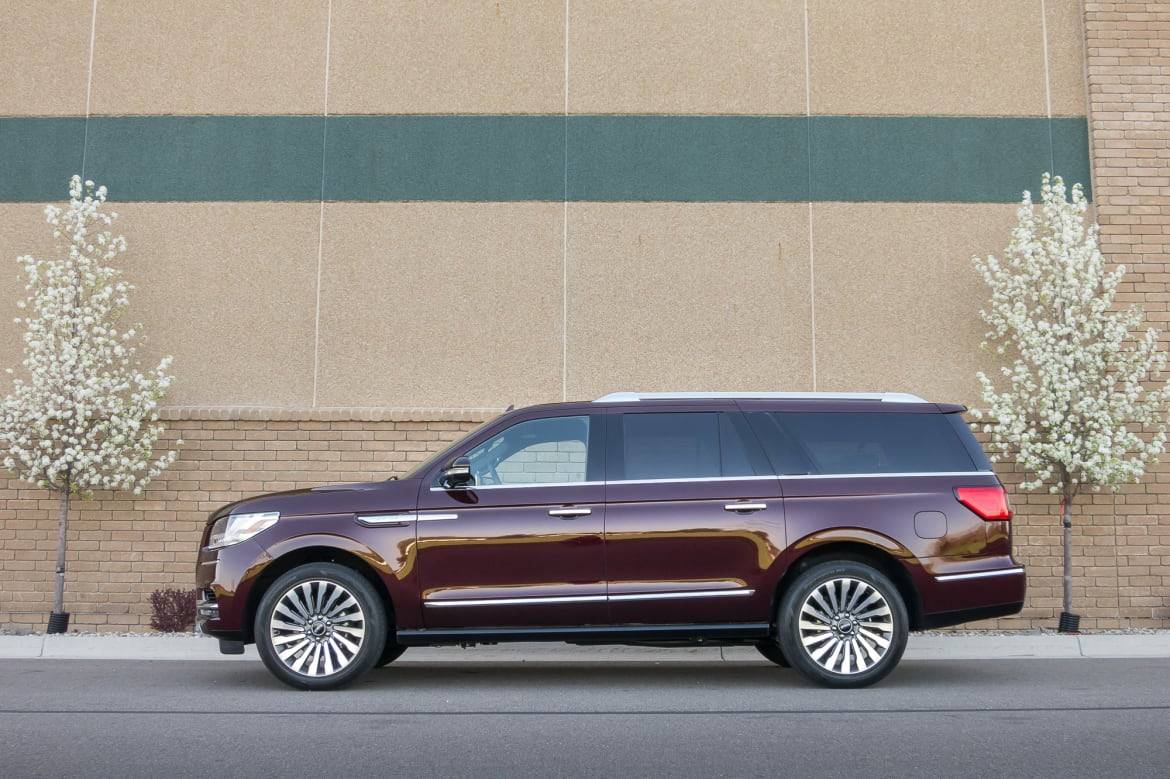 Strange, Satisfying Seats
Once seated in the Navigator's thrones, you'll have to work a bit to adjust the seat to your liking. The optional 30-way adjustable Perfect Position seats are strangely shaped — they have several different adjustable features, even seat-bottom thigh extensions that adjust independently, but the overall feel of the seats is very different from other automotive chairs. You will initially have a hard time getting comfortable. But as the scenery rolled by on my 550-mile round-trip road test, I realized that they were supportive in ways that other seats aren't. I was able to do long stints in the Navigator without any aches, sore spots or other issues related to sitting for an extended period of time. They don't feel like other seats, but they work amazingly well and are worth the optional $1,250 purchase price. And you don't even have to choose the Reserve or Black Label; the seats are available on all trims except the entry-level Premiere.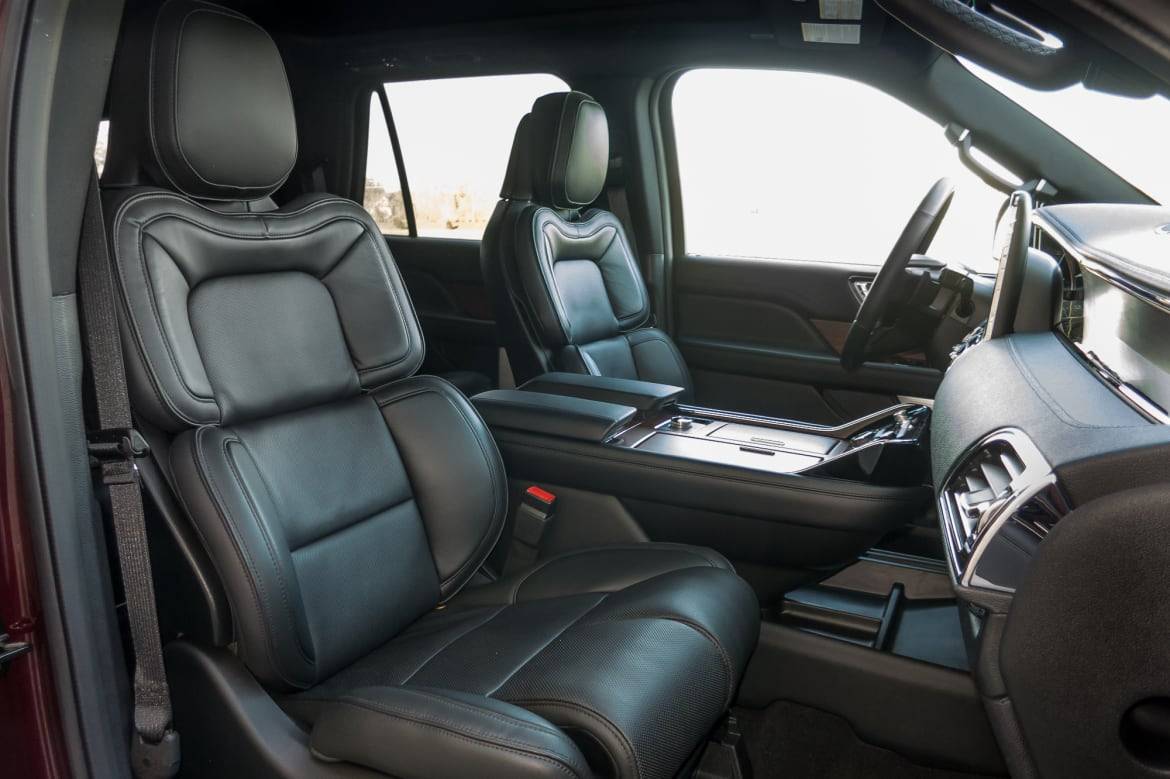 Big Is In
My British friends were both amazed and appalled at the Navigator's presence, lamenting the hugeness that Americans celebrate … but secretly enjoying the incredible room that such space affords. Piling four people into the interior is a snap; it's made to handle up to four more people plus stuff, but my version didn't have the second-row captain's chairs. The challenge is climbing up into the vehicle — one made easier by the inclusion of automatic folding running boards on this Reserve trim level (and also available on the Select and Black Label trims).
Who Needs the Black Label?
The quality and opulence of the interior is still impressive, even on this Reserve trim. You don't get the various show-stopping themed looks of the Black Label, but my monochromatic interior with dark wood accents looked fantastic. Chrome is liberally applied everywhere inside, but combined with the shapes and textures of the dash and doors, it feels classically elegant and uniquely American, like an art deco-era home. The carpets are thick, the leather is supple and smells authentic, and the switches and controls have an artistic flair to them that's been lacking in Lincoln products for decades.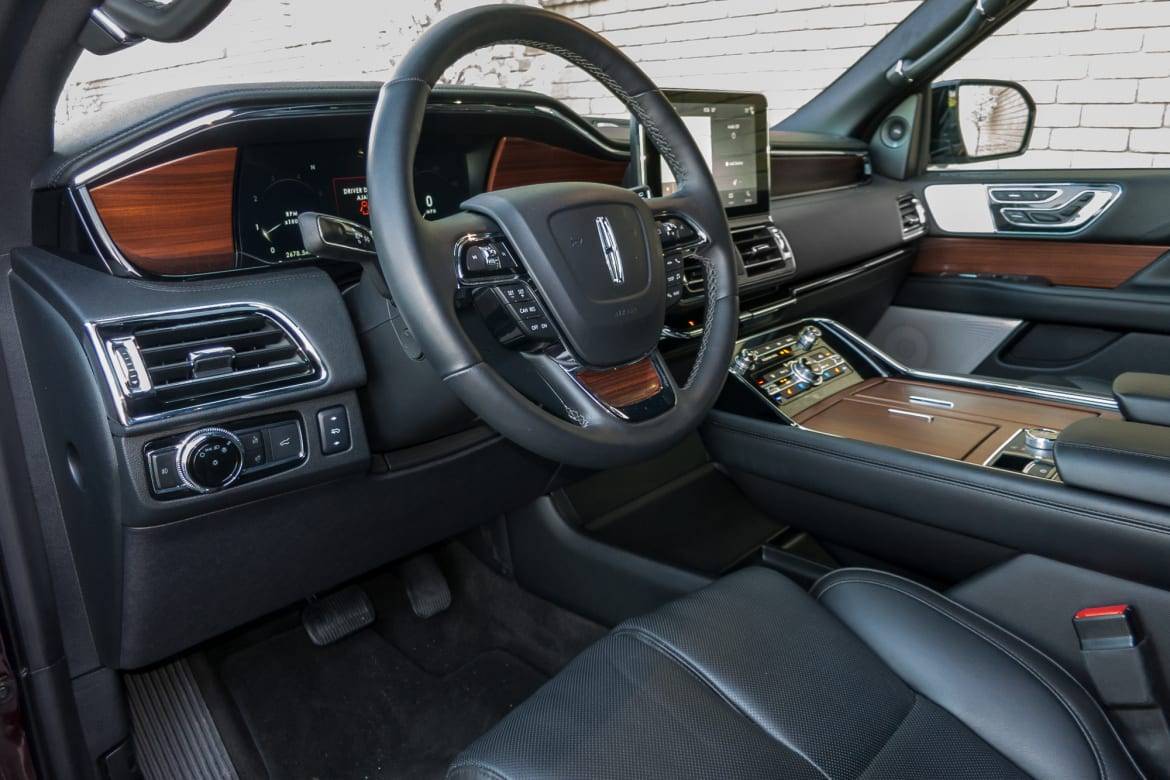 Like the push-button transmission, for instance. While I have in the past generally viewed such equipment as poorly realized, the Navigator's push-button transmission is attractive, easy to use and artistically rendered into the dash. My only complaint on the interior is the gauge cluster — it's an exercise in minimalism, but it feels like Lincoln forgot to finish the graphics package. You have an acre of screen in front of you, but very little of it displays anything in terms of gauges or information. Given the amazing things Ford did with the Mustang's digital gauges, I hoped for more from this expensive Lincoln.
Where the Navigator really surprises is in how it drives. Powered by a 3.5-liter twin-turbocharged EcoBoost V-6 engine shared across all trims, it doesn't have the rumble that you might expect from such a large SUV, but you really won't miss it. There's 450 horsepower on tap to get you moving — plenty for highway passing, plenty for hauling around a loaded SUV's worth of people and luggage. There's even a faint turbo whoosh associated with it that's fun for people into such noises. The 10-speed automatic transmission is smooth and linear, and well-tuned to the engine and driveline. It even handles like a much smaller, much lighter vehicle than it actually is, giving it an easy-to-drive demeanor that puts you very much at ease despite piloting several tons of truck, people and cargo down the interstate at impressive speeds.
So yes, while the Navigator Black Label is lovely and luxurious and impressive, so are lesser models, meaning you can enjoy the newest Lincoln luxury SUV without having to splurge an exorbitant sum for the top trim. You merely have to spend an extraordinary sum for the lesser trims.
Cars.com's Editorial department is your source for automotive news and reviews. In line with Cars.com's long-standing ethics policy, editors and reviewers don't accept gifts or free trips from automakers. The Editorial department is independent of Cars.com's advertising, sales and sponsored content departments.