Does a 3-Row SUV Really Rival a Minivan for Family Hauling?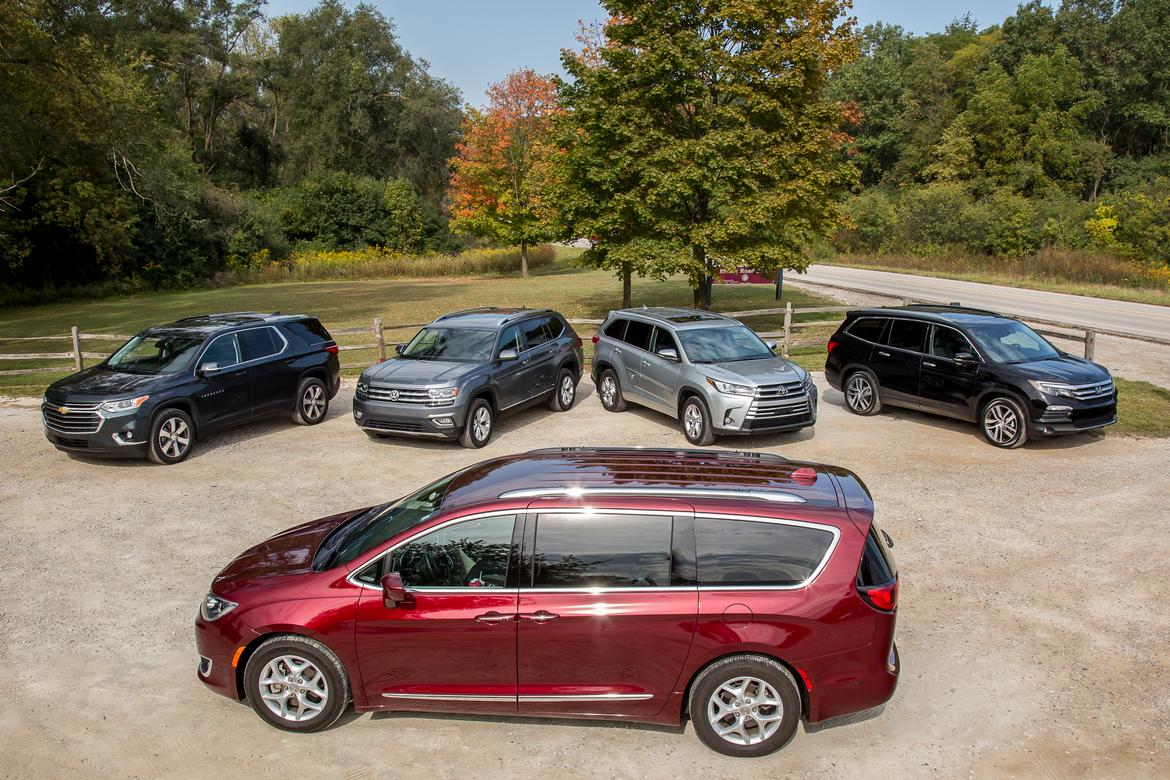 CARS.COM — Our 2017 Three-Row SUV Challenge evaluated four SUVs to pick the best of the bunch. But let's be honest, when it comes to family life, the real top dog might have been sitting across the parking lot from the shiny Challenge contenders: Cars.com's humble long-term test car, a 2017 Chrysler Pacifica minivan workhorse, at the time in need of a good hosing down.
Related: What's the Best Three-Row SUV for 2017?
We had the Chrysler Pacifica on the scene to do the grunt work of hauling staff and multimedia gear while we tested the 2018 Chevrolet Traverse, 2017 Honda Pilot, 2017 Toyota Highlander and 2018 Volkswagen Atlas. The Pacifica was named Cars.com's Best of 2017, and we bought one for long-term testing.
So, why do three-row crossovers and SUVs outsell minivans by far overall? For better or worse, minivans are sweatpants in a world of skinny jeans. Vehicle choice is an emotional, not just rational, decision for most family buyers regardless of budget. And for style image, minivans have a perceived sex-appeal deficit — and perception is often reality in the marketplace. Toyota did their best to change this with the "Swagger Wagon" ad campaign for the Sienna, and the Honda Odyssey had its own attempt as well, but it remains difficult to sell a minivan as the vehicle of choice for a Cool Mom or Dad.
Of course, the three-row SUVs in our Challenge are loaded with family features, plus they have more trucklike looks and marginally better driving dynamics (though you won't mistake either vehicle for a sports sedan).
But if you really need a family hauler, particularly for younger kids, here are nine reasons Cars.com editors have found for you to at least look at a Pacifica (or Honda Odyssey, Toyota Sienna or Kia Sedona minivan) before you sign the deal for that shiny, seemingly sexier SUV (as if you're fooling anyone):
You can't beat sliding doors: These are the very definition of a minivan, and with good reason. "They still beat traditional hinged doors when kids are involved: No risk of dinging other cars, power operation means you can open them as the kids are approaching, and they create a large opening that makes it easier to put a child in a rear-facing car seat," says Mike Hanley, Cars.com editor and father of three.
Be the master of your doors ... or let the kids fend for themselves. You can open or close the Pacifica's power-sliding doors from the driver's seat. Older kids can let themselves out and then close the door with a pillar-mounted button. With arms loaded, you still can use the Pacifica's outside door button to open the door without needing to grab a handle. "The Pacifica's one-touch power-sliding doors have been a game changer for me when trying to load my kids in the van and armfuls of junk," says Cars.com editor and mom of three Jennifer Geiger. "It sounds like a small thing, but it's very helpful."
Fill the seats and still haul gear: Put up the third row for more passengers and you open a deep storage well behind it, adding cargo room. That "makes it easier to haul bulky items like a double jogging stroller that would be harder or impossible to carry in a three-row SUV behind the third row," says Hanley.
Own your own box truck: Fold the Pacifica's Stow 'n Go second-row captain's chairs and third-row bench and you have a low, flat load floor and delivery-truck space for Home Depot or Costco runs, antiquing, adventures — you choose.
Heavy-lifting and step-in ease: The Pacifica's lift height to load heavier or bulky items is significantly lower than a big SUV. And younger kids (not to mention your more elderly relatives) have a lower, easier height for stepping into the Pacifica without help. "A low step-in height is another benefit of minivans for passengers both young and old," Hanley says. "For my kids (ages 6, 4 and 2), it's the difference between being able to scramble into the van relatively easily versus having to climb up more to get in an SUV."
Organize your stuff: Some SUVs, such as the Pilot, have ample center console storage and other in-cabin cubbies, but they still fall short of the Container Store-esque cleverness of most minivans. "The Pacifica and Odyssey have great center consoles and small-items storage spaces," Geiger says.
Ride high: A higher seating position is a major reason buyers give for getting an SUV. You can quibble over inches, but truth is, you can look down on that sedan in the next lane just as easily from the Pacifica's driver's seat.
But what about all-wheel drive? AWD availability is a hallmark of big SUVs, though many people don't buy it. Our Pacifica doesn't offer it, but if you need it, you can have it on a Toyota Sienna.
Save the planet: You can have your plug-in hybrid and a minivan, too. We bought our minivan before there was a Pacifica Hybrid. This plug-in hybrid can go 33 miles on electricity alone, helping owners save the planet — and some cash — with improved fuel economy while they drive.
Cars.com's Editorial department is your source for automotive news and reviews. In line with Cars.com's long-standing ethics policy, editors and reviewers don't accept gifts or free trips from automakers. The Editorial department is independent of Cars.com's advertising, sales and sponsored content departments.