First McLaren Senna Reaches U.S. – Should You Care?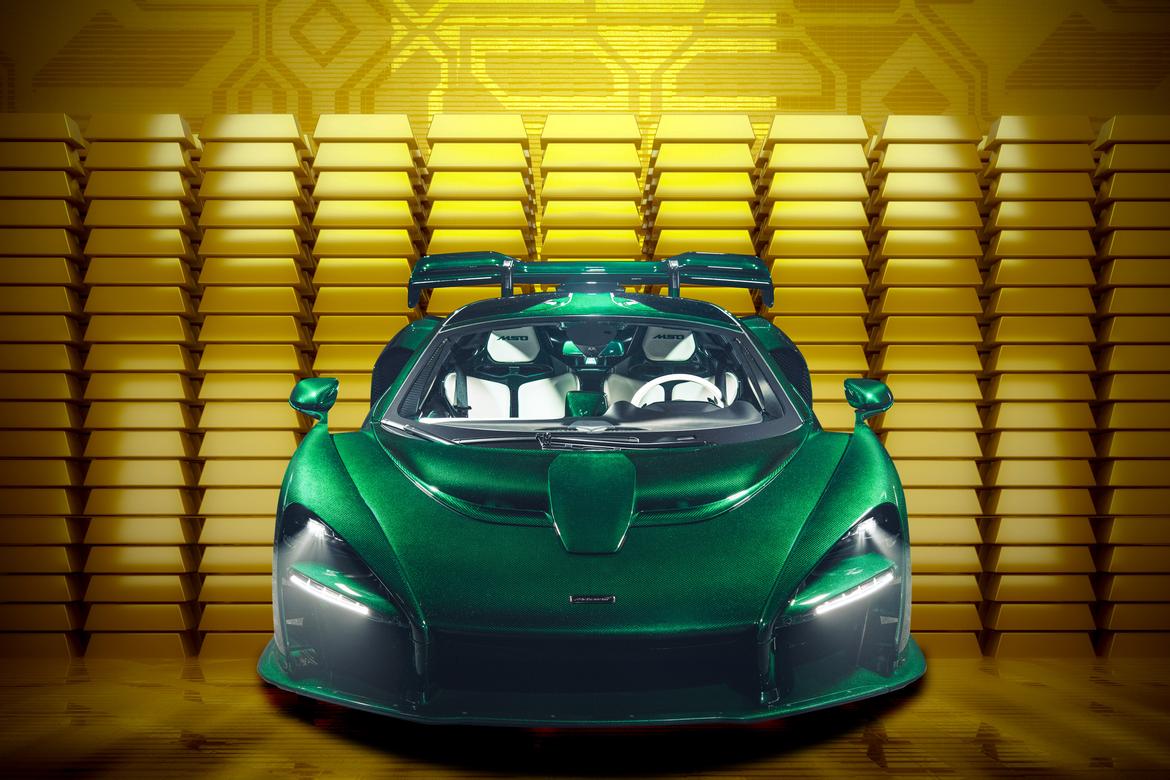 This week, it was announced that the first North American McLaren Senna was delivered to its owner in New York City. Michael Fux, who already has an impressive collection of high-performance cars, is now the owner of one of these exclusive, exotic and expensive sports cars. The Senna, named for former Formula One driver Ayrton Senna, is meant to be McLaren's "ultimate road-legal track car."
Related: McLaren 720S: If Dropping $100K Extra Is an Option, We Did This for You
The full body set, made up of 67 parts, takes nearly a thousand hours to produce, McLaren boasts. This first delivery was specifically a custom emerald carbon-fiber body, the color named Fux Green.
McLaren Senna; Manufacturer images
More impressive than the body are the engine specs. The Senna runs on a 789-horsepower, 4.0-liter twin-turbocharged V-8 engine that makes 590 pounds-feet of torque. It's designed to be aerodynamic and light, weighing 2,641 pounds and producing 1,763.7 pounds of downforce. It only takes the Senna 2.7 seconds to go from zero-to-60 mph, and a purported 6.8 seconds to spring from zero-to-124 mph.
Sounds like a pretty sick ride, right? Even though it's an alluring car to daydream about riding around town in, turning the head of everyone we pass, we gotta admit it: We don't really care that much that it's made its way to the U.S. Here's why you probably shouldn't either.
1. You Can't Afford It
The MSRP for the Senna in the U.S. is $958,966, but once you add in taxes, titling, registration and destination, you're probably looking at a cool million for this cool car.
Beyond just the base, McLaren offers a bevy of options, some of which sound downright ridiculous. Come on, does anyone need a 24-carat-gold engine heat shield? No one needs a million-dollar sports car either, so we guess "in for a penny, in for a pound."
2. Even If You Could Afford It, You Couldn't Get One
McLaren limited production of the Senna to 500 units, and every single one of them is allocated to a buyer. Each car is hand-assembled in England with personalized colors, trims and specifications for each customer, so something tells us you won't be able to pick one of these up on the certified pre-owned circuit (or in the Cars.com inventory, for that matter) anytime soon.
With roughly a third of the 500 vehicles ordered by North American customers, your chances of even laying your eyes on a Senna are incredibly slim unless you really plan for it. Fux's Senna will be on display at a motorsports gathering during Monterey Car Week on Aug. 24, but you'd have to be waitlisted for a $950 ticket to the event to get a peek.
3. Even if You Could Afford It and You Could Get One, Why?
Sure, this is a fast car, and with only 500 units, it's also a collector's item. But what else is the Senna other than an expensive toy to flaunt your wealth and conspicuous consumption? Even if it's street legal, how many people in their right mind would take a million-dollar automobile outside a controlled environment?
Granted, with the circumstances needed to afford the Senna, you probably don't have to consider picking up groceries or driving a kid around to soccer practice if you're on the waitlist for one — but it goes without saying that this two-seater has little practical use off the track or even outside one of those gigantic "garages" that look like a contemporary art museum. In other words: Don't expect to see someone driving a Senna in the supermarket parking lot with a car seat installed on the passenger side.
Cars.com's Editorial department is your source for automotive news and reviews. In line with Cars.com's long-standing ethics policy, editors and reviewers don't accept gifts or free trips from automakers. The Editorial department is independent of Cars.com's advertising, sales and sponsored content departments.