Five Unexpected Family Cars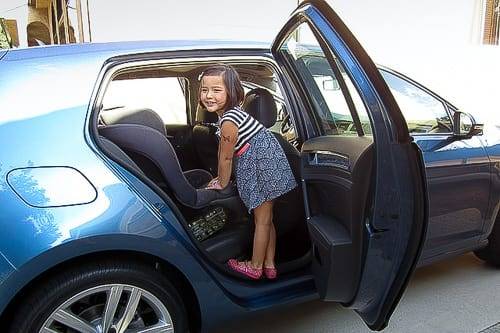 Most people opt for a minivan or three-row crossover when shopping for a family car, especially when two or more kids are involved. Parents willing to color outside the traditional car-class lines, however, will be pleasantly surprised by what they find.
Read More #FamilyCarAdvice
As a mom of a preschooler and twin infants, just about every vehicle I drive has to pull some sort of family duty. Some excel, some flop in spectacular fashion.
Regardless of what I test, the must-haves stay the same: It has to be safe, comfortable and roomy enough for the kids, their child-safety seats and all their gear. Depending on your family's size and needs, a lot of vehicles might meet that criteria. If sliding doors aren't a must-have, check out our minivan-free list; these five vehicles and their family-hauling chops might just surprise you.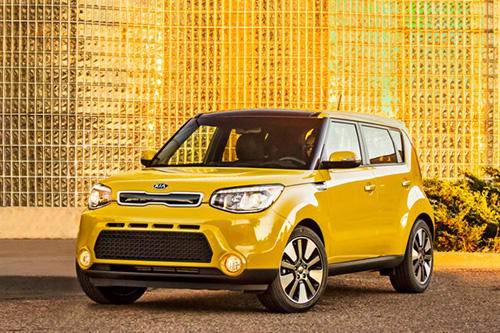 Kia updated its box-on-wheels for the 2014 model year, and while the automaker probably doesn't count small families as the Soul's primary audience, the redesigned Soul is kid-tested, parent-approved.
Although it's technically a compact car, the Soul's boxy dimensions allow for plenty of headroom; it also has a low floor, which means it's easy to get in and out, and it offers adult-friendly legroom in the backseat. Only two child-safety seats fit in the Soul, but the wide, flat seat and exposed Latch anchors mean it's easy to install the car seats and they fit well.
The cargo area is also far from compact, with 24.2 cubic feet of space behind the rear seats — enough for a small stroller and several grocery bags. Even handier are the Soul's underfloor storage bins, which are great for stashing emergency supplies or keeping valuables out of sight. Fold the second row and there's 61.3 cubic feet of space — more than Kia's compact crossover, the Sportage.
Bonus: The Soul proves that practicality doesn't always have to trump personality in terms of a family car. Kids will love the Soul's funky styling and bright colors, and parents will have no trouble with its affordable starting price ($15,900, including destination) and Top Safety Pick designation from the Insurance Institute for Highway Safety.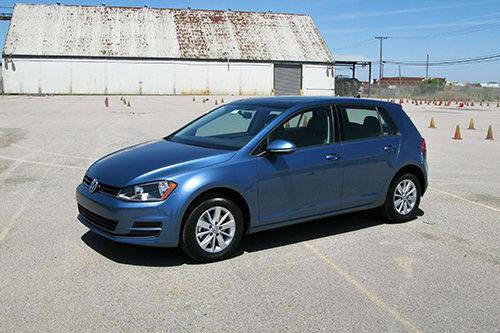 Getting there is half the fun, right? For parents who put an emphasis on the drive, the Volkswagen Golf delivers an exciting ride thanks to nimble road manners and a zippy, 170-horsepower, turbocharged 1.8-liter four-cylinder engine. The Golf's hatchback body style delivers, too; cargo loading is easy, and there's 22.8 cubic feet of space behind the rear seat. Cars.com family contributor Carrie Kim says the cargo area may not be roomy enough to swallow a double stroller, but it easily handled a grocery shopping run, with plenty of room for several large bags. Fold the 60/40-split backseat to create 52.7 cubic feet of space.
Two child-safety seats aren't a problem, either. The GTI, the Golf's high-performance sibling, aced our Car Seat Check thanks to accessible Latch anchors and enough room to install a rear-facing seat without eating into the front passenger's legroom. Smaller families looking for a blend of performance and functionality will find it in the 2015 Golf.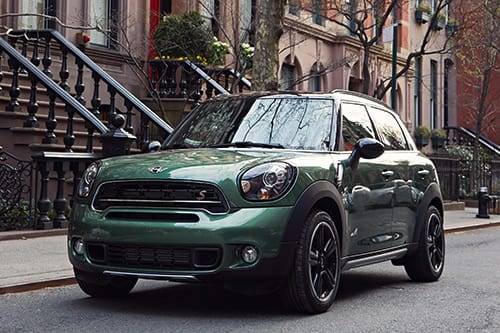 Moms and dads pining for the child-free days of zipping around in a cute, fun-to-drive coupe need not give up the dream. The 2015 four-door Mini Countryman checks those boxes and has room for the kids, as long as they're out of rear-facing car seats.
This Mini is bigger than it sounds. The five-passenger Countryman offers a spacious 33.8 inches of rear legroom, and its tall, squared-off roofline means headroom is generous, too. Rear-facing car seats will steal some legroom from the front passenger, but the Mini handles forward-facing car seats with ease. The same goes for the cargo area: squeezing in a giant jogging stroller is a no-go, but your toddler's umbrella stroller will fit just fine in the cargo area's 16.5 cubic feet of space. Lift the load floor for a bit of extra storage space. Making a kid-free run to the store? Fold the seats down for an impressive 41.3 cubic feet of cargo space.
It checks the safety box, too; the Countryman is an IIHS Top Safety Pick, acing the agency's tough small overlap front crash test. For a cozy, fun-to-drive car with loads of style, small families with older kids will find a winner in the 2015 Mini Countryman.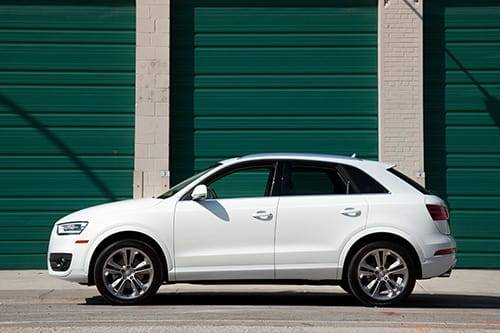 Audi's tiny crossover packs a big punch in the comfort and luxury departments. With the 2015 Q3, smaller families with roomy budgets will find enough space and loads of standard creature comforts (leather seats and a panoramic moonroof, for starters) to make everyone happy.
Slotting below Audi's Q5 compact crossover, the Q3 could be called a subcompact, but it makes good use of its interior space both in terms of passenger room and cargo capacity. With 31.1 inches of rear legroom, two adults have enough space, and the Q3 performed well in our Car Seat Check. Parents will love the exposed Latch anchors, and we were able to fit a rear-facing convertible seat in without borrowing legroom from the front-seat passenger.
Behind the rear seats, there's 16.7 cubic feet of interior cargo volume — not a ton, but enough for some groceries or small pieces of luggage. Fold the 60/40-split backseat for a maximum of 48.2 cubic feet. If compact luxury is on your family's shopping list, the Q3 will deliver.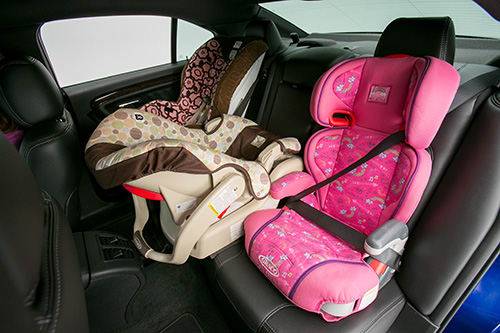 But wait — what if you have three kids? None of the above unexpected family vehicles will work if you have a larger family, but hauling three kids around doesn't automatically land you in a minivan. A full-size sedan may not be sexy-looking or fun to drive, but don't count it out when it comes to delivering enough room and comfort for Mom, Dad and a few rug rats.
There are a lot of capable vehicles in the full-size sedan class, but families with three kids will fit well in the Ford Taurus. It may have fallen short overall in Cars.com's Full-Size Sedan Challenge, but it's one of the only full-size sedans that can comfortably and safely hold three car seats (the Chrysler 300's backseat also earns that distinction). We were also able to install two space-hogging rear-facing infant seats in the backseat without impacting front-passenger legroom.
The Taurus' trunk is no slouch, either. With 20.1 cubic feet of space, it's the biggest in the segment and easily handles strollers and larger pieces of luggage thanks to its wide mouth, low liftover height and space-saving strut hinges.
Parents should also check out the 2015 Impala; Chevrolet's large car excels at road trips, with a comfortable ride and roomy quarters. The trunk's 18.8 cubic feet of space is also competitive, and although we couldn't technically make our three child-safety seats fit in the backseat, it was pretty close.
Cars.com photos by Evan Sears, David Thomas and Carrie Kim; manufacturer images