For IIHS Safety Awards, Not All Cars Are Equal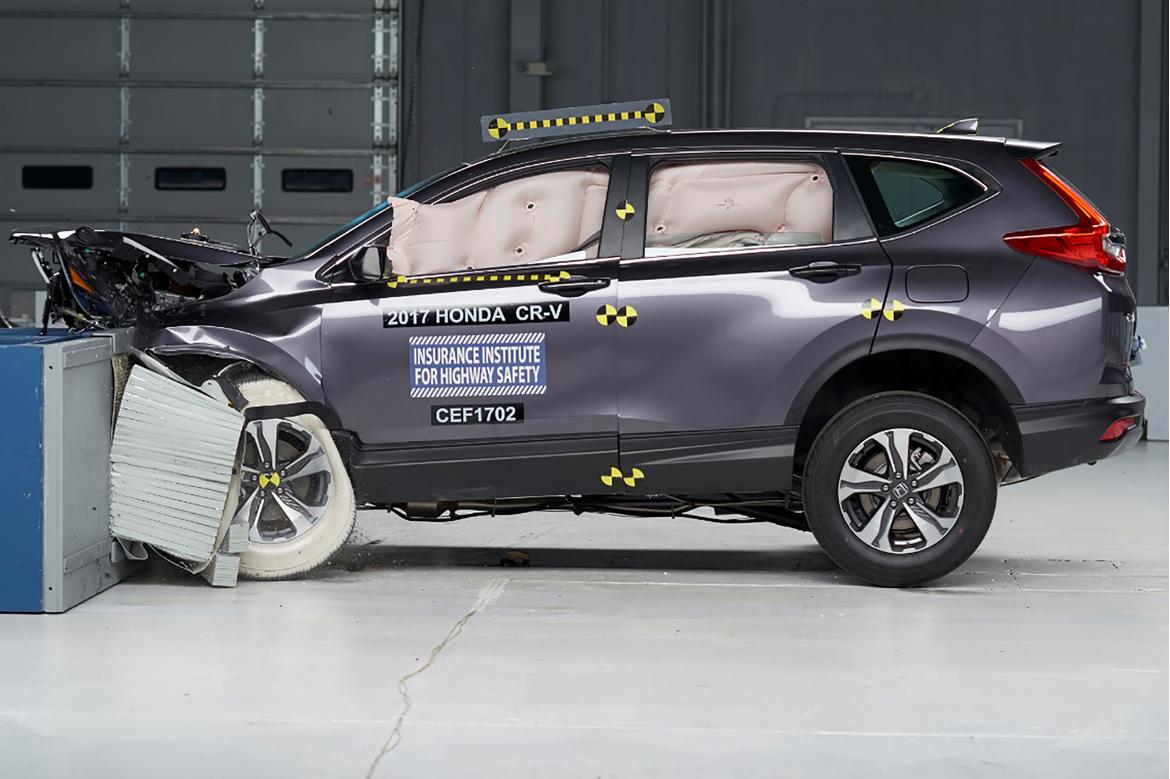 CARS.COM — The Insurance Institute for Highway Safety's crashworthiness awards — called Top Safety Pick and Top Safety Pick Plus — are coveted accolades that automakers often advertise. But if you see the distinction on a model you're shopping, read the fine print: It may not apply to the example you want to buy.
Related: Semitrailer Add-On Could Curb Underride Deaths
The criteria for Top Safety Pick and Top Safety Pick Plus awards — the latter added about five years ago — are a moving target, often changing such that an awardee one year goes undecorated the next. The designations factor in five IIHS crash tests with dynamic evaluations of headlight effectiveness and forward collision avoidance systems.
But those awards can leave many variants of a car out of the winner's circle. Though automakers generally say as much in their messaging, in some cases only a small minority of available configurations have the chops for the award, even as all versions enjoy the distinction.
Indeed, out of nearly 100 cars that earned Top Safety Pick or Top Safety Pick Plus for the 2017 model year, only 13 carried the distinction with no strings attached, which is to say any version you buy has all the safety features needed for the award. (Those cars are the Acura RLX and MDX; Audi Q7; Genesis G80 and G90; Toyota Corolla, Highlander, Prius, Prius Prime and Yaris iA; Volkswagen Passat; and Volvo S90 and XC90.)
Your Car Might Merit the Lesser Award ...
The designations aren't always binary. Some Top Safety Pick Plus cars might need every option for Plus status even as mainstream trim levels have enough safety features to secure the lesser Top Safety Pick award.
Take the redesigned 2018 Honda Odyssey minivan. It's a Top Safety Pick Plus, but its optional LED headlights — a well-rated feature required for Top Safety Pick Plus status — come only on the highest two out of five possible trim levels.
All but the Odyssey's lowest trim level, by contrast, have a Honda Sensing package with well-rated forward collision warning and automatic emergency braking. Honda Sensing theoretically qualifies lesser Odysseys as Top Safety Pick cars (minus the Plus), and Honda says 99 percent of early sales have the feature. But IIHS makes no such distinction.
"You can certainly have vehicles that have Top Safety Pick Plus [status] with certain equipment that are also Top Safety Pick without that equipment," said Russ Rader, the agency's communications chief. "But we just give one award."
... But It Might Not
For some Plus cars, however, most examples wouldn't even get the lesser designation. Take the 2017 Hyundai Elantra sedan, a Top Safety Pick Plus that received top scores in the agency's evaluations of headlights and automatic braking systems. To get the accolade, you'd have to buy the Elantra's top trim level, Limited, then add two more options packages to get automatic emergency braking and adaptive high-intensity-discharge headlights. Both are necessary for the award.
In short, you'd have to load an Elantra to the gunwales to get a Top Safety Pick Plus car. And fewer than 1 in 20 shoppers do so, Hyundai admits. The take rate for automatic emergency braking in the 2017 model-year Elantra sedan is less than 5 percent, a spokesman told us.
Hyundai is hardly alone. Only 1 in 8 shoppers opt for automatic braking on the 2017 Ford Fusion, which is part of a driver-assistance package on mid-level trims. Ford says only about 13 percent of all Fusions sold have the feature. Still, IIHS rated it well enough to earn the 2017 Fusion a Top Safety Pick — an accolade that doesn't apply to 87 percent of examples sold.
Similar situations apply to cars ranging from the Honda Civic coupe to the Nissan Pathfinder SUV, which restrict their well-rated automatic braking systems to top trim levels. A Cars.com inventory analysis indicates just 19.1 percent of 2017 Pathfinders are sold with the safety features necessary to earn the nameplate's Top Safety Pick award. For the 2017 Civic coupe, another Top Safety Pick, just 9.3 percent of cars sold met the award criteria.
Availability to Ubiquity
Of course, cars with wider availability have a higher take rate. The 2017 Kia Cadenza and 2017 Nissan Maxima, both Top Safety Pick Plus cars, include well-rated headlights and automatic braking on two trim levels each. Not surprisingly, Cars.com found 32.9 percent of Cadenza and 38.2 percent of Maxima sedans sold have the goods for Top Safety Pick Plus status.
Forward collision warning with automatic emergency braking should spread to further trim levels. Automakers have vowed to make it standard by 2022, with mass-market brands like Toyota and Nissan installing it by the 2018 model year in all versions of core models.
Rader expects similar proliferation of the high-tech headlights needed for Plus status. He likens the technology to electronic stability systems, which the National Highway Traffic Safety Administration has required since 2012.
"Before it became a federal requirement, we added electronic stability control to our safety ratings, and at the beginning, for some vehicles it was only available on higher-end trim levels, and then it gradually spread through the fleet," Rader said. "And then, of course, NHTSA mandated it. And we think the same thing will happen with headlights that the better headlights will become ubiquitous even on the lower trim lines soon."
'Can't Just Be a Footnote'
For awarded cars that need optional features to qualify, IIHS requires automakers point that out in their messaging. And the agency aims to ensure the fine print isn't, well, so fine.
"It's difficult for consumers," Rader admitted. "It's something we require the automakers to — beyond fine print — to actually say in their advertising prominently, that [the award] only applies to vehicles that are equipped with those features."
IIHS requires automakers to submit advertising and press releases that reference the awards to the agency for approval, Rader said. The agency has taken action before when automakers published misleading information or didn't seek approval, he added.
When the agency's award requires optional equipment on a given car, it "can't just be a footnote or an asterisk," Rader said. "We're trying to police social media in the same way, so if you look up — for example, if you look up on Twitter for Top Safety Pick, you'll see how the automakers are handling that."