Ford's Driving Skills for Life Makes Big Impression on My Teen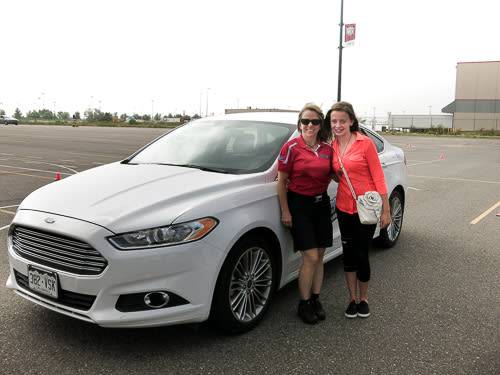 While my 14-year-old daughter isn't old enough to drive yet, I jumped at the opportunity to take her to Ford's Driving Skills for Life, an internationally touring program that teaches teen drivers and their parents about road perils that may not be addressed in traditional driver's education programs. I figured there was no better time to start exposing her to some life-saving lessons.
Read More #FamilyCarAdvice
There was one lesson in particular that my daughter learned at the event, and it wasn't even a lesson the program intended to teach: Among the modules that teens rotate through in this half-day program, drivers get behind the wheel wearing "fatal-vision" goggles. They're designed to simulate the effects of impaired driving, and participants wear them while attempting to navigate at low speeds through a driving course. Since my daughter couldn't drive the course, she got into the backseat while I drove.
My daughter Catalin recounts the exercise:
"The impaired-driving simulation was so interesting. First, the coach had my mom go through a relatively easy coned-off course (she did a great job!). Then, he had both of us put on fatal-vision goggles, and the outcome was much different. She was running over cones right, left and center and even managed to drive off the course entirely at one point. After experiencing that, I can say I never want to get in a car with someone who is under the influence or get behind the wheel myself under those circumstances."
The exercise was designed to show teens they should never get behind the wheel of a car while impaired, but the equally important (and often less-touted) lesson learned in my daughter's situation was to never ride in a car with an impaired driver. This lesson was so powerful that I hope Ford will allow more teens to sit in the backseat while another participant is working through the impaired-driving course in the future.
As parents, we have a responsibility to teach our teens to be responsible drivers. However, we can't forget that our kids will often be passengers in a car that another teen is driving. It's just as important that we teach them to be responsible for their own safety, even as passengers.
I spoke to Steven Tepper, president of Driver's Edge, a nonprofit safe-driving program for teens, about this experience.
"The word 'impaired' should be reframed for parents and teens to include distraction impairments as well (texting while driving, for example), not just substance impairments," he said.
If our teens find themselves in a car with an impaired or distracted driver, my sister-in-law has a great tip: "If they won't pull over to let you out," she says, "just say you're carsick and about to puke. No teen wants to clean barf out of their car. Chances are they'll pull over immediately."
Cars.com photo by Kristin Varela