How Do Car Seats Fit in a 2019 Ford Mustang GT?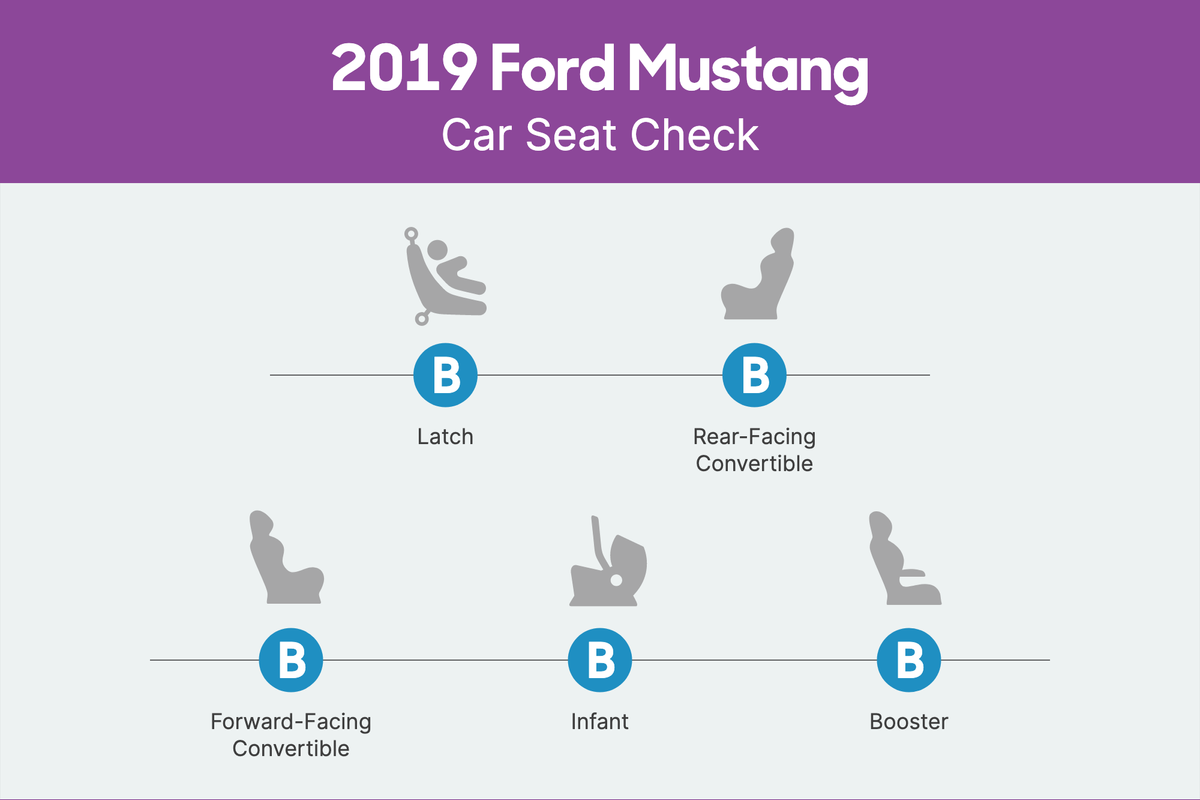 Editor's note: This Car Seat Check was written in June 2018 about the 2018 Ford Mustang GT. Little of substance has changed with this year's model. See what's new for 2019 or check out a side-by-side comparison of the two model years.
The verdict: If you're concerning yourself with how well car seats fit in a Ford Mustang GT, well, first of all, we salute you for not giving in to the SUV siren's song that's resulted a sea of sedans dashed on the rocky shore of the monthly auto sales charts — including every other Ford car besides the Mustang. And, if we may say so, your little one or ones are going to get what we feel is a proper early education on the joys of rapid acceleration. We recently tested the GT's claim of being able to run a sub-4-second zero-to-60-mph sprint and — wouldn't ya know it? — the Ford Mustang's boast proved out. But now you have precious cargo to worry about, and we're pleased to report that, despite underwhelming scores for past Mustang Car Seat Checks, this one went pretty well for a sporty coupe with a tight backseat and sloping rear roofline.
Does it fit three car seats? No
Take a look at how the Latch system and each car seat scored below in our Car Seat Check of the 2019 Ford Mustang GT.
Related: Search Car Seat Checks
A Grade
B Grade
Latch: Two sets of lower Latch anchors, though well-marked and easy to find, sit an inconvenient 2 inches inside the seat, requiring the installer to push through slits in the rather stiff leather upholstery. Two sets of top tether anchors can be found under hinged plastic covers on top of the rear shelf.
Infant seat: This seat installed easily, with the skinny, hooklike connectors finding their mark with surprisingly little effort considering the deep positioning of the Latch anchors, and leaving enough legroom for even a 6-foot-1-inch-tall passenger to enjoy modest comfort in the front passenger seat.
Rear-facing convertible: Our rear-facing convertible seat also installed with relative ease and did not require us to move the passenger seat forward. The seat's chunky connectors required a little more force to penetrate the slit in the leather upholstery, but nothing Herculean.
Forward-facing convertible: The seat also installed easily enough in the forward-facing position and, again, required no fussing with the front passenger seat. The biggest complaint with installing this seat in either position was having to scrunch and contort my body into the car in ways I'm not really built for — but, c'mon, you knew you were putting kid seats in a Mustang.
Booster: This install was fine and the notably aggressive seat bolstering (somehow) doesn't interfere too severely with how the booster sits on the seat bottom. Despite the vehicle's seat belt buckles sitting on stable bases, however, they're recessed just enough so that kids will have trouble grasping them.
C Grade
About Cars.com's Car Seat Checks
Editors Jennifer Geiger, Jennifer Newman and Matt Schmitz are certified child safety seat installation technicians.
For the Car Seat Check, we use a Graco SnugRide Classic Connect 30 infant-safety seat, a Britax Marathon convertible seat and Graco TurboBooster seat. The front seats are adjusted for a 6-foot driver and a shorter passenger. The three child seats are installed in the second row. The booster seat sits behind the driver's seat, and the infant and convertible seats are installed behind the front passenger seat.
We also install the forward-facing convertible in the second row's middle seat with the booster and infant seat in the outboard seats to see if three car seats will fit; a child sitting in the booster seat must be able to reach the seat belt buckle. If there's a third row, we install the booster seat and a forward-facing convertible. Learn more about how we conduct our Car Seat Checks.
Parents should also remember that they can use the Latch system or a seat belt to install a car seat, and that Latch anchors have a weight limit of 65 pounds, including the weight of the child and the weight of the seat itself.
Cars.com's Editorial department is your source for automotive news and reviews. In line with Cars.com's long-standing ethics policy, editors and reviewers don't accept gifts or free trips from automakers. The Editorial department is independent of Cars.com's advertising, sales and sponsored content departments.