IIHS Rates Latch Access in 102 Cars; Only 3 Earn Top Ratings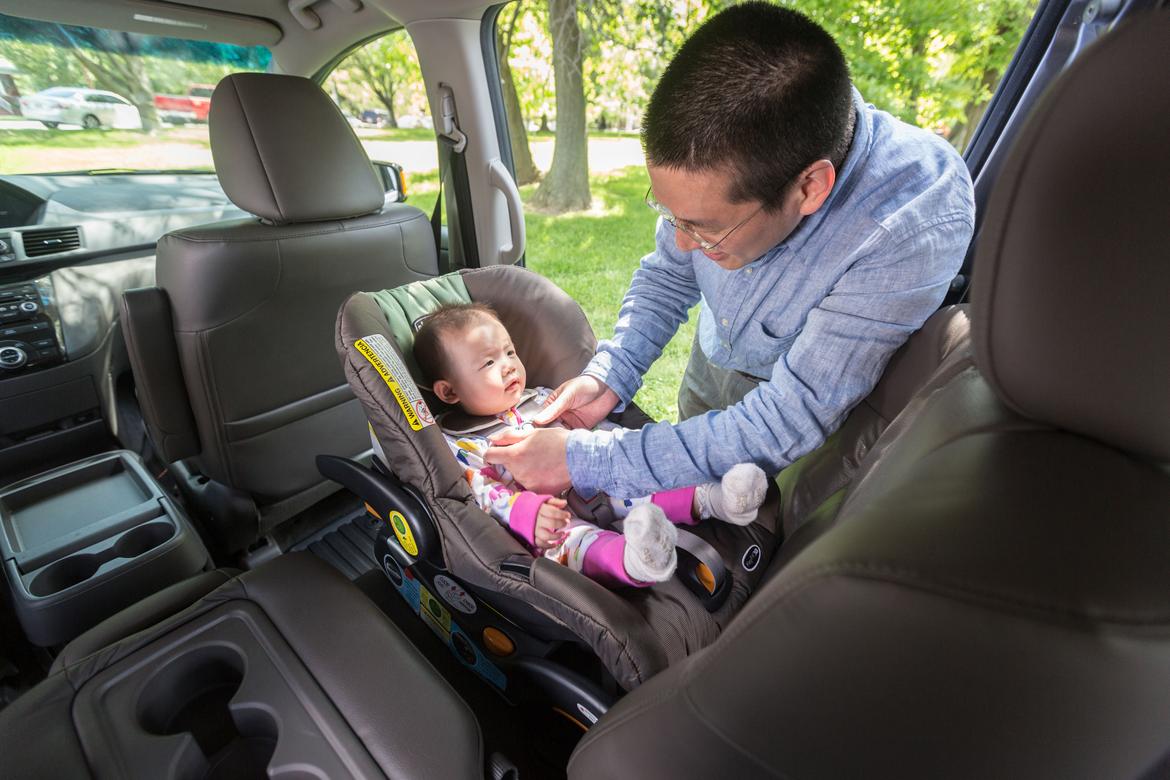 At Cars.com, we've been evaluating car-seat fit and ease of installation using a vehicle's Latch system for more than five years and reporting our findings in our Car Seat Checks. The Insurance Institute for Highway Safety is now conducting similar tests. The agency today released results of its evaluation of 102 car models' Latch systems and only three cars — the BMW 5 Series, Mercedes-Benz GL-Class and Volkswagen Passat — met its criteria for the top rating of good.
Related: How Cars.com Conducts Car Seat Checks
The Latch system uses two kinds of anchors to secure child-safety seats in a car's backseat. The lower Latch anchors are found in the seat bight, the area where the back and bottom cushions meet. They come as a pair and are used with all kinds of car seats. Top tether anchors secure the top of a forward-facing convertible or combination seat, limiting a child's forward head motion in a crash.
While the Latch system is federally required in any car with a backseat made after 2001, our tests have led us to conclude that some Latch systems are better than others.
IIHS' latest tests concur. With only three cars earning the top score of good on a scale of good, acceptable, marginal or poor, 44 received an acceptable rating, 45 were judged marginal and 10 cars earned a poor score.
In IIHS' tests, the Latch system is rated good if:
The lower Latch anchors are no more than three-quarters of an inch deep in the seat bight, where the back and bottom cushions meet.
The lower anchors have a clearance angle of more than 54 degrees, making them easy to maneuver around.
The force required to attach a standardized tool to the lower anchors is less than 40 pounds; this simulates attaching a car seat's Latch connector to the anchor, though the force required depends on the type of Latch connector on a particular car seat.
Tether anchors are on the car's rear shelf, which in a sedan is behind the rear head restraints, or on the top 85 percent of the seatback. Tether anchors shouldn't be at the bottom of seatbacks, under seats, or on the ceiling or floor.
There shouldn't be any other hardware near the tether anchor that could be confused for it. If other hardware is present, the tether must be clearly labeled.
To receive an acceptable rating, two of a car's Latch positions much meet at least two of the three requirements above for lower anchors and one of the two tether requirements. A car's Latch system is rated as marginal if the tether requirements aren't met in either position or only one lower Latch anchor requirement is met. Poor is the lowest grade, and a vehicle receives this rating when it meets fewer criteria than the marginal standard calls for.
The ratings are based on the two best Latch positions available in the second row. It's important to note that Latch system configurations can vary depending on a car's trim level. IIHS' ratings are for the trim "believed to be the most popular." All cars listed are model-year 2015 unless otherwise noted.
GOOD
BMW 5 Series
Mercedes-Benz GL-Class
Volkswagen Passat
ACCEPTABLE
Acura MDX
Buick Enclave
Chevrolet Cruze
Chevrolet Equinox
Chevrolet Impala
Chevrolet Malibu
Chevrolet Tahoe
Chevrolet Traverse
Chrysler 300
Chrysler Town & Country
Dodge Dart
Dodge Durango
Dodge Grand Caravan
Ford Edge
Ford Expedition
Ford Explorer
Ford Flex
Ford Focus
Ford Taurus
GMC Terrain
GMC Yukon XL
Honda Civic
Honda Odyssey
Honda Pilot
Hyundai Santa Fe
Jeep Cherokee
Jeep Compass
Kia Forte
Kia Optima
Kia Sedona
Kia Sorento
Kia Soul
Lexus GX
Mazda3
Mazda CX-5
Mercedes-Benz C-Class
Mercedes-Benz E-Class
Mitsubishi Outlander Sport
Nissan Maxima (2014)
Nissan Murano
Nissan Pathfinder
Nissan Versa
Toyota Camry
Volvo S60
MARGINAL
Acura RDX (2016)
Audi Q7
BMW 3 Series
BMW X3 (2016)
BMW X5
Buick LaCrosse
Cadillac SRX
Chevrolet Sonic
Chrysler 200
Dodge Charger
Dodge Journey
Ford Escape
Ford F-150
Ford Fusion
GMC Acadia
Honda Accord
Honda CR-V
Hyundai Elantra
Hyundai Sonata
Infiniti QX60
Jeep Grand Cherokee
Jeep Wrangler
Lexus CT 200h
Lexus NX
Lexus RC
Lexus RX
Mazda CX-9
Mini Cooper
Nissan Frontier
Nissan Quest
Nissan Rogue
Nissan Sentra
Ram 1500
Subaru Forester
Subaru Impreza
Subaru Outback
Subaru XV Crosstrek
Toyota 4Runner
Toyota Avalon
Toyota Corolla
Toyota Highlander
Toyota Prius
Toyota RAV4
Volvo V60
Volvo XC60
POOR
Chevrolet Silverado 1500
Ford Fiesta
GMC Sierra 1500
Hyundai Accent
Lexus ES
Mazda6
Nissan Altima
Toyota Sienna
Toyota Tundra
Volkswagen Jetta