Kicking Gas and Taking Names: Which Hybrid Is Better, Camry or Accord?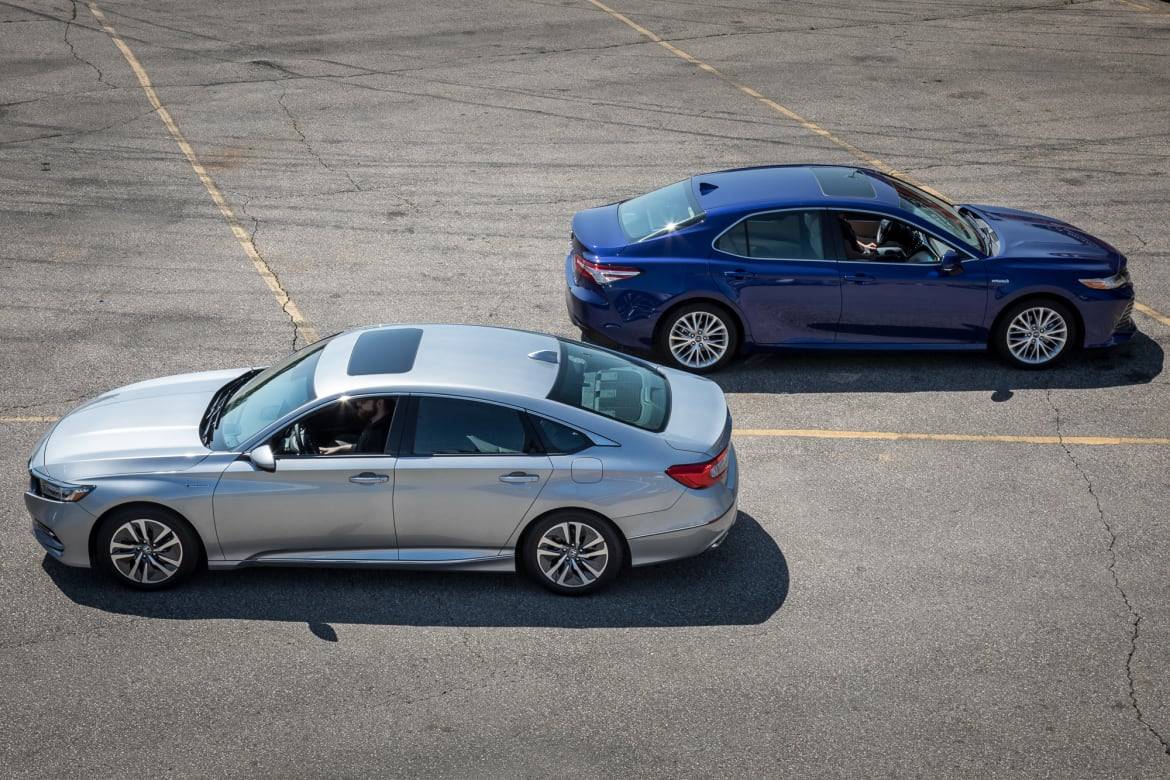 Good news: The quest for 50 mpg need not end in a Toyota Prius. It does require a hybrid, but you can hit that mark without going all hatchback. In fact, cars as mainstream as the Toyota Camry and Honda Accord now boast EPA-estimated combined mileage near the big five-oh with their hybrid variants, thanks to respective overhauls for the 2018 model year.
We put both the 2018 Toyota Camry Hybrid and 2018 Honda Accord Hybrid to the test, logging mileage and acceleration numbers in an Accord Hybrid Touring and Camry Hybrid XLE, top trim levels of each. Senior Consumer Affairs Editor Kelsey Mays and Production Editor Brian Normile drove about 165 miles in the two cars during a daylong loop around the Chicago metro area, where we consumed many hours of grunge-tastic SiriusXM Channel 34 despite neither of us wearing flannel that day.
Related: 2018 Toyota Camry Vs. 2018 Honda Accord: Video
EPA estimates for mileage on the Camry Hybrid are 44/47/46 mpg for SE and XLE trim levels. That's right about the same as the Accord Hybrid's 47/47/47 mpg. Those numbers put the two sedans into a rarified club of high-mileage family sedans that also includes the Chevrolet Malibu Hybrid, which boasts an EPA-estimated 46 mpg combined — impressive figures for all three, considering they come after the EPA's recent industrywide mileage revisions that knocked many cars down a rung.
Given the importance of fuel efficiency for hybrid shoppers, we derived the largest single chunk of our scores from observed mileage, with a few other scores to round things out. You'll note we didn't score areas like backseat comfort, car-seat provisions, visibility, safety features or storage space — important factors for sedan shoppers at large and ones we typically incorporate into our full comparison tests, but tertiary concerns in the interest of keeping mileage front and center.
Caveats aside, here's how the two cars fared.
Observed Mileage (40 Percent of Total Score)
Winner: Camry Hybrid (40 points, Accord Hybrid 39 points)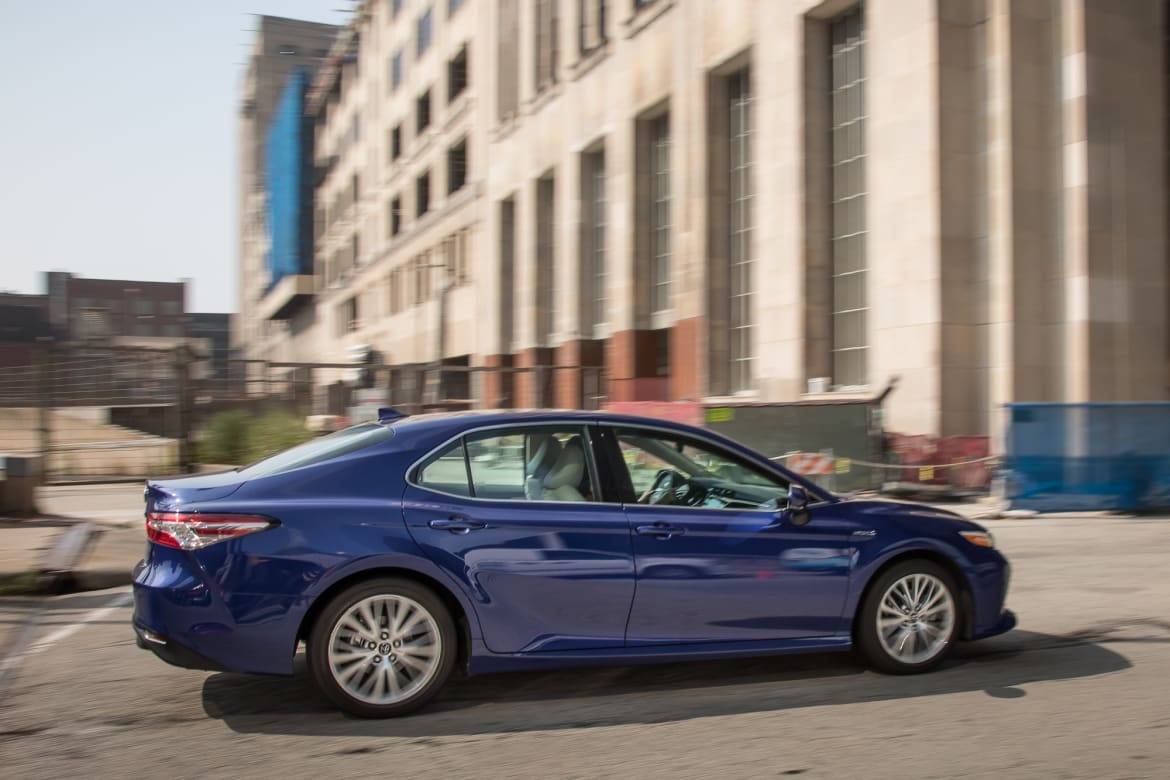 The Camry Hybrid prevailed, but only by a smidge. Our trip took nearly five hours and covered 165.9 miles (168.1 miles in the Accord Hybrid due to a wrong turn) as we thrice traded cars to drive each car for two route segments apiece. In the end, the Camry Hybrid returned 53.5 mpg, a slight edge over the Accord's 52.1 mpg.
Our cars each beat their respective published EPA ratings by double-digit percentages. The Accord Hybrid bested its combined EPA figure by about 11 percent, while the Camry Hybrid pasted its rating by some 16 percent. Heck, our test car even edged out the EPA rating on the substantially more efficient Camry Hybrid LE, which is rated 52 mpg combined in part thanks to a lighter, higher-tech battery versus the unit in the XLE we tested.
How we tested: We set proper cold-tire pressure in both cars and began and ended the trip at the same gas station and same pump, driving as we normally would without cruise control or any open windows. Temperatures ran from the high 70s to low 80s all day, so air conditioning saw heavy use with both cars' automatic climate control systems set to fully automatic mode at 70 degrees. With a mix of highway and suburban driving with occasional traffic, we averaged about 35 mph. Our observed mileage stems from an average of two data points: trip-computer mpg and at-the-pump calculations. The latter came to 54.6 mpg for both cars, so Camry Hybrid's trip-computer readout (51.9 mpg) proved the tiebreaker, beating the Accord Hybrid's readout (49.6 mpg) by about 5 percent.
Drivetrain Refinement (10 Percent)
Winner: Camry Hybrid (8 points, Accord Hybrid 7 points)
Mays: "The Camry Hybrid wins for me. It may have feeble all-electric power up front and require the engine to swoop in almost immediately, but the latter ramps up swiftly thereafter, kicking revs high without too much droning for reasonably linear acceleration. The Accord Hybrid has more all-electric oomph off the line, with initial power that evokes a fully electric car. The engine kicks in eventually — and smoothly — but it revs slower than the Camry Hybrid's drivetrain. The Accord Hybrid is palpably quicker when all systems are go, but around town it delivers a noisier, less-linear experience."
Normile: "I'm calling this one a draw. I found the Accord Hybrid's quick acceleration in stop-and-go city driving worth the trade-off in additional noise over the Camry Hybrid's more sluggish starts and slightly quieter powertrain. Power delivery for both drivetrains effectively mimics a good continuously variable transmission on a non-hybrid car. The Accord Hybrid's Sport mode stood out as well, producing a noticeable change in acceleration behavior. The Camry Hybrid's Sport mode, meanwhile, didn't make much of a difference in terms of throttle response, which was disappointing."
Ride Quality (10 Percent)
Winner: Draw (Camry Hybrid 8 points, Accord Hybrid 8 points)
Mays: "All trim levels of the redesigned Accord I'd previously driven had 19-inch wheels —  a setup some may still deem a touch firm, despite big steps forward in ride quality for this redesign — until now. With the Accord's optional adaptive shock absorbers and 17-inch wheels with thicker tires, our Accord Hybrid Touring blended sophisticated ride control with some much appreciated softness in shock absorption. But the Camry Hybrid shined, too, with the same excellent ride comfort of its non-hybrid sibling. This is a draw."
Normile: "This comes down to where most of your driving takes place. The Accord shone around the street portions of our drive loop and driving around the, uh, less smooth streets of Chicago. It handled bumps and potholes with ease. In highway driving, however, it felt less stable. The Camry was the reverse, providing a calm highway ride while feeling less comfortable in the city. Neither was unforgivably bad or even below average in either environment, however. Draw."
Noise (10 Percent)
Winner: Draw (Accord Hybrid 5 points, Camry Hybrid 5 points)
Mays: "Neither car is particularly quiet in terms of road and wind noise, and switching between them for various driving conditions only proved that point. Just when I thought the Accord Hybrid was the noisier of the pair, I'd switch back to the Camry Hybrid for a particularly noisy stretch. The Accord Hybrid has a louder drivetrain when revved, but its slight edge in overall power means you don't need to go full throttle as often. This one's a tie for me, but not in a good way."
Normile: "Bless the engineers at both companies for getting rid of most of the powertrain noise that could've plagued either car, but that's where it ends for me. Road and wind noise from both cars nearly drowned out the stereo, particularly on the highway. I'm giving a slight edge to the Accord Hybrid, but only because of a pet peeve of mine: the Camry's pedestrian warning sound — designed to alert pedestrians of the car since the car might not make enough noise naturally — invades the cabin when stopping and accelerating from a stop. It isn't enough to dock another full point in this category, but it sounds like a sad robot powering down and drove me crazy in stop-and-go traffic. Maybe it's a lack of soundproofing insulation — and based on the tinny sound the doors produce when you close them, it just might be — but whatever it is, it needs to be fixed."
Interior Comfort and Quality (10 Percent)
Winner: Camry Hybrid (9 points, Accord Hybrid 6 points)
Mays: "The Camry has steep drop-offs in materials quality when you get below XLE or XSE grades, but our hybrid example was an XLE. As such, cabin quality is substantially better than in the Accord Hybrid. The Accord has a fresher layout with more personality, to be sure, but that's not what we're grading. Honda drops the ball in too many areas with cheap, shiny plastics at arm and elbow level, especially in the backseat, and the Camry Hybrid — in XLE grade, anyway — feels richer all around. I prefer the Accord's supportive seats to the Camry's overstuffed chairs, but Honda's seating position is too sunken for my liking, and a hard outcropping on the center stack makes like a brick on my inboard knee. The Camry Hybrid wins decisively for me."
Normile: "I'm not as high on the Camry's interior as Kelsey, but he's not wrong that it's nicer than what you get in the Accord. The leather feels higher quality in the Camry, and the trim materials look more upscale by not so blatantly pretending to be a material they aren't. The 'wood' trim in the Honda not only looks obviously fake but gives the impression that whatever environment saving your Accord Hybrid is doing has been offset by cutting down a tree for aesthetic reasons. My main issue with the Camry is that the seats felt overstuffed, almost to the point where I was sitting on top of them. While my knee is still hurting from bumping against the Accord's center stack, I will say that its driver's seat memory feature — something lacking in the Camry — saved me a lot of aggravation switching back and forth between the two cars."
Value (10 Percent)
Winner: Accord Hybrid (8 points, Camry Hybrid 6 points)
Mays: "The Accord wins this for me. Our Camry Hybrid XLE ran $37,139 with destination charge — just $1,534, or 4.3 percent, more than our Accord Hybrid Touring ($35,605) and the margin shrinks even more when you consider that the Camry gets two years' free maintenance. Still, our Accord Hybrid had the edge on features thanks chiefly to its Apple CarPlay and Android Auto integration, which the Camry currently lacks on any trim, plus true lane-centering steering versus the Camry's pinball-style intervention. What's more, the Accord Hybrid Touring is just $910 more than a non-hybrid Accord Touring. The Camry Hybrid XLE, by contrast, runs close to $4,000 more than a non-hybrid Camry XLE."
Normile: "This is where the Accord really shines. Its pricing increase over a non-hybrid Touring model is more similar to the cost of adding an optional feature than an entire trim upgrade, like it is with the Camry. The Accord also has a built-in navigation system on top of Apple CarPlay and Android Auto, while the Camry has Toyota's Scout navigation app. That's not much of an alternative. Oh, and thanks for doing the math up there, Kelsey."
Acceleration Tests (10 Percent)
Winner: Accord Hybrid (10 points, Camry Hybrid 9 points)
If the Camry Hybrid edged out the Accord Hybrid on mileage, Honda had its revenge at the dragstrip. The Accord Hybrid hit 60 mph in a respectable 7.18 seconds, sailing through the quarter-mile in 15.42 seconds at 89.42 mph. Our best runs in the Camry Hybrid, by contrast, returned a more leisurely 7.99 seconds to 60 mph and 16 seconds flat at 89.86 mph through the quarter-mile.
The times only tell part of the story. The Accord Hybrid sold much of its power up front. But north of 65 mph, a mark the two cars hit within some 500 feet, the Camry began making up ground as the Accord Hybrid's drivetrain plateaued a bit. In short: The Accord Hybrid is quicker at first, but the Toyota makes up some lost ground later.
Overall winner: 2018 Toyota Camry Hybrid, 85 points to 83 points for the 2018 Honda Accord Hybrid
In an unsurprisingly close contest, the Camry Hybrid just barely eked out a victory over the Accord Hybrid. For a test that focused on efficiency, the Camry Hybrid's win in our fuel economy tests gave it the edge it needed to survive a loss in acceleration testing and a solid challenge from the Accord in our subjective scoring categories. Had we delved deeper into things like handling, cargo space or especially the differences in multimedia systems, the result could've easily swung in favor of the Accord Hybrid — as it did with our broader comparison between the two, where the Accord won a narrow victory thanks to its multimedia offerings and more-responsive drivetrain. As it stands, the Camry Hybrid wins the crown but the Accord Hybrid can walk away with its head held high.
Cars.com's Editorial department is your source for automotive news and reviews. In line with Cars.com's long-standing ethics policy, editors and reviewers don't accept gifts or free trips from automakers. The Editorial department is independent of Cars.com's advertising, sales and sponsored content departments.