Looking for a Family-Hauler? Get Ready to Compromise
CARS.COM — Life is full of compromises, even more so if yours is filled with three or four kids. With two kids, many cars — even the sportier models with more aggressive styling and boosted horsepower and torque — can work for a family, but add a third child and suddenly that sedan or compact crossover just won't cut it. That's when families begin considering three-row vehicles — SUVs, crossovers and minivans — and discover that these family-haulers come with their own compromises. Let's look at the options.
Related: Five Features to Look for in a Minivan
Known for their family-hauling prowess, the stigma attached to driving a minivan repels some parents from even considering them. When it comes to carting larger families around, many minivans win in the categories of fuel economy, third-row legroom and cargo area behind that third row. And then there's the awesomeness of sliding doors.
With minivans, some shoppers may argue the inherent compromise is on style and possibly their internal cool factor.
After compiling and comparing specs for the minivan class, the Honda Odyssey comes out on top with first- or second-place finishes in each category. The Odyssey's V-6 engine gets 19/28/22 mpg city/highway/combined, has 42.4 inches of third-row legroom and 38.4 cubic feet of cargo space behind the third row; it can seat seven or eight. The Toyota Sienna doesn't quite reach the same numbers, but it fares well with 18/25/21 mpg from its V-6 engine and 36.3 inches of third-row legroom; it also has seating for seven or eight occupants. It bests the Odyssey, however, with 39.1 cubic feet of space behind the third row.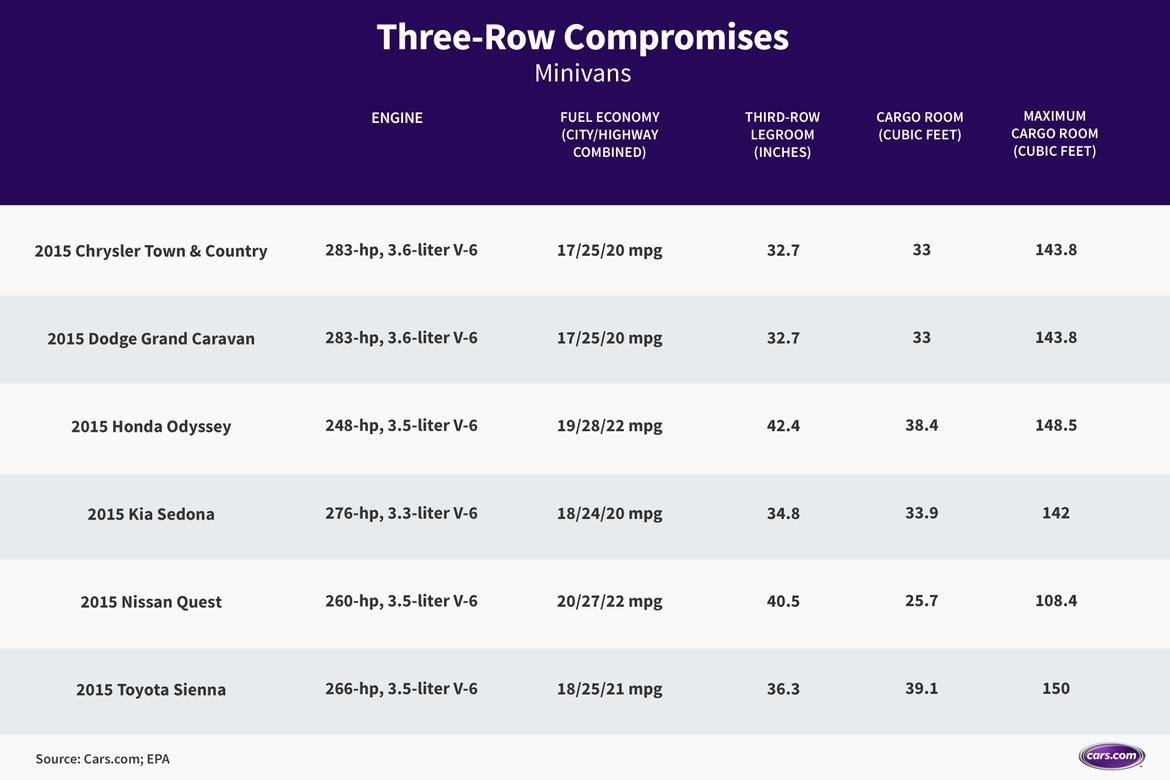 But what's life without choices? Maybe you just can't drive a minivan because it brings up too many childhood memories of riding in the back of one, or maybe you like the way you look in a three-row crossover or SUV. We crunched numbers to find out if any crossovers or SUV models can beat the Odyssey's and Sienna's family-friendly specs. To keep it an apples-to-apples comparison, we looked only at vehicles with a standard third row and specs for V-6 engines. This means we didn't include the Mazda5 because it only has a four-cylinder engine. In some cases, we had to include V-8 engines. We're keeping price out of the equation for this exercise.
In a popularity contest, large crossovers beat minivans every time. According to Automotive News, the Ford Explorer was 2014's best-selling three-row crossover with 209,994 sold, including police units; the Chrysler Town & Country was the best-selling minivan in 2014 with 138,040 sold.
However, crossovers and SUVs fall short when it comes to meeting or exceeding some of those minivan numbers. The GM siblings — Buick Enclave, Chevrolet Traverse and GMC Acadia — top the third-row legroom category for crossovers with 33.2 inches, which falls short of the Odyssey's 42.2 inches. The Ford Explorer also has 33.2 inches, and the Mazda CX-9, which hasn't been redesigned for nine years, has 32.4 inches of rear legroom.
When it comes to the cargo area, the GM crossovers differ slightly: The Traverse has 24.4 cubic feet of space, while the Acadia has 24.1, and the Enclave comes in last of the three at 23.3. The 2015 Honda Pilot has 18.0 cubic feet of space, but there's no word from Honda yet on what to expect from the redesigned 2016 Pilot. However, all these cargo specs can't measure up to the Sienna's class-topping 39.1 cubic feet.
Three crossovers beat the minivan lineup with their fuel economy: The Infiniti QX60 gets 21/27/23 mpg from its 3.5-liter V-6, the Acura MDX garners 20/28/23 mpg from its 3.5-liter V-6, and the Mitsubishi Outlander also gets 20/28/23 mpg from its 3.0-liter V-6. However, these three fuel-sipping family SUVs have cramped third rows and cargo areas.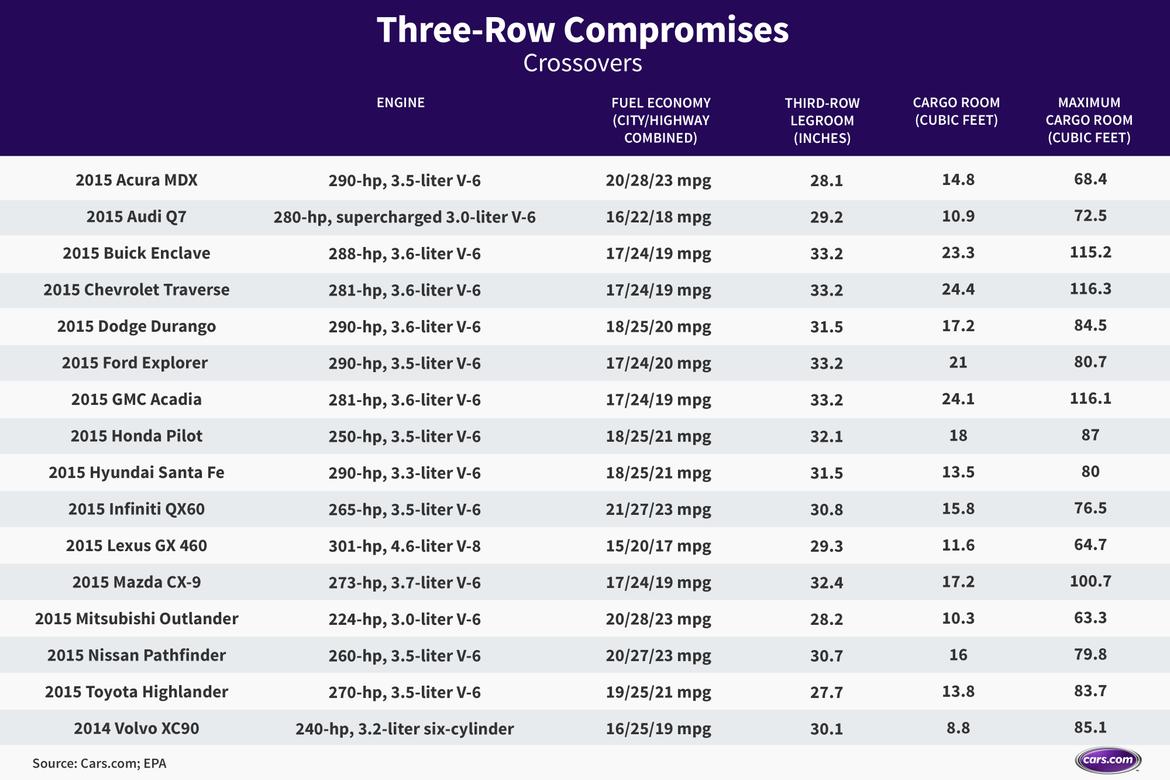 The tighter dimensions in these crossovers might swing you into a bigger-is-better mindset while shopping three-rows, and it can be, especially when it comes to the full-size SUV behemoths.
The Ford Flex leads the three-row class with its 18/25/20 mpg rating, 33.3 inches of third-row legroom and 20 cubic feet of cargo capacity, with its sibling, the Lincoln MKT, coming in with 17/25/20 mpg, 33 inches of legroom and 17.9 cubic feet. The Chevrolet Tahoe comes in third with 16/23/18 mpg, 24.8 inches and 15.3 cubic feet. The Flex's turbo V-6 helps it achieve impressive fuel-economy numbers that are close to those of the Sienna.
Just how does a shopper get those spacious minivan interior specs from anything but a minivan? By compromising on fuel economy and going big, really big. The Ford Expedition EL and its sibling, the Lincoln Navigator L, offer 37.7 inches of third-row legroom, which beats the Sienna's 36.3 inches. On the cargo front, they beat the Odyssey and Sienna with 42.6 cubic feet of space to haul nearly every item your family owns. The Expedition EL's fuel economy is 15/21/17 mpg, and the Navigator L gets 15/20/17 mpg; both use the twin-turbo V-6. GM has another set of siblings that deserve a look in this category: the Cadillac Escalade ESV, Chevrolet Suburban and GMC Yukon XL.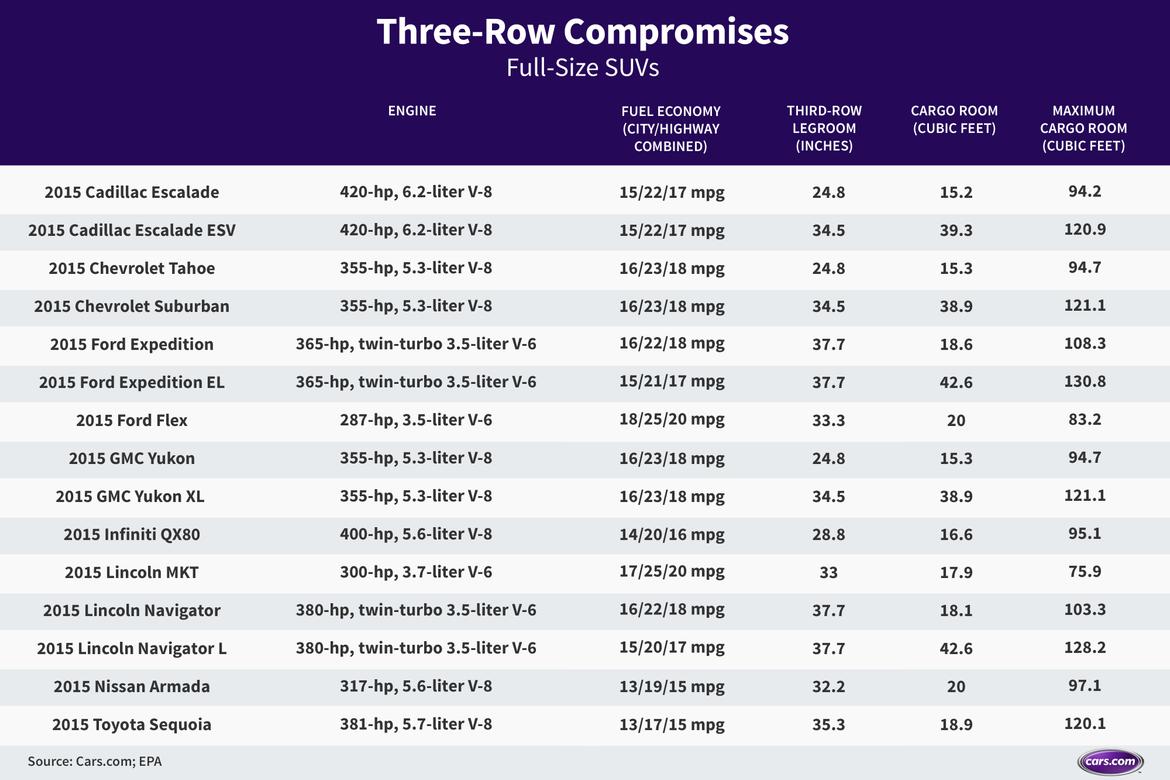 Style, gas mileage and interior space are all on the table when shopping for three-row SUVs and minivans. Finding the vehicle that best suits your family will involve compromises, but hopefully no regrets.
Cars.com's Editorial department is your source for automotive news and reviews. In line with Cars.com's long-standing ethics policy, editors and reviewers don't accept gifts or free trips from automakers. The Editorial department is independent of Cars.com's advertising, sales and sponsored content departments.