New Audi S6, S7 and S8: First Look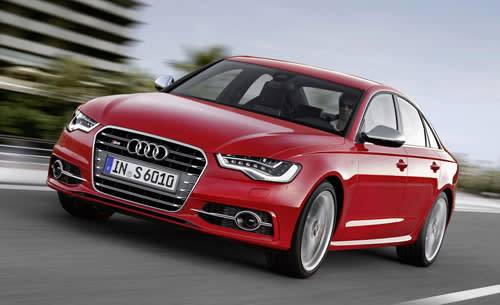 Competes with: S6 with BMW 550i; S7 with BMW 550i Gran Turismo; and S8 with Mercedes-Benz CLS 63 AMG
 Looks like: The A6, A7 and A8 with "S" badges
 Drivetrain: 420-horsepower, 4.0-liter twin-turbocharged V-8 with seven-speed automatic in S6 and S7; 520-hp version with eight-speed automatic in S8; all are all-wheel drive
 Hits dealerships: Spring 2012
You can kiss goodbye the V-10 engine in the former S6 and S8, as a smaller and more efficient V-8 becomes the most notable feature to the high-performance version of the luxury sedans, as well as the new S7 hatchback. Audi is introducing the three at the Frankfurt Motor Show in September.
 
All of the new S models use a 4.0-liter twin-turbocharged V-8 engine. In the S6 and S7, the boosted V-8 makes 420 horsepower, while the S8's V-8 packs a more potent 520 hp. This is a 110-hp jump from the A6 and A7's existing 3.0-liter supercharged V-6, and a 148-hp increase from the A8's V-8.
 
In the S6, the new engine is 25 percent more efficient than the outgoing V-10, Audi says, thanks to features like cylinder deactivation, which switches between four- and eight-cylinder operation.
 
Teamed to the S6 and S7 are all-wheel drive and a seven-speed automatic transmission. The S8 comes with an eight-speed-automatic transmission. All include a form of adaptive air suspension with variable dampening and selectable driving modes.
Audi promises zero to 62 mph in 4.8 seconds for the S6, 4.9 seconds for the S7 and a blistering 4.2 seconds for the heavier S8. 
 
Like previous S models, other than unique wheels and a slightly lowered stance, there are few flashy giveaways to what's under the hood. There are S6, S7 and S8 badges on the inside and outside, and more feature content compared with more pedestrian models. Our favorite S signatures — frosted silver side mirrors — remain standard.
 
Sport seats, brushed aluminum inlays and Alcantara and Pearl Nappa leather upholstery are standard on the S6 and S7.  Optional features are LED headlights, head-up display and 360-degree camera system.
 
On the S8, LED headlights, navigation system and 8-inch display are standard, and a 1,400-watt Bang & Olufsen stereo with 19 speakers is one of the optional features.