One Emergency Stop Will Make You Want Pedestrian Braking System
CARS.COM — As soon as I saw the pedestrian crossing in front of the car, impact seemed certain. But wait: The 2016 Chevrolet Malibu's pedestrian detection system with automatic braking quickly took over, averting disaster. And just like that, I'm a believer. If your travels include city streets, you want this technology on your next car.
Related: Automakers, Safety Officials Make Crash Avoidance Systems Standard by 2022
I tested the system and the pedestrian in this case was actually a blow-up dummy on tracks set up for demonstration. The first sign of the car taking charge is the sound of the seat belts as they yank tight and pin you against the seat. The brakes take hold in the same instant, halting the car from about 15 mph to zero to avoid mowing down the pedestrian in front of the car.
Pedestrian Braking: An Important Advance for City Driving
The Malibu's low-speed or "city-speed" system is designed to aid the driver in avoiding or mitigating crashes in urban driving, where the driver is bombarded with sensory input — signs, lights, sounds, cars, bicycles and pedestrians. "It's city driving," said Bill Baibak, an engineering manager with supplier ZF TRW, who was demonstrating the system. "It will operate at 20 kph (12.4 mph). Up to about 32 kph (20 mph), you should not hit the pedestrian. Up to 50 (31.1 mph), it will mitigate the impact." Put another way, it could prevent a death.
While the system's ability to recognize other vehicles was also demonstrated, its ability to recognize pedestrians, bicycles and motorcycles is a real advance. "Early on, it was primarily about vehicle recognition; pedestrian was an important step forward," said ZF TRW spokesman John Wilkerson. "In urban environments, so many people are killed every day — pedestrians and cyclists."
The problem is growing. In the just-released National Highway Traffic Safety Administration estimate of 2015 traffic fatalities, pedestrian deaths rose 10 percent, motorcyclists 9 percent and bicyclists 13 percent. In my city, Washington, D.C., a NHTSA study released in 2014 found pedestrians made up around half of all traffic fatalities.
The Driver Is Still in Charge
An automatic pedestrian braking system is not a replacement for driver attention. For one thing, the driver is still in charge. If you see the object and hit the brake, the system backs off and lets you take over. How and when are configurable in the system's software. "There are algorithms in place that if you touch the brake, we try to look at how much pressure you are applying ... but if you hit the brake pedal, there is a good chance the system is going to think that you are going to intervene," said Baibak. "But if you just tap it," added Wilkerson, the system "will continue to give you the maximum deceleration."
Camera systems, such as the single-lens setup in the Malibu, depend on an image processor and software to pick out the desired objects, such as pedestrians, from the background clutter. They are good but not perfect, though improvements are coming fast. For example, more work is being done on bicycle detection, said Baibak. This generation of the ZF TRW system is looking for people. "We currently will detect a bicycle, but we detect it as a pedestrian. Upcoming algorithms will be detecting it as its own separate class," he said. A bicycle traveling in the same direction as the vehicles "may not look like a pedestrian for some reason and, as a camera-only system, we want it to recognize it as a bicycle."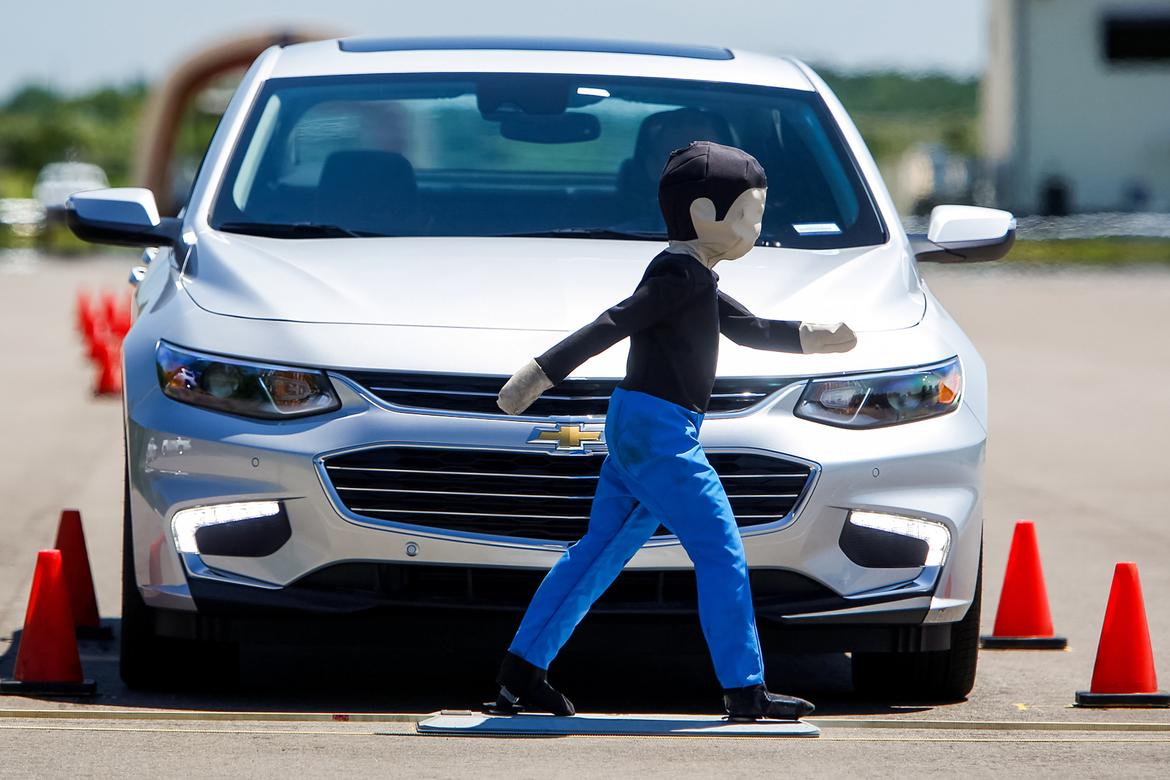 The current system also does not recognize animals. "The next generation of camera systems are now looking at animal detection. Typically, large animals at first would be part of the suite of objects that you would recognize," said Wilkerson. But animals also pose trickier questions, said Baibak. "There may be reasons we may not want to brake for an animal, that it would be safer for the occupants of the car."
Experience with a range of safety technology shows that the risk of "false positives" and annoyance might cause owners to turn the system off. "At this stage of the game, we are biased to not false-activate," said Baibak.
Lower-Cost Systems Still Have Large Benefits
Higher-speed systems add capability at a cost. They require more complicated and expensive sensor arrays, including radar, which can "see" much farther ahead and are less affected by light or weather issues. And systems that combine both, so-called fusion systems, "can compare information and confirm the situation," said Wilkerson.
But the simpler, more affordable camera-only systems have their own advantages in some situations. "Cameras are relatively robust for seeing pedestrians or other vehicles, with their wider field of view" compared to radar, Wilkerson said. "A [fast-moving] bicycle needs to be picked up sooner — cameras have an advantage in that realm." He said that the camera in the Malibu has a relatively wide 52-degree field of view and that the company is working on a 100-degree camera with an eye to tighter regulations for pedestrian safety coming in Europe in 2018.
While the safety advantages of pedestrian braking seem obvious — glaringly so after you experience an emergency stop — the question becomes how to get buyers to demand the technology on their vehicles, and be willing to pay for it. After all, it's not a feature a shopper can be shown on a dealer test drive, at least not on purpose.
Widespread Adoption Still Years Away
Automakers and NHTSA have an agreement to make front automatic emergency braking systems standard by 2022 and are likely to include protections for pedestrians and bicycles. Some makers are moving more aggressively, with Toyota promising to have a system that includes pedestrian detection standard on most models by the 2018 model year.
But for now, automatic emergency braking typically is optional or not available on all trim levels, but prices have come down. For example, the pedestrian braking system on the 2016 Malibu is available on volume trims as well as the top trim, though not on the base version. On the 1LT trim, it's part of a $1,195 Driver Confidence Package, a suite of safety technologies that also brings such advanced features as blind spot monitoring, lane keeping assist and rear cross-traffic alert. To get it, you also have to order an $895 Convenience & Technology Package of mostly electronic amenities. But the total price still comes in at $27,985 with destination for the midsize sedan — well below the current average new-vehicle transaction price in the 30s.
Wilkerson believes that universal adoption ultimately will take more action from safety agencies and advocates. "It's the regulators and the (Insurance Institute for Highway Safety) that are gonna drive these."