Ready for a Mid-Size Truck? We Rank 4 of the Best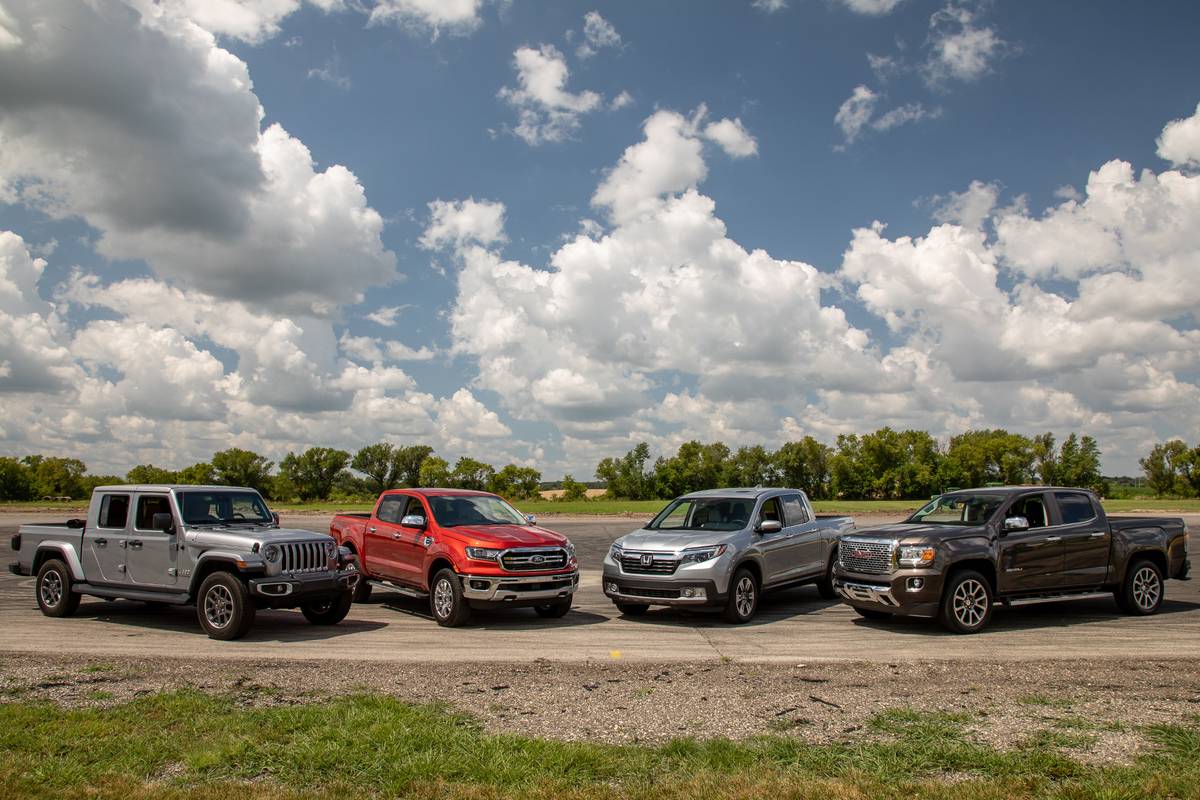 Of all the dozens of multivehicle Challenges we've published on Cars.com, we've never had one on pickup trucks — until now. We've always published truck contests on our sister site, PickupTrucks.com, but as time goes by, more and more Americans become intrigued by pickups and purchase them for personal use. And according to our research, the resurging class of mid-size pickup trucks not only is where traditional sedan and SUV owners are considering getting their feet wet, but it's also where brand loyalties are less ingrained than they are with full-size trucks.
2019 Mid-Size Truck Challenge
Results | Winner | How We Tested | Bed Test | Mileage Drive
So, we decided to bring the contest here, where two newcomers — the Ford Ranger and Jeep Gladiator — faced off against the GMC Canyon and Honda Ridgeline, which were the top finishers from PickupTrucks.com's most recent class contest in 2016. (The Chevrolet Colorado and Nissan Frontier have not been redesigned since that test, and Toyota declined to participate, saying the updated 2020 Tacoma wasn't available at the time of our test.) All four trucks had four- or all-wheel drive, crew cabs and, in the case of the GMC, the shorter of two available cargo boxes. Sticker prices ranged from $42,965 to $55,840 (prices include destination). Here are the specific trim levels tested in the order they placed once all the scoring was done:
1. 2019 Honda Ridgeline RTL-E AWD
2. 2019 Ford Ranger Lariat 4×4
3. 2020 Jeep Gladiator Overland 4×4
4. 2019 GMC Canyon 4WD Denali
We determined the winner by scoring 19 separate categories, some subjective and others based on measurements and instrumented testing on a drag strip. Notably, we evaluate and score acceleration times separately from the judges' powertrain scores because superior times don't always equal smoothness or driver satisfaction; ditto for stopping distances versus brake pedal feel. (In fact, specifications and experience prove to be related but by no means married many times in this Challenge.) Because pickups are meant for work, the judges tested them both empty and with 1,000 pounds of payload. We also evaluated cargo boxes and provisions, ride, handling, fuel economy, front and backseat comfort and amenities, interior quality, safety and driver assistance features, user interface, multimedia and connectivity, child-safety seat fitment and value.
What we don't base scores on is anything having to do with exterior styling or image, and image seems to be as important in the eyes of traditional pickup shoppers as it is for luxury buyers, especially in a contest among three American-branded body-on-frame pickups and one Japanese unibody model. We get it. This quote from judge Brian Wong, our Los Angeles bureau chief, illustrates the point: "The Jeep Gladiator was the truck I ended up driving the most while we weren't testing, to dinners and other places. It isn't the best truck, but somehow it was the most fun for me to scoot around in. Driving the Ridgeline made me feel like a dad in khakis; the Gladiator made me feel invincible."
That's the last we'll say of it. If we thought there were a fair way to score based on how "trucky" we think a truck is and how important we think that might be to any given shopper, believe us, we'd do it — but how good something looks or how cool it seems to you, your family and your specific circle of friends is entirely your decision. Our scored results are about the conclusions you can't draw from looking at a brand name or a few photos.
Each vehicle is evaluated as equipped and priced, and though these are relatively well equipped representations, our results cannot represent their respective model lineups as a whole. You can read more about our testing methodology and categories in our How We Tested article.
Our judges were:
Aaron Bragman, Detroit bureau chief
Mike Hanley, senior research editor
Brian Wong, Los Angeles bureau chief
A balance of different strengths and weaknesses determine how the contestants rank overall, so take a look below to find out where each model is strongest and weakest and decide what's most important to you.
4: 2019 GMC Canyon 4WD Denali, 358 Points (Out of a Possible 600)
The verdict: With its stiff ride, numb brakes, unremarkable interior and dearth of advanced safety features, the Canyon felt outclassed in most respects.
Our Test Vehicle
As-tested price: $45,775
Powertrain: 3.6-liter V-6; eight-speed automatic transmission; four-wheel drive
Horsepower: 308 @ 6,800 rpm
Torque (pounds-feet): 275 @ 4,000 rpm
Maximum trailer weight: 7,000 pounds
Maximum payload (calculated): 1,360 pounds
Estimated city/highway/combined mpg: 17/24/19
Observed mpg: 21.7
The GMC Canyon Denali came out on top in just two categories, brought up the rear in eight and tied for last in three more. An excellent example of why we separate the scoring for the powertrain and braking experience from those for instrumented acceleration and stopping-distance tests, the Canyon excelled by the numbers but struggled at the human aspect. Last redesigned in 2015, the Canyon is the oldest model in the test; unfortunately, it shows.
The Good
Stopping distances: The Canyon's best showing was on the drag strip, where its stopping distances when unloaded were the shortest by more than 5 feet versus the second-place Ranger. When loaded with 1,000 pounds of payload, it stopped just 2.3 feet past the first-place Gladiator. "The brakes don't have a lot of initial bite," said Bragman. "But they do come on strong and solid after that initial effort."
Noise level: "The cabin is quiet," said Wong. "It does a good job of keeping road, wind and tire noise outside." The Canyon rated highest in this category, ahead of the Ridgeline.
Acceleration times: On the drag strip, the unladen Canyon hit 60 mph in 7.31 seconds, just a tenth of a second behind the leader, the Ranger. When loaded, it took 8.9 seconds, 0.7 second behind the Ranger but still in second place. (As explained in the next section, quickness is only half of the story.)
Touchscreen: "The Canyon's 8-inch touchscreen multimedia system has a high-resolution display with crisp, clear graphics, and the system responds quickly to commands," said Hanley. The GMC's user interface rated above average.
Steering: Though its overall handling score trailed the first-ranked Ford Ranger's, two judges called out one aspect: "Light, precise steering helps make the Canyon easy to drive," Hanley said. Bragman added, "In my opinion, the Canyon's handling is about as good as the Ranger's — solid and well controlled, with decently responsive steering."
Exclusive features: Judges called out three things the other trucks didn't have: three-stage ventilated front seats, steps built into the ends of the rear bumper that make it easier to climb into the cargo box, and a wireless smartphone charging pad — "though the pad was too small and didn't actually fit my phone; it would fit only a smaller, older iPhone," Wong said.
Towing specs: Specifications don't guarantee a positive experience, but GMC's maximum towing spec for this version of the Canyon is the second highest in the test at 7,000 pounds.
The Bad
Safety and driver-assist tech omission: The Canyon's biggest loss, with a score of just 5 points, was because it had only forward collision warning, lane departure warning and a backup camera with dynamic guide lines. It lacked almost all of the advanced safety and convenience features that could have added up to 30 points. Though pickup trucks trail SUVs and cars in offering these features, the closest contestant (Gladiator) scored 15 and the leader (Ridgeline) scored 21.
Front seats: "Comfort is abysmal," Bragman said of the bottom-rated front seats. "The seats are flat and hard, providing no support and limited adjustability." Wong said: "After a longer stint in the driver's seat, you might need a massage to get relaxed again."
Powertrain: "The engine is strong, but the transmission seems tuned more for fuel economy than performance, rarely keeping the truck in its power band and bogging the engine unless a firm stab of the go-pedal is applied," Bragman said. Though its acceleration times placed a close second, the judges' impressions of the Canyon's powertrain ranked a distant last.
Brake pedal: Mirroring the powertrain's ups and downs, the Canyon's braking excelled for stopping power but displeased the judges, ranking last. "It stops well enough, but its numb pedal feel doesn't inspire much confidence," Hanley said. Wong added, "This was a truck that I had trouble stopping smoothly the whole week; I dreaded each stoplight."
Interior quality: "The interior was never the Canyon's best quality, and it's not aging well," Bragman said. "Mold-release lines are everywhere, making it look cheaply put together. The gauge cluster looks boring compared with the digital flashiness of the Ranger or the style of the Jeep. For a Denali-branded truck, this is pitiful." Two judges called out the fake wood trim, which Wong called "some of the worst fake wood that I've encountered."
Ride quality: "With its stiff, unforgiving suspension tuning, the Canyon had the worst ride quality of the bunch," Hanley said.
Value: "No push-button start on a $46,000 truck? Manual seat-tilt adjustments? Unbelievable," Wong said. Though the Gladiator ranked lower for value, all three judges cited these omissions and others as unbecoming of a Denali trim level — and competitive disadvantages in this contest.
Gas mileage: In our mileage loop of more than 200 miles, the Canyon's 21.7 mpg was the lowest, 1.1 mpg behind the Gladiator. (The Ranger achieved the highest: 23.7 mpg.)
Rear seats: The Canyon tied for last rank with the Ranger for backseat comfort and amenities.
Child-seat fitment: The Canyon tied for last with the Ranger in the Car Seat Check.
Research the 2019 GMC Canyon | Search Inventory | Car Seat Check
3: 2020 Jeep Gladiator Overland 4×4, 382 Points
The verdict: The Gladiator simultaneously has style and features no other truck can match, yet it falls behind in some of the basics at a price that bulges eyes as effectively as the truck turns heads.
Our Test Vehicle
As-tested price: $55,840
Powertrain: 3.6-liter V-6; eight-speed automatic transmission; four-wheel drive
Horsepower: 285 @ 6,400 rpm
Torque (pounds-feet): 260 @ 4,400 rpm
Maximum trailer weight: 6,000 pounds
Maximum payload (calculated): 1,020 pounds
Estimated city/highway/combined mpg: 17/22/19
Observed mpg: 22.8
The Jeep Gladiator came first in four judging categories and last in five. It has the advantage of being brand-new and the disadvantage of being, fundamentally, a Jeep Wrangler Unlimited JL with a pickup bed. That's a disadvantage partly because what makes the Wrangler special are three things we didn't score for: off-road mastery, open-air ability and style. Things that make it good off-road (even with the street-friendly Overland trim level) don't necessarily make it as good on-road, as noted below.
The Good
Interior quality: "Interior materials and attention to detail are fantastic," Wong said. "It's a good-looking cabin with a different feel than the others. It somehow looks rugged while being sneakily tech-savvy." Hanley called out "rugged styling cues like exposed Allen bolts that coexist with high-quality materials and delightful design details," and Bragman said, "It feels like a premium product, from the leather to the operation of the switches."
User interface: "The Gladiator is a technology powerhouse," Wong said. "It has my favorite multimedia system to use, with a large, clear touchscreen."
Media and connectivity: As one of two contestants with a telematics system and a maximum of seven USB ports (including USB-C and USB-A types) versus the other vehicles' four ports total, the Gladiator topped this category, as well.
Brake pedal: Though it placed second in stopping distance overall behind the Canyon, "The Gladiator's brakes subjectively feel the best of the bunch — strong initial bite, firm pedal and they haul the truck down from high speeds with confidence," Bragman said. Wong, who conducted the panic-braking tests, added, "Not much squiggle from the rear and the pedal is linear and easy to operate."
Ride quality: "The Gladiator's seriously long wheelbase — nearly a foot longer than the next-closest truck in our test — is a boon for ride comfort," Hanley said. It ranked a close second behind the Ridgeline.
Powertrain: "The Jeep's V-6 engine and eight-speed automatic transmission are a potent pair that make this heavy truck feel reasonably quick," said Hanley. Bragman said, "It doesn't bog down like the Canyon does in everyday driving, and a payload is barely noticeable — surprising given how heavy the truck itself is." Wong added, "Even though it finished with the slowest acceleration times in our instrumented testing, I'd still rather drive the Gladiator than the Canyon any day of the week."
Grace under load: Standing in contrast to the Ridgeline, the Gladiator's powertrain felt unfazed by a load that was technically over its rated maximum (counting the driver). Also, its stopping distance extended just a few feet longer than the unladen measurement and was the shortest of all four loaded contestants.
Backseat legroom: "The backseat has the best legroom of any of these trucks thanks to the Gladiator's length," Bragman said. It beats the Ridgeline by 1.6 inches according to standardized specifications.
It's a convertible, standard: "You can take off the doors and the roof, a unique and fun feature in this class," Wong said.
Cargo box features: "The Gladiator's adjustable tailgate angle is unique and makes the cargo box more versatile, and our truck's tonneau cover and remote-locking tailgate turned it into a secure, covered cargo area," Hanley said. These amenities also compensated in the scoring for the Jeep's box having slightly less volume than the others.
Cruise to a stop: Despite a middling overall score for safety and driver assistance tech, only the Gladiator had adaptive cruise control that works to a stop — hard to give up once you've experienced it.
The Bad
Acceleration times: As noted above, the Gladiator had the slowest measured acceleration times overall despite its second-place subjective powertrain ranking. Unladen, its zero-to-60 time was 8.40 seconds, behind even the Ridgeline at 7.67 seconds. With the trucks loaded, it was 9.76 seconds, trailing the Ridgeline again, at 9.65. Only in the loaded quarter-mile test did the Jeep edge ahead of the Honda to take third place in 17.09 seconds at 81.40 mph.
Handling: The only contestant equipped with a non-independent front as well as rear suspension, plus recirculating-ball steering, the Gladiator paid a price with the lowest handling score. "Straight-line tracking is a serious problem," Hanley said. "I was constantly making steering corrections to account for the Gladiator's wandering ways." Wong added, "There's lots of body roll in corners. The soft suspension helps off-road and a bit with ride quality, but once you turn the wheel, it's time to hold onto something."
Value: "God, is it expensive," Bragman said. "Yes, it feels like a premium product and it can do things the others can't (it's a convertible pickup truck), but that price tag is still hard to swallow.
"For $55,000, I expect power seats. I don't care that the interior is made to get wet and has drain holes. For that money, Jeep should deliver waterproof power seats."
In-cabin storage: "From the small center console bin to the tiny glove box, there's not a lot of useful storage space in the Gladiator's cabin," Hanley said. Wong added, "The design of the dashboard doesn't leave anywhere to put bins or pockets, and the doors only have small nets to store flatter items."
Front seats: "The narrow cabin feels tight for front occupants," Bragman said. "The driver's seat doesn't lower enough, making the top of the gauge cluster unviewable, a common complaint with the latest generation JL Wrangler, too." Wong agreed: "I wanted to drop it down another 2 or 3 inches. I felt like I was driving while perched up on the toddler's high chair at a restaurant."
Wimpy payload: "The Gladiator needs to go on more of a diet — our calculated maximum payload rating of just 1,020 pounds is wimpy for such a beefy truck, and it's bested by the other trucks by several hundred pounds," Bragman noted.
Noise: Though Bragman noted how the Overland's tires and insulated removable hard top improve over a Rubicon trim level, the Gladiator still ranked last for noise, primarily wind and road.
Research the 2020 Jeep Gladiator | Search Inventory | Car Seat Check
2: 2019 Ford Ranger Lariat 4×4, 407 Points
The verdict: The Ranger's strength lies under the hood, where its powertrain proves that mighty things can come in small packages. However, an older interior and a tight rear seat hold the Ranger back from overall greatness.
Our Test Vehicle
As-tested price: $44,285
Powertrain: 2.3-liter turbocharged four-cylinder; 10-speed automatic transmission; four-wheel drive
Horsepower: 270 @ 5,500 rpm
Torque (pounds-feet): 310 @ 3,000 rpm
Maximum trailer weight: 7,500 pounds
Maximum payload (calculated): 1,490 pounds
Estimated city/highway/combined mpg: 20/24/22
Observed mpg: 23.7 on premium gasoline (regular also accepted)
Though its familiar nameplate vanished from the U.S. market after the 2011 model year, the Ford Ranger continued to evolve and sell internationally before its return here for 2019, as reflected in our results and commentary. The Ranger won four scoring categories, came in last for one and tied for last place in three.
Disclaimer: While all four contestants run on regular gasoline, the Ranger was the only one that can take advantage of 91-octane premium. According to its owner's manual, it's "for best overall vehicle and engine performance," which is "most noticeable in hot weather as well as other conditions, for example when towing a trailer." As mentioned below, the Ranger was delivered and mileage-tested with premium gas. In our 2019 Mid-Size SUV Challenge published in August, the Ford Edge with a turbocharged 2.0-liter four-cylinder felt borderline underpowered even on premium gasoline, so we continued to use premium throughout the testing and adjusted our scoring accordingly. Conversely, the Ranger had plenty of power, so we elected to perform our instrumented tests on regular gas, which is what we expect most owners will use most of the time.
The Good
Acceleration times: The Ranger was top-ranked in our instrumented testing both with and without 1,000 pounds of payload, as quick as 7.21 seconds to 60 mph unloaded and 16.17 seconds in the quarter-mile at 85.3 mph loaded. Notably, though the Ranger makes incrementally more power on 91-octane gas, these results were on 87-octane regular with temperatures in the 80s.
Powertrain: Though the Canyon was always close behind on the drag strip, the Ranger's turbo four and 10-speed automatic distinguished themselves, with raves from the judges about the driving experience. "That powertrain is fantastic," Bragman said. "It has a little vibration issue on initial movement, but its responsiveness, usable torque, even the engine note is the best here. It's the sports car of the group." Wong noted, "There's no such thing as too many gears if the transmission knows when to grab each one." Hanley added, "Even with 1,000 pounds of payload, the turbo four-cylinder didn't break a sweat." The Ford won this category.
Mileage: With an observed gas mileage of 23.7 mpg in our test of more than 200 miles, the Ranger edged out the Ridgeline at 23.3 mpg, winning the powertrain hat trick: top acceleration times, powertrain scores and efficiency. (Disclaimer: The Ranger was mileage-tested with premium gasoline, which its turbocharged engine is designed to exploit for more power, but is not claimed to improve efficiency. For more details, see How We Tested.)
Handling: "Handling is sharp, with a quick steering ratio and well-damped body control," Bragman said about the winner of the handling category. Wong added, "It feels light and agile when turning into corners — not something you usually say about a truck."
Towing spec: The Ranger had the highest maximum tow rating of the contestants at 7,500 pounds.
Visibility: Ranked second to the Honda, "Blind spot visibility is good for a truck thanks to the large side windows," Wong said.
User interface and connectivity: "The Sync 3 multimedia system remains clear and easy to use," Bragman said. The other judges noticed occasional delay, such as when switching between touchscreen menus, but Wong said, "It boots up Android Auto quickly, and the screen was well placed and easy to reach from the driver's seat."
Front seats: "The Ranger is comfortable for front occupants, with supportive, decent-sized seats, which is unusual for a Ford truck, in my experience," Bragman said. The Ranger ranked second here.
Ride quality: Though it ranked third, two judges characterized the Ranger's ride as comfortable. "For a body-on-frame vehicle, the Ranger's comfortable ride quality impressed," Hanley said.
The Bad
Stopping distances: In our instrumented testing, the Ranger ranked better when unladen — second behind the Canyon — but it stopped so much longer than the others when loaded with 1,000 pounds of payload (155.9 feet from 60 mph versus 147.4 feet for the third-place Ridgeline) that it ranked last overall in this category, its worst showing in the scoring.
Rear seats: "The backseat is tight and doesn't have good sight lines for passengers," Wong said. "It also is missing rear air vents, so any long trip back there will be done with a certain amount of suffering." Hanley added, "It has an upright backrest that isn't very comfortable." The Canyon tied for last rank with the Ranger for backseat comfort and amenities.
Interior quality: "The Ranger is a new truck to the U.S. but not to the world, and it shows on the inside. The styling, buttons and materials feel fresh for 2012, not 2019," Wong said. Bragman countered, "It still looks more advanced than the GMC's," which rated last.
Brake pedal: "The brakes are mushy and not very confidence-inspiring, especially when you have a 1,000-pound-plus payload in the bed," Bragman said. The Ranger's brake pedal scored slightly above the last-place Canyon's.
Noise: Scoring it just above the Gladiator, judges called out the Ranger for high-rpm engine noise, especially when in Tow/Haul mode, and "a surprising amount of wind noise," Bragman said.
Vibration: All of our drivers noticed a mild vibration, mostly when accelerating from a stop. "It seemed to be coming from the rear axle," Hanley said. Others also cited the floorboards or the middle of the truck as opposed to the engine or front end.
Cargo features: "The Ranger's cargo box tied for largest in test, but from a features standpoint, the bed doesn't have a lot to offer," Hanley said.
Abrupt adaptive cruise: Though the Ranger's score for safety and driver assistance features is high, Wong objected to the adaptive cruise control's execution. "It shuts off suddenly when you reach its lower limit of 15 mph, and all you get is a very soft beep," he said. "So if the Ranger is slowing down, suddenly the brakes release and the truck jumps forward unexpectedly — I found myself having to jam on the brakes hard when the system clicked off to avoid an accident."
Child-seat accommodation: The Ranger tied for last with the Canyon in the Car Seat Check.
Research the 2019 Ford Ranger | Search Inventory | Car Seat Check
1: 2019 Honda Ridgeline RTL-E AWD, 425 Points
The verdict: Despite questions surrounding its "truckness," the Ridgeline proved itself able to handle truck tasks while offering a comfortable cabin that was the most family-friendly in this test by far.
Our Test Vehicle
As-tested price: $42,965
Powertrain: 3.5-liter V-6; six-speed automatic transmission; all-wheel drive
Horsepower: 280 @ 6,000 rpm
Torque (pounds-feet): 262 @ 4,700 rpm
Maximum trailer weight: 5,000 pounds
Maximum payload (calculated): 1,499 pounds
Estimated city/highway/combined mpg: 18/25/21
Observed mpg: 23.3
The Honda Ridgeline came out on top having won nine judging categories, not all of them "soft" characteristics. It ranked last in two categories and stumbled in a few others. Not surprisingly, its unibody (car-based) construction played a large role in both its advantages and disadvantages, reinforcing why most pickup trucks are built they way they are. All told, the Ridgeline did what we asked of it, but it was clear this model is better thought of as a casual-use pickup. Contractors who are looking for something smaller and more manageable than a full-size truck will probably want to consider the Ranger, as will anyone who wants to tow or haul regularly. But for shoppers who see the value in having all the pluses of a roomy, comfortable SUV plus the advantages of a pickup bed when they need one, the Ridgeline is an excellent compromise.
The Good
Cargo box: Against expectations, the "non-truck" won the cargo category with volume that was matched but not beaten, plus innovative extras. "The cargo box has so much usable space," said Wong. "No wheel wells means you can use the entire width of the bed. There's also a very large drainable, secure storage bin at the back of the bed under the cargo floor that you can access by opening the gate to the side instead of dropping it down the tailgate way. It's very convenient and another unique feature in this test."
Value: First in this judging category by a significant margin, "the Ridgeline definitely wins on the value equation thanks to three-zone climate control, some nifty bed features and the spacious cabin," Bragman said. It also was the only contestant equipped with a moonroof, eight-way power driver's seat plus lumbar, and seat-position memory. This category considers equipment, warranty and price, which was the lowest at $42,965 with destination charge.
In-cabin storage: "The huge center console bin is a great storage space, and its sliding cover lets you keep any valuables out of sight," Hanley said. Judges also called out the useful door pockets, an overhead sunglasses holder and more that gave the Honda a decisive win in this regard.
Safety and driver assistance tech: Though not to the level of the most loaded SUV, the Ridgeline had the most points for active-safety and convenience tech of the pickups, going toe-to-toe with the Ranger but adding lane-centering steering (for high-speed use only).
Front seats: "The front bucket seats include individually adjustable armrests for customized comfort," Hanley said of the top-rated Ridgeline. Agreeing that "the interior is very comfortable," Bragman pointed out that "the seating position is low, in the vein of a crossover or minivan," he said.
Rear seats: Second only to the Gladiator in headroom and legroom generosity, the Ridgeline came out on top in our judges' overall tally, though there wasn't consensus. "Best rear seat of the bunch, with good headroom and an elevated seating position so you can see easily on all sides, as well as a comfortable amount of padding," Wong said. Hanley said, "The comfortable backrest angle was a big factor." Conversely, Bragman said, "It surprisingly isn't any better than the Ranger or Canyon — the seat is firm and unusually high."
Ride quality: "The Ridgeline's ride quality is more like a crossover SUV than a traditional mid-size truck, and that's a very good thing," Hanley said. Bragman added, "Combined with the wide cabin, it feels like the most comfortable truck here."
Visibility: "Thin roof pillars and large side windows give the Ridgeline great all-around visibility," Hanley said.
Tilt-up backseat: "Lifting the backseat cushion reveals a flat floor ideal for carrying tall cargo, like a flat-screen TV, in the cab," said Hanley. Wong added, "It's a convenient feature if you need to move larger items but want them covered and secured, and not in the bed."
Cargo box speaker: Redefining cargo box "volume," the Ridgeline has an option that turns the walls of the cargo box into stereo speakers for tailgate parties that are both louder and better-sounding than they have a right to be. Even with 1,000 pounds of salt-pellet bags against them, the "speakers" sounded decent. "The speaker system is pretty trick, and I'm more impressed with it than I probably should be," Bragman allowed.
Child-seat accommodation: None of these trucks should be anyone's first choice for child-safety seats, but of the four, the Ridgeline edged out the second-rank Gladiator primarily by accommodating three car seats across the backseat, which no other contestant could. See the full Ridgeline Car Seat Check.
The Bad
User interface: The Ridgeline's worst showing is a common one for Hondas. "The digital graphics and multimedia system feel the most dated here, and the lack of a volume knob is maddening after most of Honda's lineup has seen the knob return," Bragman said. "The gauge cluster feels like it's right out of the 1990s. An LCD speedometer? Really?" Wong tagged in: "That system is trash, and not only because of the lack of knobs," he explained. "It's just really hard to use. Tasks that should be simple take way too many button presses; trying to navigate to a satellite radio station of your choice feels impossible, and the menus make no sense. Not only that, the screen is tilted back weirdly and kind of hard to reach." Hanley entered the ring for the final count: "The Display Audio system's reliance on touch-sensitive adjacent controls along with its poorly conceived touchscreen menus result in lousy usability overall."
Media and connectivity: "Standard Android Auto and Apple CarPlay are the only saving grace," Wong said. "I would turn it on the instant I got into the Ridgeline, every time." But Hanley reported that "the multimedia system kept reverting to the radio one time when I was trying to listen to a podcast using CarPlay." Another wrinkle: "The power outlet in the truck bed is a nice touch," Wong said, "but it's not grounded, so you can't plug in an extension cord or other three-prong plug."
You know when it's working: Though our Ranger's payload capacity was the highest we calculated, at 1,499 pounds — and way above the Gladiator's 1,020 pounds — "the Ridgeline's powertrain felt more burdened than the Ranger's or Gladiator's with 1,000 pounds of payload in the bed," Hanley said. Bragman noted broader implications: "It feels like it squats more under throttle, the powertrain feels challenged and the brakes don't work quite as well," he said. Wong agreed: "There's no Tow/Haul mode, and with a payload, it's noisy and unpleasant, and the driving character changes for the worse," he said. Though the Ridgeline rated average for stopping distance and merely below average in the instrumented acceleration category overall, its weaknesses were evident in a couple of individual tests: When loaded, both it and the Jeep fell notably behind the other two in the zero-to-60, and the Ridgeline dropped to last place in the loaded quarter-mile.
Handling: "The softness of the Honda's suspension becomes evident in the handling characteristics, with more pronounced body roll, squat and dive," Bragman said. "It doesn't feel nearly as tight or nimble as the Ranger." The Ridgeline's and Canyon's handling scores tied, at just above average among the four.
Tow rating: The Ridgeline's maximum trailer rating is the lowest at 5,000 pounds, and we question if the ambitious payload rating shouldn't be similarly modest. Such manufacturer estimates are intended to cap weights that the powertrain can handle without damage and that the suspension and brakes can manage safely. Though we didn't tow with these trucks (our data suggests far less consumer interest in doing so than in the full-size pickup class), our experience with payload and its lack of a drivetrain Tow/Haul mode suggest the Ridgeline wouldn't let you forget how hard it's working compared with the body-on-frame competitors. The Ridgeline's construction makes it better for occasional use than as a workhorse.
Trapped spare tire: "Putting the spare tire — and a temporary one at that — in the in-bed trunk could make it difficult to reach if you have gravel or mulch in the cargo box," Hanley said.
Cabin rattles: "Bumps and broken pavement elicited rattles and shakes throughout the cabin," Bragman said.
Research the 2019 Honda Ridgeline | Search Inventory | Car Seat Check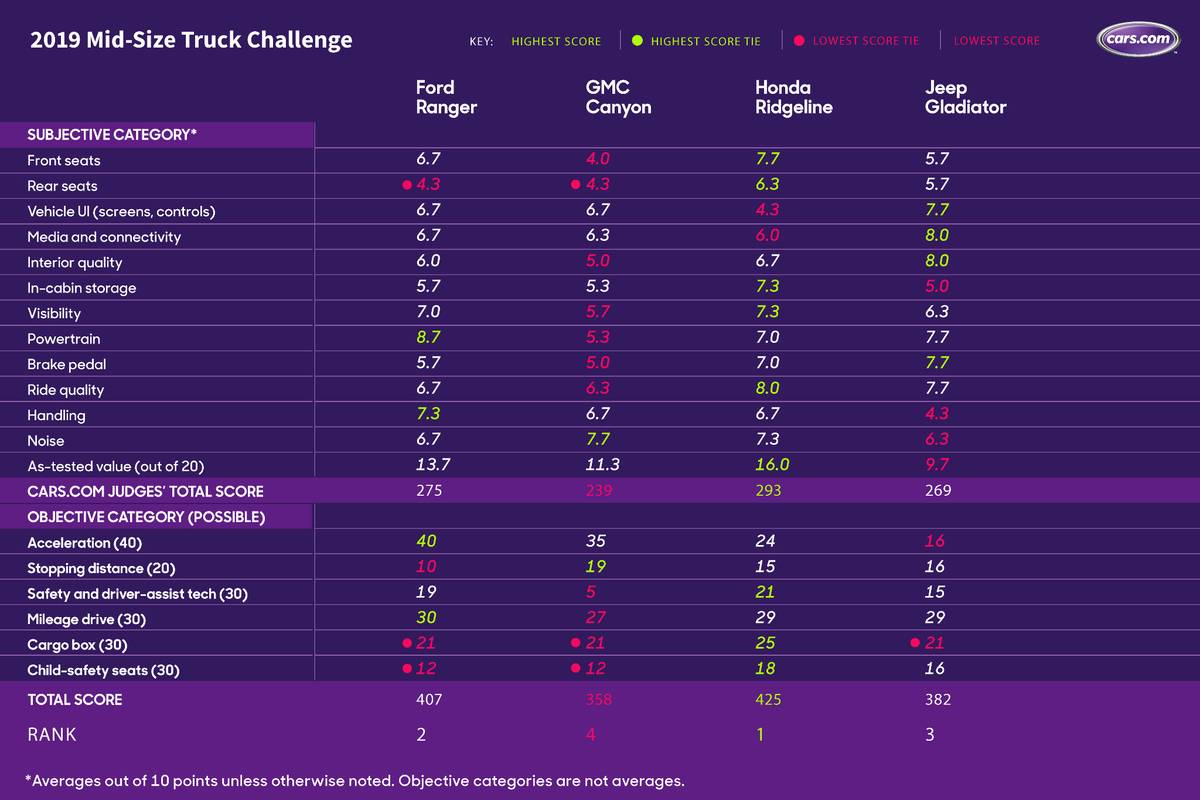 Cars.com's Editorial department is your source for automotive news and reviews. In line with Cars.com's long-standing ethics policy, editors and reviewers don't accept gifts or free trips from automakers. The Editorial department is independent of Cars.com's advertising, sales and sponsored content departments.