Sorry, Fuel Savings on Diesel Pickup Trucks May Not Make Up for Cost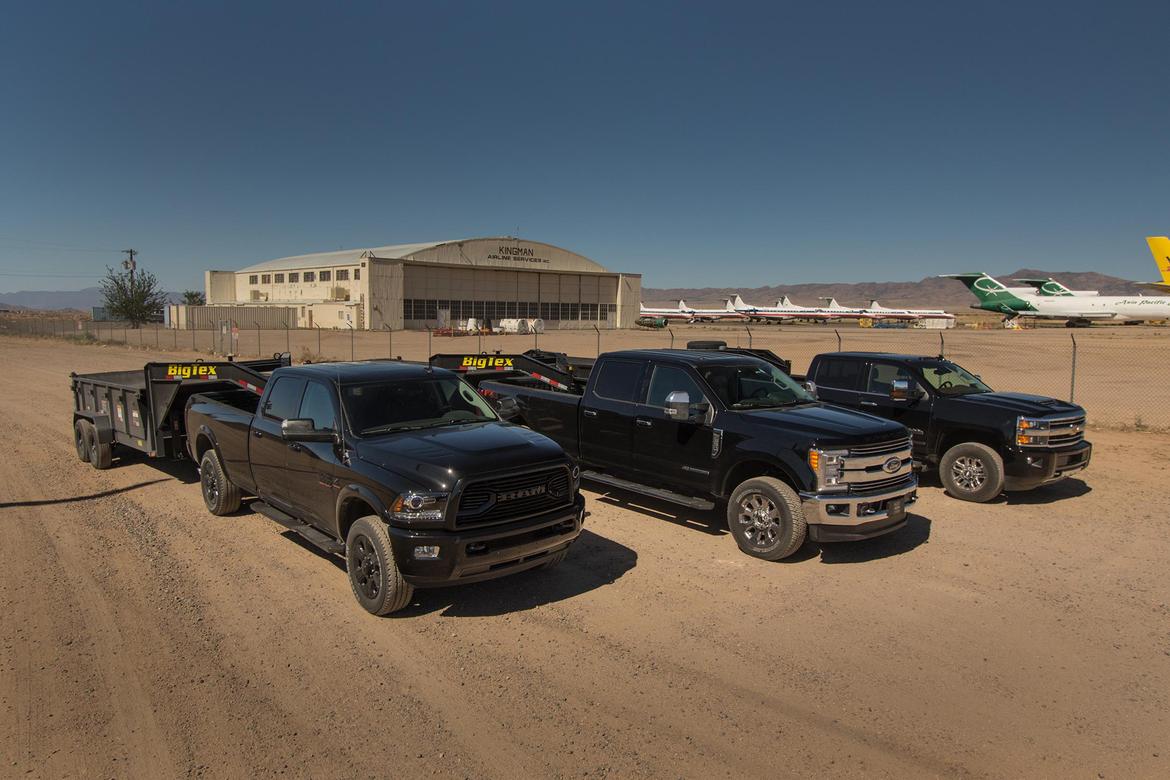 Diesel fuel hasn't seen its reputation grow substantially as electrification becomes the method of choice for increasing fuel efficiency or in the wake of things like the Volkswagen Dieselgate scandal. (Pro tip: Avoid having "-gate" appear as a suffix to your name.) But there are still positives to diesel power, particularly when it comes to pickup trucks.
Related: Study: Diesel's Appeal Damaged, Not Dead
Diesel trucks are much more confident when it comes to towing and hauling, relative to otherwise identical gas-powered versions, thanks to the larger amounts of torque diesel engines produce. Fuel efficiency also improves from "bad" to "a little less bad." (This is where I say it would be helpful if the EPA would require that all trucks, including heavy-duty trucks, be subject to fuel economy testing, but that's an argument for a different post.)
Diesel fuel, based on AAA's national averages, is less expensive than the premium gas some higher-end truck engines recommend, but still more than regular gas. Depending on location, diesel may at least manage to come close to the cost of regular gas; in Alaska, for example, diesel is only about 7 cents more expensive on average as of Sept. 18. Fuel cost savings might be hard to come by based only on regular driving: The EPA's average annual fuel cost for the 2018 Ford F-150 show annual fuel costs for the diesel engine between $1,950 and $2,200 depending on configuration; for the base 2.7-liter gas V-6 engine, it's $1,950 to $2,000.
Of course, that's not usually the intent of a diesel purchaser. Most buyers likely are planning on driving long distances, mostly on the highway and usually while towing or hauling something heavy. That's where the improved fuel economy could make a significant difference — but that's unfortunately not how the EPA conducts its testing, making calculations much more difficult.
But — and this is a big but, I can't lie — what does it actually cost to even equip your pickup truck with a diesel engine? In what will surely be surprising news, adding an optional diesel engine can mean needing to add a host of other options to a pickup in the same way some manufacturers insist that adding navigation also requires a premium stereo. In some cases, an upgrade to a higher trim level is necessary to even have the option of a diesel engine in a pickup.
For heavy-duty trucks, that cost can run close to $10,000, which sounds like a joke but isn't. Even less of a joke is that for the two current mid-size diesel trucks, the Chevrolet Colorado and GMC Canyon, costs increase by $6,980 and $6,510, respectively. Diesel engines for each truck require a crew cab configuration — the most expensive cab style — and numerous other options.
Our sibling site PickupTrucks.com has crunched the numbers, so here are the diesel pickup trucks and their additional cost. (Note: While GM has announced that the all-new 2019 Chevrolet Silverado 1500 and GMC Sierra 1500 will be available with diesel engines, we don't yet have pricing figures for those, so they've been excluded. The same applies to the 2019 Ram 1500.)
Mid-Size Trucks
Like its Canyon sibling, the Colorado uses the turbo-diesel 2.8-liter four-cylinder, but despite GMC being the more "premium" brand, the additional options cost more on the Chevy. The automatic locking rear differential ($325), Trailering Package ($250), LT Convenience Package ($750) and Safety Package ($690), along with the engine, add $6,980 in options.
Adding a diesel requires, as mentioned, a crew-cab configuration and an automatic locking rear differential ($325), Trailering Package ($250), SLE Convenience Package ($575) and the Driver Alert Package ($395) in addition to the extra cost of the turbo-diesel 2.8-liter four-cylinder engine. Total cost? $6,510.
Half-Ton Trucks
The turbo-diesel 3.0-liter V-6 isn't available until you reach the Lariat trim level of the F-150 (and add Ford's SuperCab — aka an extended cab). Adding a diesel to a Lariat model is a $4,000 price increase over the standard 2.7-liter EcoBoost gas engine, but to get to the Lariat, you need to spend an extra $10,720 over a base XL trim with an otherwise identical configuration. In essence, that means it will cost you around $14,000 more than a comparable base model just to get a diesel-equipped F-150.
Prices for adding the turbo-diesel 5.0-liter Cummins V-8 engine range from $5,250 to a max of $6,750 depending on cab configuration. Regular-cab models see the lowest price increase, while extended-cab models see the highest. Crew-cab models receive a more modest increase than those with extended cabs, but they remain the most expensive cab configuration. (I'm sure this makes sense to Nissan.) It should also be noted that the Titan XD is a kind of "heavy-duty light" truck, just beneath the other three-quarter-ton pickups, and features a unique heavy-duty frame and axle setup separate from the actual half-ton Titan.
The 3.0 EcoDiesel V-6 is a $4,495 standalone option across all trim levels of the previous-generation 2018 Ram 1500. Of course, you'd also be buying the older version of the half-ton truck, which may not be a tradeoff you want to make.
Heavy-Duty Trucks
2019 Chevrolet Silverado Heavy Duty and GMC Sierra Heavy Duty
Unlike their puny mid-size brethren, there's no cost difference between the big boys. The turbo-diesel 6.6-liter V-8 available in either GM's HD lines costs an extra $9,395.
The turbo-diesel 6.7-liter V-8 engine is a $9,120 option on all trim levels but the Limited, where it's standard.
Adding a turbo-diesel 6.7-liter Cummins six-cylinder engine costs between $8,800 and $9,300. Note: for the highest horsepower and torque figures for the diesel engine, an optional Aisin six-speed automatic transmission must be equipped for another $2,695.
There are the current known costs just for purchasing a truck with a diesel engine, divided by class of truck since it's unlikely anyone is comparing a mid-size truck to a giant heavy duty. Even with better fuel economy, when you factor in diesel exhaust fluid (an additive that reduces harmful emissions and, surprise, is an extra cost on top of diesel fuel), it might even be cheaper to drive a gas truck. There are also different maintenance costs to consider. On the flip side, a diesel truck might offer a higher resale value than an equivalent gas-powered pickup.
Buying a diesel truck just for the marginal increase in fuel economy, though, is a tricky proposition, even if that increase is greater when towing or hauling a heavy load. Whether it's the extra torque's usefulness towing and hauling, brand loyalty to a particular diesel engine or even just a love of rollin' coal, fuel economy is usually only part of the consideration when diesel shopping.
Remember this information if you're shopping for a truck for the first time, and don't be swayed by a few extra mpg if you're just planning on driving around town. Diesels are straightforwardly great for a lot of things, but going easy on your bank account isn't one of them.
Editor's note: This story was updated Sept. 18, 2018, with further clarification on fuel cost averages, the Nissan Titan XD and the Ram heavy duty.
Cars.com's Editorial department is your source for automotive news and reviews. In line with Cars.com's long-standing ethics policy, editors and reviewers don't accept gifts or free trips from automakers. The Editorial department is independent of Cars.com's advertising, sales and sponsored content departments.