Top 10 Cars That Stayed True to Their Concept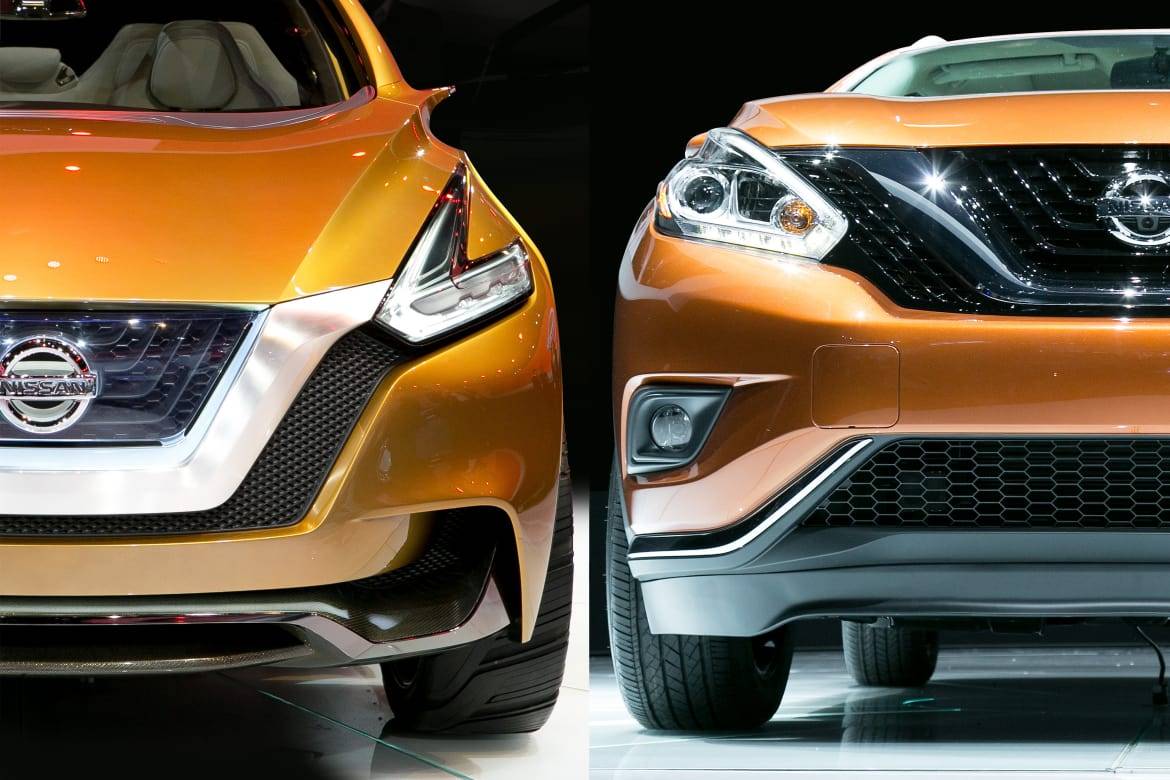 During the past decade, the once fanciful concept car — never meant to see the light of day — has morphed into more of a design study for future products. Taking that notion to the next level, our editors have rated the 10 production cars that did the best job of incorporating their concept when made into reality during the past decade.
Related: 2015 Detroit Auto Show Winners and Losers 
Note: We didn't take into account certain "concepts" often considered prototypes that some automakers roll out at auto shows. Those show cars are barely discernible from the real thing and are introduced much closer to when the actual cars go on sale.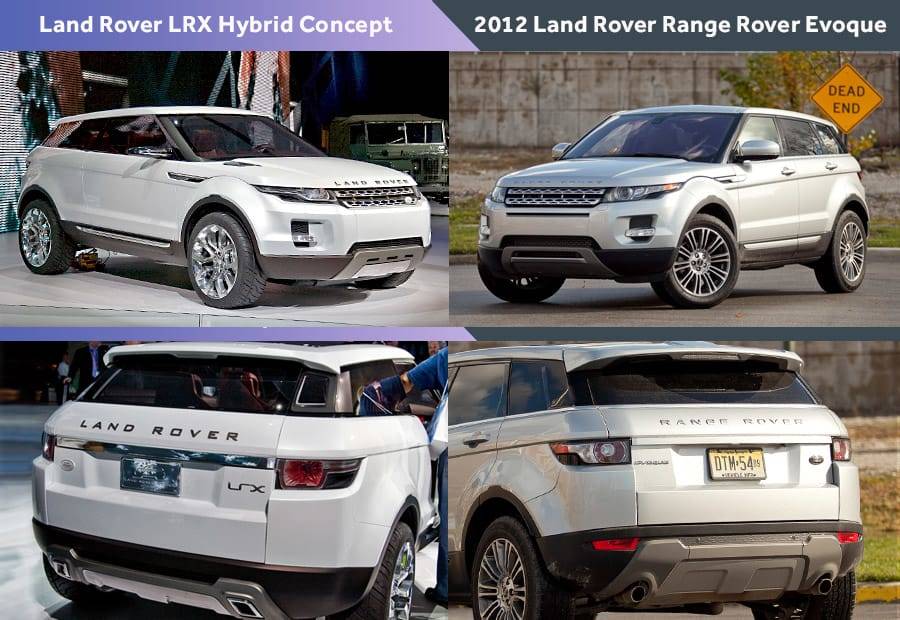 1. 2012 Land Rover Range Rover Evoque
Back in 2008, we didn't think the Land Rover LRX Hybrid Concept had much of a chance to become real. Whether it was the idea of a two-door compact Land Rover or the company's ownership change, it just didn't seem to make much sense.
Four years later this is what we said in our review, "Land Rover's 2012 Range Rover Evoque knocked us out — every single one of us — with its standout styling, interior accommodations and driving dynamics."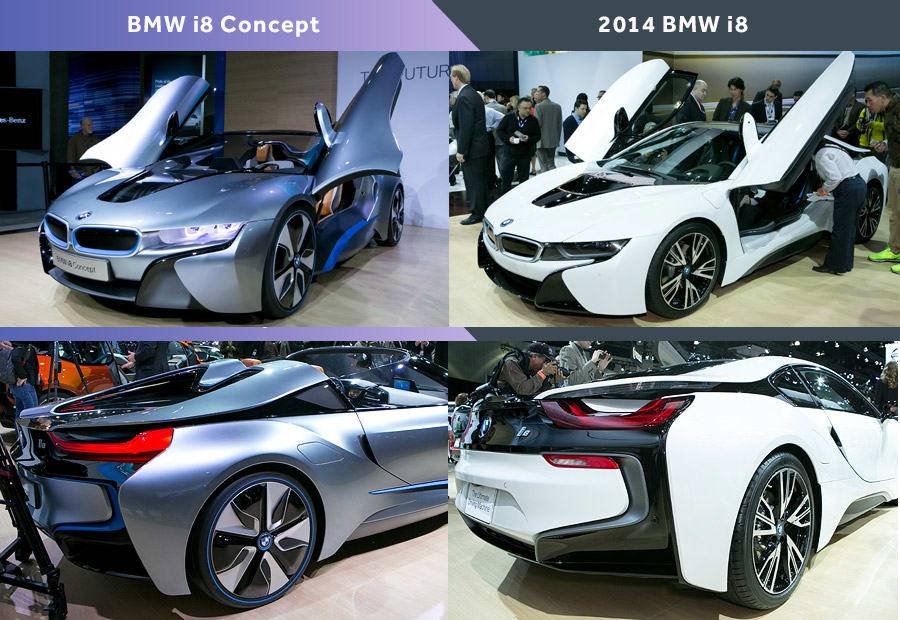 2. 2014 BMW i8
BMW was adamant this concept would see production and it was even right about the model year. Typically, BMW doesn't stray far from a concept but in this case we couldn't really believe the automaker would carry over the gull-wing doors, open C-pillars and kooky color scheme.
BMW not only kept the spirit of the concept intact, it actually made a better-looking car out of the production vehicle, and it's one that drew stares on the road like it was still on the turntable rotating under auto show lights.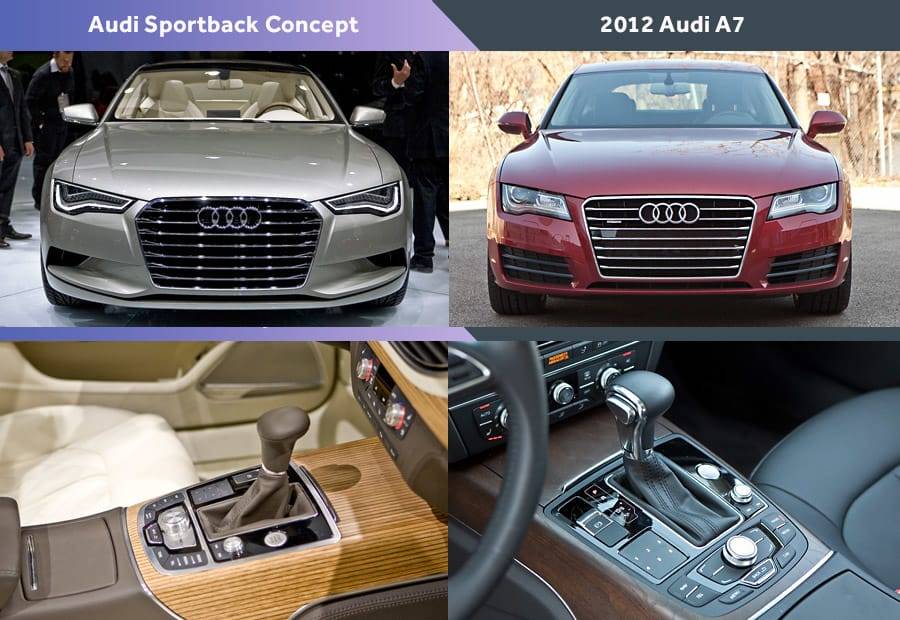 3. 2012 Audi A7
It's hard to believe we actually thought a down economy could prevent one of our favorite luxury cars from ever being born. That is what we said when the Sportback Concept — even then being considered the A7 — debuted in 2009.
The real thing wowed us in 2012 and a few years later it still rates as one of our top luxury cars … period. That's a testament to how true the hatchback stayed to its elegant concept's styling.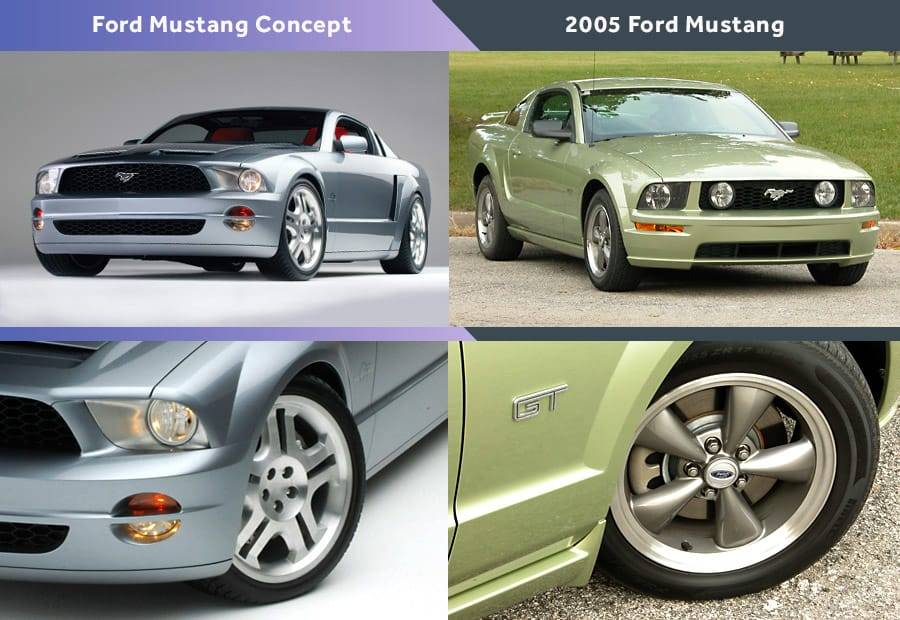 4. 2005 Ford Mustang
No other concept car in modern history sent waves through the industry like that of the 2003 Ford Mustang. It stunned as a concept but it was how close the 2005 production pony car resembled the design that cemented its significance.
It was the first all-new Mustang platform in 20 years and when reviewed, Executive Editor Joe Wiesenfelder simply called it a "Triumph." That's high praise, indeed.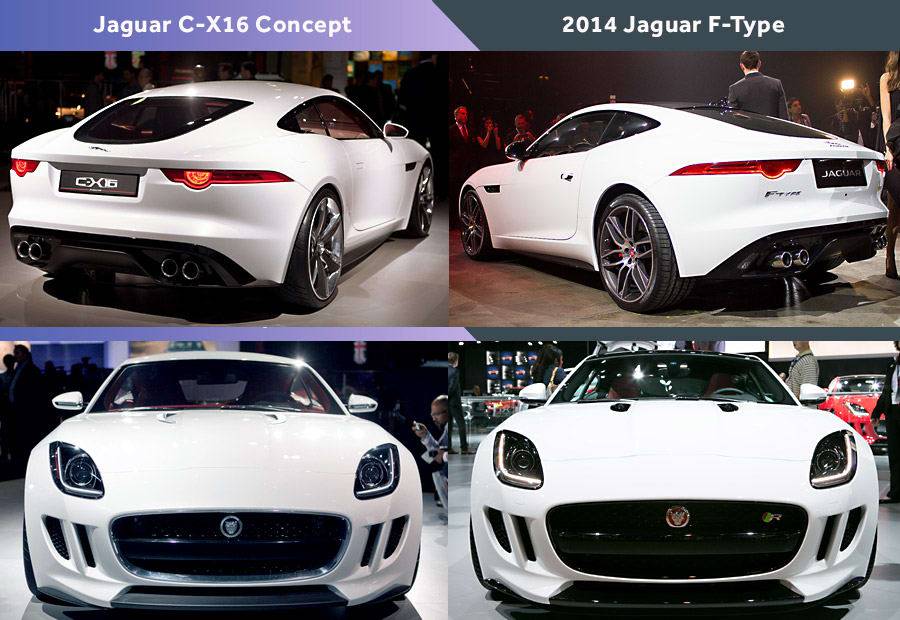 5. 2014 Jaguar F-Type
When we first laid eyes on the C-X16 concept in 2011 we thought it was a sexy sports car that Jaguar should make. We were happy to see reality set in — and happy to sit in it — a few years later when the F-Type arrived even if it debuted as a convertible.
Whether soft- or hard-top, the F-Type is one of our favorite joy rides. It is a visceral driving thrill that is raised by the retention of its aggressive concept styling.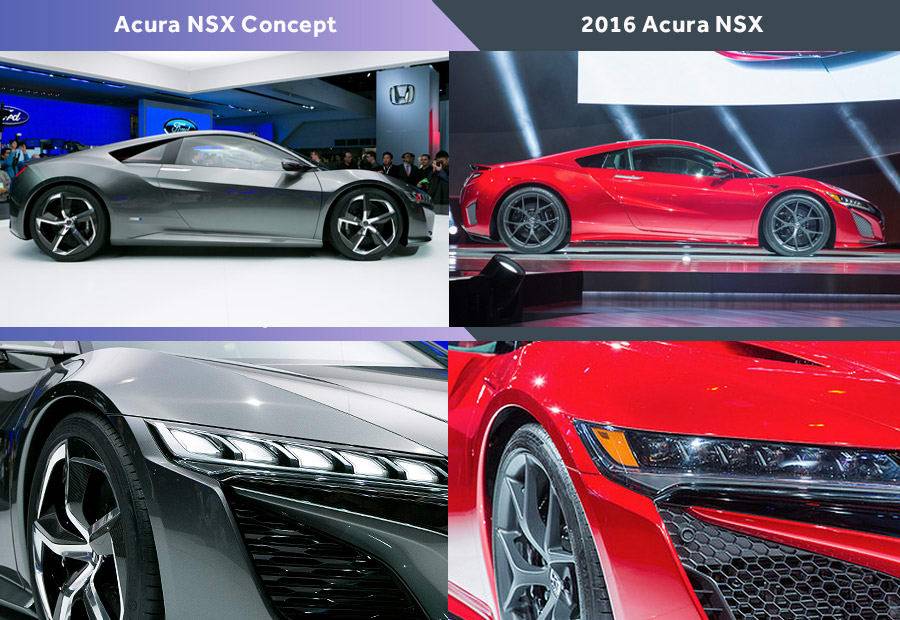 6. 2016 Acura NSX
The return of one of the most iconic supercars of the past quarter century warranted not just one concept debut in 2012 but a second in 2013 just to show off the possible interior of what is said to be a 2016 production model.
Not all of our editors are wowed by the final take, but enough of us are in awe of how it has stayed true to a concept that didn't necessarily have to be so faithfully carried over.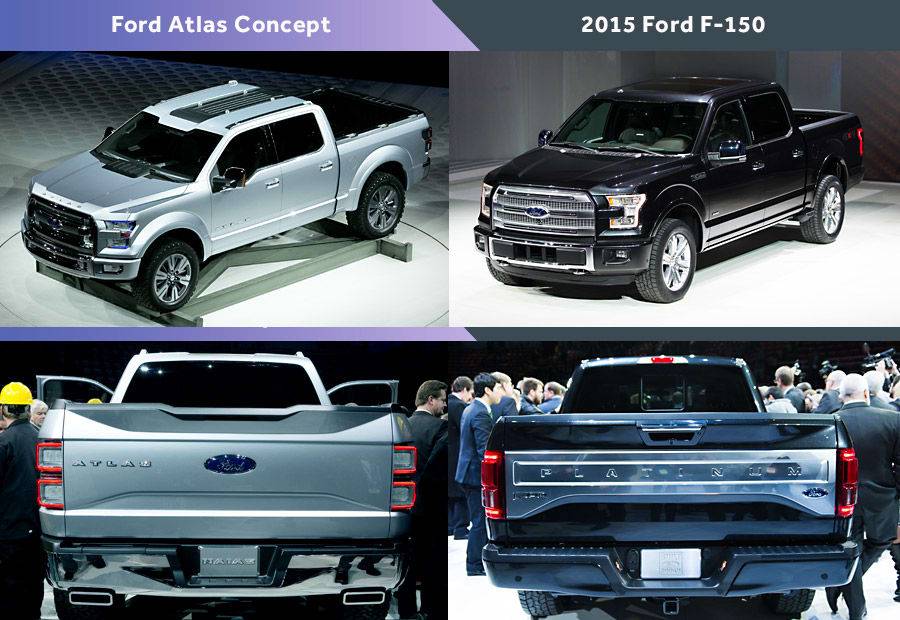 7. 2015 Ford F-150
We might like to think that Cars.com is all about cars, but there's no escaping the popularity and importance of pickup trucks, and there is no more important pickup on the market than the Ford F-150.
The Atlas rolled out at Detroit's 2013 North American International Auto Show and was the most popular debut on our site that year. The redesigned 2015 F-150 debuted the following year in Detroit and was the most popular auto show vehicle on our site. While the masses clearly want more, we were happy that Ford kept so much of that Atlas in the new F-150, especially the unique headlight design.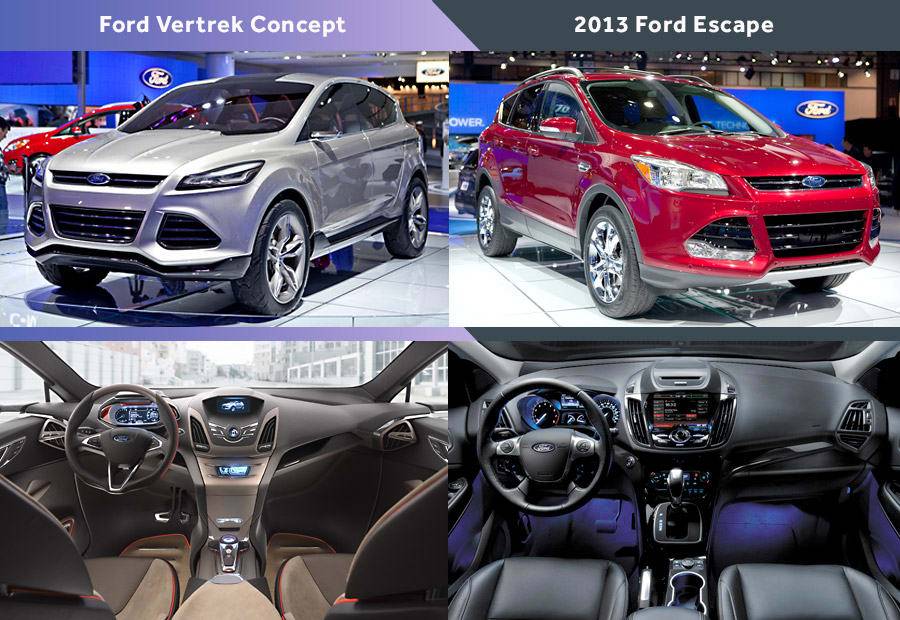 8. 2013 Ford Escape
It was hard to believe that when the previous-generation Escape debuted that it was considered a major hit because of its rugged, somewhat Land-Rover-inspired looks. That may be why it took so long for Ford to redesign it, and when it showed off the Vertrek concept in 2011 we didn't really expect the exceptionally sleek — unrugged? — look to be seriously applied to such a strong-selling mainstream vehicle.
The 2013 Escape arrived only a year after the concept, and it was hard for us to find too many faults with it besides a few nitpicks on a lack of cubbies for smartphones and such, and a rather high price for models with the most asked-for equipment. Those are things that don't really impact our rating here, however, where the design risk paid off and sales have continued upward.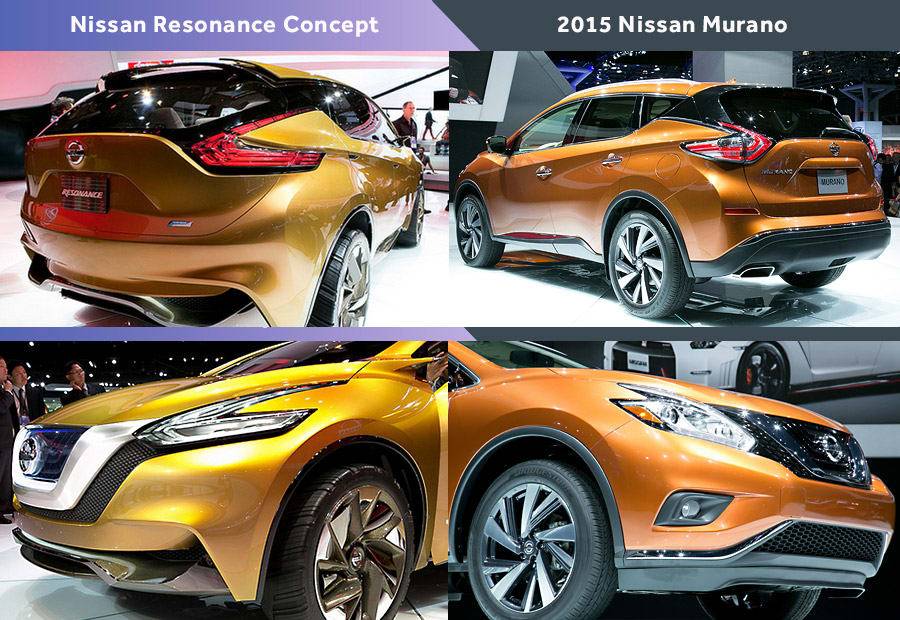 9. 2015 Nissan Murano
The 2013 Detroit Auto Show featured some great concept-car debuts. Three of those debuts ended up on this list, including the Nissan Resonance concept that inspired today's 2015 Murano.
At the time the concept debuted we were split on it, with one editor giving it a thumbs-down because the look would "never, ever appear on the market." Well, the reason it made our list is because of how successfully Nissan's designers took the wild concept and tamed it ever so slightly for the streets. We are probably even more impressed that the styling didn't lead to visibility issues behind the wheel.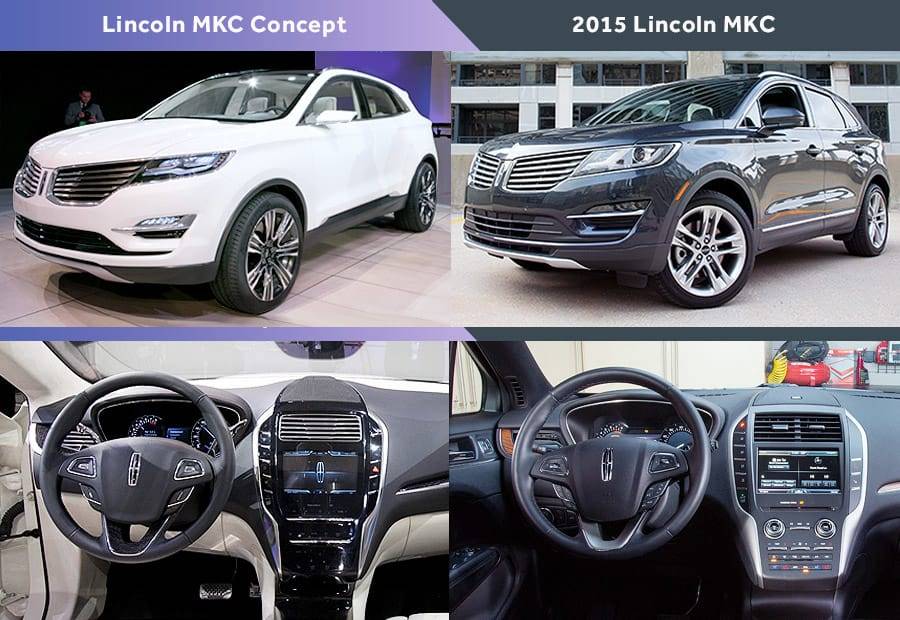 10. 2015 Lincoln MKC
Unlike the Nissan Resonance, our editors overwhelmingly loved the Lincoln MKC concept in 2013. We could see how easily the elegant yet futuristic look of the concept could be made into a production vehicle, and it seems we were proven right.
The 2015 Lincoln MKC has been a sales success thanks to not only the styling but impressive levels of luxury inside and a supremely comfortable and quiet ride. A series of highly publicized commercials with Matthew McConaughey might have helped, but the MKC's looks seem to hold their own with the Hollywood star.
Cars.com photos by Evan Sears, Ian Merritt, Joe Wiesenfelder; Cars.com photo illustrations by Paul Dolan; Ford Mustang Concept photos provided by the manufacturer