We Bought a Genesis G70: Here's What We Paid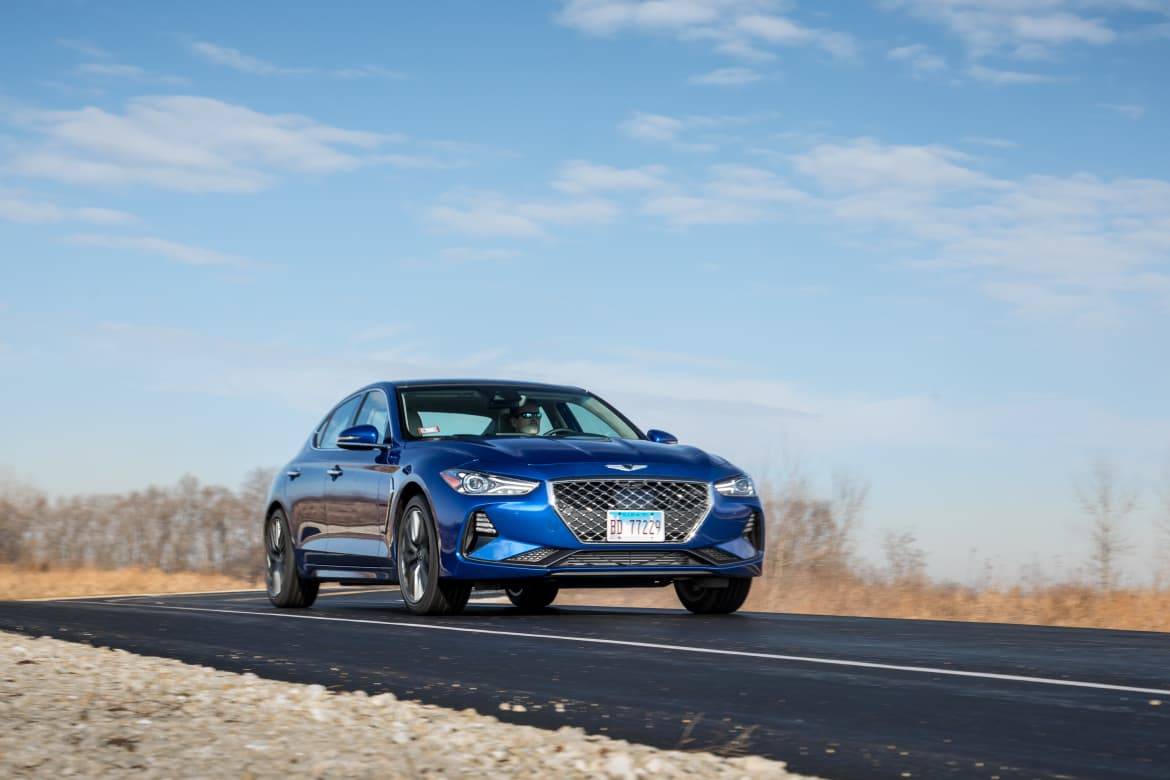 As we do each year with the car that wins our top Best Of award, Cars.com set out to buy an example, own it a full year and report on the hits and misses. Enter the Genesis G70, a new sports sedan from Hyundai's budding luxury brand that combines driving fun with loads of practicality and value. Shortly after Cars.com editors voted the G70 our Best of 2019, we set out to buy an all-wheel-drive example with Genesis' turbocharged 3.3-liter V-6 engine. (The G70 also comes with rear-wheel drive and a turbo 2.0-liter four-cylinder.)
Related: Best of 2019 Winner: 2019 Genesis G70
That left comparatively few choices. As of early December 2018 when we purchased our car, dealers on Cars.com listed just 35 examples of the G70 within 50 miles of our downtown Chicago offices. Compare that to our 2018 favorite, the Volkswagen Atlas SUV, which had 317 examples at the time within 30 miles. Boiled down to the AWD 3.3-liter G70, just 15 examples at seven Chicagoland dealerships — all Hyundai stores — passed muster.
We would use that Atlas trade-in as part of the transaction. Twelve months prior, we landed the SUV for $44,500 out the door, or 8.4 percent less than full price. To get a baseline on trade-in value, we had the Atlas appraised at a local CarMax store. CarMax offered $33,000.
Illinois charges a hefty 9.25 percent sales tax for Chicago registrants, but on the difference between your trade-in value and the negotiated price of the new car, as opposed to the whole price of the new car that we'd pay if we didn't trade in the Atlas. As it stood, the CarMax offer would have to exceed any dealer trade-in allowance by some $3,000 to make sense. With CarMax's offer in our back pocket, we looked to trade.
Which Genesis G70 Trim Levels and Features to Buy?
Choosing the engine and drive type didn't mean the end of any decisions. With AWD and the 3.3-liter engine, the G70 comes in four major trims:
The Advanced ($46,745 including destination) has a full slate of safety and multimedia features plus leather upholstery, heated and cooled seats, a heated steering wheel, 18-inch alloy wheels, Brembo brakes and a sport-tuned suspension with fixed-rate shocks.
The Elite ($48,495) adds a moonroof, rain-sensing wipers, wireless smartphone charging, parking sensors and curve-adaptive headlights.
The Prestige ($50,995) gets all Elite features plus quilted Nappa leather and a suedelike headliner; it also adds a head-up display, 360-degree camera system and heated rear seats.
Beyond that, the Sport ($52,495) adds darkened exterior effects, unique interior colors, 19-inch alloy wheels with Michelin Pilot Sport 4 summer tires and adaptive shocks.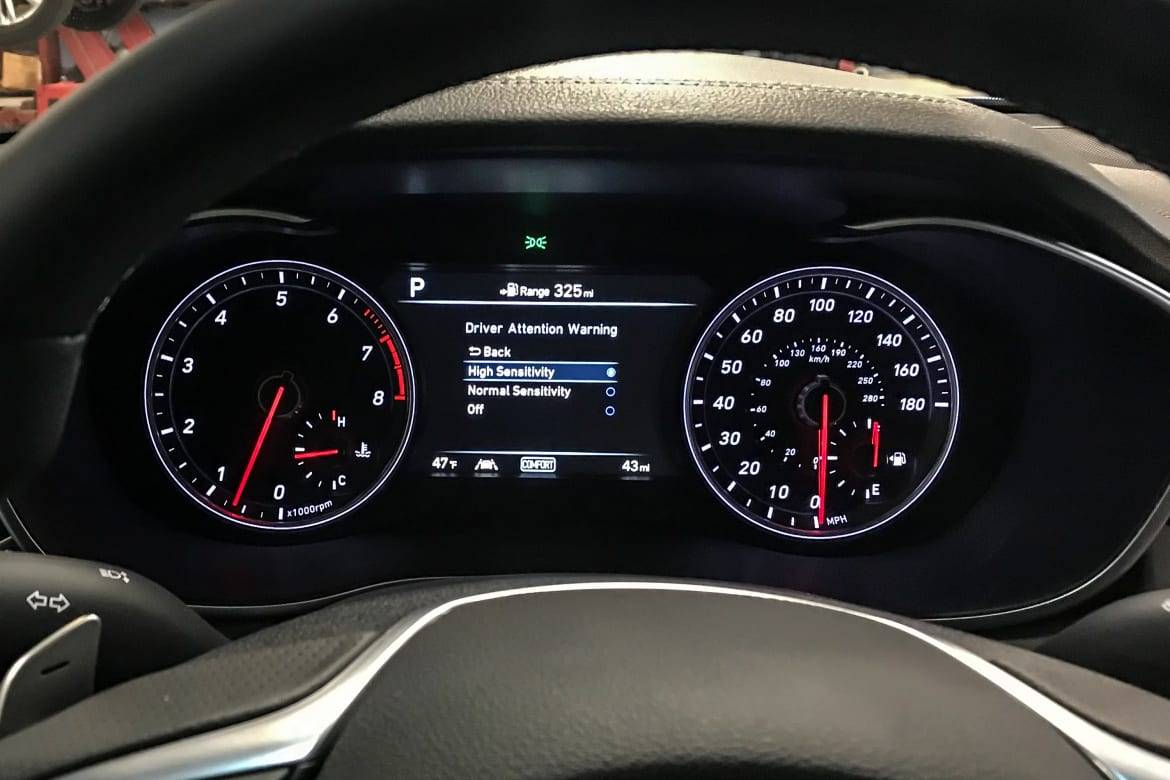 Extra-cost features beyond each trim are limited to a handful of dealer accessories. Two limited-run launch editions — the Design ($51,745) and Dynamic ($53,245) — build on the Prestige and Sport, respectively, with unique colors for the Design and more performance enhancements for the Dynamic; only 400 versions of each will be made for the U.S. market.
Four Cars, Three Dealers
To avoid any special treatment, we conducted negotiations with our personal email addresses and cellphone numbers, revealing only after the final agreed-upon price that it was a Cars.com company purchase. Negotiating with a trade-in may seem trickier, but if you compare similarly equipped cars and focus on the bottom line — that is, the difference between the trade and the new car, including all taxes and fees — it can still be straightforward.
At the time, Genesis offered no regional cash incentives available to all shoppers on the G70. Given the limited inventory, we expected little movement on the G70's price; it might come down to which dealer would give us the most for the Atlas.
Our first negotiations fell through on a G70 Prestige at a suburban dealer that offered us $34,000 on the trade but no money off the G70. We approached a second dealer the following week in Chicago's far-northwest suburbs on a G70 Elite. The dealership offered $32,000 on the Atlas and $1,000 off the G70, for a net difference of $17,517 after taxes and fees. It wouldn't budge below that.
With the Elite offer in writing, we approached a third dealer with both Elite and Prestige examples. After the dealer appraised our Atlas, we got the difference down to $16,500 on the Elite, or about $1,000 better than the dealer we just came from. But for its G70 Prestige, the dealership wanted $19,900. That was another $3,400 for a car priced only $2,500 more, or what the kids might call a raw deal. The more we eyed the higher-optioned G70 Prestige, however, the more we wanted it. The extra tech features would match up better in planned comparison tests throughout the year versus our usual rotation of well-equipped press vehicles, and its striking Mallorca Blue paint job would photograph better.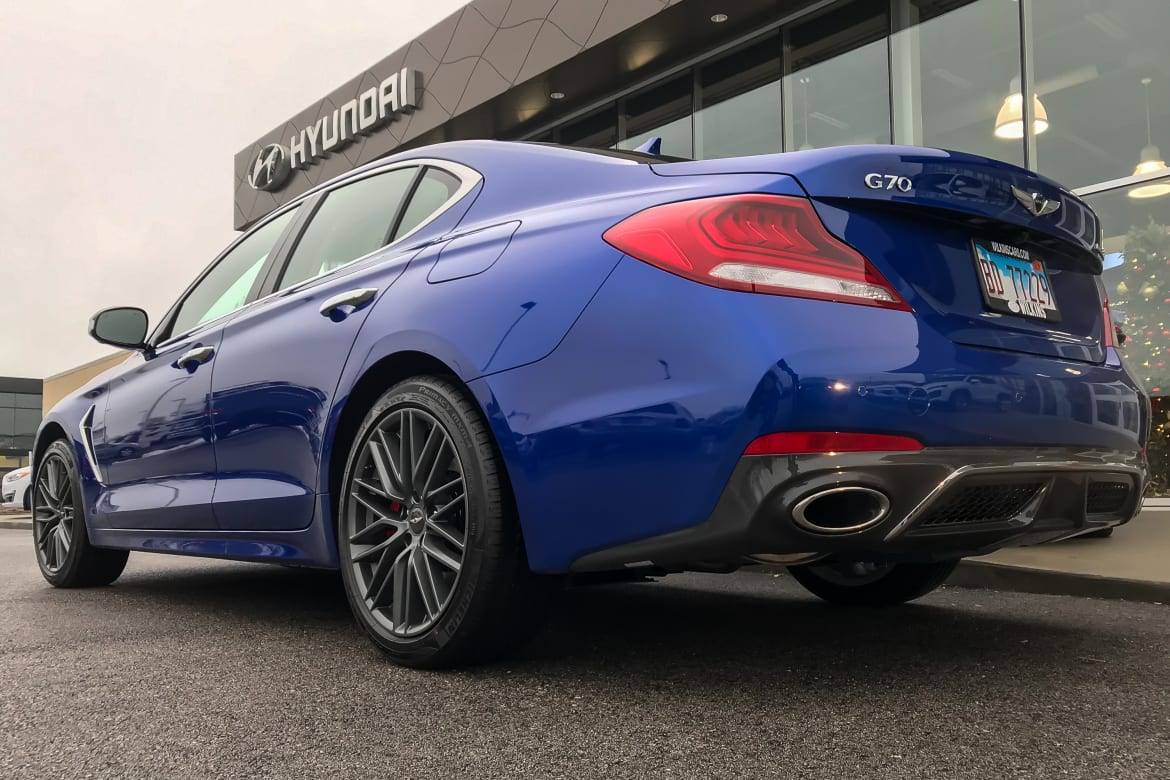 We pushed back on the $19,900 difference, pointing out the disparity versus the Elite. Factor in taxes, and an equivalent deal on the Prestige should land around $19,250. After three rounds of back-and-forth with our salesman and his manager, the dealership came down to that number. We shook hands, disclosed the deal as a Cars.com company purchase and placed a deposit.
Related: How to Negotiate With a Car Dealer
What We Paid for a 2019 Genesis G70
Two days later, we returned with the Atlas to seal the deal. After nearly two hours and another $76 for new license plates (the Atlas' transfer plates were about to expire, it turned out), we made our Genesis exodus. Our G70, a Prestige 3.3-liter AWD with Mallorca Blue paint and gray Nappa leather, came to $51,225 including destination and $230 in accessories.
After the Atlas trade, it ultimately cost $19,326, including the new plates.
Calculating the trade-in value on the Atlas, or exactly how much discount we got, is tricky. The sale contract indicated a $31,000 trade-in value on the Atlas and a discount of $2,916 on the G70 — a low trade-in value but 5.7 percent off the G70 before taxes and fees, some of which didn't add up in the contract — but it all wraps into the same bottom line, and that's the only number we cared about.
What Was the Genesis Buying Experience Like?
Despite the automaker's talk of showroom separation and specialized staff for Genesis shoppers, the three Chicago-area stores we visited had no appreciable differentiation. Hyundai salespeople peddled Genesis sedans right alongside Hyundai products at half the price.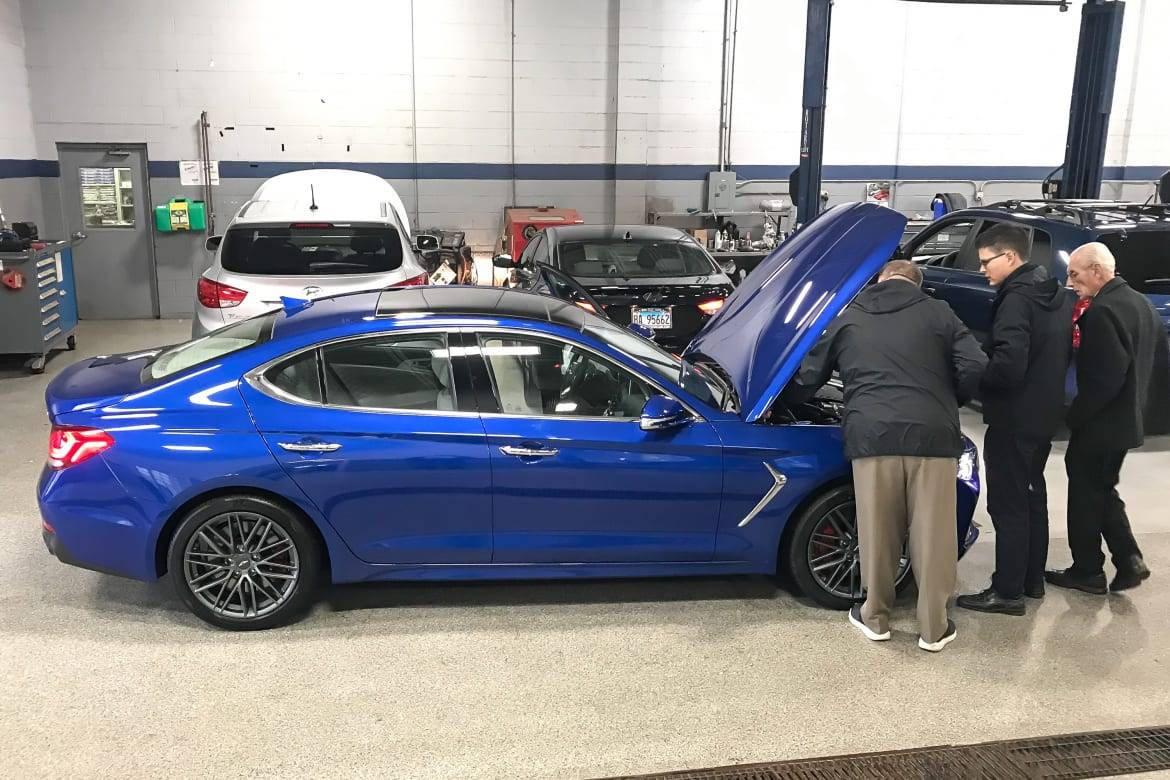 Like other Genesis models, the G70 comes with three years of complimentary valet maintenance: Tell Genesis where you are, and a dealer sends someone to take your car and leave a loaner for as long as the service requires. We'll report how it works, but Hyundai needs all the help it can get to separate the experience for its newish luxury brand.
We'll own the G70 for a full year and compare it to other luxury sports sedans, no doubt including the redesigned 2019 BMW 3 Series. We'll also report on observed gas mileage, any recalls or mechanical issues and, of course, our long-term impressions behind the wheel. Stay tuned.
Cars.com's Editorial department is your source for automotive news and reviews. In line with Cars.com's long-standing ethics policy, editors and reviewers don't accept gifts or free trips from automakers. The Editorial department is independent of Cars.com's advertising, sales and sponsored content departments.