We Tested 6 Mid-Size SUVs' MPG, and the Best Wasn't a Turbo Four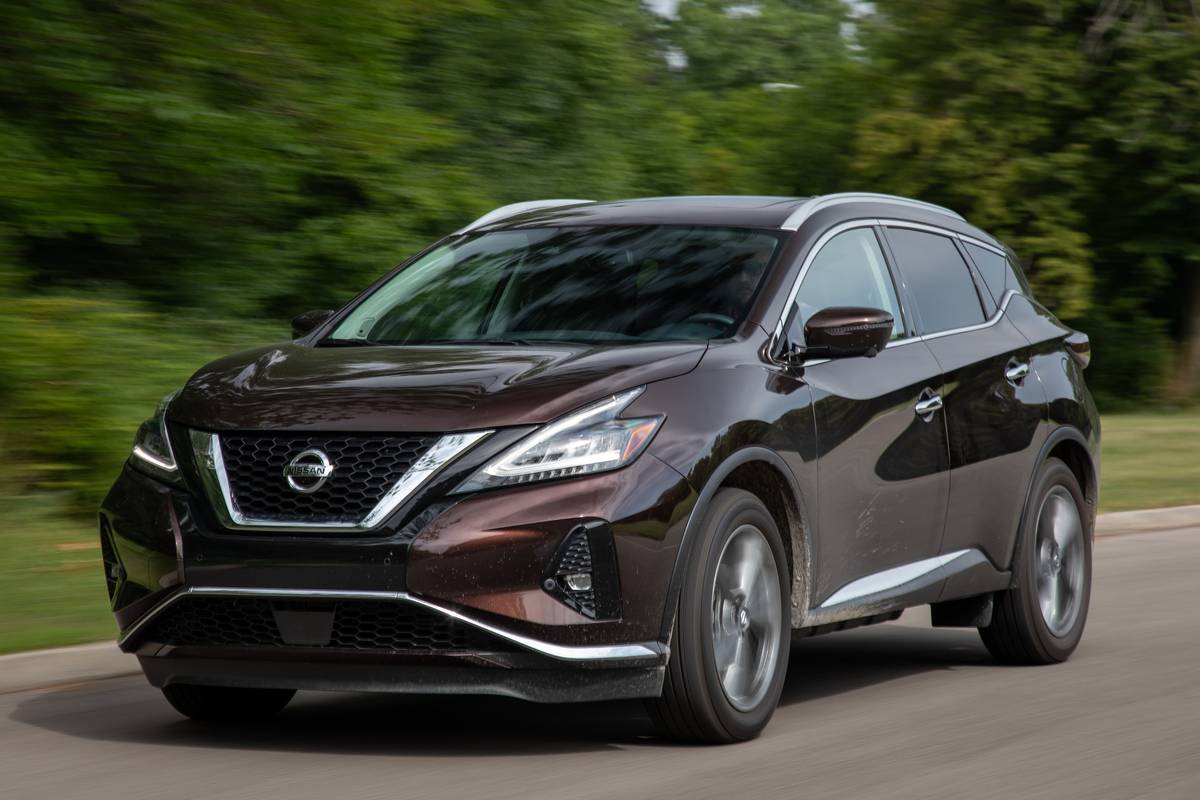 The marketing cliche to sell SUV buyers on small turbocharged four-cylinder engines is that they offer the power of a V-6 with the fuel economy ratings of a four-cylinder. But how about a real V-6 with better gas mileage than turbo fours? That's just what we found in real-world gas mileage testing of six mid-size SUVs with all-wheel drive as part of Cars.com's 2019 Mid-Size SUV Challenge.
2019 Mid-Size SUV Challenge
Results | Winner | How We Tested | Mileage Drive | Video
In addition to observing their real-world mpg, we ranked the SUVs based on annual fuel costs to drive 12,000 miles on their recommended grade of gasoline, calculated using the government's national average gas prices at the time we tested ($2.779 for regular, $3.392 for premium, about 22 percent more expensive).
The MPG Winner: 2019 Nissan Murano, 26.4 MPG
The refreshed 2019 Nissan Murano Platinum — with its standard 260-horsepower, 3.5-liter V-6 and optional all-wheel drive — topped all comers with an observed mileage average of 26.4 mpg in a mixed loop of about 210 miles of mixed city, freeway and rural driving. The Murano's as-tested fuel economy compares with its EPA ratings of 20/28/23 mpg city/highway/combined.
The Murano V-6 edged out the turbocharged fours in the 2019 Hyundai Santa Fe and 2019 Ford Edge mid-size SUVs, as well as V-6-powered versions of the Chevrolet Blazer, Honda Passport and Jeep Grand Cherokee. Some might say the Murano deserves an asterisk because the Nissan V-6 is mated to a continuously variable automatic transmission, the only one in our test. CVTs are noted for fuel efficiency, as well as for adding noise and sapping responsiveness. But our experience with the Murano's CVT was that it not only delivered on its mileage promise, but it also was well behaved for its type and did not diminish satisfaction with smooth V-6 power relative to a turbocharged engine. Meanwhile, our experience with many turbo fours is that you can struggle to get their higher mileage if you really enjoy feeling that turbocharger.
Annual fuel cost worked out to a winning $1,262.70 for Murano, which recommends regular, and earned it the maximum 30 points in the scoring, with others scaling down from there (rounded to the nearest whole point).
How the Rest of the Pack Fared
2. 2019 Hyundai Santa Fe: 25.1 mpg, annual fuel cost $1,326.98: Finishing second based on annual cost was the redesigned 2019 Santa Fe Ultimate with a 235-hp, turbocharged 2.0-liter mated to an eight-speed automatic. Notably, the Santa Fe powertrain was an overachiever with an observed mileage average that punched above its modest EPA ratings of 19/24/21 mpg. Unlike the Edge that needs premium fuel for maximum performance, the Santa Fe's turbocharged engine makes its advertised power on regular gasoline. Point score: 28
3. 2019 Honda Passport: 24.9 mpg, annual fuel cost $1,341.65: The runner-up V-6 in the mileage testing was the new Honda Passport Elite with a 280-hp V-6 and nine-speed automatic. Its observed gas mileage average also exceeded the high end of its EPA ratings of 19/24/21 mpg. Point score: 28
4. 2019 Jeep Grand Cherokee: 22.2 mpg, annual fuel cost $1,503.29: The Grand Cherokee Limited X 4×4 was powered by a 295-hp, 3.6-liter V-6 with eight-speed automatic. It also had the most sophisticated all-wheel-drive system with the most off-road capability in the group. The Grand Cherokee's observed mileage average on the road in our testing compares with its EPA rating of 18/25/21 mpg. Point score: 24
5. 2019 Chevrolet Blazer: 22.1 mpg, annual fuel cost $1,505.90: The all-new Chevy Blazer Premier's 308-hp, 3.6-liter V-6 was the most powerful and fun to drive among the mid-size SUV contenders, but it also was the thirstiest at the pump. Mated to a nine-speed automatic, its observed mileage average compares with its EPA ratings of 18/25/21 mpg. Point score: 24
6. 2019 Ford Edge: 25.6 mpg, annual fuel cost $1,590.94: The other turbo four-cylinder in our test posted the second-best raw mpg average. The refreshed Edge Titanium Elite with AWD was powered by a 250-hp, turbocharged 2.0-liter four-cylinder engine mated to an eight-speed automatic transmission. But it plummeted to last in the rankings with the highest annual fuel cost due to its need for costlier premium to fully flex its rated muscle. Ford recommends premium gas for its turbocharged four-cylinder to achieve full performance. It was the only SUV in the test with premium recommended to achieve its rated power, though it will run on regular with less than its rated power. The Edge's observed average mileage compares with its EPA ratings of 21/28/23 mpg city/highway/combined. Point score: 22
How We Tested
 For the mileage evaluation, we drove the six SUVs roughly 210 miles around urban, suburban and rural sections of the greater Chicago area. Temperatures hit 90-degrees-plus, and we experienced an afternoon thunderstorm. To begin and end the route, we topped each SUV off at the same gas station and pump, calculating observed mileage as an average between our pump calculations and what each car's trip computer reported. Each car carried a single occupant. Before the drive, we filled up each car's tires to their recommended pressure. We rotated drivers at regular intervals to equalize for driving style, avoided cruise control or excess idling, used air conditioning, kept windows and sunroofs closed, and avoided any efficiency- or sport-oriented driving modes.
More From Cars.com:
Cars.com's Editorial department is your source for automotive news and reviews. In line with Cars.com's long-standing ethics policy, editors and reviewers don't accept gifts or free trips from automakers. The Editorial department is independent of Cars.com's advertising, sales and sponsored content departments.