What's the Best New-Car Deal for April 2018?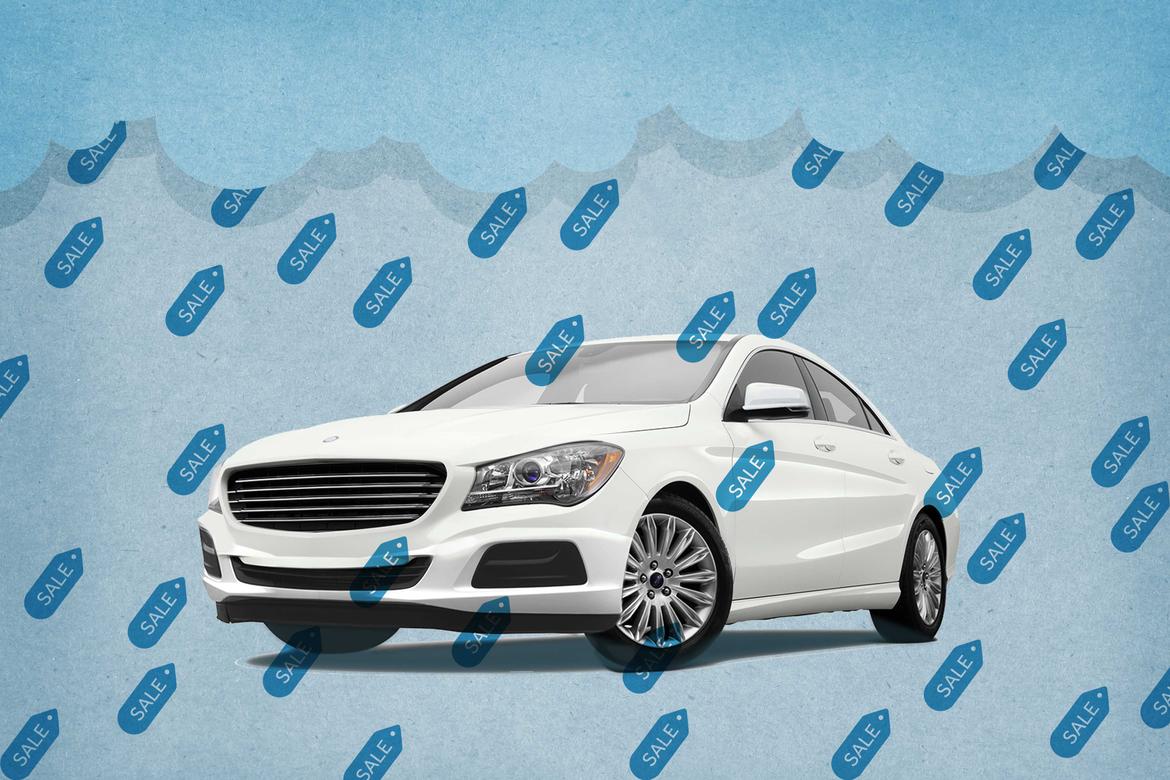 April showers might bring May flowers, but car shoppers may wish it rained more deals. Autodata Corp. ranks April among the bottom three months for new-car discounts during each of the past four years. In 2017, baseball's opening month was the single worst month for incentives. Talk about dreary.
Related: How to Use Incentives, Rebates and Finance Deals
But don't declare a rain delay on your shopping just yet. The storm clouds have a silver lining, at least this year: New-car incentives last month gained 6.5 percent year-over-year, per Autodata, for the second largest increase in the past seven months. Amid an overall incentives plateau, March's gains could add some steam heading into April — a month that needs all the help it can get.
We still found plenty of highly discounted models, with many this month from GM and Hyundai-Kia. What should deal-seekers consider? Take a look below.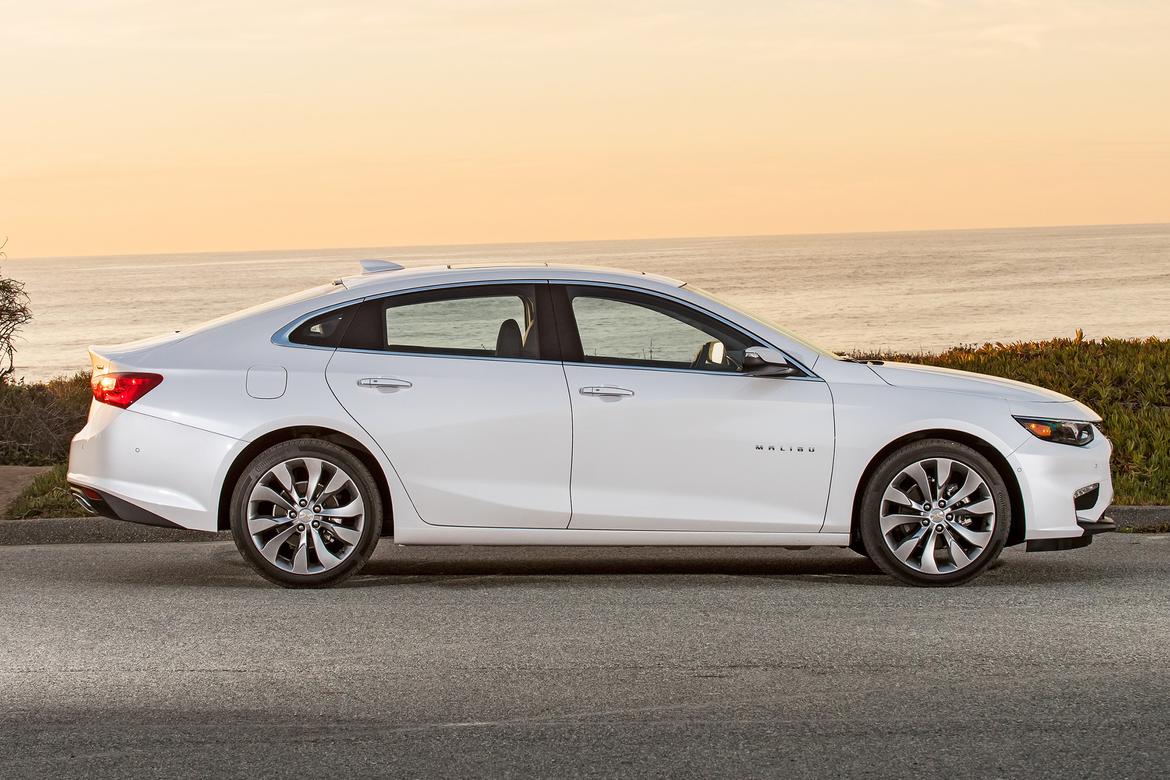 Chevrolet Malibu
How much can I save? On select trim levels, enough to fund a vacation to Malibu. Get a mid-level Malibu LT — a variant that comprises 61.1 percent of new 2018 model-year Malibu inventory on Cars.com — and Chevrolet offers 20 percent off MSRP. That equals more than $5,400 off certain examples. Better hurry, though: The deal expires April 16.
What if I don't want a Malibu LT? If you want another trim level or just read this too late, Chevrolet is offering $2,000 to $3,500 in cash rebates (depending on region) through the end of the month. Caveat: They don't apply to the base trim level, called the Malibu L. Those deals come as sales for Chevrolet's mid-size family sedan gained 3.4 percent in March — up versus a dreadful year-ago month but still behind the 6.4 percent increase for all new-car sales. Indeed, non-hybrid 2018 Malibu sedans averaged 80 days on dealer lots in March, well past the 52-day weighted average for all 2018 model-year cars; that suggests dealers will be motivated to move the metal. Get your haggle on.
What about discount financing? On all but the Malibu L, qualified shoppers can get 2.9 percent financing for 60 months plus $500 to $1,500 in cash rebates, depending on region. The offer expires April 30.
Hey, I rented a Malibu once. And we bet you loved stuffing two key fobs in a braided cable down your jeans pocket. (Two words: cargo shorts — but only if your dating days are behind you.) At any rate, this isn't surprising; the Malibu is a staple in many rental fleets. Don't let that put you off, however. The current-gen sedan dates back to the 2016 model year, and it placed third in Cars.com testing among nine family sedans when it hit the scene thanks to a straightforward multimedia system and strong ride quality. Safety-conscious shoppers should note that subsequent crash tests knock it down a peg, though.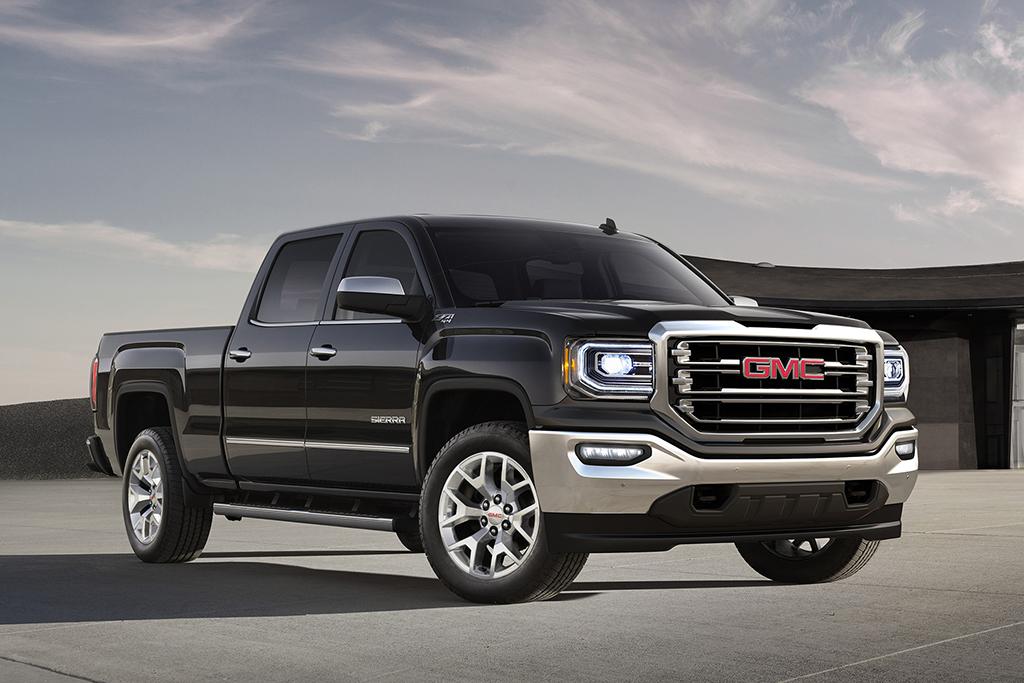 GMC Sierra 1500
How much can I save? A truckload, if you act soon on certain trims. Cash rebates on the many variants for the Sierra 1500 range from $750 to $5,000, with the highest amounts on crew-cab SLT and eAssist light-hybrid examples. The largest offers expire April 16; some of the lesser offers run through April 30. The eAssist averaged just 46 days on dealer lots last month, but other Sierra 1500 variants took 62 to 73 days. And sales for all Sierras, including the heavy-duty 2500 and 3500, fell 7.5 percent in March.
What about discount financing? Until April 30, creditworthy consumers can get 3.9 percent financing on the Sierra 1500 crew cab for up to 60 months plus $750 to $2,250, depending on region.
I'm waiting for the other shoe to drop. Like a galosh in a deep puddle — you know, from all that April rain — here it is: The current-gen Sierra 1500 has subpar reliability history, and the crew cab has spotty crash-test results. Still, it offers an impressive maximum towing capacity of 12,500 pounds, and it beat out its rivals in our half-ton towing Challenge two years ago.
Isn't there a redesigned Sierra 1500 just around the corner? Yep; read all about it here. The new Sierra 1500 goes on sale in the fall. Absent an incentives war against other light-duty pickups, we doubt you'll see towering discounts anytime soon.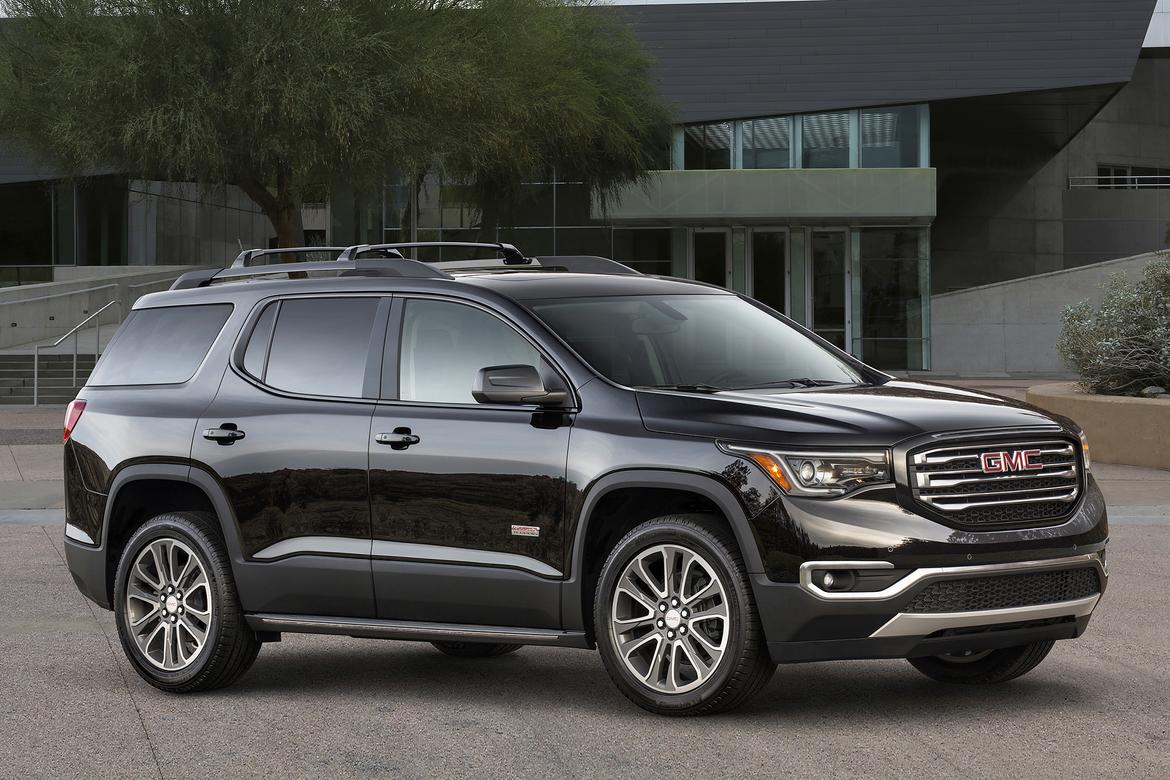 GMC Acadia
How much can I save? On higher trim levels, lots. Through the end of the month, cash rebates on all but the base SL trim range from $1,750 to $2,750, depending on where you live. SLT and Denali editions, which are both higher-end, get $5,550 — some 9 percent to 14 percent off, depending on what you get. Acadia sales edged up just 2.8 percent last month versus a gangbusters year-ago month, but the SUV still averaged 87 days on dealer lots in March.
What about discount financing? GMC didn't list any offers on the 2018 Acadia as of this writing, so you'll have to make do with standard financing.
Is the Acadia any good? Good enough to make Editor's Choice on this very list in months past. In October 2016, it compared favorably against the winner of our two-row Mid-Size SUV Challenge, a Nissan Murano, thanks to its abundance of practicality and technology. It remains as good today.
Editor's Choice: Kia Sorento
How much can I save? More than 10 percent, depending on what — and where — you shop. Ahead of a mild refresh for 2019, the 2018 Sorento has cash rebates through the end of the month of $2,500 to $3,500, depending on region. That's for an SUV with good crash-test scores, an exemplary warranty and strong enough qualities to land a podium finish among eight three-row SUVs just one model year ago. Sales doldrums might explain some of the discounts: The Sorento gained just 3.6 percent in March versus a bad year-ago month as 2018 model-year examples averaged 67 days on dealer lots.
What about discount financing? Through April 30, qualified shoppers can get zero percent financing for up to 75 months.
Should I wait for the 2019 Sorento? Not if you want these discounts, which are unlikely to grace the updated Sorento for some time. Changes for 2019 include a standard third row, a few styling tweaks and no more turbo four-cylinder — an unrefined engine ill-suited for the Sorento, anyway. If you're shopping the 2018 model, avoid the turbo for either of two other drivetrains.
The Returnees
We focus on cars new to the list or ones we haven't highlighted in the past few months. But many cars from recent months still have deep discounts in April:
How We Look for Deals
To look for April deals, we considered sales in March among the top 100 best-selling cars, specifically eyeing models whose sales underperformed the market. We also looked at days-to-turn data from March, which measures how long it takes on average for dealers to sell a given car. Both factors illustrate March's slow sellers, cars on which dealers could be more willing to cut a deal.
Finally, we looked at factory cash discounts and low-interest-rate financing offers that are especially high for the price of the car. After all, $2,000 is a lot more on a Ford Focus than a Ford Explorer.
Sales and incentives data come from Automotive News and automakers' websites, while days-to-turn data come from J.D. Power and Associates. Remember, our numbers are current as of publication for the markets we survey (generally Atlanta, Chicago, Denver, Houston, Los Angeles and New York). They reflect advertised customer discounts, not unadvertised factory-to-dealer cash. Discount financing typically requires qualifying credit, too, and incentives may vary by region and trim level; automakers may also change them later in the month. In sum: Your discounts may vary, so check with your local dealer for specifics.
Cars.com's Editorial department is your source for automotive news and reviews. In line with Cars.com's long-standing ethics policy, editors and reviewers don't accept gifts or free trips from automakers. The Editorial department is independent of Cars.com's advertising, sales and sponsored content departments.