10 Kids' Toys You Wish You Could Drive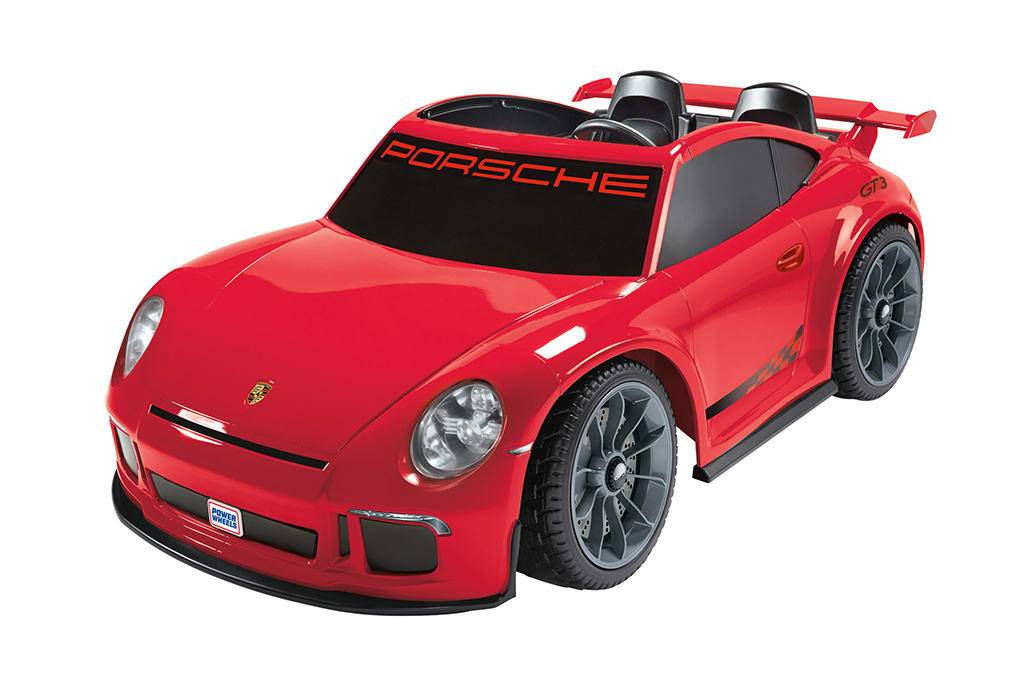 A staggering number of electric ride-on toys are available for kids 3 to 7 years old and the list spans everything from cars, trucks and SUVs to motorcycles and all-terrain recreational vehicles. Some of these, however, are much closer to their full-size counterparts than expected with licensed designs from automakers and features like radios with MP3 jacks, working LED headlights and functional truck beds, doors and SUV liftgates.
Related: Video Find: Power Wheels' F-150 Takes Ford Toughness Test
My first thought after seeing a kid driving a miniature BMW i8 down the sidewalk was that the automaker had churned out a few of these toys for select owners. Wrong: The BMW i8 6-volt ride-on toy is available at Wal-Mart for a little over $200. We dug through the long list of vehicular ride-on toys and picked the 10 most interesting. If you thought the neighbor kid with an electric Jeep was spoiled back in the day, wait until you see what's available now.
Audi R8 Spyder (Avigo)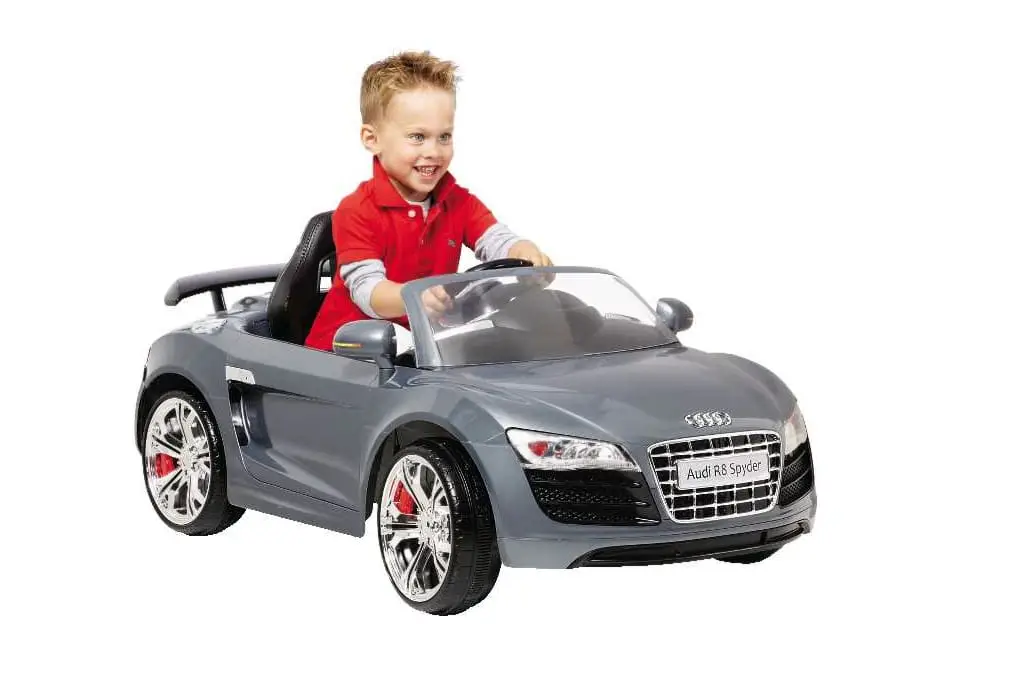 The full-size Audi R8 has up to 550 horsepower and a top speed of 198 mph. The toy tops out at 2.5 mph with only 6-volt power, but it looks like it's capable of more with carbon-fiber-simulated material that is more convincing than some of the fake stuff we've seen on real cars.
Cadillac Escalade (Power Wheels)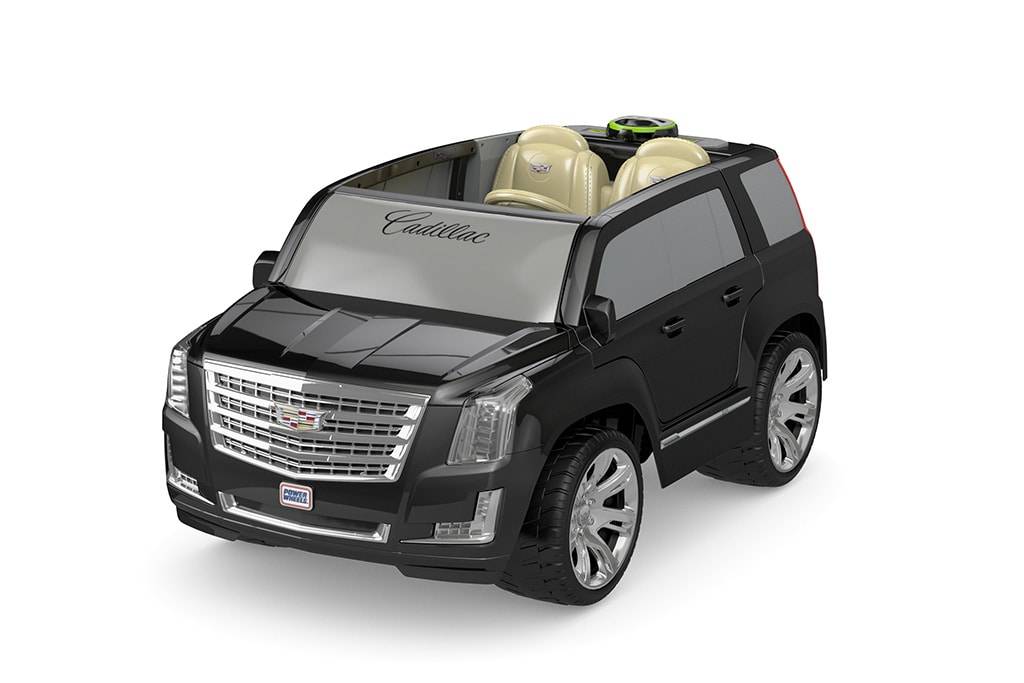 Cadillac Escalades are the known for their flashiness, and that's no different in the 12-volt Power Wheels ride-on that has chrome wheels and grille plus a rear speaker, cupholder and working liftgate with storage. 
Ford F-150 (Power Wheels)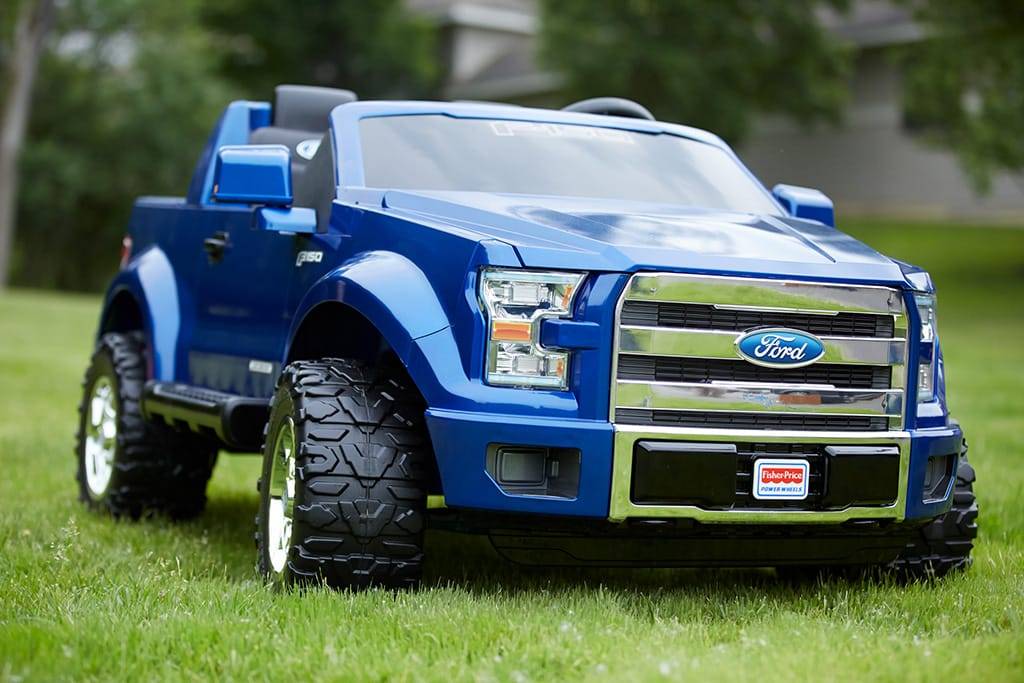 Power Wheel's 2015 Ford F-150 is based off the redesigned F-150 and is said to be capable of tackling wet grass, mud and bumpy terrain with knobby plastic tires and a top speed of 5 mph. The F-150's tailgate is functional, and there are LED lights available on some models.
Chevrolet Silverado (Aria Child)
Chevrolet, Ford and Ram have ride-on toys represented on this list. In the Chevrolet camp, the Silverado toy has working headlights and engine sounds, a functional tailgate and an MP3 connector with speakers.
Porsche 911 GT3 (Power Wheels)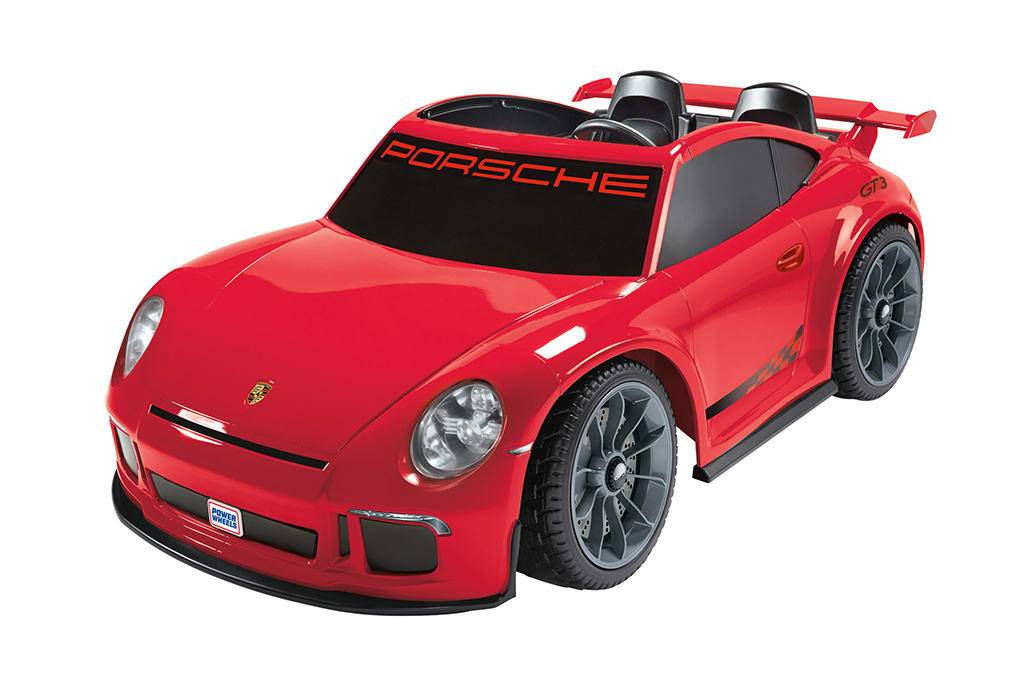 Available in October, the Porsche GT3 is the ultimate imitation ride-on toy with supreme levels of detail that compare with the real GT3. The inside features paddle shifters, plus an adjustable seat to fit the child as he or she grows.
Ram 3500 Dually Longhorn (Kid Trax)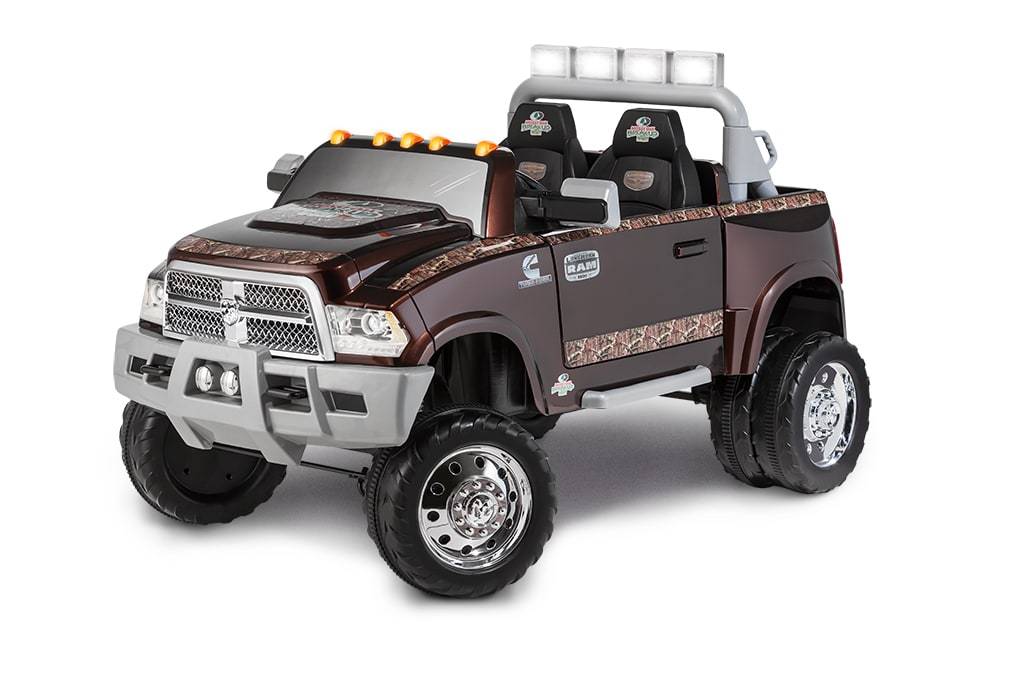 Ram's Longhorn trim is an over-the-top cowboy-fantastic package mimicked in the Kid Trax Ram 3500 Dually Longhorn with a Western-stitched theme — as if a dual-rear-wheel ride-on toy wasn't already ridiculous. The toy's bed tilts rearward like a dump truck and an off-road roll bar is lighted, plus the toy makes diesel-engine noises.
Kia Soul (Kid Trax)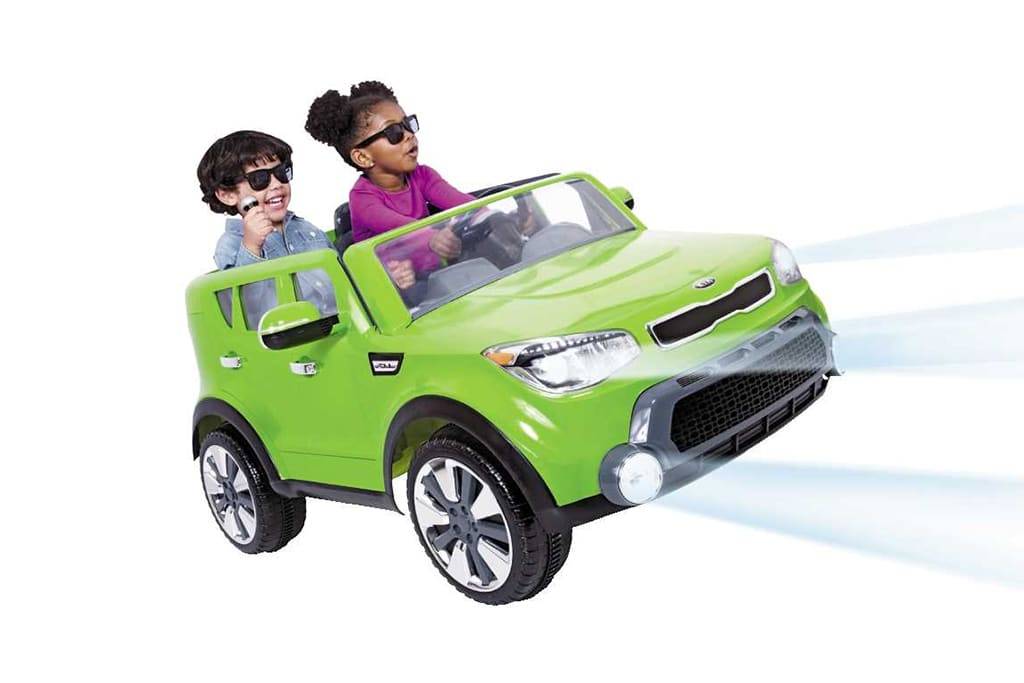 The Kia Soul ride-on toy by Kid Trax is probably tied with the Ram 3500 Longhorn dually as the most ridiculous. The Soul features underbody LED lighting and dual rear speakers that are wired to microphones so kids can sing along while driving; is that safe?
Dodge SRT Viper (Pacific Cycle Kid Trax)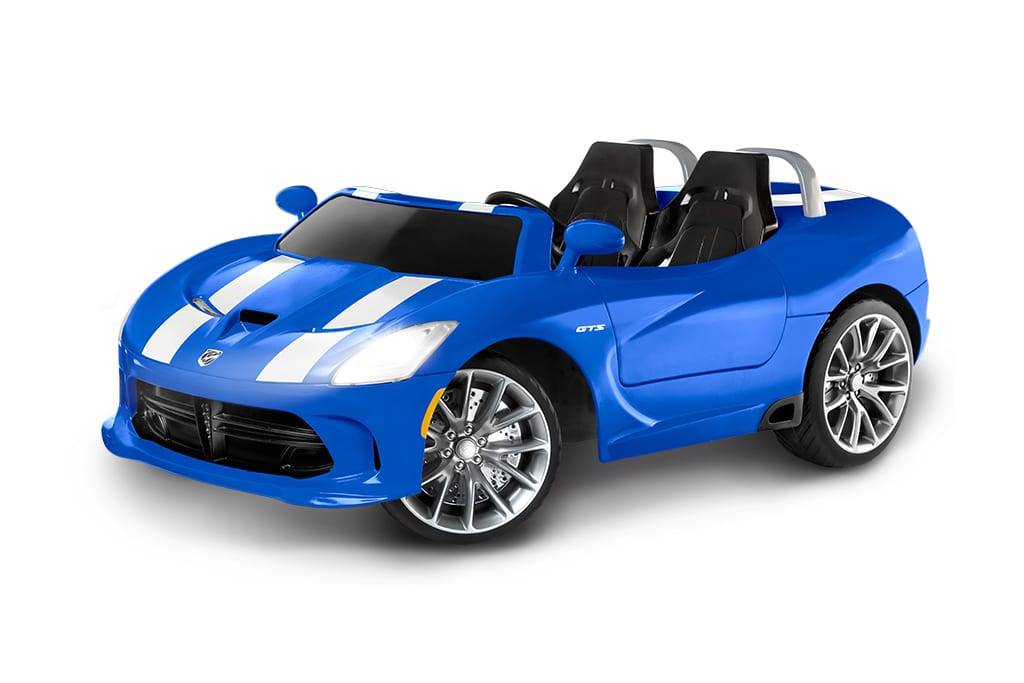 The ride-on Dodge SRT Viper is hopefully a little less intimidating to drive than the full-size version; a 5 mph top speed should help with that. The Viper has authentic V-10 engine sound simulation as well as LED daytime running lamps.
Mini Paceman (Avigo)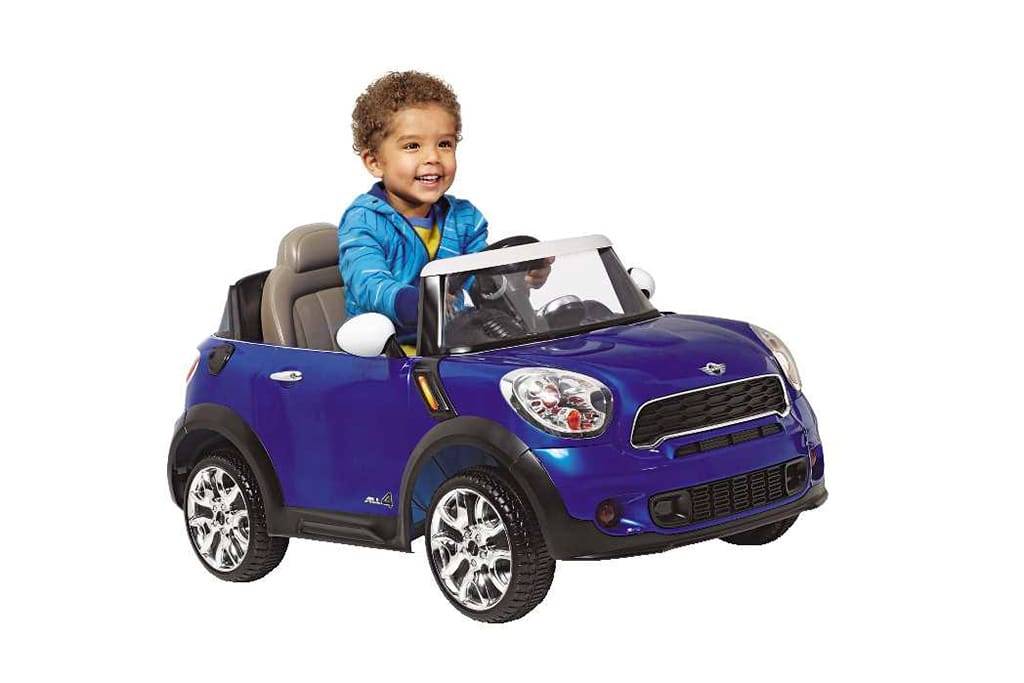 The Mini Paceman is an odd choice for a ride-on toy, as it never really gained much notoriety despite being a good-looking coupe adaptation. The ride-on toy features 6-volt power, two-tone body and side mirrors like the full-size Paceman, a backlit speedometer and LED headlights.
BMW i8 6v (Avigo)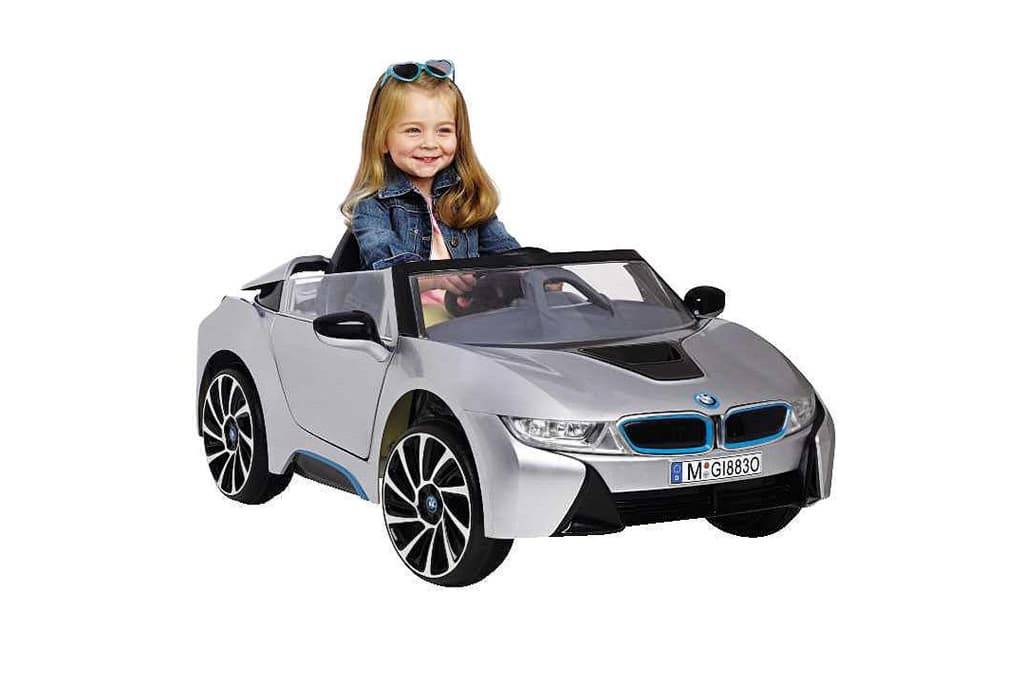 The ride-on BMW i8 may be the most similar in terms of powertrain to the full-size version, which is a range-extending electric hybrid that uses a gasoline engine and electric motor for propulsion. Like the original, the i8 toy has scissor-opening doors, though only a top speed of 2.5 mph.